Welcome Home!

This page is dedicated to my Teacher,

Sri Darwin Gross,

And to you.


In Spiritual Freedom Satsang

We can be together,

Communing with the Word, God, and each other


Thank you . . . with love,

Michael Turner

********************************************


SRI DARWIN GROSS AUDIO SATSANG NOW AVAILABLE
FREE STREAMING ON INTERNET ARCHIVE!


1971 - OCTOBER 22 - THE LAWS OF THE INNER WORLDS - FIFTH WORLDWIDE SEMINAR
https://archive.org/details/Audio197110aTheLawsOfTheInnerWorldsMP3
(One of Sri Darwin's first talks as Living Master)

1971 - OCTOBER 22 - THE MELODIES OF SHABDA - FIFTH WORLDWIDE SEMINAR
https://archive.org/details/Audio197110bTheMelodiesOfECKMP3

1972 - THIRD INTERNATIONAL YOUTH CONFERENCE - PART 1
https://archive.org/details/DarwinGross-1972-3rdYouthConference-Part1

1972 - THIRD INTERNATIONAL YOUTH CONFERENCE - PART 2
https://archive.org/details/DarwinGross-1972-3rdYouthConference-Part2_276

1976 - OCTOBER - THE THREE PRINCIPLES OF SHABDA - 10TH WORLDWIDE SEMINAR
https://archive.org/details/Audio197610a3PrinciplesOfEckankar10thWorldwide

1977 - OCTOBER - SPIRITUAL FREEDOM - 11TH WORLDWIDE SEMINAR
https://archive.org/details/Audio197710aSpiritualFreedom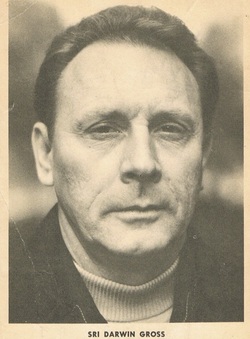 Hello Friends.

On October 22, 2011, I began giving satsang, initiation and teaching the Way of Shabda in honor of my Master, Sri Darwin Gross, and all those who came before Him.

Please know that I take this responsibility very seriously. I have loved God with all my heart as long as I can remember, and have been devoted to this path and Sri Darwin ever since He initiated me in 1975. Not for a moment do I think I can replace Darji. He was one of a kind. All I can do is serve God, Shabda and our Master with all my heart and soul, and help people learn this path as best I know how.

I fully understand many of you already have a strong inner connection with Dap Ren, and may not always need a living teacher to work with you. For all of you whose connection with Dap Ren and Shabda is that solid, I am very happy that you are so blessed, and I never want to get in the way of that.

And, if you feel you want to work with someone here in the physical plane who can meet you in soul and work with Dap Ren to assist your spiritual blossoming, I am happy to be of service.

If you ever want to touch base within, all you have to do is ask. You can call me by Michael, or my spiritual name "Zanar" (it means "starting with the Secret Doctrine, and then taking it further"). I leave that choice up to you.

I promise you this. I will always strive to honor God, our Master, this path and all of you. I love each and every one of you very very much.

Thank you . . . with Love,

Michael Turner (Zanar)

.
Sri Darwin Gross:
My Spiritual Teacher and Friend
Sri Darwin Gross shone like a thousand suns. His devotion to his Master, Sri Paul Twitchell, the Spiritual Current and God was unwavering.
I've known Darji for as long as I can remember. Long before I ever heard of Eckankar, Darji was with me, my closest Friend, as Gurudev nearer than my own heartbeat. I feel like I never not known Him.
Darji initiated me, taught me how to let go to the Shabda Current and let IT take me Home. Through His grace, I awakened to myself as soul and was blessed with direct experience of Anami Desh and the ongoing darshan of Anami Purush.
As a man, Darji was warm and loving, gentle yet dynamic, with a great ear for music (especially Shabda-imbued music), and a wonderful, wry sense of humor.
As a teacher, Darji was patient yet direct. I especially loved how he cut to the chase and kept bringing the focus back to soul and Shabda, Guru and God. That was, is, and shall always be, the alpha and the omega of the entire teachings. That focus formed the foundation of my meditation and my life, and for that - and the gift of Darwin's love - I am eternally grateful.
Yours in Eternal Naam,
Baraka Bashad!
Michael Turner
http://spiritualfreedomsatsang.org

****************************

May 30, 2012
EXPERIENCING GOD - IT WAS 20 YEARS AGO TODAY
THANK YOU, DARJI!


20 years ago this afternoon - on May 30, 1992, while I was in Las Vegas for His talk - my Master Sri Darwin Gross blessed me by leading me in the Soul Body through the dual worlds up to the Pure Positive God Worlds and into Anami Desh.

I will never forget the experience. I was perched on the precipice of an incomprehensibly vast golden-white Vortex of Musical Light and Pure Love. Around me were countless millions of souls all singing praises of the One, and millions - if not billions - more souls swirling as particles of the Vortex. In the middle of this swirling Ocean of Love and Mercy were two enormous eyes - eyes so wide and deep they would take up the entire horizon - eyes radiating pure, golden love - the Eyes of the Eternal One giving all souls in ITs presence Darshan and Blessings of the Eternal.

After an untold period of time, Sri Darwin turned and looked at me with His piercing blue eyes, and said, "Now you understand". I could only nod my head and say, "Thank you, Darji".

Now, 20 years later, I have only affection and gratitude for my Master and Friend, Sri Darwin Gross. It has been His wisdom, kindness, love and grace that has guided me since I was born. And for that, I am eternally grateful.

Darji, you are the best Friend a soul could every pray for. Thank you, with love . . .

Michael Turner


http://spiritualfreedomsatsang.org/michaels-blog.html


*****************************"

It is gentler than a buttercup,
And far more powerful than man's greatest weapons.
So who are you and I
To tell Spirit what to do."
- Sri Darwin Gross


******************************************


ONE TRUTH, ONE LAW

Several years ago, while I was meditating, Sri Darwin told me this:

"Ultimately, there is but One Truth: LOVE IS

Ultimately, there is but One Law: BE LOVE

From this, all else flows."


Yours in Spirit,


Michael Turner



DARWIN GROSS:

"MASTERS DO NOT SPEAK THROUGH OTHERS"

Hi.

I was listening to Darwin's main Satsang at the 3rd International Youth Conference on my iPod last night. About 9 minutes into his talk, Darji made the following comment. which I find rather significant and worth sharing with you.

As a note, out of respect for some potential proprietary issues, I have slightly modified some terms.


Yours In Shabda,

Michael

********************************

"In expanding your consciousness upon this path, you will find that you will meet individuals – sometimes in the dream state, and other times in other parts of your study – and wonder, is this the Master, or someone within the Path, nudging you, or telling you what to do. It is not. None of the Masters ever work through another individual as the spiritualists think or teach. Because an entity off of one of these other planes, if one opens themselves to these entities, will work through you.

I believe it was in "The Tiger's Fang" that Paul spoke of reaching that city of Kailash, in which Rebazar Tarzs took him. And I'm sure that t here are individuals here this evening, as well as I, that know that that lord or ruler of that plane that's called "Brahm", through the Kal, can pull the wool over almost anyone's eyes. For instance, some of the great spiritual travelers that man worships or thinks of very highly, such as Jesus or Buddha, had Maya, what is known as Maya or the illusion really thrown at them. Any individual that might think of or practice any of the psychic sciences perhaps are working with or worshipping Brahm."

Sri Darwin Gross. 3rd Annual Youth Conference – 1972. Los Angeles, CA.




****************************
The Teacher is Shabda

Tuesday, March 6, 2012
In contemplating the words of Sri Darwin Gross and Hazur Sawan Singh in my last two posts, the consistent message is this: A true Living Master or Teacher is one whose attention is in Shabda and God. They have become an instrument for the expression of Shabda – a living matrix of Shabda on every plane and vibrational frequency. As such – as living Shabda-in-Expression – they communicate directly with every initiated soul. There is no medium or psychic intermediary, because there is no need for a medium or intermediary. There is simply a direct connection and immediate communication.
In addition, the Teacher – inner and outer – will never tell you to do anything hurtful or socially inappropriate. As living souls on this path, we need to be in balance and in harmony with the Divine Love that is Shabda. If you ever feel an inner nudge to do something hurtful or socially inappropriate, I guarantee you it is
not
from me, or any other genuine teacher of this path.
Finally, if you ever feel an inner nudge from a presence you don't recognize, immediately go within and ask me - or whoever your Initiating Teacher is – to be present. We will be there as quickly as the request is made. And if the other presence is an honorable one, it will show respect for your Initiating and Living Teacher(s). If not, it will depart. For you are always under my care, guidance, protection and love, and that of my predecessors in Shabda Naam.
I am with you always.
Thank you . . . with love,
Michael Turner
http://spiritualfreedomsatsang.org
********************

SRI DARWIN GROSS: "THE WOMAN'S RIGHT"
Dear Friends:
I've been re-reading Darwin Gross' book, "Your Right To Choose" lately – reading one chapter for each day of the month. And in doing so, one of the things that strikes me is just how deeply Sri Darwin influenced me and formed the foundation of my spiritual perspective from a young age.
I first read the chapter below – "The Woman's Right" – in 1979 under the books original title: "
Your Right To Know
". It immediately resonated with me, and has been the cornerstone of my view on abortion, birth control and women's sovereignty over their bodies ever since. It's an interesting point of synchronicity that I opened this chapter (chapter 6 in the book) on March 6th, as the debate over women's access to birth control was once again becoming a dynamic public and political issue. Please take the time to read this chapter and give what Sri Darwin says some contemplation.
For a complete list of Sri Darwin's books, please visit:
www.atom.org
, as well as
www.amazon.com
for books that may no longer be in print.
All my love and blessings in the LightSong Eternal,
Michael Turner
http://spiritualfreedomsatsang.org
**************
THE WOMAN'S RIGHT
By Sri Darwin Gross
"The religious orders are attempting to convince not only all women, but he Government and the people of the land as well, that the unborn child is a person. This is not so. The fetus is a biological entity of cells only. The whole point is that soul, which is that individual sparks of God, does not enter the body while it is in the womb of the female, but only after the child has been brought into the outer world, and sometimes later than that. You don't have to believe this statement.
Therefore, it is not murder if the woman decides to bear the child and carry the responsibilities of feeding it, seeing it through school and out into life, any more than it is murder if I cut off a bit of skin from a finger. It is her decision alone; there is no karma attached. There is nothing but the guilt and fear that has been pressed upon her through man's ignorance and religious false moral statements.
In the East, India for example, there exists worship of a feminine principle that is referred to as the Kali, the mother goddess. Kali is the consort of Shiva, one of the Hindu Trinity who is the offspring of Brahm, ruler of the mental world. The Ancient teachings speak of Brahm as Kal, or Kal Niranjan, the negative force, but many religions mistakenly worship him as the Supreme Lord.
Brahm, according to Hindu tradition, married Shakti and had three sons, which in the Hindu mind are personifications of the three currents which exist in these lower worlds:
- Brahma, the creator;
- Vishnu, the preserver; and
- Shiva, the destroyer.
Kali, the mother principle, who married Shiva, is the goddess of destruction. She destroys all, yet replaces it with the fertility of life. IN other words, she is a sex goddess. She represents the great womb of the universe and out of her womb is born all life. The Hindus look upon all life as the feminine principle, because they are taught that womanhood is greater than manhood.
India's religious system spread far West and East during its advent. Though there are not many powerful Hindu cults established in the West, the influence of Hinduism has been so strong that it replaced sections of thought in China and Japan, and to the West in some of the nations along the Mediterranean coast.
Christianity adopted the Virgin Mother idea from the Indian philosophy (mainly Shakti, Mother of the triad group) and completely lifted it and fashioned it into a westernized idea. The whole point is that Kali has become the symbol of the feminine mind. The whole mystery of the feminine principle is found in the Kali symbol.
Priestcraft taught man long ago that motherhood was greatest because out of it comes the birth of all life. Yet beyond this thought can be seen that Maya, illusion, is the veil through which life comes. Soul steps across from the higher planes through the veil of Maya to incarnate in the body of the child after it is born, animating it beyond mere biological existence. Now the word Maya has a dozen meanings. In the West it can be seen as Marie, Mary, May, Molly, Polly, etc. Hence comes the Mary who gave birth to the savior Jesus, yet he only used her body in order to visit this planet.
Western psychology puts an undue emphasis upon an aberration of its men: that man longs to return to the womb for its comfort, where he slept in soft darkness, protected by the woman's body, and fed without struggle. This emphasis creates the symbol in man's mind that the unborn child is a person, and his fear and guilt in the matter of abortion.
It is primarily men who advocate the legislation against legalized abortion, pushed by the churches, and this is a reflection of both the worship of the feminine principle, and a perversion of it which causes men to attempt to hold women down by imprisoning them within this role against their will. Even in the Roman Catholic faith, officially radically opposed to abortion, women are known to be far more liberal about abortion than the rigidly indoctrinated men, and often seek abortions in secret.
If the female population becomes aware of the oppression, discrimination and injustice the antiabortion movement represents, there could be massive uprisings by the women of all nations. Man is trying to put down the choice of the individual woman to decide for herself whether or not she wants the responsibility throughout the rest of her physical life of bringing a child into the physical world. For the woman in my point of view, it is simply her choice. There is no guilt factor for those are on this path, because they have the understanding to know that life is not limited to just this plane of awareness and that there is no death as Man thinks of it.
Each of us as individuals choose and control our lives, and it is not some else's part either through religion or legislation to attempt to dictate the good of all mankind. Please understand life is a blessing, for I too have been born of women."
Sri Darwin Gross. "Your Right To Choose". Ch 6. "The Woman's Right". Pp. 50-52. © 1986. (Originally published as "Your Right To Know" by IWP, 1979).
.


*********************

SRI DARWIN GROSS BOOK STUDY:

"YOUR RIGHT TO CHOOSE"

(c) 2012 by Michael Turner

Dear Friends,
Beginning April 1, 2012, I will be offering a chapter-a-day book study of Sri Darwin Gross' classic book,
"Your Right To Choose"
. If you do not have a copy, you can find it (or it's earlier edition published as "
Your Right To Know
") through Amazon or other online book distributors.
Since
"Your Right To Choose"
is 36 chapters, this study will run from April 1 through May 6. It's a wonderful book, full of great spiritual insight, human warmth and love.
As a note, All quotations (unless otherwise noted) are by Sri Darwin Gross. "
Your Right To Choose
". © 1986. (Originally published as "
Your Right To 
Know
" by IWP, 1979).
http://www.atom.org
I look forward to talking to you, working together and learning together from this study.
Have a wonderful day! and
Thank you . . . with love,
Michael Turner
http://spiritualfreedomsatsang.org


******************************

YOUR RIGHT TO CHOOSE

Day 1, Chapter 1:
"Ancient Teachings Of The Masters (ATOM)"



Chapter 1 is a fairly short chapter - just a few pages offering an introduction to the timeless Light and Sound Teachings (Surat Shabda Mediation) and the masters who have taught it since the dawn of humanity. What I would like to do in beginning this book study is to simply highlight a few of the key passages in this chapter which particularly resonate with me as points for contemplation and discussion.

After reading this chapter and and bringing it into your contemplations, please feel free to discuss. You can do so by responding to this blog here, on my Facebook page (Michael Turner-sfs), or in our Yahoo SFS group.

Thank you . . . with love,

Michael Turner


******************

Pg. 2. "The world is ready for this teaching, for there are great numbers of individuals in every country around the world just waiting to hear the message. I would not need to write one word, for Paul Twithcell presented all that is necessary for one to reach the top of the mountain, meaning experiencing the God-conscious state here and now, without waiting to die as man thinks of death."

3. "The teachings of the Masters is not a new cult, but the oldest individual religious teaching in the world."

3. "Remember, you do not have to go off to some foreign country, climb some great mountain, such as Mount Zion, India or Tibet, nor anywhere else, to find these great teachers. This simplicity of going to the temple within is all that is necessary."

3. As one enters the teachings of Atom, you should first remember not to get upset with what you read or if you do not understand a paragraph or sentence, go on. Don't sit there and let the mind haggle over it. There should be no explanations demanded of the master . . . until you have had a chance to go into the works thoroughly, read a couple of books; let it set in . . . "

4. "(The Masters) will not interfere with your thoughts. Through having your experience in Spirit, the Masters wish you to become thoroughly convinced before one can go out into the world to give credit for the work they do and the work you will do as you unfold spiritually."

4. "One of the things that fascinated me most about the Masters was their ability to communicate with each other quicker than through, or as it is called, a force much more subtle than either the telephone or thought. It is known as Soul."



******************************

Day 2, Chapter 2:
The Golden Precepts

Darwin packs a lot into this chapter - very powerful, informative and inspiring. It's like he just cuts to the chase and says: "Okay. This is what it's all about". It's hard to know where to start. Needless to say, the part of this chapter that immediately stands out is Darwin's breakdown of "the three basic cardinal principles, the three laws of God", on pages 21-22. But the entire chapter has a lot of depth and spiritual wisdom.

I've selected some passages which I feel merit particular attention. Please take some time to read both the chapter and the selections below, and allow Darwin's words to resonate within you now, and during your meditation. And please feel free to join the conversation in this blog's comments section, or on our SFS Yahoo discussion group.

Have a beautiful day.

Yours in the LightSong Eternal,

Michael Turner


********************

21. "I would like to point out here that Spirit, the voice of God, is the mainstream of Life out of which all doctrines flow. It is the basic teachings of religious belief, philosophy and other doctrines on the fulfillment of Life."

21-22. One learns at this early stage that there are three basic cardinal principles, three laws of God.

- The first law which consists of the master, the Bani, or the Sound Current, and Jivan Mukti, the spiritual freedom.

- The second law, which consists of Self-Realization or Self-knowledge, God-Realization or God-knowledge, and entering into the kingdom of heaven, either in this life or the next.

- The third law which consists of the Darshan, meeting with the Master at the temple within or in the dream state and being recognized by him; the divisions of the spiritual and material worlds; and the Atma Sarup, known as the soul-body. It is not required to meet the Master in the physical body.


22. "(M)ind is not power."

22. "The Master's role is to lead the student out of darkness into the divine light of the highest kingdom. Thus he will gain spiritual freedom, and knowledge (he gains) will be the greatest of all wisdoms, not gained from stories or books but from contact with God Itself."

23. "It is and always will be an individual path; the individual chooses for himself whether or not he wishes to take the next step. They are not forced in any direction."

23. "(T)hose that work in some way, to give a book to a friend or loved one, or hold a discussion class . . . or take some area of responsibility, must have and do have greater ethics than the rest of the world. The laws of karma will come into play swiftly."

23. "The student has the linkup initiation and it takes the master to do that, but the Word, or that which we know as the Sound Current is the reactivation withiin himself to establish himself again in the kingdom of heaven."

24. "The student in order to accept the will of God must give up his inner mental hassles to the Master, not the physical Master, but the Inter Master in his radiant form and let the Inter Master take over and direct his life, because it will be through them that God will work to give the directions and to carry him and take him into the higher life."

25. "One keeps in mind that the Master is only an instrument and because he is the instrument he himself has no will, in a sense, of his own . . .. He doesn't say 'now do this' or 'you do that,' but the divine power, the Spirit Itself . . . is flowing through the Master, reaches out and IT of Itself (God) takes and directs and moves the individual within a certain direction."

25. "An individual that is guided and listens to the Master will have far greater ethics than man knows.




*******************************

Day 3, Chapter 3
"The Word of God"



This is a wonderful chapter. In just a few pages, Sri Darwin teaches us not only about the nature of the Word of God (aka Shabda, Bani, Naam or Holy Spirit), but also the importance of uniting your attention with it. It is the same theme as in the "Jap Ji" when Guru Nanak over and over again sings the praises of communing with the Word. Sri Darwin also says that we need to learn to consciously take control of our attention, detach it from the attractions of our senses and the world, and bring it within to commune with the Word. In the process of doing this regularly, we immerse ourselves more and more in the Word, until we become completely centered in It. We become a dweller in God, and are no longer the effect of outer stimuli.

Let's take a few minutes now to read the chapter, reflecting on the passages below. When you are finished reading, please close your eyes, take your attention inside to commune with the Word, and just be in It for a little while. Feel Its Divine Love wash over your and flow through you. Be the Word. And when you open your eyes and proceed with your day, feel yourself centered in that golden love beingness. The Word is your center. The Word is you – and you are the Word.

Thank you . . . with love,


Michael Turner


************************

28. "The Shabda has been spoken of as the Living Waters of Life, the Bread of Life. It is the Voice of God. This is the security of the initiates."

28-29. "By allowing the Spirit within your world it must become part of your consciousness."

29. "It was stated by Rebazar Tarzs that, 'Nothing should move the dwellers in Spirit! He must live in God and nothing else. The influence of the psychic worlds shall not touch him.'"

30. "To have conscious awareness of the influence of some negative nature and react to it will not work. We must learn to counteract it."

31. "Your attention may either be attracted from without, or directed from within. For most people the attention is either attracted from without when you are consciously occupied with the external impressions of the immediate surroundings. For the Initiates who continue their spiritual exercises and unfold spiritually, you will find that they are not moved by external impressions but follow the inner guidance of the Master, the Inner Master."

32. "When you, as an Initiate, are able to control the movements of your attention in the subjective world, you can modify or alter your life as you wish. However, this control cannot be achieved if you allow your attention to be attracted constantly from without."

32. "Each day set yourself the duty of deliberately withdrawing your attention from the world around you on the outer and focus it subjectively by doing a spiritual exercise, such as the easy way. "



**********************************

Day 4, Chapter 4
"The Spiritual Body Of Man"



In this chapter, Sri Darwin addresses the four major points of Surat Shabda Meditation: Soul, Shabda, the Living Teacher and God.

1. Learning to take our awareness within, tap into the Shabda, and allow It to transport us into Soul awareness (or "Total Awareness");

2. We must use our meditations to center us in Shabda, and make It the focus of our attention and foundation of our lives;

3. (a) It is important for people living in the human body to have a Master also living in the human body; and (b) since the dawn of humanity, there has always been a living Master (personally, I prefer "Teacher" or "Friend") for every generation; and

4. Through uniting our attention with the Shabda and bringing the Friend into our lives, we are transported into the Pure Positive God Worlds and can directly, personally experience the Kingdom of Heaven and God ItSelf in this lifetime.

As we have been practicing with this book study, please take a few minutes to read the chapter, and the passages below. Allow Darwin's lessons to be the focus of your meditation today, and then bring that focus into the rest of your day and your dreams tonight.

Yours Always in the Eternal Shabda,



Michael Turner


***************************************

35. "It is the movement of the inner consciousness which travels through the lower states until it ascends into and beyond the etheric states."

35. "This science of total awareness grows out of the experience of soul going beyond the physical body. The subject gains the state of religious awareness at his own volition via the spiritual exercises. The latter is correlated only with the movement of the inner consciousness and soul within the regions of time and space. With soul one goes above these regions beyond time and space, for All is omniscient, omnipresent, omnipotent, hence the term Total Awareness."

36. "This state known to us as the Nam state is what we must all come to and go through to become the Spirit in the Living Word of God. We must spiritualize the mind and body by saturating ourselves with the spiritual ideal of the Inter Master and that of Divine Spirit."

36. "Spirit must therefore come first in the life of every Initiate and IT (God) will demand more and more of the individual until IT has all of one in soul."

36. "The main teaching of the Atom is that if the student faithfully practices the spiritual exercises, he will enter into the kingdom of heaven while still living in the human body."

36. "The Ancient Teachings Of The Masters offers a Master, for as spiritual law clearly states, the student in a human body must have a master in the human body, one who knows the way in the upper regions of heaven…"

37. "A Master has always been present in every civilization in history . . .. Each Master in his respective time presented the spiritual law over and over again to help those who follow the path with love and spiritual freedom. These laws which are Truth have always existed to lead man to God."

38. "It is necessary to have both the Light and Sound in your spiritual life. As you know, the Light is for the traveling soul to see the pitfalls and obstructions on Its journey to God, and the Sound is for soul to follow the path back to the throne of the King of Kings, to the Sugmad. So you must make contact with both aspects of the Word within thyself. And this is provided by God and unfolded by the true Godman, the Master of the time, along with the Sound step by step into the land of pure and eternal life."

38-39. "The way to God is difficult for those who struggle against the little self and look to the obstacles on the path. The difference between Heaven and Earth as stated inStranger by the River, by Paul Twitchell, is hardly a hairbreadth apart."



**************************

Day 5, Chapter 5
"Be Good To Yourself"


After delving into the core spiritual foundation of Surat Shabda, Darwin turns his attention in Chapter 5 to healthy living, both spiritual and physical – and illustrating how they interact. He explains clearly that a healthy body is essential for optimal living. On top of making human life happier and more positive, a healthier human body is more receptive an instrument it is for the eternal rhythm and melodies of Divine Spirit.

In discussing physical health Darji spends some time discussing vitamins, minerals, various foods and herbs, which have proven to have a beneficial influence. He also mentions the brown rice diet – something I remember him advocating repeatedly back in the 1970's and 80's (along with Sunasu vitamins). Both the brown rice fast and the lemonade fast (lemon juice, distilled water, maple syrup and cayenne) can be both purifying and energizing. I have used both over the years and can attest to their value.

Darwin also talks about our mental and spiritual health, making a particular point that we must pay attention to where our attention is, and consciously choose what we mentally ingest. We are counseled to replace negative input with positive. Further, Darwin teaches us an incredibly valuable lesson. He says that whenever we are aware of negative influences around us, we should immediately take our attention and place it on the Inner Master, Shabda and God. I would supplement this by adding that practicing Simran and repeating the Holy Names (also known as "Zikar") is an invaluable way of focusing the attention and bringing you back to your spiritual center. With practice, Simran can bring spiritual poise and inner calm in the flicker of an eyelash.

Over time we learn to dwell more and more in Spirit. As Darwin sang in his song "With Eckankar":

"Let your mind dwell in the Sea of Spirit,
To be lifted above your daily problems.
Then you are in this world, but not of it.
Once grasp the Great Form Without Form,
And you'll roam where you will,
With no evil to fear.
Calm, peaceful, and at ease . . ."

One final point of note. Darwin pauses a moment about halfway through to remind us that, for the Spiritual Current to remain fresh and vital within us, It must flow through us. If we try to possess It, it will lose Its vitality, stagnate like a stale mosquito and algae-ridden pond, and eventually become toxic. We need to share it. But it can't be the kind of sharing where we think we are going to magically "enlighten" or "heal" others with our wonderful new gift. That's just the trap of spiritual vanity, and it will stop the flow of Shabda faster than you can imagine. We just need to be an open window for the spring breeze of the Divine Melody to pass through of Its own accord. Our job is to just get out of the way and let It flow.

Let us now take a few minutes to read Chapter Five – "Be Good To Yourself" – reflecting on the chapter, and the passages below. Once your reading is done, close your eyes, place your attention with, sing "HU" three times out loud, and then keep doing so silently with the tongue of thought. Allow Darji's words to resonate within you, lifting you up and in. Keep your attention on the center point of HU, see the blue star of the Inner Friend and feel the Love of God embrace you. Take the time to truly relax into this Divine Love. Allow it to soothe you, anoint you, and wash away your all your cares and worries. Just bask in that Warm Golden Love, and know everything is going to be okay.

After a few minutes, bring your attention back outside, and proceed with your day.

Thank you for joining me in this reading, and spiritual exercise.

With love,


Michael Turner
(Zanar)

****************************************

43. "Negative thoughts and impure thoughts are a real hazard to the nervous system. If you are the type of individual that receives a negative thought occasionally, stamp it out with placing your attention either on spirit or the Inner Master. Or if you don't look to either, place your attention on God, if that's possible, and you'll overcome these negative thoughts. They will start being fewer."

43. "Herbs, minerals and vitamins from fresh foods certainly can guide the individual to a healthier life, in order to build a strong body. Not only strong but healthy, for health an feeling good allows one to develop spiritually to his fullest, but the individual must determine for himself what makes him feel good by the things he eats and drinks."

45-46. "Without proper nourishment for the body, spiritual and physical life is more difficult."

46. "Through Spirit in the teachings, one learns that to receive more we must give of what we have received."

46. "If we withhold what we receive, stagnation sets in and we'll be like the wheel that generates power from the water and suddenly of its own volition begins to withhold the water it is using. What happens is that it soon finds itself stifled with inert water. It is only when the water is allowed to flow freely through that it is of value to the wheel to create the power, and that is t rue of man as well. Spirit must freely be allowed to flow through us individually."

46-47. As one learns spiritually how to let Spirit flow through and be a vehicle for God, you'll find the Inner Master working with you, not only trying to assist in overcoming negative habits or negative thoughts, and even those negative thoughts that are impressed upon the body that make the body ill.

47. "Health and happiness means to be ride of fatigue and disease. To have a good appetite, good memory, good humor and precision in through and action, to be free from anxiety and fear, to have a great capacity for survival over illness and anxieties, to have joy, long life and greater spiritual adventures."




************************

Day 6, Chapter 6
"The Woman's Right"


This is a remarkable chapter. There's a lot of wisdom and information in a very few pages. Darwin takes a core spiritual principle and applies it to contemporary society – in the process giving a greater understanding of human, and simultaneously deepening our understanding of spirituality because we have seen how it is seen in a human basis.

The official focus of this chapter is regarding a woman's right to choose to terminate her pregnancy – something that can be very controversial and has gained more visibility than usual recently. Darwin makes it clear from the start, he is pro-choice. He starts right off by saying this. And he immediately explains why. We are soul. We are eternal self-aware sparks of God. We take on human bodies in order to interact in this universe, but we are not our bodies any more than we are the car we drive. Further, if our body is something we drive, are we really going to get behind the wheel while it is still on the assembly line? Most likely not. We might go to the factory and watch it being assembled or monitor it's progress. But we're not going to sit in a bare chassis.

In the same token, as souls we are aware of who our parents will be before we are born and we are apprised of our birth coordinates. We may spend some prenatal time "hovering" around our future parents, or checking up on our body-to-be's progress. But we're not going to get in before it's off the assembly line, detailed, with brand new sound system and a fresh coat of paint. Then we open the door, sit in the driver's seat, get comfortable, put the key in the ignition, and away we go! If something goes wrong with the construction process and we have to wait until a new one can be assembled, it may be disappointing but It's not the end. And while we may be upset about the delay, we don't say the manufacturer didn't have a right to pull the car from the assembly line prior to its completion. In the same way, a woman is not at fault for ending her pregnancy. It's okay. Nobody was killed – because nobody was in the body yet.

This second point comes up within a few paragraphs when Darwin talks about feminine principles of Kali and Maya. He says Kali is the mother principle, the symbol of femininity, which men both worship and try to control. Then he offers a very intriguing perspective of Maya. She is, he says, "the veil through which life comes". The Indian name "Maya", Darwin notes, translates in the west as "Mary", "Marie" and "May". And then, almost as a casual aside, He reminds us of Jesus being born through Mary – a powerful symbol of the Soul and the God Principle being born into human form. I like how Darwin does this – taking Spirit and applying it to our thinking so we can see human events from the perspective of soul. The more we do this, the more our meditative state of Naam infusion becomes part of our waking interactive life, until there is a seamless continuity between the two. You start to become Naam, and that is a very good thing.

I first read this chapter as one of Darwin's columns over 30 years ago, and it immediately resonated with me. The affect was profound and this core spiritual principle that soul is eternal has formed the foundation of my support of reproductive rights and our sisters' right to choose. If only people could understand this, we would not have the huge controversy about abortion and women's sovereignty over their bodies.

Why don't we take a few minutes to read this chapter, and then close our eyes and meditate on it. Make your mantra a combination of "HU" and "I am soul. I am eternal. I am love." Feel the Shabda flow through you, washing away karmic grit of the day and bathing you in Its golden love. And then take this out into your day.

All my love and blessings in the LightSong Eternal,

Michael Turner

*********************************

50. "The religious orders are attempting to convince not only all women, 
but he Government and the people of the land as well, that the unborn 
child is a person. This is not so. The fetus is a biological entity 
of cells only. The whole point is that soul, which is that individual 
sparks of God, does not enter the body while it is in the womb of the 
female, but only after the child has been brought into the outer 
world, and sometimes later than that.

50. Therefore, it is not murder if the woman decides to bear the child 
and carry the responsibilities of feeding it, seeing it through school 
and out into life, any more than it is murder if I cut off a bit of 
skin from a finger. It is her decision alone; there is no karma 
attached. There is nothing but the guilt and fear that has been 
pressed upon her through man's ignorance and religious false moral 
statements.

50. In the East, India for example, there exists worship of a feminine 
principle that is referred to as the Kali, the mother goddess.

51. Kali, the mother principle, . . . represents the great 
womb of the universe and out of her womb is born all life.

Christianity adopted the Virgin Mother idea from the Indian philosophy 
(mainly Shakti, Mother of the triad group) and completely lifted it 
and fashioned it into a westernized idea. The whole point is that 
Kali has become the symbol of the feminine mind. The whole mystery of 
the feminine principle is found in the Kali symbol.

50. Maya, illusion, is the veil through which life comes. Soul 
steps across from the higher planes through the veil of Maya to 
incarnate in the body of the child after it is born, animating it 
beyond mere biological existence. Now the word Maya has a dozen 
meanings. In the West it can be seen as Marie, Mary, May, Molly, 
Polly, etc. Hence comes the Mary who gave birth to the savior Jesus, 
yet he only used her body in order to visit this planet.

52. Man is 
trying to put down the choice of the individual woman to decide for 
herself whether or not she wants the responsibility throughout the 
rest of her physical life of bringing a child into the physical 
world. For the woman in my point of view, it is simply her choice. 
There is no guilt factor for those are on this path, because they have 
the understanding to know that life is not limited to just this plane 
of awareness and that there is no death as Man thinks of it.

52. Each of us as individuals choose and control our lives, and it is not 
some else's part either through religion or legislation to attempt to 
dictate the good of all mankind."


*************************

Day 7, Chapter 7
"Children"


When I first read this chapter – many years ago, while I was in college – I thought it was nice, and a good perspective. But I didn't consciously dwell on it too much because, well, I was a single college student, and fatherhood was not even remotely on the horizon.

As I reread it now decades later, and for the first time since becoming a dad, I find it resonating deeply with me. Moreover, I find that my initial reading Darwin's message of truly spiritual parenting had a much deeper impact on me than I thought at the time. In fact, without consciously knowing it, this chapter has been a major guiding force in my approach to raising my son from the moment he was born. Indeed, it is part of my, and my son's, spiritual foundation. From day one, I have interacted with my son as two souls who happen to inhabit physical bodies. I love him soul-to-soul, and we have a very deep and abiding connection, friendship and love.

This doesn't mean I'm trying to be his buddy instead of his father. Being the grownup, setting parameters and applying discipline when needed is a necessary part of parenting. But I don't identify or define my son by his behaviors (and, yes, he can be a handful at times). I see him as a very old soul – and an old, dear friend - who has a high capacity for handling spiritual energy – energy which could easily be unbalancing. So my primary focus at all times is keeping him aligned with Spirit. I sang him the HU the very first moment I held him in my arms, and taught it to him as soon as he could talk. It's been a part of our prayers since we first started saying them, when he was less than two years old.

I'm not trying to say I'm a perfect parent. I stumble, like everybody does. I have my Bill Cosby moments. You know what I'm talking about . ("Why did you do that?" "I don't know". "Did I tell you not to do it?" "Yes". "So - then - why – did – you – do – it?" "…. I don't know".) And there have been times when I have been, shall we say, overly enthusiastic in trying to teach him about the path – going on and on until his eyes glaze over. So it's good to reread Darwin's advice to not give your child more then he or she can handle. Pay attention. Listen to them. And, as in facts-of-life talks, answer the question they are asking – as simply and to the point as possible. Furthermore – and perhaps most importantly – respect your children, and give them absolute, unconditional love.

If you follow Darji's suggestions below, and throughout this chapter, you will find his wisdom becoming part of the bedrock of your parenting. And this is a very, very good thing.

Now let's take some time to read this again. Then follow our reading with a HU song and contemplation.

Have a beauty-full day.

May the Blessings Be!



Michael Turner

Spiritual Freedom Satsang

******************************************

54. "The children on this path fit a very important role in the teaching and that of society. These children are an expression of spirit . . . . Through spiritual training and the teachings of Atom and the use of HU at a very early age, a foundation is being built for that child . . ."

54-55 "Children should be allowed to go along at their own speed; not pushed, it's best to encourage but not to push. If the parent is reading or discussing this with children and they become disinterested, then stop where you are and pick up later. Let them grow at their own pace. Children will have varied experiences, different from their parents, or from other children's, so no comparisons should be made. Let them experience in their own way.

55. The parents can help their children take the first step onto the Path by teaching them the principles and help them to have faith in and love for the inner master and to accept him as teacher and guide. This carries them further and further along the path to God, the way to god-enlightenment."

56. "This substance that is known as Spirit, if IT wants to go in another direction, and it is not the direction you wish to go in, let IT be. It isn't easy sometimes to let go and live life and let others be. Those that come to know and understand spirit know that they have a far greater love that is always with them."

56. "One of the basic secrets that we can teach our children, I don't care what type of home they come from, is to teach them not to be for or against anything. Allow them to have their opinion, listen to them. Even though the make a mistake, thank them.'

57. "So Divine love is one of the greatest factors you can use."


**********************

Day 8, Chapter 8
"Self-Surrender"


This is a tough one. Self-Surrender is a really interesting subject; but it's frequently misunderstood. It's easy to have the automatic reaction that it means surrendering your free will and allowing another person to take control of your life. We here in the west are an independent people; individualism is part of our core cultural identity. So we have a natural tendency to be cautious about surrendering any part of ourselves to others. This hesitation is compounded by our recent history of abuses of power by religious figures and charismatic cult leaders.

But the thing to understand is that we're not talking about outer surrender – about joining some group and surrendering our individuality, money and possessions to a religious Borg. This is the point Darwin makes right from the get go. He makes it clear that the focus is on inner surrender. He says we have to let go and surrender to the Gurudev, the Inner Master, the Inner Teacher, the Inner Friend. We have to trust him completely and unreservedly, and know his love for us is absolute, that he is right here for us. He's here to offer a steadying hand when needed, to catch us if we stumble and get us back on our feet again, to offer a gentle nudge now and then to refocus our attention on the Eternal One (or Ek) of Shabda.

This matter of trust is very important. For in that trust we can truly relax and let go to the Homeward Current of Shabda.

Now the question arises, how do we know the Inner Friend is real? For starters, they will never tell us to do anything that is negative, harmful or socially inappropriate. In addition, a true Inner Friend correlates with our outer spiritual teacher. He or she is not some ephemeral being asserting they are so-and-so past or ascended spiritual teacher (after all, how can we possibly check their credentials on the inner?); nor will they say we should ignore human teachers and listen to them alone. A true Inner Friend is either the Outer Teacher as well, or they will defer to the Outer Teacher and serve only as a supplemental source of guidance.

Once we have reached that level of trust with the Outer Teacher and are able to comfortably surrender to the Inner Teacher, then we have passed a major threshold in our spiritual growth. As Darwin says, we give up our troubles to the Gurudev. And being a matrix for the Shabda Current, they will happily take up our cares and worries and carry them away. They become a beacon of pure conscious love radiating at the central point within, serving as a beacon guiding us further and further within. And as we relax with them and are comfortable with them – like spending time with an old and dear friend - the dual worlds pass us by as we progress on our journey Home to Soul and God.

One other key point here is that in addition to surrendering our cares and worries, we are also surrendering our emotional, causal and mental baggage. We let go of emotional roller coasters; we cease to give our energy to memories and negative habits; we drop our mental preconceptions. They are all things that hold us back and weigh us down – like sandbags in a hot air balloon.

This is an important point here. Everything in the dual worlds – whether they be physical, emotional (astral), causal, mental or etheric – everything in these regions have mass and weight. The Pure Positive God Worlds of Sat Lok and above are Eternal Divine Love and have neither mass nor weight. So it stands to reason, we cannot bring anything that has mass into a dimension that is mass-less. Pure Soul, being a particle of the Eternal, is also massless and weightless. It can be in the Eternal worlds, but it's garments of mind, causality, emotion and physicality cannot.

Furthermore, this is the same reason that the entire concept of living out eternity in our human bodies is inherently false. Anything that is dual – anything for which there can be a counterpoint, opposite or antithesis (e.g., physical bodies, emotions, memories and ideas) – by its very nature is temporal. And anything that is temporal, by its very nature, can change, decay and die, and therefore cannot be eternal. While we always need to love and care for our temporal garments, we must always maintain our focus on the Eternal. When we do this, the outer garments may decay and fall away, and it does not affect our focus. When our attention is in the Eternal, we are in the Eternal. And we arethe Eternal. This is the great blessing and gift of self-surrender. This is what Darwin, and so many masters before him, has called "Dying Daily".

Let's take a moment now to re-read the chapter and the selected quotes below. Then we will begin the HU song, letting it gradually fade into outer silence and move into the inner screen, becoming a glowing point of musical light in our spiritual eye center (above and between the eyebrows). That ringing radiance we see and here is the Shabda form of the friend. Relax and just be with the Shabda radiance of your friend for a few minutes. See how relaxed, comfortable and natural it is. In fact, it feels perfectly normal, like you've been with him having this conversation for as long as you can remember.

Yours in Shabda,


Michael Turner


******************************

62 "Self –surrender is the real key to spiritual success in the heavenly worlds. If one is looking for success on any plane in the invisible world this is the way, for only by self-surrender do we gain illumination and knowledge of true spirituality, and, of course, entrance into the Kingdom of God." The question arises in the mind – to whom does one surrender? The surrender is to the Inner Master, or course, not to the physical form that is seen with the outer eyes, but to the Master who comes to you in the radiant form."

63 "The Inner Master can be found by the individual sitting in silence while doing the spiritual contemplative exercise and gazing into the spiritual eye, not striving, not pushing, but by gentle patience. Eventually, the light will come like a curtain around the watcher and the inner ear opens for the sound. Often, there is a slow rocking of the body as if it were in a rocking chair. After this, the Inner Master, or what we know as the spiritual traveler, steps into the arena of the spiritual eye and takes the watcher out of the physical consciousness into the invisible planes. As a rule, it is a subjective experience."

63 "The release of all tensions and conflicts is the first step to self-surrender, turning all difficulties and problems over to this Inner Master and, of course, turning your inner life over to him . . . . It takes care of all problems with this material world and takes care of any possible situation which might rise on the inner planes."

64. " One can never explain or tell what it is, but must learn upon the intuitive knowledge that "I am Spirit and Spirit is me. It is actually this simple, and by becoming the instrument through which Spirit flows so rapidly, one is able to accomplish deeds beyond his expectations, find self-healing, and the ability to help others in all fields. He will find himself able to ride the spiritual currents and cross to heaven to the very realm of dying, and return to the physical form that is left below on the lower material plane. This is dying daily."

64. "Giving up to the Inner Master, the Spiritual Traveler, whichever you wish to all IT, is not letting go of free will but making use of it for the Divine Cause. The attention is put upon the inner form of the teacher and therefore one plans according to the instructions and wisdom received from the inner planes. This is where the creative faculty and free will are put to use, like all other faculties of man. There are comparable faculties on the inner planes and the power flows through these to the objective faculty, the physical mind."




***********************

Day 9, Chapter 9
"The Occult"


This is an interesting chapter. In it Darwin gives strong cautions about occult practice, and offers a way of protecting yourself from outside psychic or occult influences. His cautions are based primarily on two points: violation of free will and psychic instability.

On the first point, occult practice can negatively impact personal freedom to choose your own state of consciousness and life. The occult in this sense is in using mind and will power to influence, manipulate and/or coerce people, other life forms and events to conform to your desires. This includes praying for people to change their minds about something (including praying for someone to "find the Lord" or change their faith to be in accordance with your own). When used in this way, it disrespects and reduces free will. People must be allowed the freedom to choose their own state of consciousness, no matter how we feel about it. We must respect that freedom.

In addition, because it is born of the magnetism of desire, will power and ego, occult practice is inherently karma creating. This karmic factor can be often in seen in people who do psychic healings. In many cases, the negative disease energy and karma passes through the aspiring healer, and in the process attaches itself to that individual. As a result, the healer is stuck working off the karma, and often goes through very difficult health and weight conditions.

If you want to serve as a co-worker with God through helping people be healed, a much more balanced way of going about this. Simply be an instrument for Spirit to flow through. If you do this, and are totally open and centered, the Spiritual Current will guide you where you need to be. Using you as a human focal point, It will flow through you and touch those who have been blessed with healings. No desire is involved – often you are not even aware of who is being healed. You may be grocery shopping or running errands, and guided by Spirit to be at the right place at the right time for It to touch and bless another soul. You are simply living life as an instrument of Spirit.

If you have a friend or loved one who is sick, all you need to do is be there for them. Bring them soup, read to them, hold their hand, listen to music, watch a movie together, talk. By simply being there for your friend while centered in Spirit, your very presence will uplift them because, again, the Current will flow through you and touch them of Its own accord.

Now the other concern Darwin raises about the occult is on page 68. When talking about the risks of certain practices, he alludes to the fact that, in doing these practices you open yourself up to certain – often invasive - psychic frequencies. These energies are much harsher than the pure Spiritual Current of Shabda, and can be incredibly psychically, mentally and emotionally destabilizing. I have seen this myself over the years – people who open themselves to extra-sensory vibrations, various cosmic rays, non-physical "ascended" presences, or even practice kundalini work without a competent teacher. Over and over again I have witnessed people succumb to mental instability and illness, who are so far gone they wind up being Section 8. It's similar to folks who have done too many drugs. Their emotions are frayed and their brains are fried. They can barely function in society.

But there is solution to both being affected by these practices and being the recipient of the negative energy of someone else engaged in these practices. That solution is the Shabda and the Inner Friend. By surrounding yourself with and immersing yourself in Shabda (rather than a psychic frequency), you are immersed in the Pure Spiritual Current rather than one of its dualistic, psychic tributaries. You allow the Current to wash away the psychic debris and form a protective shield around – like a sphere of musical light encompassing you. No psychic currents can penetrate it. And by keeping your attention on the Friend, you have both a point of focus to maintain your balance and serenity, and a living matrix of God protecting you and guiding you at all times. No matter what is going on around you, Shabda and the Inner Friend will be there for you, and no psychic negativity will get through. You will be in Shabda, in Love, in God.

Let's take some time now to read the chapter, and allow it and the selections to resonate within us as we do our meditation. See the ringing radiance of the Inner Friend, hear the Song of the Eternal serenading you and enfolding you in Its Divine Love. Be that love, and carry it forward into your day.

Thank you for spending this time with me, and

May the Blessings Be!



Michael Turner

******************************

66 "The occult is practiced by literally millions who are not aware they're interfering with another person's state of consciousness or spiritual freedom , but there is no occult practice that can affect those in the know as Atoms and must lit live, work and walk in the presence of God and nothing else. The influence of the psychic worlds will not touch one."

66 "Now those who look to the Mahanta or the Inter Master have a shield whether they realize it or not, regardless of who they are or where they are on the path, or what level of spiritual unfoldment they have reached."

67 "This protection is in the form of a globe of light, and if you use it, another person's thought cannot affect you or sway you We as individuals must make up our own minds and within ourselves make the decisions pertaining to our outer life and how we live it, for this is your choice and God-given right to choose."

67 "The practice of the occult is very often subtle . . . It can be done mentally: An individual can, through mind control, attempt to control others."

67 "When another individual might pray for your or think or feel that something is good for you . . . you can reject it."

67 "The function of the spiritual guide for those on this path, is that . . . there is no occult practice in this world, or any other world, that can affect him as an individual here in this physical plane. And those individuals who can move Spirit through prayer and meditation they cannot touch you."

68 "There is real danger for those who take up the study of the occult without a competent spiritual master. ESP, clairvoyance, witchcraft, hypnotism, demonology or contacting the spirits of the deceased can certainly lead to a breakdown or degradation of those who participate, homicides and mental cases.

Man in his ego always believes that he can outwit or manipulate the negative forces. It always appears this way because the negative wants to establish the illusion that Man is the greatest of all in this world. However, in the end, Man usually finds himself in a mental institution or in other disastrous situations."




***********************

Day 10, Chapter 10
"Awaken Your Consciousness"



Wow. There is so much here. This is one of the longer chapters so far, and Darwin covers a lot of ground. The overarching theme seems to be the inner life and doing what it takes to be more united with the Spiritual Current. He speaks at length about how important it is to do our spiritual exercises of communing with the Shabda, and what happens if we do.

Darwin teaches us that by doing our spiritual exercises - by communing with the Word - on a regular basis, we learn to take control of our attention and go within whenever we choose. And by being able to shift our attention from without to within, we become able to explore the inner realms, learn things from inner classes, and gradually be able to bring the insight we gain from direct perception as Soul into human consciousness.

He notes that this may not happen immediately – and that having a primarily astral (emotional) or mental focus may make Shabda Meditation challenging at first - but with consistent and persistent practice of the spiritual exercises, this continuity of the attention will become a natural part of your life.

Darwin teaches us that our regular contemplation of the Shabda makes us better instruments for the expression of Shabda – indeed, his is empatic about this – and reminds us that, if we don't allow the Spiritual Current to flow through us freely, it can stagnate and cause difficulties. We need to be absolutely clear and open for the Current to flow through us and freely express ITSelf through us.

Darwin also reiterates his ongoing theme of personal freedom – freedom of consciousness, freedom to think for yourself (without interference from others), even freedom to make mistakes. In terms of the latter he offers two points of advice nearly simultaneously: (1) always observe the highest level of ethics (which gradually comes more naturally as we learn to immerse ourselves in Spirit); and (2) don't judge others who you think may be less ethical than you.

The second point is important as the first, because it's a matter of humble – another point Darwin brings up. When we start judging others, we tacitly raise ourselves up above them and can fall prey to the subtle snare of spiritual vanity, which in turn can lead us to believe we are above the law and can act as we wish without concern for something as "trivial" as ethics. Humility and love are part of the bedrock of this path, and must be a part of your spiritual foundation.

Finally, Darwin cites Paul Twitchell in describing the nature and beauty of the Shabda Current. He speaks at length of what Shabda is, its various vibrational frequencies (including the dualistic Mental frequency which is a function of Kal), and what IT does. In just a few paragraphs, he gives us wisdom and an understanding of the foundation of this path that is timeless and incredibly profound. It is easily as profound as anything ever spoken by Soamiji, Nanak, Kirpal, or any other Teacher of this path of Surat Shabda Meditation. Those paragraphs alone (abridged below) are enough to contemplate in and of themselves.

So as we read this chapter, let's read it slowly and allow all of Darwin's words to sink in. And then take those key paragraphs near the end. Allow them to sink in through the eyes and resonate within.

When we have finished reading, let's close our eyes and begin singing the HU, allowing IT to fill us with IT's Divine Love. Gradually we will let the outer sound fall away, and begin repeating it – or the Holy Names – within. We can see the inner light, hear the inner sound, and feel ourselves opening up as instruments for Divine Spirit.

Thank you for sharing this time with me.

Love and Blessings in Divine Spirit,



Michael Turner

***********************************

70 "The shifting of the consciousness is very easy and it is automatic once you learn how to do it."

71 "(Worshipping is) personal. It is something that you don't demonstrate to others nor to the loved ones because they won't understand you. If you are not being understood, then friction arises."

71 "The Spirit of ITself chooses us as individuals . . ."

72 "If you follow your intuitiveness and develop that to a greater degree, then your perceptiveness or perception on the inner planes as well, as out here, becomes far greater. This is being able to see things with your physical eyes or with your spiritual eye, not to analyze, but know what you have seen taking place, to have that understanding. . . . It is experienced in the soul body and it filters through to the physical sometimes."

72 It takes indifference to certain situations, detachment from other things, humility and love. To the humble takes a lot of discipline of one's self, but it also takes some experience, experience with the Light and Sound, and complete understanding.

74 "Whether it is to yourself, your loved ones, or those you deal with in the outer world, living the life of spirit we are supposed to have the highest code of ethics."

74 "You can lift up those around you without interfering with their state of consciousness, by letting the inner master assist you whether at work or at play or just daydreaming."

75-76 "By regular daily use of this spiritual exercise (e.g., "The Easy Way"), one can establish the inner relationship the inner relationship with Spirit essential to becoming a vehicle for Spirit to use. By learning to place attention upon the inner self, soul, one's true reality is fine-tuned, awakened and sharpened to the realization of Its purpose for being."

79 (quoting Paul Twitchell) "'Spirit is the embodiment of all attributes of life, of spiritual enlightenment, of vitality and vibrancy. IT is endowed with vibrancy. It is endowed with intelligence . . . . The Spirit descends and ascends in vibratory currents, producing music inherent and inborn that gives joy to the heart of those who have the power to hear ITS melody. The middle aspect of Spirit is light and ITS lower aspect is intelligence. IT vibrates and reverberates through all worlds. Within the higher worlds IT creates the sound, the music of life; within the psychic worlds IT creates light and in the worlds of matter IT creates intelligence.

All in all, IT creates, sustains and gives freedom to that chela who is able to hear the music of the Sugmad, to see the light of the worlds and to know with the intellect. With this comes freedom, the liberation that brings to Soul the very essence of happiness. This is the true freedom, the true happiness, the true knowledge of God.'"



*******************

Day 11, Chapter 11
"A Look At The Sun"


This is an interesting chapter. For the first couple of pages, Darwin appears to be offering a rather unconventional view about the nature of the sun (with an aside about Venus) and atomic structure. But in a sense, this really just offers a framework for him to talk about living a healthy spiritual and human life. Darwin uses these concepts to show how to be healthier and happier.

Darwin uses the analogy of rockets puncturing the Van Allen belt to illustrate how projecting anger and negativity can puncture the sender's aura – sometimes leaving it in shredded tatters - which in turn can drain one's energy and leave one fatigued and unsettled. I used to refer to this as an anger hangover. As we progress on this path we learn that any projecting any form of anger – even when it may seem "justifiable" – boomerangs right back on the sender. The farther along we are, the quicker it returns. I speak from experience. I can also attest to the incredible benefits of doing spiritual exercises and communing with the Word as a way of healing those auric holes.

Later in the chapter, Darwin offers the analogy of the sun polarizing atoms – and in the process producing warmth – to explain the benefits of being both in the physical and spiritual proximity of the Teacher, and directing our thoughts and love to him. When we do this humbly and with receptivity, a solid link is created and maintained with the Teacher. A golden thread of spiritual energy and love connects the Teacher and the student, and the presence of the Inner Friend becomes a living, tangible reality. From this point on – so long as the humility, receptivity and love is there – the Inner Friend is a constant companion and source of guidance and comfort. This is one of the great blessings of this path.

In the few paragraphs between his discussion about aura health and his observations about the connection with the Inner Friend, Darwin hits some key points. He speaks of how important it is to live an active, vital, joyous and vibrant life here on this earth. We are to be embrace our humanity and live it fully, as an expression of our spiritual core. We are meant to be happy and to have a cheerful, positive attitude, because Soul is a happy entity. Soul is a particle of pure, eternal, divine love, and as such is an expression of the greatest joy and bliss imaginable.

Finally, as almost an aside, Darwin briefly talks of self-surrender. And in doing so he offers another facet of it as it pertains to living a happy, healthy life. He tells us not to obsess over little negative things, but to rather maintain an attitude of cheerful detachment. In effect he is saying, "Don't sweat the small stuff. It'll only drag you down."

I couldn't agree more. When your attention is centered in Soul and Shabda, you gain true perspective. From the top of the mountain (as Paul Twitchell used to call it) you are able to get a real sense of the topography of your life. From here, you can see clearly and make calm, lucid decisions from the viewpoint of Soul and Divine Love. This is something you can take with you and make your life here on earth happier and healthier. And that is a very good thing.

Let's take a moment now to re-read the chapter and bring this perspective of humbleness, receptivity and love into our contemplation, and, from there, into our daily lives.

Have a beautiful day.

May the Blessings Be!


Michael Turner


**************************************

84. "When man sends a vehicle into outer space, many times the aura that covers the planet is punctured. . . . It lets more negative current flow through that aura. The same thing happens with us as individuals by letting negative thoughts go out from us. It will puncture the outermost sheath. Certain words or thoughts are more detrimental to this effect of puncturing the astral body because it must go from the mental on through the outer sheaths which are basically electromagnetic in structure. . . .You as an individual can close these gaps or holes through the spiritual exercises."

84. "We find that those having a better health seem to be greater in traveling the path. . . .The health factor goes along with thoughts of joy and your attitude of non-resistance to whatever happens, keeping that happy attitude within yourself, and that cheerfulness. These are factors of survival in the Far Country."

85. "Be very observant by not being a bystander, but being active and part of that, because life must be lived in the physical body here on this plane of existence."

85. "If one realizes that self-surrender is giving up the little things about other or about yourself, the backbiting or chewing over things, one will find that knowledge and that wisdom about the Far Country."

85. "A polarization of the atoms takes place when the sun is out, and it produces warmth. The same thing is true when the Master of the time is amongst the students that look to him, whether he is in the physical or radiant body, there is polarization of the atom structure and they feel that warmth and love. . . . If one recognizes this, and places his attention on the Inner Master at the time of need, or stress, or anytime, that polarization will take place. Then he could be in a dark spot and be warm, or in trouble and know that he is being guided through it, or going through a rough area, whether it is physical or spiritual."



****************************

Day 12, Chapter 12
"Science"


Hi.

This is another one of those chapters that operates on a couple of different levels. Its official theme is science, and Darwin spends quite a bit of time discussing this from both a spiritual and human perspective.

On the spiritual side, Darwin delves into the Museum of Science on the Astral Plane – a place where we can find the archetypes of every invention, which has ever existed or will ever come into being. It's a fascinating place. On top of what this astral museum contains, Darwin also teaches us that operating in the soul body is much more effective and direct than trying to explore in the astral body.

In addition, Darwin makes the crucial point that we must not try to bring back inventions for purpose of getting wealthy and our own self-aggrandizement. We much approach this place from the perspective of love and caring for our fellow human beings. We must be thinking of what is best for humankind and how we can help our brothers and sisters. It is when we operate from this perspective – the perspective of compassion and soul – that we gain admittance and are able to transmit inventive inspiration to our human consciousness.

Darwin comes back to this point of operating for the greater good of Earth and humanity at the end of the chapter as well. He talks about people mistreating our planet with nuclear waste and toxic chemicals. He even approaches the theme of global warming (years before it was a common theme of in our national discourse) in discussing how car exhaust and substances such as aerosols harm our protective ozone layer.

Behind all of this is one of Darwin's ongoing themes: that we live a life of love and joy, and act for the good of all life.

In these pages, Darwin also touches on some other themes as well. He notes that the goal of this path – and his role as a Teacher – is to help the individual shift their attention to soul-consciousness, rise up above body consciousness, above space and time, and into the regions of pure positive Spirit. In saying this, he also states the basic precept that all regions below the Soul Plane – from the physical, through the astral, causal, mental and etheric planes – are part of duality and subject to space and time. Even in a dimension as rarified and seemingly eternal as the upper end of the mental plane is still subject to space and time, decay and dissolution. Darwin's goal – and that of every true Teacher – is to help us attain soul-consciousness and God-realization as quickly as possible.

Also, in referring to soul consciousness, Darwin shows how it differs from astral or mental projection. In the latter, one projects their astral or mental attention from here to another place – be it a physical location, or some other dimension. In other words, it is a matter of moving from here to there. In soul consciousness, on the other hand, there is no movement. There is just a gentle expansion of awareness. As Paul Twitchell used to say, we are going from here to here. We become a point of attention, and are wherever we place our attention, and we know through direct perception.

I'd like to briefly go over a couple of other points Darwin makes as we finish up. The first is the nature of the aura. Darji touches on it for a moment, describing it as an "electromagnetic sheath" with colors reflecting our state of mind, our moods, even what sorts of medications or intoxicants have been used. As he has stated elsewhere, anger along with other things can pierce the aura, leaving holes in it and leading to personal disharmony. This is why it is important to maintain our calm center, and make use of our spiritual exercises, of singing the Names and communing with the Word to heal and center ourselves.

Darwin also talks about detachment, about giving up things on the inner and outer. It's another way of saying "self-surrender". He makes it clear, once again, that he's not talking about giving up our cars and homes and retirement accounts. We need to learn to let go of our attachment to them. And then, proceeding within, we need to give up our attachment to our emotions, habits of mood and thought, and our mental preconceptions. All of these inner things have mass and weight. So long as we are attached to them, like sandbags in a hot air balloon, they drag us down and prevent our attention from soaring back to the Pure Positive God Worlds. By letting go of our opinions, we not only find release, we also find inner peace, harmony and serenity. And we can bask in the LightSong of the Shabda.

Okay now. Let's take a few minutes to re-read the chapter, and then begin our meditation with our attention on Darwin's lessons and wisdom.

Have a beautiful day.

Yours in Naam,


Michael Turner


******************************

88. "Essentially my role as the Master is the same regardless of what planet or plane of existence . . . . (M)y only concern is that that person who is ready or desires during this lifetime, who wants to experience, wants to get back to the God-state, has that opportunity."

90. "I came across this Museum not in astral projection, but in evolving myself spiritually through traveling in soul and its techniques using soul as a vehicle. I found that I could stay there a half an hour (where through astral projection it's momentary), and to witness, to see what is going to be coming out from Man in the way of things that he'll use for himself and to make life easier on this Earth plane. It's fantastic. You must use it for the good of all life."

91. "Time exists within the lower worlds, the worlds from the etheric plane down to the physical world. . . . From the soul plane on up into the pure positive God Worlds there is no time as we know time."

91. "(T)he teachings of the Atom try to get the individual out of these lower worlds as swiftly as possible and into the worlds of pure positiveness where there is not time and space as well know it. The reason for this is that that individual can then be able to have at his disposal a joy or be able to reach that bliss state that most people are seeking and unable to. They are able to rise above time, space and matter in this manner, whether they are at work, at play or out on the street. When something takes place they are not affected by the cause."

92. "The soul body vibrates the highest rate of vibration that exists. Man does not really know it; it is not measurable. When one is able to move within the soul body, then soul is not moving, in essence, but the individual from his point of view is able to know what is happening . . . . When one starts to gain some experience via traveling in the soul body, one doesn't move in the soul body - one knows. It's a vast difference."

92. ". . . Man has an aura, and this is a sheath, an electromagnetic field basically, and within the aura are specific colors. If a person is angry he will show certain colors or change from one color to another and if he is continually using certain drugs or alcohol, it will show another color within that electromagnetic spectrum or aura."

93. "One reaches the point on the spiritual ladder of life when he must give up everything on the inner within himself as well as on the outer, and this does not mean that you give up your home, your automobile or that sort of thing but being attached, and this attachment must be given up."

93. ". . . Man, especially science, should be aware that burying nuclear waste and other chemicals in drums, etc., moving it from one area and burying it in another place on Earth, is just going to pollute that other area down through time."

94. "Another point of view that modern science needs to look at, is to replace the combustion engine and other aerosol contained and types of air conditioning, for Man is rapidly depleting the ozone layer. I spoke of that in the early 70s, in different lectures throughout the world, just as I had about drugs, and no one heard me. . . . Let's use our minds and our hearts for the good of all mankind on Earth and not continue to pollute it."





************************

Day 13, Chapter 13
"Morals & Ethics"




This is a very beautiful and powerful chapter. Darwin starts right off by establishing what is expected of Initiates: operating from a foundation of dignity and humility, and inspiring peace of mind, serenity of heart and joy within those around them. It is upon this foundation of dignity and humility – of service and self-surrender – that he builds the framework for morals and ethics.

As we have discussed before, self-surrender is about surrendering yourself, humbling yourself, before Divine Spirit. When you do this, when you empty yourself of ego and shortsighted self-aggrandizement and make yourself a vessel to be filled by Divine Spirit, you discover a wonderful thing. You find that, rather than bustling around worrying all the time about following social rules and regulations and mores – worrying about doing the wrong thing or getting in trouble – you begin acting from the perspective of and in harmony with the Divine Love that is Shabda. And when you do this, right thought, right speech and right action come naturally. You act in an ethical and moral manner because there is no other way to act when you are in harmony with Shabda. When you are in disharmony, you act discordantly (just like an instrument that is out of tune). When you are in harmony, you become a human melody that is in tune with the Divine Harmonic of Shabda, Soul and God.

In the process of establishing this precept, Darwin also touches on some other points as ways of illustrating proper ethics. For one, he cautions us to not use our spiritual work as initiates as a marketing tool to encourage people to purchase extraneous products from us (as some people were doing at spiritual talks and seminars in the 1970s).

Darwin also makes reminds us that life on the earth plane – and in fact all the lower worlds – is life of dealing with negativity. This world is a testing ground for us, offering us a wide variety of experiences - some of them negative – as a way of teaching us, of softening the edges and polishing us – rather like the abrasive material in a gem tumbler, or a pot of hot water cooking dry chickpeas. It's not always fun. Sometimes – like the chickpea in Rumi's classic tale – we want to jump out of the hot water, because being cooked is not fun. But, as Rumi's cook tells the upset chickpea, the cooking is designed to purify us, make us receptive to the flavorings the Eternal Chef provides until we are in perfect balance and harmony with the Divine.

Darwin also makes it clear that, in saying that we should not be obsessed with social mores, he is not advocating an amoral life, or an ego/will based variant of "Do what thou wilt is the whole of the law". What he is saying is that we should not be the effects of our outer environment. Rather we should be harmony with the Primal Creative Current of Shabda and, acting freely in harmony with Its Love, become the co-composers of our life's symphony.

For, when we are in harmony with Shabda, we are in harmony with the Current of Life ItSelf. In the process, we naturally do what is good for all life, what is good for the whole. We follow understand, respect and follow the laws of karma down to the last penny. We become living examples of natural, spiritual ethics in expression and attain spiritual freedom in this lifetime.

As we do every day, let us take a moment now to reread this chapter. Let us bring Darwin's wisdom – and that of the Inner Friend – into our meditation, incorporating it into ourselves and carrying it forward into our day.

My love and blessings are always with you,

In Naam,


Michael Turner
*********************************

96. "The individual must be spiritually developed in such a degree that he inspires in those who are the uninitiated a subtle peace of mind and serenity of heart. He must give joy to those around himself; it must radiate from him from within. This is especially true for those Initiates of the Soul Circle. Dignity and sweet humility are the twin traits in the Atoms and this he must not waiver from or he'll have physical difficulties as well as difficult human relations."

97. "First we must realize that we are here in the lower worlds for the purpose of spiritual experience in all that there is here, including the various forms of negativity. We stimulate the growth of our consciousness by learning from the karmatic effects of our thoughts, words and deeds."

97. "What we must do is go past all morals, past the dichotomy of human extremes, so-called good and evil. These illusory standards are the cause of more sorrow, guilt and anxiety than society can withstand. We must transcend the inhabiting factor of these codes, thus transcending their negative emotions and reach the state of Oneness that emanates from the center of Being."

97-98. "All negative habits and unwholesome modes of behavior will gradually be eliminated by the Spirit as each soul unfolds at his own natural pace, as the little self steps aside in the wake of the Universal Cause."

98. "A chela of the Atom must not waste energy and create further karmatic ties by putting his attention on another individual's limitations and/or seemingly negative behavior, for we are not to judge the experiences of others just as we need the freedom to experience what our own consciousness requires for soul growth at any particular time."

98. "This is not situation ethics which implies a versatility of situations, but it does include a versatility of response in the sense that, as channels, we may act differently to a given situation according to the level of consciousness of the people involved in the situation, in order that we may reach each respective state of consciousness with the message."

99. Ethics can be defined as that which is not selfish, which is good for the whole, which will not harm one, and will do justice for all concerned, actions for the benefit of all. If we can conform to this principle of obedience to the Universal Law, all will be well for the individual's free choice, for ourselves and others concerned.

99. "As long as we owe one penny to the Earth, or to anyone else, we must return to pay it or work it off in some manner in a form of karma, negative karma. The story of Abraham Lincoln, who walked seven miles to give back a few pennies for overcharging a customer, is an example of how this Law should be respected."




***************************

Day 14, Chapter 14
"Death: It's Illusions"


Good morning.

It being a Saturday, I'm going to make my comments brief, and let Darwin's wisdom speak for itself.

While Darwin touches upon a few peripheral points such as animals going to heaven, why he believes cremation is preferable to body burial, and the benefits of the brown rice diet (I can attest to its benefits), the primary focus is transcending death while still living. Indeed, this is one of the cornerstones of Surat Shabda Meditation and has been taught by every Surat Shabda Teacher from the dawn of humankind. St. Paul said, "I die daily", and a multitude of masters – recently including Charan Singh called it "dying while living" and Kirpal Singh referred to it as "above-body consciousness". I have discussed it recently as well.

Sri Darwin teaches us that through harmonizing our attention with the Shabda, we are lifted up above body consciousness. We learn to consciously shift our attention from the physical body, into inner dimensions, from the Astral Plane on up through the causal and mental planes, until we reach the Soul Plane and the Pure Positive God Worlds. In Christian parlance, this could be described (and has been, in TV shows such as "I Survived . . . Beyond and Back") as directly experiencing the Kingdom of Heaven while still alive.

This has numerous benefits, perhaps the most tangible being that we directly experience ourselves as soul - an eternal unit of attention that inhabits and cares for a physical body (and astral, causal and mental garments), but is independent of it. We learn that we are a soul and we have a body. This is incredibly liberating. We are freed from the fear of death, and become happier, more radiant people day by day. This deep abiding peace, joy and liberation is a tangible benefit from practicing Surat Shabda Meditation, and a gift God offers us all in this lifetime.

Let's take some time now to read this chapter over a couple of times, focusing on the paragraphs below, and then close our eyes, sing HU and commune with the Shabda – the Eternal Word.

All my love and blessings in the LightSong of Naam,


Michael Turner


*************************

102. "To know one's self, as Socrates put it a few thousand years ago, is really the first commandment of the Masters.

102. "The Master of the time, and those Masters in the seven Golden Wisdom Temples, taught only those who were advanced spiritually to the point to be trusted in leaving the physical body temporarily while soul explored the worlds of the universe, including the planets and constellations of the invisible worlds where we go after death of the physical body.

102-103. "The students learn to leave their bodies much in the same way a dying man leaves his house, except the neophyte does it voluntarily and the process is always under his control, and he can come back into the body at any moment he wishes to return. . . . He understands what death means and views what lies beyond death. He may even become acquainted with the astral home to which he is to go when he finally takes leave of his physical body."

103. "He may even converse with friends and family who have long before left their physical bodies . . .. It is one phase of the great work of the Spiritual Travelers. They have broken the seal of death and so to them and their charges there is no more death. All of this is positive knowledge, not speculation or guesswork. Neither is it the interpretation of any book. It is through experience."

104. "One of the functions of the Master is to assist those following the path across the borders of death and place them on that plane or place where they have developed themselves spiritually, whether one has just stepped on the path or is even thinking about it."

104. "The most distinguishing facet of the Atom's existence is a sense of joy, a joy which arises from his knowledge that death is a myth, that the word 'life' has a reality that encompasses states of existence beyond Man's imagination, and that the only thing that holds Man from the realization of these states is his own self-limiting concepts."

105. "Man should do a brown rice diet, ten to eleven days, once or twice a year to clean the chemicals out of his blood stream. Or steam distilled water and dry rice cakes if one has a strong heart. This should be checked with your doctor."

105. "The secret of an Atom, is in keeping a singing and joyful heart, this is one of the greatest factors of survival in Man's life here, as well as the life after what man calls death."





********************************

Day 15, Chapter 15
"Spiritual Growth"



Chapter 15 can be viewed as a natural extension of Chapter 14. Sri Darwin picks up where he left off: emphasizing the importance of establishing – or re-establishing – ourselves and our attention in Spirit. This is the anchor point of the Teachings. For this re-establishment is another way of saying uniting (yoking or "yoga") our attention ("Surat") with the Audible Spiritual Current ("Shabda").

By doing this we are lifted up above body consciousness, learn to "die while living", experience the Kingdom of Heaven while still alive, and re-discover our true nature as soul – an eternal, individual, self-aware spark of pure, golden love.

In reaching this state, as Darwin says, there is a paradigm shift in our frame of reference of our self-definition. We shift from identifying ourselves as our physical body, emotions (astral body), memories and habits (causal body) or thoughts, opinions, preconceptions and ideologies (mental body) – to identifying ourselves as soul. Rather than saying, "I am my body, and I have a soul", we come to say, "I am soul and I have a body".

Further, we can say this with complete confidence, because we speak from knowing. We are not repeating something we read in a book, heard at a seminar or ruminated over. We are speaking from direct, personal experience, from direct perception from the less than boring. All I wanted was to learn to completely let go to and become saturated in the Shabda, and let IT lift me up and carry me home – and, when fatherhood became a reality, hopefully be a good enough father to help my son learn the same.

But Darji, his friends, and you might say the Current Itself, apparently had other plans for me. For reasons I don't entirely understand, I was seen as being the right instrument for the expression of Shabda in this time. And so it is that I offer initiation, help people within and teach Surat Shabda Meditation as best I know how. I only pray that I stay in tune as much as possible to be in harmony with the Eternal and a fit instrument for Its expression, and to honor Darwin – and all the Teachers of this Path – in the way I express it.

Darwin makes one other point I would like to address today. That is when he talks about having as many individual channels – and as many Shabda classes - for the expression of Spirit as possible. He says this not because he wants to evangelize his particular theological conviction. What he is saying is that, the more individuals who are linked with Shabda, the more It can flow into this world and express Itself.

You might consider Shabda initiates as human conducting wires for the Spiritual Current. And the more there are, and as they are spread around the world, it allows the Current to be distributed more generally and evenly – which in turns helps bring greater harmony and spiritual balance to our earthly home.

Also, when you bring a number of wires conducting a current together, they can become a cable that in turn can conduct much more current than the sum of its individual wires. So too, Shabda initiates collectively become a human cable and a greater transmitter of the Shabda Current, particularly when they gather together in Satsang. Again, this is not a matter of a group recruitment program; it's a simple matter of spiritual physics.

Before we begin our spiritual exercise, I want take a moment to let you know just how much I appreciate you sharing your time with me, and allowing me to share this Path with you. Let's take a few minutes now to reread this chapter and the quotes below, and then meditate on the Eternal Truth that we are souls in communion with Shabda.

Thank you . . . with love,


Michael Turner


*****************************

108. "There is nothing more important or real in this life which Man has seen or known until he re-establishes himself in the Spirit. This is necessary in order that Man may gain God-Realization again without all the ties of the guilt and control placed upon man by religion and metaphysics."

108-109. "He is then initiated into the true works of God and he finds the changes of consciousness coming about so many times swifter than he expected. This is the point in one's spiritual unfoldment as which he beings to experience true reality of the Sugmad and IT begins to show ITself."

109. "Joy, bliss and happiness replace the negative aspects of the mind and man finds himself able to take up the duties of God without hesitation and with a strength he has never before known. The student finds, too, that his views of life have changed drastically. He no longer looks at the psychic or material side of life but at the highly spiritual views and the visions of heaven which are now a part of himself. Here it is attitude which brings the success at this point of spiritual growth."

109. "(I)t is at this point that the student does not speak of 'my soul' any longer but now as soul for he is speaking from the Atma, which is the soul level. Neither does he think or speak in terms of 'the soul' because he is soul itself. When one uses the expression 'the' or 'my soul' he is talking from the body level. Not only does one's language and speech change when he reaches the higher spiritual levels, but he also becomes one who can speak of 'my body' or 'my mind' because he is soul and speaking from the level of soul."

110-111. "This is for the purpose of having more individual channels for the Masters and a greater collective channel for Spirit to have an opportunity to make this world a better place to live and to bring peace to those who want it. . . . This is the reason we want classes in every town and city throughout the world. Your contribution of being a vehicle for Spirit ITself makes you important in the works."

111. It is also very interesting that Man, instead of trying to become a vehicle or channel for God, leans on the psychic powers so that he can have personal gain for himself or control of others. This is 'Lobha', that which is called 'greed', the third aspect of the vive passions of the mind. It is one of the most poisonous of the perversions, and its function is to bind its victim to the material things and cloud the mind to all higher values."

111. "The student reaches a point in his spiritual unfoldment in Spirit where he can see eternity which has no beginning and no ending. It comes out of the path like a long white road stretching up over the hills into the distance, and the Atom can see all of it with its brilliance and vision that it gives those who have sought it and finally found truth."




*****************************

Day 16, Chapter 16
"Importance of Attitude"




This is a very powerful chapter. Darwin says it's all about attitude. It's all about where your attention is. Are you hung up with an addiction such as smoking, which can form a toxic cloud around you? Or is your attention on the Inner Master and the Shabda? Darwin tells us early on that the focus of your attention is everything, noting that two people can encounter the same unpleasant situation and have two diametrically opposing reactions (rather like a story Todd Snider told in his Reno concert the other night).

The story he uses to illustrate this (again, like Todd Snider's story) is two people in a car accident. They are both initiates. Yet one complains that God and the Inner Master let them down by not preventing the accident in the first place, while the other thanks God and Gurudev that they are still alive and that the accident wasn't worse.

Your attitude is a function of where your attention (Surat) is placed. For many, their attention is on sensory input, emotions, memories, habits, thoughts, ideas and opinions. Darwin teaches us that ideas and opinions have mass and weight, and attachment to them holds us down and enslaves our attention. They keep it distracted and scattered and, as a result, stuck in the lower worlds of duality and causation. Darwin says over and over again that we must reject dogma and other people's attempts to manipulate us and control how we think, and to not become attached to any opinion, ideology of belief system, saying at one point: "(P)ure freedom . . . only becomes alive when all concepts cease."

This is why Darwin – and all teachers of this path – also discourages exploration of the psychic and mentalist arts. They just distract us, throw us off our center, and draw our attention away from Soul, Shabda and God. They can mesmerize us and, without even realizing it, we are pulled down and ensnared, like Harry Potter struggling with the underwater plants and lake creatures in "The Goblet of Fire".

It's not easy to let go of our opinions, ideas and belief systems. They are often with us for a long time – so long in fact that they appear to become part of who we are and how we define ourselves. And yet, so long as we are enraptured with our ideologies, they pull us down – like sandbags in a hot air balloon, preventing us from gaining the loft we need to rise into the Pure Positive God Worlds. As I once wrote in "Pushing the Envelope": "Drop all your preconceptions; they will only drag you down. Founder on the reefs of misperception; learn to swim, or you will drown."

Now I want to make it clear that neither Darwin nor I are saying that having beliefs and opinions is bad per se. It's human and natural to have them. But if we want to be truly free, we need to let go of all things that have polarity, mass and weight – not just our human body, but even our most cherished opinions. The only thing we want to be in control of our lives and us is the Spiritual Current of Shabda or Naam. When we start to do that, we begin to experience real freedom – freedom in Soul, and Spirit, and God. And that is what this Path is all about.

I want to touch upon a few other points here as well. Darwin packs so much into a few pages, it's hard to know where to begin. On page 116, he says:

"The student is tested moment by moment . . .. Unless the student has the stamina for the situations that may besiege him after his initiation, then he will be unable to surrender to the Inner Master and receive the divine teachings."

This is an important point, one that people interested in this path should understand when first exploring it. For this path does test you. Once you are initiated, you are on a journey of spiritual awakening and balance. And that balance is tested over and over – the balance beam getting progressively smaller and smaller, as our inner center and poise is tested.

A few sentences later, Darwin writes: "If the Initiate wishes to escape the creation of any karma of any sort, he must do everything in the name of the Master . . ." Now this is a very important point, one which is frequently only partially understood. On an initial basis, it is a good form of Simran or repetition to repeat the name of the Teacher or God in your actions throughout the day. This helps us to remember God through Its living matrix, which is the Teacher.

But the meaning goes deeper than that. For just what is this name of which he is speaking (and of which all of his predecessors spoke)? It's not just his name "Darwin Gross"; it is the primordial Name – the Naam, the Sound Current of Shabda. The secret to this message is that we are to do everything in the Sound Current – we are to merge our attention with the Current so that they become indistinguishable.

The more we do that, the more we become the Current and the Current becomes us, the less karma that created – for we are immersing ourselves in and merging ourselves with That Which Is Karma-less. Therefore, when we are the Current of Name, no karma is created. Another key to this, which Darwin mentions on the same page, is humility and devotion. This is another way of saying "Relax and completely let go, surrender to the Current and let IT lift you up and take you Home to God."

On page 117, Darwin makes three key points. First he says "Some students feel that 'nothing happens' during their spiritual exercises, but this isn't true. They just are not aware of what is taking place in their inner lives." This is because we are distracted by our physical senses, emotions and habits of thought. As we re-establish our attention on Shabda or Naam, those distractions fade into the background and our inner experiences begin to come into conscious awareness.

Second, Darwin says: "Should we be looking to the Master for anything other than helping us return to God, then we are without a doubt, misunderstanding the whole program of the Atom." This is a very important point. The purpose of the living Teacher is not to predict the future, read past lives, convince somebody love us, make us wealthy or anything like that. The sole purpose of the Living Teacher is to link our attention to the return flow of the Spiritual Current and assist us in getting Home to Soul and God. That is the alpha and the omega of their job description. Nothing more, and nothing less.

Third, Darwin cautions us about become too self-absorbed in our spiritual practice, saying: "Those that live to themselves existing in the bliss of God alone cannot do so for long for they will come to the unbalancing of their minds and bodies." This is part and parcel with what Darwin has taught in previous chapters. This life is to be lived to its fullest. As Kirpal Singh would say, this path is about practical (or you might say, rational, common sense) mysticism. We are to be happy and active participants in our humanity, and not pull away into mystic self-absorption. This can lead to spiritual entropy. For, like a pond with a stream flowing in with no outflow, we can become stagnant. We need to be awake and living human distributors of the Spiritual Current. As Darwin notes on page 119: "(W)e become the pole of the God power to change the consciousness of all with whom we come in contact."

Near the end of this chapter, Darwin returns to the topic of release, of letting go of opinions and letting go to Spirit, on pages 119-120 when he says: "The passage from one state to the other constitutes a spiritual transmutation, hence, there is an essential change or sudden change in one who has experienced true God-Realization and the liberation of soul. When the mind gives up its inner tension, the God-Realization is often sudden, unexpected, and spontaneous." The key phrase here is "inner tension". When tension is released, when we relax, let go of all the baggage, surrender the Current and begin floating on IT, we can be lifted up and into the Pure Positive God Worlds in the blink of an eye.

It can't be reasoned; it must be directly experienced on a personal, individual basis. As I noticed some years ago, I didn't know the difference between mind and soul – between thought and direct perception – until I experienced it for myself. But once I was blessed with soul awareness, the difference was a different as night and day. And, as Darwin says, once you know – you know.

This gift of Soul realization is a blessing of God, and one to which we all have the key within ourselves. As Darji says in closing this chapter on page 121: "All can dwell in the consciousness of the Sugmad here and now."

Will you please join me now in singing the HU, placing your attention gently at the inner door with your eyes closed, and humbly asking Shabda to quiet your mind and wrap you in IT's love.

May the Blessings Be!


Michael Turner



*************************

Day 17, Chapter 17
"God-Knowledge"



This is a very interesting chapter. Looking at the title, one might think this is about how to attain God-knowledge or God-Realization. But that was largely taken up in the past few chapters. In this chapter, Darwin speaks speaks more about living life and spirituality from the perspective of God-knowledge.

Darwin starts off his ongoing refrain about personal freedom by saying on page 124:"How you live your life is up to you". Now this statement can be a bit enigmatic. On the surface it sounds like he's saying, "Do what you want to do" (which could be seen as a variant on that 60's catchphrase "Do your own thing"). But look at it again. What Darwin is really saying is that it is up to you to determine how you live your life. He clarifies this on page 129 when he writes: "This adeptness, which is necessary to grow into and unfold, requires the expansion of consciousness through the initiative of the individual." It's up to you to choose where you place your attention. In a couple of sentences, Darwin reiterates one of the timeless truths of Surat Shabda: take control of your attention.

Having said this, Darwin moves on to discuss what the process of controlled attention entails. A few sentences later he says: "Shifting the states of consciousness to higher states takes a time to develop the mind to be fixed on God, for we need to drop certain things which we have been taught from childhood to adulthood. This is a very important point, and something to keep in mind as we make this journey back to Soul and God. It picks up Darwin's earlier comments in the book about how we need to drop our preconceptions, opinions and ideas, and it elaborates on them. These ideas, opinions and thought forms have been with us a long time – many of them from early childhood – and they can be so close to us we identify ourselves with and define ourselves by them. We need to have this goal of letting go of them, but it's going to take time.

I would add to this, we need to be patient with ourselves and forgiving of ourselves as we go through this process of detachment. On page 127 Darwin also notes one of the benefits we receive from this detachment and viewing things from a higher state of consciousness: "When one has this ability to rise above time, space, energy and matter, or to the soul plane, you can look down to the lower planes that exist, the etheric, the mental, the causal, the astral and the physical." We are afforded the blessing of seeing the topography of all the dual dimensions, as well as the physical, emotional, causal and mental topography of our human lives. And by getting above our lives and our challenges and seeing them from different angles and viewpoints, we are and, in turn, able to arrive at creative, loving solutions.

Darwin follows this up by noting that can be a challenge to keep our attention on God, so sometimes it's easier to maintain our focus simply on the Spiritual Current, because Spirit is something that flows through us and touches us directly. This is where the spiritual exercises come in. By harmonizing our attention upon Divine Spirit – communing with the Word – on a daily basis, we make our contact with the Spiritual Current more tangible every day. And that Current, of ITself, will gradually and gently lift us up above our ideas and opinions. ITs love will relax us, making us feel calm and loved and safe and secure, so letting go of emotional, causal and mental forms we have long identified with will be as natural, relaxed and easy as taking off a suit of clothes and getting into a warm bath.

Proceeding from this necessity of letting go of ideas, Darwin turns his attention to some of the benefits that come with above-body and above-mental consciousness. On page 125 he notes: "If we can let individual know that there is a way to rise above the problems at hand in a state of consciousness and not be affected emotionally, then the perspective and perception that is developed by the individual, subjectively and objectively, can lead him into a much richer and fuller life and without the factor of guilt that is impressed, not only by the ways of society and Man's religion, but the materialistic world."

Now Darwin is not saying we are going to make this world a utopia through meditation. In fact, on page 130 he states, "In this material world, there is no perfection as we think of perfection. The only perfection that can be reached is in the soul body and through its development into the pure, positive God Worlds." What he is saying is that by letting the Current flow through us, by serving as a grounding wire for ITs distribution, IT will touch those around us and uplift their lives.

Sometimes this can have a dramatic effect such as when a number of Satsangis are gathered with the Teacher. This gathering of Initiates can be seen as serving as a giant capacitor and allowing for exponentially greater amounts of Current to flow. As Darwin noted on page 125, "(W)hen such a positive force as the Spirit comes into a city, county or state, things happen."

Now, having noted this, Darwin makes it exceptionally clear that, while we need to know the power of Spirit, we should never try to direct it. Shabda flows of ITs own accord and will not be controlled by another. Attempting to control or manipulate the Spiritual Current to satisfy our own wishes and desires is an abuse of our spiritual understanding and meditation. The minute we do so, the Current is constricted to the point of being cut off by our effort to constrain IT with our mental and desire faculties, and our consciousness plummets. On top of that, because this act involves the magnetism of ego and will, karma is created which further impedes our spiritual growth.

What we need to do, as Darwin says on page 126, is to be an open, harmonious instrument or vehicle for the Current to flow through unimpeded. He says, "By being a vehicle and letting IT go without directing IT, by taking care of our responsibilities as we know how, and living within the laws, whether they are those established by our courts or the spiritual laws, that one learns and can keep from cutting off the flow."

Now, Darwin goes on to offer a means of maintaining the clarity and spiritual poise necessary to be open instruments for the expression of spirit. In referring to Simran (as Paul Twitchell and Kirpal Singh did before him), Darwin states on page 127: "By chanting the names of God you are able to purify thought and the mind. Then you will find the physical world takes on a completely different feeling for you." This repetition of the Holy Names has an amazing effect. It calms the mind, quiets our thoughts and helps us to be both focused on and receptive to the Inner Light and Sound of God. This again opens us up so the Current can flow through us in even greater waves, transforming us, and those around us.

There are a few other points Darwin makes that I would like to focus on before wrapping things up. First he addresses the some make that they are human vehicles for various masters, or that the masters (who have generally passed on from this life) are dictating to or speaking through them. Darwin says very clearly and emphatically on page 126: "Many claim to be a vehicle for one of the Masters. This will close off that current perhaps swifter than any other way because none of the Masters work through any of the individual, whether they are Atoms or any other human beings. We have nothing to do with mediumship."

Indeed, the entire question of any Teacher of this path speaking to us through an intermediary is on its face ridiculous. No past, non-physical Teacher would supersede one in the human body. And they most certainly would not speak through another person. Furthermore, the radiant form of the current Teacher or any one who has come in the past can meet the Initiate personally within. That is one of the cornerstones of this path: conscious contact with the Radiant Form of the Friend (aka Inner Master, Teacher or Gurudev). The capacity of the current Living Teacher to do this is reaffirmed by Darwin on page 127 when he writes: "I attend each contemplative class regardless of what part of the world it is in." Space and time cannot impede the radiant form of the Soul body of the Friend. In Soul, he or she is with you constantly. And when students and Initiates gather together in classes or Satsangs in the Teacher's name, that Radiant Form is there, every bit as much as anyone sitting in the room.

Finally, Darwin addresses the question of what happens once God-Knowledge (aka God-Realization") is achieved. When the time comes, Soul will of course leave it's physical body, and its astral, causal, mental and etheric bodies as well. But what happens then? Some believe that Soul merges with God (like a drop merging with the ocean) and loses its individual identity. But Darwin disagrees with this paradigm. He clearly says on page 128, without equivocation or ambiguity: "When one reaches the pure positive God-Consciousness state, we do not become one with God as other paths teach. They would become an atom structure within God while we retain our individuality throughout eternity. This is Your Right To Choose." We reside in God. We dwell in the heart of Anami Desh, Radhasoami Dham, the great golden vortex of pure Conscious Eternal Love that is the Ocean of Love and Mercy, riding it's waves, bathed in ITs light, dancing to ITs LightSong of Eternal Love.

Meanwhile, back on earth, we take the time every day to attune our attention to the prime harmony of the Shabda Current and consciously and lovingly, humbly and receptively communing with the Word. Through this communion with the Eternal Word, our consciousness expands day by day as we move into a state of Total Awareness, while simultaneously incorporating that Total Awareness into our lives. As Darwin in concluding this chapter: "(T)he area of conscious expansion of consciousness becomes unlimited. Then you start to realize that it exists all around and about you, permeates all things and sustains all life, and you become a greater channel and vehicle for IT."

Let's take some time now to sing the HU, repeating it within with the tongue of thought. Allow the awareness that we are bathed in the Light and Sound of God become a conscious reality and fill your entire being with ITs Eternal, Golden Love.

May the Blessings Be!


Michael Turner




*****************************

Day 18, Chapter 18
"False Teachers"




Darwin is essentially addressing two aspects of "false teachers" in this chapter: (1) those who teach the way of Shabda vs. teachers of other disciplines; and (2) teachers who proclaim themselves to be a true Living Shabda Adept, but really aren't.

The first point is somewhat problematic, for it could be viewed as implying that some people's choice of teachers or paths is invalid or deficient. Who is anyone to judge another's spiritual or philosophical point of view. The fact is, everybody must make the choice of what path to pursue, what perspective to believe in, what mentor to learn from. We don't always make good choices; but it is our right to choose a difficult situation. If a teacher or path proves to be lacking – or worse, detrimental – hopefully we can shift our attention from this teacher or path and use the experience to help us make a better choice next time.

This really boils down to something Darwin taught me many years ago. He said to me, "What is your spiritual goal? Is it knowledge, psychic tricks, paranormal powers, prosperity, the ability to be a spiritual healer? Or is it Self-Realization, God-Realization and Spiritual Freedom?" If it's any of the former, that's perfectly fine. There are many disciplines and teachers you can follow to achieve these faculties. But if, on the other hand, your goal is Soul, God and Spiritual Freedom, you will need to follow the Way of Divine Spirit. Because only the Pure Spiritual Current of Divine Love, the Shabda, can carry you beyond body, emotions and mind to ITs point of origin: Anami Desh, the Ocean of Love and Mercy.

It's kind of like traveling around the country. Highway 80 will take you across the country, but it won't take you from Los Angeles to San Francisco. To do that, you need to drive Highway, 1, 101 or 5. So you need to determine what your spiritual goal is. If spiritual freedom is your goal, then follow the Way of Shabda. If you want something else, then perhaps another practice will work. But don't think that psychic, astral, causal or mental practices can achieve this goal, because they cannot – any more than Highway 80 can get you from Los Angeles to San Francisco. In fact, they will impede your journey, because they fixate your attention on dualistic, temporal.

Now, as far as "false teachers" go, it's kind of like truth in advertising. If a teacher says they can show you Soul and God, but they are teaching other practices than Shabda, then they are misrepresenting themselves. They most they can show you is the level in the dual worlds to which they have risen (no farther than the mental plane). This is simply a statement of fact. I also want to point out that while I have no quarrel with people honestly teaching dualistic psychic, religious or spiritual practices, I do take issue with people (as Darwin emphatically did) who use their position to attack followers of the Shabda, harass them, pray for them to change their view or try ot have them deprogrammed. This is a violation of individual's freedom of choice, and only brings discredit to their practitioner.

Now, regarding the second point of "false teachers" in the Way of Shabda, this is where the individual's discernment comes in. There are quite a few people – both east and west – who are offering various forms of Surat Shabda Meditation and devotion. I am not one to say this person is higher, that person is lower, this person is legitimate, that person . . . not so much. I have no quarrel with anyone who is teaching Surat Shabda Meditation. What I always recommend is that anybody who is interested in this path take time to become familiar with both the teachings and the way various teachers present them.

Once you do that, if you decide that this path is for you, there are two yardsticks I suggest for determining the right teacher for you. First, do they Shabda and Shabda alone, or do they dilute the teachings with other, psychic disciplines (e.g., chakras, kundalini raising, crystals, magick, etc.)? Second, are they genuinely awakened in Soul and God, established in the Pure Positive God Worlds, and teach from that viewpoint? Third, if the teacher passes these first two tests, can they also meet you within in their Soul body and able to function as an inner teacher or friend? This is what Dap Ren - the inner form of my Teacher, Sri Darwin Gross - did for me. Finally, are they someone you are comfortable with? Do you feel relaxed with them, like you're talking to an old friend? Does the love and peace of Shabda flow through them? By using these two criteria, it helps clear away the confusion and offer you clarity in choosing a True Shabda Teacher.

Beyond this, there are also criteria such as, "Is there an outer legitimation or line of succession which gives the Teacher credibility?" Now, this is not always applicable, because Teachers do not always clearly designate a successor. In addition, there will be times that the Teacher chooses someone as their successor, but that person is ultimately not properly suited for being a human capacitor and conduit for the Shabda Current. Ultimately it is the Shabda ITself that chooses its human instrument and selects the best, most attuned instrument in any particular time for ITs expression. One may also view Shabda like a mighty river that always flows through the path of least resistance. If we try to dam it up and control it, it will inevitably find a different path to flow through.

In the same way, an organizational structure can become weighted down with its own inertia, legal battles or simply more interested in self-perpetuation rather than facilitating soul awakening and spiritual freedom. When this occurs, an outer organization and/or lineage can actually serve to impede the flow and expression of Shabda. When this occurs, Shabda will shift direction and choose a new instrument for ITs expression. That instrument – while they may not presently be part of the established organization – will center their teaching on the foundation of Shabda, and will always honor their Initiating Teacher and the unbroken chain of teachers who came before them.

So while outer verification, objective transference of spiritual title and/or organizational legitimation can prove helpful, ultimately it is up to the individual examine the non-organizational validation and see if that person who claims to be a True Shabda Teacher is the real deal. When you have found that Teacher, it is a spiritual homecoming and a great blessing. Keep your attention on the Inner Teacher – the Gurudev – and allow that focus to be your point of refence in your spiritual studies. It will be a spiritual compass that will always point you to the true north of the Soul Plane and Pure Positive God Worlds, Its light illuminating your every step, Its voice serving as a sonic beacon calling you home.

Okay now, take a few minutes to re-read this chapter and the selections of Darwin's quotes below. Then close your eyes, sing HU, and relax in the warm, loving comfort of Naam. As you do so, the inner door of the third eye will open toward you and you will begin to see the light and hear the Divine Love of Shabda through the matrix of the Inner Teacher. Take some time to be in communion with Shabda and Gurudev. Then, gently draw your attention back out to your physical body, reflect on your meditation for a few minutes, and then proceed with your day.

In the LightSong of Shabda, I am always with you.

May the Blessings Be!


Michael Turner

****************************

132. "(T)hese false prophets and pseudo-masters who lay claim to being the Master . . . are simply the co-workers of the Kal Niranjan . . .They live and exist in the psychic world only and cannot give true spiritual liberation to a soul . . ."

132. "The kal has so cleverly designed this world that people easily believe what suits their purpose, but they will not believe the Mahanta, the Master, who tries to present truth to all in the best possible manner, but demand miracles of him."

133. "(T)he student must learn to separate truth from false teachings. Until Man has learned to do this he is apt to wander about this world of mind and body through centuries of reincarnations."

134. "(T)he majority of pseudo teachers are merely educated men, not true teachers or masters."

134. "The spiritual community is in the hearts of all those following the Atom. It is here that they can communicate with one another over vast distances and bring love, wisdom, and happiness with each other."

134. "Many process faith in spirit outwardly, but have not given up their longing for materiality in their hearts. This lack of faith is due to their ignorance of the spiritual works. Often they do not take the pains to read or study properly, nor do they listen. They criticize and harp upon their own pains and troubles, often blaming the Master and in their ignorance, do not understand that this is a dangerous practice. Everything they say against the Master and Spirit will return to take from them. Their losses are due to their own thoughts and actions."

135. "There will be those who call themselves Spiritual Masters and disguise themselves under their robes as teachers, but they are prophets with false faces who use fear and deception to take in the Atom. But few, if any, who are truly followers of the Atom are ever deceived by these agents of the kal. They recognize the divine love that flows through the Master."

135. "(T)he religions, the occult groups, transcendental meditation, etc., feel that the state of liberation that they may enter into is the Cosmic Consciousness or Christ-Consciousness. This is not true, for the Atom, once released, goes into a much higher state than this in the pure God worlds."

135. "They (false masters) are always promising something greater to the students in order to lure them away from the path, but there is nothing comparable to this way of life."




******************************

Day 19, Chapter 19
"Illusions of Life"



Wow. This chapter punches right through. Addressing human issues, among other things, Darwin speaks directly from the heart of Soul and God. Right off the bat he says most of us largely live our lives from a paradigm of doubt, fear, pessimism and indifference. And this paradigm tends to drive people either to blind faith in a religion to give us comfort in life and the promise a much better life after this one, or they pour themselves into being a material success.

This fear, cynicism and self-doubt, Darwin tells us, plays right into the hands of the negative mind power (aka Kal or the Devil). The fear card is one of the Kal's favorite tools to keep people docile and obedient, following the dictates of their fears, desires and passions in this life, never questioning the fundamental paradigm under which they are operating. The fear of death is one of the primary motivators for religious devotion; and the fear of "not making it" in this life is a motivator for people doing whatever is necessary to "get ahead".

This in turn plays into one the great illusions of this life: that power is actually real, can be pursued and won. Darwin addresses this latter point on page 142 when he writes: "Power games of this kind are not, however the main concern of the ATOMS. On the contrary, the point is to realize that by virtue of what you always are, have been, and will be, there is no need whatsoever to prove yourself."

In addition, through the spiritual exercises of Surat Shabda Meditation, we relax and awaken in above-body consciousness. In the company of the Inner Teacher we are able to consciously explore the Kingdom of Heaven while still alive in the human body. This eliminates the fear of death because we directly, personally experience ourselves as souls: eternal, self-aware units of attention – particles of pure love. And it also gives us a firsthand experience of heaven and God. No longer do we have to depend upon blind faith (though the band is fun to listen to). Born of our meditation we know we are Souls, we know that God Is.

In addition, as we come into Soul and then God-realization, we start viewing our lives and the world around us from the perspective of Soul and God. As a result, we see through the illusion. We know the success and power carnival act is just a game, and a game that is rigged by Kal – the ultimate carney.

This doesn't mean we drop out of society or look down upon those who buy into the illusion. We still work, interact, do everything we normally do in life. But we operate from the perspective of spiritual and eternal love. We can still play the game, but we do so knowing it's a game and not allow it to control our emotions. Combined with our firsthand knowledge of the eternal worlds, this awakens us to a new life in this world – a life of joy, deep inner peace, and great love.

Another benefit of this perspective is that we rise above the polarity of good and evil. We don't allow society's dictates, our fear of the bad and hope for the good govern our attitude, words and actions. We operate from the perspective of Shabda, and, in doing so, we naturally act in an ethical manner because there is no way conceivable of acting.

Now as an adjunct to this, Darwin discusses a few other matters. One is that it is our preconceptions and expectations that largely determine our mood and direction in life.

As Paul Twitchell once wrote in "Stranger By The River", "Thy original desire is the determinative factor in thy experience".

Then, Darwin goes from psychology straight into esoterica and talks about the universal mental frequency of the God energy being a malleable substance that is influenced by desires, moods and expectations. But he says at the same time that misuse of this power – using it for self-aggrandizing desire fulfillment, manipulation or control – will boomerang back on the practitioner with "unhappy consequences". The higher we go on the inner trek, the quicker the karmic backlash is. This is one of the reasons – besides the fact that it's the right thing to do – that Darwin says on page 140: "Each man's world is a solid through or materialized mind stuff. The idea is to bring into expression the good and beautiful. This is done by getting the good and beautiful properly arranged in the consciousness."

There are a couple of other comments here that really stand out to me – and were perhaps two of the most influential insights in my early, formative spiritual growth. Indeed, without realizing it at the time, they formed a core part of my spiritual foundation. The first is about the nature of God. On 139, Darwin says, "The God we know in this teaching is like a great whirling vortex, out of which comes Spirit. This Spirit is like a sea of Atoms, and man is a fish swimming in this sea. This is what we call the Ocean of Love and Mercy."

This is an amazing statement, borne of Darwin's experience of God ITSelf. Years later, just prior to attending one of Darwin's weekend talks, I had the same experience. I was standing on the balcony of my hotel room enjoying the view, eyes wide open, when the inner curtain parted and I found myself perched next to Darwin on the edge of an unfathomably vast golden-white vortex of pure, swirling, humming love. In the middle of the vortex, there was an enormous pair of eyes that radiated wave after immense wave of that love frequency. Around the vortex were countless millions of souls, and even more within, buoyant on ITs Current – in fact forming the Current – self-aware particles of attention collectively forming the Wave. The experience came out of the blue in a way that was both jaw-droppingly stunning, and incredibly calm. This experience that Darwin had, and guided me to, you can have too. All it takes is love and attention.

The second point, a page later, is less overtly profound, but still extremely significant. On page 140 Darwin says, "The type of mind that grasps the illuminated state, is one with randominity." What this means is that our minds are flexible enough to adapt to any situation, are not thrown off by a shift in circumstance, and are able to gather and process a wide variety of data in a coherent manner. This type of mind is better suited to calmly shifting attention from the human body to other, more rarified forms, and exploring within – all in a calm, centered, poised manner. I speak from experience when I second this. Being able to be utterly random and in the moment, while maintaining poise and operating from my center has been a huge factor in my spiritual awakening. I know it will work for you as well.

I think I will close here. There are several other excellent points in this chapter, a few of which I leave for you to read below. Let's take a moment now to find a comfortable sitting position, close our eyes, place the attention forward, and together sing the HU. Welcome the Shabda into your heart. Let go to IT and allow IT to lift you up and in. When you completely let go, IT will carry you all the way Home, to that great golden vortex that is the Ocean of Love and Mercy.

May the Blessings Be!


Michael Turner

********************************

139. "Man does not evolve, he awakens. He moves in his assumptions of his own limited consciousness. Nothing is ever to be created, it is only manifested. What is called creativity is only that process of becoming aware of what already is. You simply become aware of increasing portions of that which already exists."



139 "Illumination comes through . . . resting in the consciousness of the Omnipresence."



141 'The secret of harmonious love is the development of the spiritual consciousness, as any Spiritual Traveler on the path will tell you.



141 "Man has put eastern teachers and Jesus Christ in pedestals of reverence so high that Man is automatically excluded from the higher states of consciousness."



142 "The Master can only be who opens the door: it is for the disciple to be capable of seeing what lies beyond."

142 "They (the teachings) are simple, but, like a powerful battering ram they can run counter to the wall of false ideas rooted in the mind of Man . . . . Try!"



****************************

Day 20, Chapter 20
"The Effects of Prayer"



Rereading this book has been a real revelation for me. I first read it 30+ years ago, and chapters from it even earlier when they were published individually in the 1970s. In the intervening decades I have read numerous books about Surat Shabda by wide variety of Teachers and authors. And yet, Darwin's writings here remained indelibly etched in my heart and formed the bedrock of my spiritual foundation. So completely were Darwin's teachings ingrained in me that they became a part of who I was, and am, and I couldn't discern where I left off and Dap Ren began. As far as I was concerned, this spiritual perspective was my own, and had been for as long as I could remember.

It was only when I picked "Your Right To Choose" up a few weeks ago to begin this book study that I realized just how much of Darji was in me, and how his point of view and mine were – and are – essentially one and the same. Some chapters bring this up more clearly than others. This is one of those chapters.

In a few pages, Darwin very clearly explains what prayer is, what it does, it's benefits and the risks of its misuse. One of the first things he says, on page 144, is that "Prayer is an effective way, if done with enough intensity, to influence the directions of events, or influence the conscience of another." In other words intensely focused thought – coupled with enough desire and emotional intensity – can mold reality and influence things and people around us.

But no sooner does Darwin say this when he cautions against misusing prayer. He continues on page 144, "(W)hen used to influence the direction of events or humans without their request or permission, it is no less than an invasion of that individual's sanctity." This is consistent with Darwin's strong belief in individual freedom and sanctity of our right to choose our own states of consciousness, and in fact is a theme he returned to over and over again while the Living Teacher. He had an instinctive feel for the mental and emotional tricks Kal plays in trying to distract us from Shabda.

So Darwin is constantly returning to the primal theme of awakening to ourselves as Soul and being free of any form of mental programming or manipulation. And then he flips it forward to include students of the Way of Shabda, telling us to respect the privacy of others as we would have them respect our own. Darwin is unequivocally clear when he writes on page 145, "To pray for anyone without asking their permission is a violation of spiritual law. It is an occult form of black magic." He reinforces this message two paragraphs later on the same page when he states, "(I)t is a violation of spiritual law to move another person for any purpose without their permission."

Having made it clear that we are to respect the privacy and choices of others, Darwin goes on to explain what he means by "spiritual law". Spiritual law is not so much a set of rules and regulations imposed from on high, as it is simply the nature of the Eternal. And the nature of the Eternal is love, charity and forgiveness. After all, God is an Ocean of Love and Mercy, and the Spiritual Current ITself is pure love.

Now since law is really an articulation of right and wrong, with an emphasis on doing right, where does this come from? It comes from the Way of the Eternal, which is the Path of Love. Doing the right thing ultimately means doing what soul and God would do. So if you are acting in harmony with the Wave of Love, you will automatically do the right thing. If you are out of harmony, well, you are disharmonious (or acting badly) in your human life as well.

So now, taking this as our foundation, what would be the right way to be about other people's choices in philosophy? You would want to do what the Divine in you would do. And what is the nature of the Divine? Darwin answers this on page 146, "IT never interferes with the freedom of Man's individual consciousness. Since this is true of the Creator, Man does not have the right to interfere with another's decisions or thoughts." So if we want to grow into creative co-workers with God – and be in harmony with the Wave as we do so - we need to respect other people's privacy and choices. If we do not do this, if we engage in intercessory prayer and attempts to mentally manipulate things around us, it places us in disharmony with the Wave, resulting in very unhappy circumstances.

Now Darwin is not disputing all kinds of prayer. In fact he thinks that prayer can be a good thing if used properly. He writes early on, on page 144, "If a person wishes to meditate, contemplate or pray, they should. "Whenever I can I grab 15 or 20 minutes, or at least half an hour out of the 24-hour period. This will usually carry the person through the 24-hour period. Everything goes in cycles and this is one way to assist one through some of the rough parts of the day." I can attest to this. In addition to my regular meditation, I like to set aside some quiet time to reflect on the day, talk to God and pray for Its guidance in my life. To me, this is the real goal of prayer – simply sharing my life with God, and asking It bless me with greater love, understanding and peace of mind, to help me through the rough patches and provide gentle nudges as to the right choices to make, to help me be a better father, husband, son, brother and friend.

This to me is what true prayer is all about. It's not about using your mind, emotions and will power to impose your desires upon other people and the world, nor is it asking God to assist you in doing so. It's simply having a deep, heartfelt conversation with our Creator and asking IT to helps us become better human beings. And part of being a better human being is giving your brothers and sisters the space to learn and grow at their own pace.

I know it isn't always easy. We all have moments when we want to help a family member or friend we care very deeply about to grow more quickly, to "see the light" (just as some very well-meaning Christians want their dear ones to be "born again and saved"). And it's very tempting to try to direct our energy or Divine Energy towards them to help them along and speed things up. But not only is it a violation of their freedom and privacy to do this, trying to hurry things along in their unfoldment can actually be harmful. Many people do not deal well with rapid consciousness change. As Darwin points out on page 145, "I help only those who make a request though. To help another person who hasn't requested it and who may not be ready for that next step would be interfering with his consciousness."

So out of our love for our relatives and friends, we need to be compassionate, back off, and let them grow at a pace they are comfortable with. As Darwin says on page 146,"Give of goodwill toward another without trying to change his consciousness, or his conscience. Or as Jesus once put it, 'Open your heart to all in true loving kindness and into the heart will flow the added blessings of Spirit.'"

In Spirit, I am with you always,


Michael Turner



*********************************

Day 21, Chapter 21
"Man's Image of God"


Good morning.

This is a fairly simple and brief chapter – perfect for a beautiful, warm, Spring Saturday morning. So I'll keep my comments brief today.

In this chapter, Darwin talks about how different cultures have different interpretations and images of God, even in neighboring regions. The example he uses is noting how Buddhist lamas and Hindu yogis – both of whom have been able to travel within - see God somewhat differently. In this example, he notes how there are differences, and makes a two-part point – almost in passing.

Darwin says that members of a given religions will generally rise only as far as the level of their founder – because that person is their spiritual mentor and role model. And he infers that one's culture and religion can determine what he or she sees when going within (e.g., Christians see Jesus, Mary, Paul, Jewish people see Moses or one of the prophets, Buddhists see Buddha or one of the Bodhisattvas, Hindus see Krishna or Rama, etc.). In explaining this, Darwin doesn't pass judgment; he just notes these traits.

One might take this one step further and note that the ecology and environment of a culture may also influence one's image(s) of the Divine. It seems that cultures that arise in more tropical or jungle-based environments tend to be more polytheistic and have a wider variety of deities, including animal deities, in their cosmology; whereas the Mediterranean cultures - cultures arising in an essentially arid environment where you are surrounded by a more austere conditions of sky, desert and sea, seem to have a more streamlined cosmology and ended up being the birthplace of monotheism.

Having pointed out the regionality of religious depictions of God, Darwin then makes the fundamental point of what his experience – and mine, and that of our Surat Shabda lineage – of God is. On page 151 he writes,

"For IT, God that is, when visited in ITs entirety is pure energy."

That's pretty much IT. A great self-aware whirling vortex of pure, eternal love energy – Anami Lok, Radhasoami Dham, the Ocean of Love and Mercy. When I finally beheld it, I was amazed. And my amazement was amazed.

Let's take a moment now to close our eyes, sing the HU, and keep this image of God in mind as we begin our contemplation.

Have a beautiful day!

May the Blessings Be!!!


Michael Turner



*******************************

Day 22, Chapter 22
"An Approach"



"An Approach" is a good title for this chapter, for Surat Shabda is an approach, a perspective to viewing life. And what is that perspective? It is seeing life from the viewpoint of soul. This is crucial to understanding this path. And it simplifies it as well. For some, the idea of "soul travel" might seem a bit daunting or dramatic. But, as Darwin has taught us over and over again, it is so much traveling as it is simply shifting our attention from body, emotions and mind to that of soul. When we are centered in and see from soul, it is a rebirth of a sort that is beyond anything you can imagine.

Let's take a few minutes now and go over some of Darwin's key points in this chapter. On page 154, Darwin writes, "The Spirit itself is able to demonstrate that we need to balance three parts of man which are: Physical, Soul and Spirit." This balance is extremely important. I would elaborate on Darwin's use of the term "physical" to include all of the temporal bodies: physical, astral (emotional), causal, mental and etheric. Using prime harmonic of Shabda as a spiritual tuning fork, we bring these temporal, dualistic garments into alignment with each other. Then we collectively bring them into alignment with soul. Finally we bring all of them into balance with Spirit.

A bit later on the same page, Darwin makes an aside regarding the nature of Spirit and how our attitude affects what we have and achieve in life. His view is similar to Wallace Wattle's comments about "thinking from the end" (i.e., accepting your dream as already existing) in his book "Financial Success Through the Power of Creative Thought". Darwin says, "One must respect this principle of the divine power. It is not a question of expecting to have; that which we desire is already waiting. This is the operation of the power of Spirit, God's abundance is hidden in the creative invisible substance of Spirit which contains all things yet does not wait for us to prove what wonders it can perform for we already know." Another way of putting this is that space and time vanishes, and we see the end goal as already existing as a concrete reality. When you see things from this approach, you are no longer trying to achieve something. The chapter is already written, and you are calmly engaging in the right action that brings what already is into fruition.

Following this aside, Darwin forges straight into taking control of our attention and firmly establishing it in Spirit and Soul Consciousness. He makes it clear that this is not a mental exercise, and that in fact the mind gets in the way of spiritual realization. He starts by reiterating Jesus' invocation about the "eye of a needle", and stating that we need to have our attention as firmly fixed in the Kingdom of Heaven within as we do in our physical lives. The inner worlds of Spirit need to be as absolutely real and tangible to use as our physical homes, jobs, families, and all the things that our human senses tell us are real. On page 155, Darwin says, "When the consciousness is not locked in the realization of the kingdom within as it is in the outer worlds, it becomes as hard to enter as it is for a donkey to go through the eye of a needle." In other words, we can't be weighed down with the extra baggage of physical attachments. This is not to say we should give physical possessions up; just that we need to let go of our attachments to things physical (and emotional, causal and mental as well). Only then – when our attention is no longer encumbered by the mass and weight of attachments - can we pass through that tiniest aperture and emerge fully conscious into the Pure Positive God Worlds.

Darwin continues this theme on pages 155-156 by addressing the mind, intellectual vanity, arrogance and pride. He writes, "Intellectual ability and learning are admirable things and adorn a man, but intellectual pride puts a strong barrier between him and the Inner Master, which is ever calling him and nudging silently. The intellectual ones put themselves upon their pedestal and wait to be worshipped when all the while the Inner Master indwelling in the depths of their hearts is alone worthy to receive the recognition." Darwin then goes on to say, "The intellectual purist will never be able to advance on the path. He is to busy trying to find mistakes and errors in the sacred writings that he overlooks what is necessary for his spiritual growth and defeats himself." (p. 156).

In writing this, Darwin is telling us that intelligence can be a very good tool to have. But it can also be very easily seduced by the negative passion of vanity. When it does this, we can easily fall into the trap of believing we are smarter and better than anyone else. This can even influence how we view a True Spiritual Teacher. In our intellectual arrogance, we can nitpick and find fault with the Teacher for a myriad of trivial things – how he dresses, what he eats, his choice of syntax, typos in his writing, and so many other things (indeed, I think there are times when Darwin deliberately mixes up syntax and punctuation just to see whether we are going to focus on trivialities, or whether our attention is on his spiritual message). We think we no better than the Teacher and it is up to us to offer our "wise counsel" to set him straight.

But this is just a trick of the kal mind power. Anybody can find fault with something. It takes no great skill to compare and contrast things and form opinions about them – and certainly no wisdom. What we need instead, Darwin teaches us, is humility. For it is only when we are truly humble in mind and spirit that we are receptive to Shabda and the Inner Friend. As Darwin notes on page 155, "Those that mentalize and have difficulty getting beyond the mind, I say to you confidentially, in all sincerity there should be a profound humility in soul at all times. When one is asking for that divine revelation to come to him, humility is that great step on the secret path and it will also be the last when conquered, when you reach this form of humility and retain it. Before the Divine Spirit can begin to teach one through ITs own self-revelation, one must first become receptive, i.e., humble."

This brings me back to something I noted a few days ago, from Darwin's song "With Eckankar", Kneel before the Spirit in true humbleness, and say 'I surrender my will to you, O Lord. Do what you will with me.'" In just a few lines of a song, Darji sings a profound spiritual truth, and one that needs to be part of our spiritual foundation if we are to truly blossom in soul. For it is in this humility, this supplication, this complete relaxation that we are able to truly let go to Spirit, like we're floating on our backs on a river of love – trusting IT and letting IT carry us Home to the Ocean of Love and Mercy. As Darji says on pages 156-57, "The great work for each soul, is to lift the personal viewpoint out of the dual worlds of kal into the pure positive God Worlds in consciousness, that it becomes one with the whole, for only the humble can perceive the truth."

Finally, Darwin continues on the principle of humility by discussing how it is both helpful in seeing how simple the path really is, and how humility is expressed in communicating this path simply. The unstated lesson here is also that the mind can terribly complicate things, and mesmerize us with inane minutia. Darwin tells us on page 156, "It is one of the hardest tasks to abase oneself to the realization of one's own littleness, ignorance and vanity, yet it is the greatest of attainment for it leads directly to finding the divine life in its simplicity. . . . As the thought, so the speech which is the chief revelation of the mind as a vehicle for Spirit. To present the message in the way of simplicity, you must be aware of each thought that is impressed upon your lips."

I would like to close here with some of Darwin's final words in this chapter. "Paul Twitchell spoke of the existence of this ability, and the higher planes when he said to me, 'I have much to say to you, but you cannot accept it all now. When the Spirit enters into you IT shall lead you to truth.'" (p. 157)

Let us now take the time to sing HU, be enfolded in Naam and let IT lift us above our thoughts and questions, into a warm wave of pure love. Contemplate Darwin's paradigm shift. Awaken into a new perspective, and bring this approach into your day.

Thank you . . . with love,


Michael Turner



**************************

Day 23, Chapter 23
"Common Sense"



This is a wonderful chapter. A lot gets said in just over four pages – a lot of ground gets covered. But the central theme is common sense as an expression of ethics, and ethics as both the foundation of and expression of true spirituality.

The lynchpin in this chapter is a quote by Paul Twitchell on page 161 that Darwin cites as being "often misunderstood": "'So many have the misconception that moral goodness is a requirement for spiritual salvation. This is not true. Moral goodness comes only from spiritual salvation.'" This is a particularly insightful area, in which Darwin accomplishes three things: a) he addresses the misunderstanding; b) offers examples of ethical actions contrasted with unethical ones; and c) shows us how important an ethical foundation is.

Starting with the first point, Darwin addresses the great unspoken misunderstanding of Paul's comment. And that is that it's okay to live an unethical life, because we will eventually, through our spiritual practice, attain that "enlightenment". But until then, we can pretty much do whatever we want. This is particularly precarious when we get to the mental plane, because the mind is amoral and can rationalize anything. A lot of people without a strong moral compass have foundered here.

Now one of the reasons Paul said what he did, I would surmise, is in his devotion to personal freedom – same as Darwin. Neither of them cared for social controls and emotional, guilt-ridden manipulation. So their message is "Don't let other people's preconceptions, rules, dogma and expectations define you and control you". But that is not to imply that we need to be free of all rules or social constraints, or that it's okay to operate on a "Do what thou wilt is the whole of the law" level. There are right and wrong actions, just as there are positive and negative thoughts and words.

Darwin offers examples of this. He starts right off by saying on page 161, "(T)he individual . . . must learn through self-discipline not to be used as a channel for kal." He then goes on to tell us we must follow right thought, right speech and right action, cautioning on page 161, "Anyone having received the Light and Sound Initiation or the Soul Initiation, and is still talking negatively, writing or criticizing other people, or the Master, carelessly and without thinking, will pay for the deed, it is a law not made by Man."

Darwin follows this up on the same page by discussing sexuality and relationships, "To use sex indiscriminately, to leave one mate to marry another, or to go from one to another thinking one has spiritual freedom, often is only to become involved in another state of affairs, better known as negative karma." In addition to scattering our attention and energy, having multiple sexual partners or relationship-hopping also lends itself to being inconsiderate and hurtful of other people, and can create significant negative karma.

Darwin carries this further onto page 162, when he talks about applying the "grass is always greener" mold to religion (hopping from church to church), work, where you live, etc., saying, "The same applies when one leaves one religion to join another and usually learns that he has less freedom than previously. The mere changing of positions, locale and relationships does not necessarily mean that the individual is going to have peace, happiness or security in this life. This never comes in the changing of status in this world of human consciousness; for no peace, joy or security is found in wealth and health."

In other words, on top of being distracting, negative karma-producing and potentially unkind, this ungrounded lack of focus doesn't work. It doesn't help anything, and it certainly doesn't lead to peace, joy and inner security. The only thing that does work is God. As Darji says on the same page, "Only the realization of God can release one from the fear of circumstances or conditions." And how does one start on this path, by devotion to the Shabda and the Inner Friend, "By the time one receives the Light and Sound Initiation and unfolds in soul, he/she has the opportunity to reach the soul plane. One should be so devoted to the Inner Master in spirit that he is a part of him." (p. 160)

Darwin later addresses this same issue from a different angle, discussing "moral laxity" at the end of the chapter, quoting an article on Paul Twitchell by John Godwin in an August 1972 issue of the The Oakland Tribune. It says, "'He (Paul) blames moral laxity for most revolutions since the time of ancient Egypt and added the warning that there are forces not trying to build the same looseness of morals in our society here that will bring about the same results.'" (p. 164)

Now, this could easily be seen as an indictment of the change and increased openness in sexual expression in the past few decades, and may push a few buttons. Depending upon your upbringing, cultural background and personal social beliefs, this may or may not ring true; you may find it refreshing to hear such good old fashioned values, or you might find that viewpoint in a sexual context somewhat restrictive and antiquated. But that is only looking at the surface. It's not even remotely just about sex. After all, enjoyment of sex – regardless of orientation – does not connote moral laxity. It is a healthy, expressive and bonding part of being human.

So just what exactly is "moral laxity"? It is defining the people around us from a viewpoint of desire rather than compassion. It is behaving unethically. It is dehumanizing our brothers and sisters, reducing them to "allies" or "opponents", treating them as objects to be manipulated for our own ends. When we do this as a society, when we become more and more immersed in the polarity game to the point where we are ruled by our desires, and we demonize those with whom we disagree, we gradually cease working together for the common good, and society falls apart.

Now, regarding right and ethical behavior, Darwin says on page 163, "Ethics is a means of mind cleansing; although not a perfect means, at best it does prepare one to start on the path of God-Realization. When one reaches God-realization, he becomes a spiritual traveler, is united with the Sound Current and with it, becomes a self-religious person." Darwin goes on to offer a rule of thumb on how to express this intrinsically ethical, Shabda-centered perspective, saying, "He comes to that point where he is in love with all life, but his greatest affection is for God. He does not scatter his love among people openly, but meets life in a manner of holding goodwill for all." You see. He goes back to the necessity of having our attention focused, not scattered.

There's one other comment on page 163 I want to mention. Darwin says, "The Law of Karma is the underlying principle of personal responsibility. . . . This is the basis of ethics." I really like this point. It offers a different – and refreshing - perspective on karma that we usually hear. Karma is all about personal responsibility. We take responsibility for our actions and accept their results. In the same way, we take responsibility for controlling our attention and consciously determining where we place it.

Finally, Darwin discusses the importance of starting out with an ethical foundation. We need to fully grasp the goal of natural ethics and accept that goal as already being. Therefore we need to live an ethical life here and now. This means being kind, loving and honest with each other. We don't lie, or cheat, or steal. We have integrity, and we treat people honorably. Really, if you think about it, this is common sense.

It's like Kirpal Singh said, we must first build a strong foundation of ethics and right behavior. And we can reinforce this foundation by observing our thoughts, words and deeds and recording our observations in a self-introspection diary. This invention of Kirpal's is an excellent tool for becoming aware of our disharmonies at increasingly subtle levels, until we can observe the seed thought or event from which the disharmonious attitudes, speech and actions first originated.

We need to accept as a given from the outset the necessity of ethics in thought, word and deed, and combine that with our spiritual practice of Surat Shabda Meditation. As Darwin says, "Genuine ethics . . . is the life-giving fruit of the great Sound Current". (p. 163). In doing this, we are able to establish our spiritual foundation. This foundation serves to guide us until we arrive at self-realization and become expressions of Naam. At that point, we evolve into a mode of natural ethics – ethics not driven by fear, guilt and manipulation, but rather an expression of our harmony with Divine Spirit. When we awaken to this level we are no longer slaves to, or the effects of, our senses, fears and desires. We think, speak and act from the perspective of Soul, Shabda and God, and we intuitively know the right thing to say or do in any situation. This is common sense, ethical spirituality in expression in our daily lives. It's a good thing.

There are a few other comments by Darwin that struck me in this chapter, which I will leave for you to read at the bottom of this blog. Now let's take some time to focus our attention, harmonize ourselves with the HU, and let God's prime harmonic of pure love fill our hearts, align our attitudes and lift our spirits for our meditation, and throughout our day.

In the LightSong of Shabda,

May the Blessings Be!


Michael Turner


****************************

160. (This is a wonderful aside about the interrelationship between our human frequencies and the inner planes.) "(T) he emotional state is really connected with the astral plane . . ."

160. (As a father, I love this statement! mt) "The immature individual, like the child, is usually the result of his inability to control his environment. When parents cannot cope with their own problems, they are caught in a morass of their own emotional disturbances and cannot give their children love and affection or understanding they need. Consequently one part of the child's personality becomes stifled. This shows in the adult who has grown up under such circumstances, and those who come to the Master are greatly in need of understanding love.

162. (This is a key point here, for it alludes to what happens as initiates gradually awaken in the Shabda Current.) "The Teacher is not interested in any outward manifestations for the student, but desires to give help by gently probing and prying so the coiled springs of disturbed emotions within the student can be loosened and brought into some positive action with love."




*************************

Day 24, Chapter 24
"The Spiritual Danger of Drugs"


Good morning. The chapter we are reading today is "Spiritual Danger of Drugs". This is an interesting chapter in which Darwin both lays out the risks of recreational drug use and gives his opinion regarding drug policy and the law.

I'm going to briefly discuss social and legal policy first. Darwin was adamantly opposed to legalizing any drugs, including marijuana, feeling it would have a negative effect on society. I understand his viewpoint. After all, when another substance is controlling our mind, how can we truly be free and consciously interact in our community?

At the same time, in the intervening decades since this was written, marijuana has become for much of society an accepted intoxicant along the lines of alcohol. As the saying goes, that horse is out of the barn. In addition, its use as medicine has helped millions of people; its added benefits as a source of fiber, food, fuel, textiles, solvents, etc., have been proven; and, among all known intoxicants, marijuana is one of the very few (unlike alcohol, amphetamines, cocaine, ecstasy and narcotics) which is non-lethal.

So, taking this as a given, what is the best approach to social and legal policy with marijuana. I will be up front and say I support full-scale legalization – with the appropriate, standard legal restrictions for public intoxication, driving, etc. The benefits of this are several fold. For starters, it is both revenue-saving by virtue of saving billions of tax dollars in enforcement and incarceration, and revenue-enhancing by providing billions of dollars in tax revenue. Second, making use of the entire cannabis plant for food, textiles and fuel, will generate even more tax revenue, create new industries and generate tens thousands of jobs. Finally, by ending marijuana prohibition, we will free up law enforcement to pursue drugs which are lethal and truly a problem in society: methamphetamine, heroin, crack and cocaine. This would be a sane, rational and effective national drug policy.

Now, having dealt with the social issues surrounding this, let's take a look at how drug use can be harmful to one's spiritual growth. There are two basic points Darwin makes about the danger of drugs. On a basic human level, besides the risk of physical addiction to certain drugs (e.g., tobacco, alcohol, amphetamines and opiates, drugs can also be psychologically habit forming. They occupy larger and larger portions of the attention, crowding out other interests and thoughts and making the user obsessed with the drug. The drug and its corresponding intoxication become a sort of god to the user, and the user can become a slave to that altered state. The problems with this are self-evident.

Beyond this (and where Darwin focuses most of his attention in this chapter) is the negative affect drugs can have on both the physical body and the inner bodies. Darwin tells us that drugs even as innocuous as marijuana can poke holes in our astral body (which equates with our emotional body), both dissipating our energy and allowing negative forces to come through. Darwin states very clearly on page 166 that there are non-physical frequencies of attention (aka "entities") which can take advantage of psychic vulnerability, saying, "There are entities who choose to serve the negative forces . . . and they can influence of possess those who are strong-willed or who open their consciousness to psychic and occult experiences without proper protection." This opening and vulnerability can occur through a variety of psychic practices, including channeling, tarot, mediumship and kundalini activation, and I am in complete accordance with Darji about the dangers of these practices.

This unknowing openness and psychic vulnerability can also occur through drug use, as Darwin continues on the same page saying, "Many young people have strange experiences when drugs are induced as an artificial means of leaving the physical body. This allows possession by negative or earthbound entities. It is very difficult to regain control of the physical vehicle after such an experience." The key here is that by using external substances to alter our consciousness, we surrender control of our attention and state of being to these substances. We are no longer in control – they are. And when this happens, we leave ourselves vulnerable to intrusion and manipulation by negative frequencies and influences.

Darwin makes a good point about this, "The mind is a tool to be utilized for communications between soul and the physical body. Since the mind is very impressionable, it is important that we use discrimination as to what we allow to become part of our consciousness." (p. 166) We need to be in control of our attention. That is what Surat Shabda Meditation is all about. That is the point of this path. We have enough of a challenge as it is taking control of our attention without putting up further roadblocks with drug use.

Darwin also uses this time to make a point about attempts to achieve spiritual realization through the use of certain drugs, primarily psychedelics. Again on page 166, he says that some people who do this"claim to have had a God-realized experience, but nothing could be further from the truth. What the user does not understand is that he has had only a small experience in the astral worlds beyond the physical plane." Further, he notes on page 167, "It is equally difficult to separate hallucination from spiritual experience . . ."

These are both very important points. On the first point, this is a very important thing to know. Substances such as LSD bring our astral body and the astral plane into focus. This can be both good and bad. In the good sense – especially if done in the proper therapeutic and/or shamanic setting – one can both work out profound psychological issues and become aware that there is a dimension beyond this one. The latter can give a sense of hope to the individual and an understanding that we are not confined to or defined by our physical bodies. At the same time, it is important to have an understanding going into this that the astral plane is just the first of several inner dimensions, and that is all you will just be experiencing. You will not go any higher within when using psychedelics. Besides, this above-body consciousness many seek through psychedelic use can be attained naturally and much more healthily through Surat Shabda Meditation.

On the downside, to reiterate, you are under the influence of a drug that is to some extent taking control of your mind. In addition, one of the reasons you are aware of your astral body and the astral plane is that drugs such as LSD and psilocybin are intoxicating your astral body. In a sense, they are like astral whisky. Yes, you are aware of your astral self, but that is in large part because your astral body is drunk. So while you may perceive you are raising your human consciousness, you are at the same time lower your astral. And, going back to Darwin's second point, when you are under the influence of a drug, your clarity and ability to discern real inner sight and experience from hallucination is substantially reduced. So these are definite drawbacks.

Going back to Darwin's earlier point about drugs poking holes in your aura, he does offer a solution. If this has occurred, he tells us we can clear it up, fill those holes, rebalance ourselves and recharge our spiritual batteries with the spiritual exercises of Surat Shabda Meditation. By immersing ourselves in the Shabda, we are cleansed, calmed, soothed and healed. In addition, if you are for whatever reason under the influence of any mind-altering substance, one thing you can always do during the experience to maintain – or regain – poise and balance is to focus your attention on the Shabda and the Inner Teacher. Sing the HU or the Holy Names you are given at initiation. No matter what is going on within, this will calm you, soothe you, enfold you in Divine Love and fill you true inner peace.

I speak from experience. When I was engaged in psychedelic experimentation as a young man – and later when I was being given a wide variety of drugs during my surgeries and chemotherapy – I always knew I could find my center by focusing on Darwin and the Shabda. I will tell you right now, there were some occasions where things were pretty sketchy – believe it or not, even more so during chemotherapy than during my youthful experimentation – and the Radiant Inner Form of my Teacher and the Shabda always came through. Those of you who are experimenting, or have experimented, I want you to know I have been there. I know what it's like. And I will always be here for you as ground control and as a friend – without and within – to help you find your center and focus your attention on Shabda, Divine Love and Inner Peace.

Let's take some time now to simply sit. Close your eyes, take a deep breath, relax and let it out. Now breathe in again, and this time let your breath out by singing "HUUUUUUUUUUU". Take this into your meditation. Be the HU, and let IT be you.

In Spirit I am always with you.

Baraka Bashad!


Michael Turner



****************************

Day 25, Chapter 25
"Reality In One's Life"




This is a very powerful chapter. In it Darwin teaches the difference between static, dead mental images and living spiritual reality. He leads off on page 170 by saying, "The teachings of the religionists have their followers believe in dead images, those which have been, but are no longer. In other words, what we usually see are the images of dead things which cannot help us in our spiritual growth here and now." Now this may challenge a lot of people who are devoted to past spiritual teachers and avatars, and who believe they are an active part of their lives. But it is a very important and valid point.

What Darwin is saying here (perhaps anticipating his elucidation on "The Statues in Los' Halls" a few years later), is that we become fixated on static images, symbols, on ideas of things, rather than the thing itself. With past masters, we are fixated on an image of that teacher we have in our mind, and words they have uttered in the past. We have a preconception of what Jesus (or Abraham or Mohammed, or Guru Nanak) looked like – how he walked, how he spoke, what he ate, etc. We idealize that image and elevate it to a level were it is inaccessible, impossibly infallible and perfectly conforming to our preconceptions – and something so vastly higher than us, we can never attain their state of enlightenment.

Now while it is nice to have an image of enlightenment to focus your attention on, there is a drawback to making your primary focus a teacher who has come in the past. And that is that they are not a living, breathing human being. They are not here to show you first hand what Self-Realization and God-Realization is. And there are not here to challenge your preconceptions and opinions. Which I think may be subconsciously one reason we prefer past teachers. We can project whatever image we want on them, and there cannot alter it or correct it. Which makes it much safer intellectually and emotionally – yet by their very abstraction, ultimately unfulfilling

Going off on a slight vector, Darwin then applies this principle of dead thoughts vs. living reality to Akashic (or past life Causal Plane) readings. Without batting an eye, Darwin differentiates between the psychic and the spiritual, and challenges the popular opinion regarding the usefulness of such readings, "I hope you understand an Akashic reading is scarcely more than a scanning of dead images to find something that has already existed, and perhaps made our lives what they are today. This is something few, if any, spiritual seekers want for themselves. What they are interested in is the live image." (p. 171) This is an important point. These Akashic records are static images of the past. Where they are useful is in understanding patterns and habits we have today, how the past influences them, and how we got to this point in life (rather like a spiritual form of Gestalt therapy). But – and this is important – if we are provided with one of these readings, we need to look at the images dispassionately, and not become emotionally involved. For in doing so we in a sense animate these images, these frozen statues, and give them life.

Consider it from a human perspective. On a neurological and psychological level, we have memories encoded in our brains, images of things we have seen, said and done in the past. Most of the time these memories are put away, like so many photographs in an attic storage box. But when we bring them into present thought, they can trigger emotions (the human equivalent of the astral body), and the memory can be painful or joyous. But more importantly, it can become essentially alive, and we have the same emotional – and even physical – reaction that we had when the event first occurred. A case-in-point is PTSD. This is how powerful memories can be, and is why they need to be viewed from a state of emotional balance.

Moving back to the question of mental vs. spiritual perception, Darwin states, "An Atom learns rapidly that theories and doctrines of all kinds are the fabrications of the mind." (p. 171) Continuing, he further notes, "When the seeker has reached the conclusion that whatever is his goal in the spiritual worlds cannot be reached by manipulating the mental processes, he will come to a pause in the struggle." (p. 172) The point here is that the mental plane, while incredibly intricate and fascinating, is ultimately static, temporal and self-limiting. To get to the spiritual realms, we need to transcend thought. But thought cannot transcend itself. No matter how intelligent we are, how incisive our reasoning, how well-versed we are in any number of philosophies and how much time we have spent philosophizing and pondering the wonder of it all, if we rely upon the mind alone we will remain stuck in the mind. We will never rise above it.

How do we rise above mind – and memories and emotions and physicality? By communing with the Word, the Shabda. Shabda is the eternal wave of God that precedes all temporality. Only by uniting our attention with the eternal can we rise above the temporal. When we do this – when we rise above body, emotions, memory and mind, we no longer rely upon preconceptions, imagination, opinions, or fixed, static images of what the spiritual reality is. Nor do we rely upon other people's philosophies and writings, or blind faith. While other people's experiences may be instructional and inspiring, and faith may give further inspiration and the necessary confidence to set out on the spiritual path, ultimately we must rely upon direct experience. We come to directly perceive the living reality with spiritual sight, from the viewpoint of soul, as it is in the moment. As Darwin notes on page 172, "The Atom . . . will go beyond the mere state of faith and enter into a knowingness that is far beyond the act of faith. While faith is important, it is not the actual fundamental principle of what we desire. . . .The end result is knowingness." Darwin discusses faith further a few sentences later, "Belief and faith then are secondary causes, and unless he has the understanding and knowingness, all will be so many words, devices, techniques and talk." As Shakespeare might say, without direct experience of the Eternal, all the books and lectures, seminars and techniques in the world become so much "sound and fury signifying nothing". Which, again, is why it is so important to consistently immerse our attention in the Living Spiritual Current.

Near the end of this chapter, Darwin takes a moment to apply the theme of spiritual reality and vision to psychics who make dire predictions about "earth changes". On page 173 he says, "(T)hose psychics who predict earthquakes, wars and other disasters that affect mankind . . . fall under the illusion of seeing a crackup in their own universe and mistake this for a universal disaster for they do not understand Vidya." (By "Vidya" Darwin means seeing with clear, soul vision.) This is an important and relevant point. Think of how many times in the past few decades we have seen people make melodramatic predictions of cataclysms, disasters or the "end of the world" – or, conversely, who predict global utopia by a certain date "if enough people pray or chant in this manner on this day" – and yet it never comes to pass. Quite frankly, I'm looking forward to, say, 2032, when cataclysmic and utopian predictions, and we can get back to living normal lives, learning, growing and awakening on planet earth.

I remember reading this chapter by Darwin when this book was first published, and this passage resonated strongly with me. In addition to watching with some bemusement as predicted disaster/utopia dates have come and gone in the decades since, this has also been incredibly valuable counsel in my own spiritual growth and become part of my spiritual foundation. For it taught me early on: 1) to differentiate soul from mind, and to discern spiritual vision from emotional and causal and mental projections; 2) that images of "the world" are generally symbolic metaphors for my own personal world, not Planet Earth, and to gain a better understanding of what those images and metaphors mean; 3) not to project my inner world on the outer; and, 4) not to take myself too seriously. This has had a calming effect as I've gone through changes over the years, and given me better insight into the nature of psychic predictions so I don't take them too seriously as well. This same perspective can be helpful to you as well.

I want to close here with something Darwin says near the beginning of this chapter: "(T)he live image. . . . is the image that the student sees beyond the physical senses. It is not a vision nor something conjured up in the imagination, but it is seeing reality for what it is with the spiritual eyes. It is not seeing into he future, nr looking into the past, but it is seeing and knowing the forces and currents that are always swirling around one. To know and understand these currents, and to see clearly the pictures of the spiritual world, is to have reality in one's life." (p. 171)

Let us take this lesson now into our meditation, and ask Shabda and the Inner Friend to help us awaken to clear inner vision and be blessed with the Spiritual Reality – both within and without – in our lives.

My love is always with you.

May the Blessings Be!


Michael Turner



********************************

Day 26, Chapter 26
"Doubt, In One's Spiritual Growth"



This chapter offers good and sage advice on the type of mental attitude that is helpful in Surat Shabda spiritual practice. Darwin starts out by saying: "It is found that the skeptical person will examine the works more thoroughly than others before entering into it. He is better prepared than those who plunge deeply or blindly into spirit without thinking . . ." (p. 176) In saying this, Darwin makes a couple of interesting, and important, points. First, he reinforces the message of Surat Shabda teachers east and west that this path is about personal experience. While we can be inspired by others' reports of the inner regions, ultimately (as Darshan Singh used to say) use the laboratory of our body to experiment and know for ourselves what the true reality is. This first point is the overall theme for the chapter.

But Darwin makes a second point, almost in passing. In talking about "those who plunge deeply or blindly into spirit without thinking", he is once again standing up for individuality and spiritual freedom and saying, in effect, "true believers, lemmings and cultic personalities need not apply." This is huge. Throughout his time as a Living Teacher, Darwin taught over and over again that this is an individual path. It is not for professional followers or people who want to be absorbed into a religious Borg and told what to do. And it is not for the timid. As Darji used to sing, "The timid never find true love and happiness, but the bold do."(1) I am in complete accordance with this. As a Surat Shabda Meditation teacher, I am not looking for students or followers; I am looking for friends who can join me in Sach Khand, surf the Current of Shabda, dance to the rhythm of the Eternal One.

Having made his point about not being a blind, unthinking follower, Darwin continues extolling the virtues of starting off as a skeptic, "If one doubts the works in the beginning, it means that if he studies and examines it at any length, he is apt to become a greater student than those who fall into it from the very start, hoping to use it for their own salvation." (p. 176) In other words, if we start off having doubts at the beginning, we are more inclined to focus on proving the teachings for ourselves. And when we learn something experientially, rather than through books or second hand accounts, the understanding – and confidence in the teachings – goes much deeper, making for a more solid, enduring foundation for spiritual growth and life.

This point of initial skepticism also applies as Darwin continues vein talking about how it is good to go slow in order to build a solid foundation. He teaches us that we need to be patient and thorough as we learn and grow, "As we grow spiritually at the steady slow pace we've been growing, we must have a foundation under ourselves individually to be prepared for what lies ahead on tour journey to the God-conscious experience and total awareness." (Pp. 176-77) Darwin goes on to include our reading and study habits in this, saying we should take the time to read, and re-read the spiritual writings so we can more completely understand what the teacher is saying, digest it and incorporate into our understanding, "Take the individual who speed-reads and goes back through it later at a slower pace or takes it letter by letter or two or three letters at a time and discusses it with others, he'll get more out of it." (p. 177)

Continuing on, Darwin anticipates challenges we will have with this path. "So the Initiate's real struggle on the path will be with his own state of consciousness and not with the spiritual law itself, nor with any elements of spirit." (p. 178)

There will be struggles and obstacles. Some of them will be with events around us, as well as struggling to grasp some part of the teachings. But, he says, the greater challenge will come from within us. We all have internal baggage and attachments – emotional, causal and mental – which weigh us down and hold us back. Some of this we are consciously aware of and understand from the outset we will have to let it go. But other things (attachments to long-held opinions, memories, habits and emotional reactions and conditioning) are so close to us and interwoven with us, we identify ourselves with them. They become part of our self-definition, part of our concept of who we are. And the process of detaching ourselves from them and letting them go may feel like tearing out part of ourselves or a sort of death. And it is definitely outside of our comfort zone.

So we balk. We stop our progress on the inner journey and say, "If realization means giving up this, I'm not sure if I want it." We may even question the Path or the Teacher. Darwin writes, "What is happening here is that we are entering into the self-knowledge state, and self-knowledge is therefore a slow, painful stage and we must look at ourselves objectively and say, 'What do I really want of life? What is it that I really need? Is this the real path of God.'" (p. 178)

This is perfectly normal. I have yet to meet someone who has not hit this roadblock at some point or another. I know I did. The beauty of this passage is that Darwin anticipates this, and let's us know that, sooner or later, it's going to happen. If we can take this to heart and anticipate the struggles too, it will make them less of a surprise and an obstacle. As a result, we will make it through the challenges more quickly and smoothly.

In addition, we will also get tired of the constant chatter of the mind, the "sound and fury" creating all of these doubts and distractions. Darwin echoes his refrain from earlier chapters when he writes, "When the individual gets tired of mentalizing, which is a doubtful stage of wasting time and intellectualizing about people and things, or about the Master and the works of Atom, he gets off the doubtful stage into the spiritual arena. He learns to weed out things, learns to release this mental garbage." (Pp. 178-79) We come to understand that, while study is important, endlessly going over philosophical minutiae, like a dog with a chew toy, gets us nowhere. There will be times when we need to put down the book, close our eyes, and simply meditate on the Shabda. This will integrate the teachings into our lives and, curiously, simultaneously calm the mind and at the same time satisfy its curiosity. Our questions will be answered, and the endless internal mental sophistry is replaced by spiritual knowingness.

Finally, in order to fully integrate the teachings into our personal experience, we need to everything in the name of God. This process is twofold. One, doing so keeps our attention on the Eternal Divine and encourages us to operate from a spiritual perspective. And, two, by doing everything in the name of God also means doing and being in the Name – in other words, being immerse in the Sound Current so we are saturated in IT, absorbing ITs essence while IT absorbs us into ITself. As Darwin says, "To do what we should do in the name of God is the whole law of the consciousness for it takes us into the very heart of God. It does away with doubt and leaves no guesswork. It brings a knowingness that we must always be the foundation of the spiritual life of Atom, in the preparation for the foundation and the building blocks the individual find in the writings, which will prepare one for greater works to enrich the consciousness and allow it to expand beyond the mind. Then the individual will be able to live and move in the Sugmad."(p. 179)

On that note, let's close our eyes, sing the HU, and commune with the Wave of Eternal Love that is the Shabda.

Have a beautiful day!


Michael Turner




********************************

Day 27, Chapter 27
"A Way"



This chapter is a wonderful summary of this book and the path. Darwin starts off with what might be called the mission statement of the path: "It is a way to God-Realization and spells spiritual freedom. When man loosens and lets go, he finds himself guided to the liberation of soul. From liberation comes: total freedom, total awareness, and total responsibility – the keys to heaven." (182-83)

These three points are not only keys to heaven and the path, but they also form much of the foundation of Darwin's entire teachings. Over and over again he has stressed the importance of individual and spiritual freedom, Soul and God awareness, and personal responsibility (which is what he means when he says at times that, upon realization, we are a law unto ourselves). It is important to note here that he applies the principle of freedom not only to being karma-less ("neh karma") and not bound by the constraints of others, but also to the relationship between the teacher and the student. He points out that many ostensibly metaphysical, spiritual and meditation teachings are really about control, not freedom. Under the guise of "higher consciousness", their real agenda is getting followers for a particular teacher, taking away their self-control, subjecting them to group-think and turning them, essentially, into spiritual lemmings (my words, not his).

Darwin will have none of this. He says straight out that, once a student attains soul consciousness, they are free to either retain a relationship with the teacher, or go their own way. It is their own personal choice. Furthermore, it is a matter of personal responsibility, as Darwin says on page 184 "It is the way to set the individual free to accept his own responsibility and to stand on his own feet." Darwin even takes this one step further, questioning the very language and traditional roles of conventional spirituality, saying: "…I seldom use the word 'chela' or 'student.' Once such roles as those of student and teacher are accepted by the seeker, he may persist in identifying himself as such. This is one of the lower aspects of all metaphysical teachings, for it raises one and puts another in a lower class." (p. 188)

I have long felt the same way, for I find language, while necessary for communicating on one level, also gets in the way of real communication and understanding; for people tend to identify or mistake the spiritual reality for its spoken, written or physical symbol. As Robert Hunter once wrote, "As soon as it's spoken, it no longer applies". In the eastern Surat Shabda tradition, they refer to the spoken or written word as "Varnatmik Naam" (which – because it has form, is inherently limited and temporal), and the inner, Eternal Word as "Dhunatmik Naam" (that which is unspoken and without form).

As far as a "Teacher/Student" relationship goes, as I've said before, I'm not into a top-down, control-driven hierarchy. I have no interest in controlling people and telling them what to do. On top of it being wrong, antithetical to the entire teachings and counter-productive, I find control and manipulation – quite frankly – boring, and a waste of my time and energy. If that was what this was all about, there are better things I could be doing with my time – like, say, spending time with my family, helping my son with his homework and projects, cooking dinner or watching "Big Bang Theory". I'm not looking for students; I'm looking for friends.

Now at the same time, we should not become obsessed with minutiae and worry about whether or not we are using labels in describing something. It's only human to do so. We just need to be aware when we do it, and know the symbol is not the reality. In addition, the above comments about teachers and students are not meant to denigrate the role of a spiritual teacher and friend. They are incredibly helpful in providing meditation instruction, guidance and feedback, as well as help us stay focused on the Eternal One of Naam, and not get distracted and go off course in our inner journeys. As Darwin notes, "The great advantage in traveling with the Master, of course, is that he will make suggestions and steer you in certain directions in order that you gain the greatest benefit from your journey." (p. 186)

Darwin goes on to say, "An earnest student will be taken nightly from his physical body to travel to other planes. There he will be given instruction by a Master. The student will first meet his Master in the Light Worlds, where the Master will be waiting to linkup his light body with that of the student." (p. 185) As we travel this path, it is quite beneficial to have a spiritual mentor who functions in both the human form and the soul body. This makes the connection between physical body, astral, causal, mental and soul one continuity. It is not uncommon for the initial connection between the student and the teacher to be within, often preceding the human meeting.

The next thing Darwin talks about is a tangible benefit this path offers to us as human beings: being able to personally experience above-body consciousness and prove to ourselves that we exist separate from our physical bodies. Darji says, "Man, being mortal, must one day leave his fleshly cloak; so it is important that he should learn by going in and out of the body that he can give up the material shell at the time of physical death without suffering and anxiety." (p. 187) As we have discussed before – and as recent TV shows like "I Survived! Beyond and Back" demonstrate – being able to experience yourself as independent of your physical body, and knowing that even when your body wears out and ceases operation, you still exist, is incredibly liberating. People who have undergone this experience almost universally feel a sense of being more alive and free than ever. Why go through the physical pain, the grief to your family, and exorbitant hospital bills to have this experience via a near-death experience (NDE) when you can, through Surat Shabda Meditation, consciously shift your attention from physical body to soul as effortlessly as blinking your eyes.

Elaborating further, Darwin says, "We learn that the heavenly worlds are comprised of many planes of existence, each denoting a certain amount spiritual growth and level of consciousness. Man does not need to die before he enters heaven. Death need not be man's only ticket to the heavenly worlds. He may, through the practice of the spiritual exercises, transcend his mantle of flesh and daily soar unencumbered through the mighty God Worlds." (p. 184) Not only do you gain liberation from feeling you are your physical body, but you also have the opportunity to explore the Kingdom of Heaven while still alive as a human being. You don't have to take anybody else's word for it. You have the knowing and confidence that comes from personal experience and direct perception.

Furthermore, as you awaken into Soul consciousness, you realize that there is no travel involved. Whereas journeying in the astral and mental regions involves space and time (albeit more rarified than the physical plane), soul is above space and time. Darwin says, "(T)raveling in soul is concerned mainly with movement of soul in the lower worlds, that of the regions from the physical planes to the fifth plane, which is the first of these ethereal regions named as the worlds of pure spirit. Once there, we are within the true kingdom and no longer need movement or travel. Soul is beyond time and space, which his existent within the lower planes, the physical, astral, causal, mental, and etheric planes." (p. 184)

Once we are in the fifth plane, the Soul Plane, we are in the realm of the Eternal, in our true essence as soul before God ITSelf. We realize we are a particle of God, and then we flow with the River of Shabda into God and become a self-aware drop of the Ocean of Love and Mercy. You might say we are accepted by Shabda and by God. This is Total Awareness and God-Realization. Darwin describes it this way: "As soon as soul reaches the upper planes of God, the concepts of time and space are meaningless. Soul is in a state of total awareness and travel becomes unnecessary. Soul is in a state of God-Realization, absolute consciousness. It is the achievement of this God state that it is all about." (p. 185)

Now, having achieved these levels of Soul and God consciousness, it's tempting to want to float in the ocean all the time, removed from this life and all worldly concern. But we are in the human form – and part of the social family – for a reason. While we no longer are the effect of people and events around us, we still need to participate as members of this family of humanity. Self and God-Realization does not lead to asceticism or the life of a renunciate. Rather, it makes us more alive and fully participating in the dance of life than before. Darwin teaches us, "We seek to improve the social order, not to retreat from its problems and responsibilities." (p. 184).

This is not to say we are working for some sort of heaven-on-earth utopia; just that we have a social responsibility to participate as citizens in the family of humanity, and do what we can to make our world a better place. A couple of pages later, Darji continues, "While Atom teaches its followers to remain detached from worldly concerns, it still teaches is followers to fulfill their social and family obligations." (p. 186). This is part of living a life of responsibility that Darwin talks about at the beginning of this chapter. We are responsible for our thoughts, words and actions, and we are also responsible interactive members of society.

I would like to finish here with some of Darji's closing thoughts summing up this wonderful chapter.

"God is, and, of course, Soul is, since Soul is a part of God. When we understand this as truth, then we learn that all a teacher can do is to put our feet upon a path and point the way. No one teacher, living or past, can give us the actual understanding of truth. The knowledge and understanding of truth is wholly dependent upon the individual to make his way to truth.

When one reaches a certainty of this spiritual knowledge, he suddenly knows the secret of the ages. He has learned the simplest of all things, that each one of us is truth itself. We are the living truth, the very embodiment of God. The essential nature is freedom from all things – the complete independence of soul." (Pp. 188-89)

Let's take a moment now to relax. Breathe in – deeply and calmly – feeling your center. Just breathe for a moment, calmly following the rhythm of your breath. And now, together let's sing the HU.

Yours always in the Wave of Eternal Spirit,


Michael Turner


Day 28, Chapter 28 – "Music, The Fuel For Soul"

"They're a band beyond description,
Like Jehovah's favorite choir.
People joining hand in hand
While the Music plays the band
Lord, they're setting us on fire."
- Barlow/Weir

"Spirit is something that no one destroys."
- Traffic

This can be a fairly challenging chapter, and may turn into a challenging point of discussion as well. While Darwin talks a bit about the celestial symphony of God and about how music is fuel for the soul, this chapter largely serves as an indictment of much of modern music, including rock and roll. In doing so, it also (perhaps unintentionally) brings up the issue of what enlightenment means in a human context and shows how culture and upbringing can color one's spiritual perceptions. Let's start out with Darji's description of positive, spiritual music, and then go from there.

Darwin was a vibes player, songwriter and singer inspired by the music of the higher regions, and wanted his own music to reflect that uplifting spirit. He says at the beginning of this chapter, "Music is fuel for Soul" (p. 194) and he lived his life that way. Darwin was devoted to music and wrote, "We must give ourselves to music if we are to share in its meaning." (p. 196) He preferred strings, woodwinds, and flutes as instruments and said, "Those instruments that can harmonize and bring forth a power of positive feeling, music that will be uplifting and assuring to soul, that will reach soul." (p. 195)

Darwin also marveled at how, unlike most other art expressions (e.g., paintings, sculptures, books and films), which might be viewed once or few times before growing stale, music was unique in it's ability to be listened to again and again, writing, "In the case of music, however, the reaction is entirely different. One can hear the same piece repeatedly and seldom tire of it." (p. 196). He in part attributed this to music's lack of physical or visual tangibility, insightfully noting, "It seems like the secret of spirit lies in the fact that music is invisible and therefore does not immediately reveal its full significance. We weary of forms more frequently because they impose upon us the full pictures of themselves. . . They tell us what they mean. Whereas music draws persuasively upon our own understanding." (p. 196).

Darwin also makes an interesting note when he says, "Spirit transmits through your fingers and you get down to the low notes of the piano, for instance, or the spectrum of the scale and it sets up a psychological feeling within the human body." (p. 200). This has always resonated with me as a musician. I'm a bass player, and I have always played with my fingers. I've had friends try to talk me into using a pick; but it never feels right. There is something direct, personal and even intimate about my fingers touching the strings of my bass, coaxing out the right tones, feeling the inner rhythm and music move through them, intro the strings and out my amp. Whenever I try to use a pick or any sort of tool separates me – just a little bit – from my instrument and distances me from the music.

Now as I was saying, Darwin knew that music could have profound effects on people's states of consciousness, often without realizing it. He also knew that various frequencies of musical sound could be consciously used a tool of psychic and psychological manipulation. He also saw how discordant input could lead to discordant action. He wanted people to understand this and learn to be consciously aware of the nature and of their musical input. This is a part of discernment as well as spiritual freedom, and goes hand-in-hand with Darji's consistent injunction to not be the effect of someone else's thoughts, words or actions.

I fully agree with this. It's very similar to the concept of "Psycho Cybernetics", in which the input we receive through our ears and eyes can have a profound effect on how and what we think. We need to understand that our biocomputers are constantly being programmed by all of the input around us. Much of it is negative and we don't even realize it. We need to take control of our attention and our nervous systems and consciously choose positive, spiritual input through our eyes, ears and whom we associate with. We can take positive steps by reading a passage from a book by one of the Surat Shabda Teachers every night before going to bed and take time every day to listen to tapes or cd's of their Satsangs. We can remember to perform Simran of the Holy Names as often as possible to replace negative thoughts with positive, spiritual ones, and find other Surat Shabda Satsangis to associate with. And we can do our meditation and commune with the Word for at least a few minutes every day. These are all things that can gradually clear out the negative energy and replace it with positive Shabda energy, and are helpful to us on every level.

Now, having established that musical input can affect our states of consciousness, Darwin then builds a case against modern music – some types of classical, jazz and, in particular, rock and roll. He writes the rock beat derives comes from the jungle beat and excites lower passions. And he states there is a solid correlation between rock music and negative behavior, including violence, mental disturbance and social unrest. Reading this the first time 30 years ago raised a lot of questions for me, and led me to meditate on it for a long, long time. Here is what I have come to believe. Before I begin, I want to say these are my conclusions only and are neither meant to convey the perception that my conclusions are objectively "right" or "superior". Nor are they in any way meant to disrespect Sri Darwin or cast any aspersions upon his teachings. Darji is my Spiritual Father and my best friend, and I love him with all of my heart and soul. My conclusions here are simply what I believe. Believe them if you need them; if you don't, just pass them on.

Ever since someone first banged two rocks together, we have been aware of the shamanic power of music, its ability to transform us and lift us into transcendental states of consciousness. This transportive quality of music works both individually and collectively. The renowned scholar and mythologist Joseph Campbell noted on more than one occasion that collective musical experiences often fill the same function traditionally reserved for religious services - i.e., to give people a sense of unity with both each other and the Divine. As he remarked to Blair Jackson about his experience at a Grateful Dead concert:

"(W)hen you see 8,000 kids all going up in the air together...This is more than music. It turns something on in here (the heart). And what it turns on is life energy. . . . It doesn't matter what the name of the god is, or whether it's a rock group or a clergy. It's somehow hitting that chord of realization of the unity God in us all. That's a terrific thing, and it just blows the rest away."

Now, I understand why Darwin might have been concerned about the more intensely physical vibrations of rock & roll, and even perhaps consider them to be a "lower vibration" that is "less spiritual" than other music and may upset the balance of the inner bodies and even damage the listener's aura. And I also see why he would think that the drumming backbeat of rock came from "primitive" African tribalism. Given Darwin's generation and the culture he grew up in, this is a very perfectly understandable.

It is inevitable that our upbringing, the time period we grow up in and our surrounding culture will inform and influence our spiritual perceptions and beliefs. In India, where there is a cultural tradition of vegetarianism and asceticism, most of the Surat Shabda gurus stress a vegetarian diet and some level of sexual abstinence. It happens with every teacher in every culture in every generation. But here is where it is important to discern between cultural upbringing and spiritual truth. As much as possible, we need to look objectively at our belief systems and see where cultural biases may be hiding. We can never do it completely, but it's good to try as much as possible.

Now going back to music, I believe it is helpful to look to Wave of Shabda for inspiration and illumination. The River of Light and Sound, this Spirit of Life, flows. It is active, not passive, expressive, not entropic. For music to convey this, it needs to be active, expressive and dynamic. It needs to be a living, breathing thing that moves and flows and takes you on a journey - not leave you mired in a static eddy. And, in its flow, it must be in harmony with the timeless wave of life. This is the spiritual application of rock & roll.

Rock & roll can perhaps best be described as music of the physical plane (just as ballads are generally emotional, jazz intellectual and classical, frequently, celestial). It is based around the beat and rhythm of the drum, which in turn is derived from the beat of our own heart. In a sense, the drum is the musical heartbeat of life in this universe. Now it is true that some drumming can excite negative thoughts and emotions, or "lower passions". But this can usually be traced not so much to the drumming backbeat as to angry, harsh and/or discordant oscillation frequencies. But rock and roll's more important function is to harmonize us with our own heartbeat, with the rhythm of life, and ground us in this universe. For, just as a living master serves to ground the spiritual current on this planet, so too can rock & roll serve as an anchor point for the Spiritual Flow in contemporary musical culture.

"God is Sound" - Mickey Hart

As I noted earlier, in order to achieve this goal, rock must be in harmony with Shabda, the Audible Life Stream. In our era, there have been quite a few performers of Shabda-inspired rock (including the original Genesis, Peter Gabriel, Seal, Yes, The Moody Blues, The Neville Brothers and the Grateful Dead and it's offshoots). While it is likely that few of these groups are conscious practitioners of Surat Shabda Meditation, they all reflect the ringing radiance within, allowing the inner, timeless music to play them and offering a positive message to their listeners. And some are quite danceable as well.

The Grateful Dead, in particular, were known for their improvisational brilliance based upon the premise of letting "the music play the band." As anybody seeing them on a good night could attest, when their instrumental sails were set just right, they could catch the Wind of Change and take the audience on an inner journey that was both timeless, and as fresh and unique as the moment. This Music of the Spheres (i.e. Shabda) is the legendary "X" factor that lifted the Grateful Dead - and the audience - to new heights.

I remember when I saw my first Grateful Dead concert. It was at the Winterland Arena, March 18, 1977. The extra member, the "X Factor", appeared and drove the band for three hours. While the band was playing, it was like this musical wind from another dimension was blowing through them - filling their sails - propelling them onward. The seven became one, and took the audience along with them.

It wasn't just a mental experience, although it expanded my mind; and it wasn't just emotional, although it remains one of the most exhilarating events of my life; and it wasn't just physical, although I danced like I'd never danced before. It was all of these things - and more. There was an extra element that superseded - and preceded - the mind, emotions and physical body. It was this wave of sound that filled the band and audience together. It flowed through us and lifted us like a mighty river, and carried us to another dimension.

This is the power of rock & roll when it is rooted in Shabda - to tap into the Rhythm of Life and bring our awareness of the Eternal here and now into this physical uni-verse. This is our birthright as soul, and is available to any who ask. The Bani Boogie. The Tuza Twist. Shall we dance?

With All My Love In The LightSong Eternal

May the Blessings Be!


Michael Turner



*****************************

Day 29, Chapter 29
"Music As A Vehicle"




Dear Friends in Spirit,

This chapter is the final chapter of the first and largest portion of "Your Right To Choose" . In it, Darwin again talks about how music is both an expression of, and an influencer of, consciousness. He relates some of his experiences as a composer and musician, as well as stories about how he grew up with music. All told, it is a very touching story, with Darji speaking straight from the heart.

Because this is really a heart-to-heart talk between Darwin and his friends, I'm not going to add much – because there is little I can add. All I want to do today is simply post a few passages from this chapter that speak to me. Please take a few minutes to read this chapter, my selections below, and perhaps underline the passages that touch your heart as well. When you are finished, let's all join in singing the Eternal Divine Love Song that is HU.

In Darwin's Name and Love,

Baraka Bashad!

Michael Turner

**********************

204. "Music has always been a vehicle for man to raise himself in a state of consciousness ..."

204. (re music and art) "This expression is of the Spirit. It always has been, it always will be."

205. "I loved music as a child. The radio came into its own being about that time. I'd spend sometimes hours just listening. We had an old phonograph, but I didn't have the money to buy any records. My father bought some occasionally, but his choice of music and mine were not quite the same, yet he let me enjoy the music which I wanted to enjoy."

206. "I felt, as an artist or a musician, that when this Spirit flowed through me, I wanted to play a chord or a song that was going to make everyone feel good."

206. "You can learn an enormous amount of the occult by studying the different forms of music. I'm sure most of you have seen how religions use their music to capture the imagination of those in the audience, the followers. Some is uplifting, others tear at your heartstrings. Makes you feel guilty, unwanted in a sense, an uneasy feeling. When your vibrations or vibratory rate reaches that point, you can either extract yourself from the atmosphere or you have to contend with it. It is emotion they are using to control their flock."

208. "You can still do your daily duty . . . and still have your attention upon Spirit. Not splitting your attention but consciously aware of what you are doing at each moment."

208. "Brother Lawrence thought of IT as God in everything. . ."

208. "Sometimes we have to do the jobs we don't like to, or the work, but it is a matter of attitude. If you can see the Spirit in it or if you think of it as God, do so, but it's the essence of God."

208. "(Y)ou can see God and feel IT in the air, see IT in the trees and the birds and the beautiful flowers.

208-09. "Most of us forget to look to IT, to look at IT and think of IT as the Spirit in the other person as well, whether he's a student or the average fellow out there that we met in our daily lives. There's no difference between myself and any other person or other people in this world. The only difference is that I have had the opportunity of experiencing God as we think of IT as God.

209. "(I)t's for that person that understands that he or she does not become one with God, just an atom in an atom structure, a great big ball of light, but acts as a co-worker, here as well as in the Far Country"

*********************************************************

Note: Darwin's lyrics to his song "With Eckankar" appear near the end of this chapter. This song was originally released in or around 1973 as part of Darwin's album and tape called, "It Just Is". It was largely inspired – Darwin tells us – by Paul Twitchell's classic book on the psychology of Spirit, "The Flute Of God".

I first heard "With Eckankar" when I was in high school, around 1975. It had a profound effect upon me the first time I listened to it – penetrating all the way to my core and indelibly etching itself in my heart.

I highly recommend you seek out a copy of this tape, "It Just Is", on Amazon, Ebay or some other distributor. Treat yourself to this wonderful song, as well as "It Just Is", "At the Grassroots" and "O How I Love Thee, Blessed Sugmad", and Darji's two readings from Paul Twitchell's "Stranger By The River" on the flip side. As Darji once said, If you listen to this tape with an open heart, you will be uplifted in your state of consciousness, and filled with inner peace and divine love. mt

"With Eckankar"
- by Darwin Gross

"To understand the Master's words,
Let the Spirit of Eck flow through.
It must be free to flow through you,
To share ITs wisdom from the heavens above.
The fruit of the Spirit, the gift of God.

Most Souls are seeking
Peace, health, love, joy and prosperity.
The timid never find true love and happiness,
But the bold do.

Kneel before the Spirit in true humbleness,
And say 'I surrender my will to you, O Lord
Do what you will with me.'

Let your mind dwell in the sea of Spirit
To be lifted above your daily problems.
Then you are in this world, but not of it.

Once grasp the great form without form
And you roam where you will, with no evil to fear.
Calm, peaceful and at ease with Eckankar."




*********************************

Day 30, Chapter 30
"Music And The Individual"


(Note: This is a transcript of Darwin's talk at the Eckankar Creative Arts Festival in Tulsa, Oklahoma in June 1974)


Starting with this chapter, the remaining chapters in this book are transcripts of Sri Darwin's talks at the annual Eckankar Creative Arts Festival. This one is from Tulsa, Oklahoma iDarji started them in the early 70's to coincide with International Children's Day and devote a weekend to young people in the arts. They were weekends full of singing, painting, music and dance – all focused upon creating from our spiritual center in the Shabda.

There are quite a few points here as Darwin improvises around the central theme of Spirit in music. Darwin's style is to speak casually, and let Spirit speak through him – the very flow and randomity of him speaking in itself serve to lift the attention in a relaxed, natural way.

Rather than offer any commentary, I simply offer a few select quotes that stand out to me to supplement your reading of the chapter. Please feel free to comment and share your perceptions about this chapter. I look forward to your observations and feedback.

Now let's take a few minutes to read what Darwin has to say in this chapter. Just let the Spiritual Current in Darwin's words flow through you, expand you, lift you up and fill you with Its love.

Baraka Bashad! May the Blessings Be!

Michael

*************************************

212. "Music is to gladden the highway, the path to heaven, that is known as Spirit, the great Sound Current, not only by musicians and artists, but this applies to all endeavors and activities. The individuals who open themselves up to that known as Spirit know how to utilize it without directing it, letting it flow through them to become a vehicle for it."

212-13. "That known as Spirit flows through you; it flows through a musician and out to reach us as individuals."

213. "We recognize that in the physical world there's nothing that is perfect other than that known as soul . . ."

213. "Some of the young ones should be taught how to write a little music or dance and how to do their thing. It's most important for an individual's growth, physically and spiritually. If we can teach our children some music as they are growing up at the mother's knee, and in our schools, not just an appreciation of music, but let the child, the individual, choose whether to take up this or that instrument, or whether to sing"

214-15. "Man in his makeup has various bodies, the outermost sheath being the astral body and some of the folks have seen the aura demonstration that Irwin performed with the piano and different selections. I was a participant up in Vancouver, B.C. at one time. Some that had the ability to see the aura, saw the change with the type of musical selection, whether it was fast, slow, a hard jazz number, rock type or symphonic, each had a little different effect on not only the astral body, but the causal and mental bodies. In turn, it has an effect on the physical body and how we react emotionally, mentally."

217. "When one reaches the soul plane, there is what is known as the Five Melodies of the Sound Current, but including the five you will hear occasionally, a single note of the flute which is very haunting, very bluesy, very melodious, very uplifting and you hear it very faintly. Once you hear it, you want to continue to listen."

217. "I have tried to musically reproduce what I heard. It is difficult to put it all down on paper. . . . Because there's no way to bring it all out, and when you try to bring it out, it is very difficult. Well, this flute of God is sort of a swinging melody, yet very, very gentle and soft. The day that I had been a vehicle for the song 'Oh, How I Love Thee, Blessed Sugmad,' and got the last note down on paper, I sat back, then came into the awareness that there was a flute playing behind me, but it was playing a different melody.

218. "The Atoms . . . . are wrapped in that which is known as the Word or the Sound Current, that spoken of as the "Word" in the Bible. For that individual that is on this path who goes down the middle road, neither to the left or the right too far, he should have a happy heart."

218 "The secret of Spirit in keeping a 'singing heart, a joyful heart,' is one of the greatest factors of survival in Man's life as well as here."

219. "If one would understand that small part of the Sound Current which is part of the Master in the radiant form, the Light and Sound, he can do many wonderful things, with a joyful heart, for all life."

220. "The point I'm trying to make is that the influence of sound, and the effects it has on the physical body, sway us."

220-21. "(W) hen a person knows how to handle the current, that Spirit that flows through one, he can play a discordant chord or note and weave it into the positive heavenly music."

Now, when I speak of heavenly music, it is the instrumentation and/or chord progression which makes it up. You will find that also is true of attitude and the feeling of the individual who is consciously aware of where he is working at within his soul body. If he's able to contemplate and get into the pure positive God Worlds with the Master, the Traveler who knows his way through the lower worlds, the music can not only be uplifting to the heart and make it joyous, but you'll find that it can lead others to that known as the river of Jordan in the Bible. In the sense that, the river of life that the Masters, the Spiritual Travelers, know and use to get through the tunnel of Yreka into the soul plane; they are the only ones who know of the secret to lead one through the void or tunnel."



***********************************

Day 31, Chapter 31
"You Can Move Mountains"


(Eckankar Creative Arts Festival - Minneapolis, MN – June 1975)

Good morning,

It's a beautiful day here in the Truckee Meadows, and this is a wonderful talk. In it, Darwin touches on several key points about the path, including the nature of Divine Spirit, how IT interfaces with music and color, how we can express IT, the nature of entities, and the importance of humility.

I would like to touch upon a couple of these points, and then let Darwin's talk speak for itself. The first point is how Spirit flows. As I've noted before, the Sound Current flows in ITs own way, following the path of least resistance. We are not here to influence IT or mold IT to our desires. IT will flow where IT needs to flow, IT will do what IT needs to do, and IT will activate whatever human instrument is the best conduit for IT. If ITs direction does not meet with our desires or preconceptions, we need to relax and let things unfold as they may. As Darwin notes on page 227:

"IT wants to be free and easy, this substance that is known as Spirit. If IT wants to go in another direction and it is not the direction we wish it to go in, let it be, it isn't easy sometimes to let go and let life and others be . . . . Don't get emotionally involved with someone else's words, just: 'Let the love of Spirit flow through you. Let that sound of HUU surround you.'"

Another theme Darji touches on repeatedly is the importance of our children and nurturing their creativity. On page 228, he says, "You might be wondering why I'm talking about the children so much. The Arts Festival will always take place around Children's Day, which falls around June tenth of each year. . . . Feel the dignity of a child. Do not feel superior to them, for we are not."

Neither Darwin nor I can emphasize this enough. While we as parents need to teach our children well (thank you CSN) and provide them guidance and structure, they are also our teachers. They teach us the lessons of love and patience and forgiveness. I can tell you that, for all of my decades of meditation and study of Surat Shabda, becoming a father took my meditation to a whole new level. I discovered a depth of love and devotion that that I could not comprehend before my son was born. My immersion on Shabda and God was exponentially greater than before, and I believe it was invaluable in helping prepare me for teaching this path.

Regarding our children's creativity, Darwin says, "I know that those of you that are parents and that have children taking some music lessons, or some form of artistic work, sculpturing, etc., and if their teacher tells them to do it in a certain way but the individual youngster or child does it another, let them express themselves. Sooner or later they'll come out with something that might e of value, perhaps not to the parent, but to that individual later in life who has something to contribute to mankind." (p. 225).

I can personally attest to this. I have nurtured and cultivated my son's creativity from the day he was born. I played music for him when I held him. I sang to him when I was up at midnight, 2, 3, 4 a.m. to feed him and rock him back to sleep. When he was barely able to walk, he discovered Legos and was building 3-foot long trains in the time it took for me to get a cup of coffee. His imagination and intelligence combined to create new Lego cities and inventions every day, sometimes several times a day. And then he discovered music - first the recorder, then percussion and vocals. He is developing an intuitive sense of the One, and is beginning to show a knack for multi-layer harmonies and counterpoints. And now he wants to play the flute. (I'm actually glad it's the flute, and not an instrument with a more – ahem – challenging learning curve for parents such as the violin or drums). This creativity is a great blessing, and a wonder to behold. And I am grateful beyond belief that God has given me a son to share this with.

There is another comment Darwin makes about both creativity and humility that I would like to share with you. "We don't put ourselves above others, above the other person, and this is the one thing that they learn: to be themselves, to express IT very freely and with common sense, in the manner in which they know best, and it could be verbally, or cooking, or knitting, it doesn't make any difference. That is the uniqueness of IT." (Pp. 231-232).

This has particular resonance with me. In the past couple of years I have rediscovered the art of cooking. Somewhere along the line in life I got busy and began going for convenience, especially all those years I was a single father. It got to the point where my son was fed in daycare, and I worked the night shift, so I survived on Budget Gourmet frozen meals (the ziti parmesan was a particular favorite). But after going through cancer treatment and my taste buds returning (the chemo and radiation to my head and neck were pretty grueling), I discovered a new zest for life, and fixing meals.

It's such a beautiful and uplifting thing to start with a basic outline – or perhaps an idea from the cooking channel – and then running with it, adding spices and tasting, adjusting here and there, making it almost an edible symphony or tapestry. And then my family comes home and remarks how good the cooking smells from outside. It's just a really good feeling knowing both something beautiful created itself through me, and that I could serve my family by cooking them a delicious dinner. You see, creativity and service go hand-in-hand.

One other point I want to touch on, and then I will leave you to read this talk for yourselves. And that is Darwin's comment on page 229 regarding entities. He says, "Those devas or entities love to work through certain individuals. Some will poke fun at you and have fun with your, yet you will find that on this path, when that takes place, you have a way of correcting it almost immediately."

This is hugely important to understand. There are universes, such as the Astral Plane, operating in frequencies very close to ours. And there are entire civilizations of beings inhabiting those universes – just like we have here. We cannot physically see them – just as we cannot see radio or TV frequencies with our human eyes – but they are there. And some of these beings – or entities, if you will – like to interact with us. Some are benevolent; others are practical jokesters. The benevolent ones, if they have something they wish to communicate – if it can't wait to go through the process of finding a body and incarnating here on earth – they may talk to people who are able to pierce the veil; but they will always do so under the supervision of the Inner Friend. This is one of the Inner Friend's functions – to help us navigate the inner worlds, and at times introduce us to people in other dimensions. These conversations happen under his or her supervision.

Now, the tricksters are another story. Just like here on earth, some folks on the Astral Plane like playing practical jokes. They will find someone who has opened themselves up psychically – through drugs, occult and/or metaphysical practices – and communicate with them; or they may work through a trance-channeler or medium. They may spin tales of "predictions" of earth events. They may put on a Jesus costume (or that of another historical holy person - it's like an astral version of a Halloween shop) and pretend they are Jesus speaking to that person. They may even have a job as a janitor working the night shift at one of the inner libraries and be able to access that person's file.

Then, the person receiving the reading or having the inner contact may think, "This being must be real. He must be Jesus because he looks like what I think Jesus would look like. She must know about my life and be able to give me advice and make predictions because she knows where I was born and what happened to me in 6th grade." (When actually, the entity simply read the cover sheet to your Akashic file and got rudimentary info – but could not read the more detailed code within the file itself). The sad part of it is, because most people have no way of knowing if these entities are who they say they are – there's no Astral Plane better business bureau to check their credibility – they accept the vision or the information at face value. Meanwhile, on the other side, the entity returns the Jesus costume to the rental store, goes down to the corner pub and knocks back a couple pints of astral ale with his buddies and laughs about how naïve those earthlings are. You'd be surprised at how often this happens.

So what can we do about this? How can we check the credibility of a non-physical being? We call on the Inner Friend. Again, this is part of their job description. If someone you can't physically see tries to touch base with you, repeat HU or the Holy Names and call on the Inner Friend (Darwin's inner name is Dap Ren; mine is Zanar) to check the credibility of that individual. If that individual is on the up and up, they will have no problem with you calling your Teacher; if they aren't, they will put up a protest. But when you recite the Holy Names and the Inner Friend appears, any negative presence will vanish like a puff of smoke – kind of like the Wicked Witch of the West taking off when Glynda arrives in Munchkin land. The Inner Friend – who is a living Matrix for Shabda ITself – is always at your side. No matter where you place your attention, he is there, as close as your own heartbeat. This is one of the great gifts of this path and God.

There are some other passages from this Satsang that stood out for me as well, but I will leave those for you to read on your own below. Let's take a few minutes now to reread Darwin's Satsang. When we are finished, we will begin our contemplation together, singing HUUUUUU.

In the Light and Sound of God, I am always with you.

Baraka Bashad!


Michael Turner

********************************************

224. "It is quite interesting that down through Man's history to this present time that the emotions of Man have been expressed through his music."

229. "It is very difficult to put into words, but if you look into the past history of many of the great composers, most of them had experienced a portion of the heavenly worlds…."

231. "Actually, those that come into the teachings find that Spirit really tries to bond and hold families together."

233. "An individual comes into that understanding that each note carries a particular sound, along with a color for its vibration and frequency; this can have a very uplifting effect.. . . When you add the color to it, it has and carries that frequency and vibration, at least to those of us that are human, a little further in its understanding and its meaning, not just to the physical sense, but it goes beyond that in into a much deeper meaning."

233. "Keep in mind that each color has its own vibration. This is what you see in the rainbow but when it gets down to you and I, that pigment doesn't matter or that color, whether we are red, yellow, white, black or brown. It is in the soul where there is no difference as we think of it being different, in reaching that neuter state. The music that can be experienced there far exceeds anything that exists here on this earth plane, astral, or mental worlds."

235. "Nothing in the lower worlds is so exacting and so rigid, other than Man's mind; we must bend a little bit. This is one of the disciplines that the appreciation of the arts, of music tends to give a person, especially that one who participates in it."

235. "If you can keep that Spirit in mind
As you walk through life
From moment to moment in whatever you do,
You will find that IT is always there with you."

236. "The Master's function is not only to guide those souls out of the lower worlds but to assist the students here and now, for those who ask as well as many others who are seeking to understand IT, praying to IT."

236. "There is love and service and by giving one receives, but don't look for something in return, forget about it. Go on throughout the day and the months, and as many know, everything falls into place. It is always amazing!"

236. "I'm not even going to say 'so long,' because I see most of you in the soul body around two or three o'clock in the morning, or at other periods of the day when you need some guidance and help."



**********************************

Day 31, Chapter 32
"The Creativity Of Being"


(Eckankar Creative Arts Festival – Chicago, IL – June 1976)


This is a very nice talk by Sri Darwin, with quite a few excellent points. The theme that particularly resonates is regarding personal choice, in several ways. Darwin starts out on page 238, when he says, "One chooses to be a channel either for the psychic force (or that known as the negative force), or for the Divine Spirit, a positive spiritual force." In this simple statement, Darji both delineates between the psychic and spiritual, and tells us we have a choice where we place our attention and what we draw into our consciousness and our life.

Darwin continues in this vein on page 239 saying, "Very interesting what takes place in your subtle life, the spiritual side. You are inviting, through the vehicle of Spirit, the guidance of the Master of the time to assist you in your spiritual unfoldment." I really like this. For in discussing our inner, spiritual life, he also makes the critical point that we choose to invite the Teacher into our lives, both outer and inner. The Teacher doesn't try to manipulate or control us, or invade our personal space. He waits for us to make the choice to invite him into our inner and outer lives.

Corresponding with this, the Teacher also doesn't try to micromanage our lives. Rather, he offers suggestions from time to time, and then allows us the freedom to listen or not, and learn from our experiences. In the same token he respects us and loves us, and is grateful when we open our hearts and lives up to him and invite him in. As Darwin noted years ago when discussing his song "It Just Is" (a song about his inner travels with an initiate), when he is singing "Thank you . . . with love", it is him thanking the student for the gift of his time and trust.

Darwin continues, "There are today, a great number of individuals that are singing a chant, such as HU, an ancient word for God, to open themselves up to this Current, this substance that sustains life, whether it be their secret word of mantra." (p. 239) In addition to extoling the wonder of the Current, and the benefits of the HU, he is also telling us it is our choice to open ourselves up to IT.

A few pages later, Darji notes one of the key effects of opening ourselves to the Spiritual Current: "You will break up various thought patterns within your own world and universe." (p. 242). This is very profound, and yet not something many people are aware of. As we increasingly harmonize ourselves with the Current and merge into IT, allowing IT to saturate our being, one thing IT does is act as a sort of cosmic washing machine. IT vibrates within us, stirring things up, dislodging embedded habits, ossified mindsets and solidified emotional patterns – breaking them up and releasing their hold on us.

At times this process may be somewhat unsettling, as it is easy to grow used to and comfortable with longstanding habits of emotion and thought. So the prospect of not having those around anymore might cause some sense of anxiety. Darwin alludes to this when he says, "The area of caution perhaps, if I may use that word, to all people of all countries and all universes, is to retain a balance in your emotional body when a particular chord is struck, whether it is with one single instruments or a full orchestra. You, yourself, will know when you are moved. You can be moved physically, emotionally or spiritually. There is quite a difference in these movements." (p. 240) Darwin tells us that we should be prepared to have emotions, memories and habits of thought agitated, dislodged and broken up – and that it's okay, we will actually feel better, and lighter, when we are free of them. He says we need to be emotionally balanced and calm when this occurs. And to calm our anxieties, there is the soothing balm of the Shabda Current to comfort us and fill us with ITs eternal peace and timeless love.

There are some other stories Darwin tells in this talk. I will finish off with one that particularly touched me, and leave the rest for you to read – both in the chapter and in my notes below. A little ways in, Darji talks about how he used to get all agitated and dancing like crazy at concerts he went to as a youth (hinting that folks tended to back away when he let loose). Being a fairly shy person at heart, he came to conclusion that it wasn't good to freak out the natives; so he learned to calm himself down and focus more on listening than gyrating.

Darwin later flips this story forward to make the point that we don't need to get all emotional or melodramatic in either music or talking about the path. It doesn't help us, or the teachings, to be branded – as Darwin puts it – "as an oddball". After all, people are most receptive when they are calm, and not agitated or put off by our rhetoric or behavior. So we simply need to be, centered in Naam, and let the Current guide us to say what is needed, in a calm, communicative, easily understandable manner. Again, this is a path of receptivity and love.

Let's take a moment now to relax and sit in a comfortable position. Now, with our eyes closed, let's sing HUUUUUUUUU.

I love each and every one of you. . . very, very much.

May the Blessings Be!

Michael Turner

***************************************

240. (re – Darwin getting overly exuberant at musical events – learning self-control to avoid freaking people out) "I was . . . very conscious of the fact that my actions affected those around me, so I stopped jumping up and down, stopped whistling, and got control of my astral emotional body, which affected the physical body. I was able to view that mentally I was adept at moving beyond the astral plane subjectively as well as objectively."

241. "Ultimately, in the end, as that person unfolds further spiritually in a state of consciousness, they will realize that they have reached another plane of existence which far exceeds that known as the mental realm or the soul plane, the soul plane being the first plane of the real music of God."

242. "So many young people, as well as many of the adults are not aware that those that utilize the music of the day do it only for the dollar. Some of them known that it affects the emotional body of the youth as well as the adult, but their interest is not in expanding the consciousness of individuals or of the masses. Their main interest is for gaining that material substance or commodity and for control."

243. "The music of an Atom who declares himself or herself as a vehicle for Spirit as he or she is writing and performing will find that music very uplifting. They don't have to shout and jump and down to get the point across. They do it relaxed, casually and at ease."

244. "The point that I'm trying to make here is that when you have been imparted with some knowledge, be it about yourself about some aspect of life, music, art, even electronics or physics, mathematics or chemistry, you can't go off half-cocked and jump for joy, so to speak. Immediately the people out there in the world will tag you as an oddball."

245. "I knew for sure it wasn't that, but it troubled me a bit. I hadn't gone through that door and that tunnel into the Soul Plane yet. I pondered on it for awhile and one night during my contemplative exercise, I contemplated on power."

246. "I appreciate your warm love and with it I wish to return it to you, each and every one of you."



**********************************

Day 33, Chapter 33
"Discipline In Music"


(Eckankar Creative Arts Festival – Phoenix, AZ – June 1977)


This is a remarkable talk, and a fairly long one. Darwin covers several issues. He discusses Pythagoras' perspective on music. He talks about the importance of discipline and focus in both our spiritual and artistic practice (with an aside about proper discipline of our children). He cautions us about how music around us (including music in stores) can influence and control us without our knowing (this is another facet of Darwin's consistent message of taking control of our attention). He discusses at length why it is good to get along with and work with each other – how serving each other is a way of serving God. Darji reminds us of the giving and forgiving nature of Spirit, and how important receptivity is. And he even tells some wonderful stories about some of his life experiences as a youth, and shares a pair of beautiful poignant songs he wrote.

There is so much here, and this talk goes so deep, there's not much I can say. This talk speaks for itself. There's just one thing I want to mention, and that is how this chapter deeply impacted my life and my approach to music.

As some of you know, I enjoy rock and roll. I grew up in the Southern California suburbs in the 1970's. What can I say? But the kind of rock and roll I enjoy most is the kind where it is not intrinsically harsh, but flowing – always centered around and expressing the One – where the music plays the band. While it may have intense emotional crescendos at times, it also has the soothing balm of its inherent flow that calms the nerves and heals any holes that may temporarily form due to the emotional catharsis.

I believe it is important at times to have this catharsis, to bring suppressed emotions and memories to the surface so they can be dissipated. And then allow the Musical Current to heal your inner wounds and leave you more whole.

This is one of the reasons I have liked the Grateful Dead nearly as long as I have practiced the Surat Shabda teachings. They combined a wide range of musical styles with heartfelt, timeless and poignant lyrics to awaken every aspect of the self. Outwardly a concert could feature blues, country-western, folk music, tender ballads, avant garde space music, straight ahead Chuck Berry rock n roll and drumming styles that spanned the globe – all with the musical approach of free jazz and the dynamic range of a classical symphony. I vividly remember being taken on journeys through a myriad of emotions, thoughts and memories – as profound as a hundred therapy sessions – in one concert; and then be settled back and re-grounded in my physical body by the concert's end.

This, combined with Light and Sound meditation, also profoundly influenced my own musical perspective and style. As a songwriter, I try to write lyrics that are both personal and universal. Some tunes are more in a Bob Dylan/Todd Snider/Peter Gabriel/Joni Mitchell vein. Others, perhaps akin to the Moody Blues and Yes, more directly address spiritual concepts – all with a solid beat.

As a bass player, I am responsible for the rhythm of the song. But rather than me creating and dictating the rhythm, I try to let the rhythm speak to me. I sing HU, or some of the other Holy Names, open myself up and let the Current flow through me. I empty myself and let go to that timeless musical wave that is the Shabda, and let IT direct my fingers and the rhythm of the song. As legendary bassist Phil Lesh once said – as an ego-driven personality, I'm not even there anymore. I'm just a point of attention observing as the Eternal Music, plays through me. And when that happens, as drummer Bill Kreutzman remarked, it's like dancing – dancing to the Rhythm of Eternal Love, the Rhythm of God. And that is an amazing, beautiful thing.

I have left most of the quotes that stood out to me in this talk below, for you to read and digest. I just want to finish this portion of the study with something Darwin says in this chapter that particularly resonates with me. It's regarding our receptivity to the Spiritual Current when questions arise. On page 258, Darji says,

"Let that river flow through you and the answer will come. . . . It is subtle; many miss the answers initially but Spirit has a way of continually presenting the answer to the individual until they get it. Until it strikes home to the human state of consciousness."

Please take some time now to read this chapter, coming back to the selections below. When you are done, take a few deep breaths, relax with your eyes closed, and being singing HUUUUU.

Have a beautiful, amazing day!

Yours in the LightSong of Eternal Love,


Michael Turner


******************************

248. "The joyfulness, that happiness, is a survival factor. Music is an important part of that. I know for a sculptor, the painter, other art forms such as a dancer, they might not quite agree with me, but it is the heavenly sounds that issue forth from God. In the Atom, we call IT the Sugmad.

248. "You know, anyone can lose IT, but they always have that chance, a continual process, or working back to IT. So, you slip down the ladder a little bit, get hurt emotionally, not hurt physically, but your pride is hurt. Music can lift that and help you over that hurdle."

248-49. "Back in the time of Pythagoras, and in Socrates' time, they were very critical and very cautious of the type of music that was allowed to be played amongst the people. They had sacred music, a religious form of music; they had music for setting the mood for romance, music for soothing, so if one was troubled, it uplifted them in spirit. They didn't allow the harsh type of music that some religious orders think of as worldly music, like the music of the day, the hard rock and such, and even some types of jazz."

250. "Man, in his present recorded history, says that Pythagoras probably was the first to establish and recognize the intervals, that's the space between one note and another, or a group of notes, and their importance."

251. "This is why a piece of good music is recorded and you are uplifted by it; you listen to it over and over again and not tire of it. You will find that to a vast degree, this is true of the books that Peddar Zaskq, better known as Paul Twitchell, has written as well as the discourses."

252. "If one doesn't set aside a certain hour a day to practice, he's not going to be great at the piano, the violin, vocally or any other way professionally, or for his own amusement, whether heard by a few ears in your own home, out in a night club or on stage in Carnegie Hall."

252. "We don't put down other teachings."

252. "The Master of the time has his concern for that individual who is sincere in experiencing IT during this lifetime, and who unfolds to where he or she can accept IT, experience IT, and still keep both feet on the ground.

253. "A very interesting aspect of this sound that issues forth from a sounding board which each of you here are, you are an instrument. Pythagoras recognized it; he also said that the universe is a sounding board."

253. "The Masters have taught this way of life before this universe was constructed or any part of the physical worlds, not just this galaxy and universe."

253. "In presenting a sound vocally and instrumentally, you can heal another person. A sound represents a color of light, but the medium that really is the activating force is the sound. The light is only a visual aspect. Everyone carries a certain amount of light with them. It is given to you, otherwise you wouldn't be here, and when that sound is produced at the time you are spanked on your little bottom as a newborn babe, that is when Soul of Itself enters the physical body. Then that individual starts to produce all kinds of sounds. Those are the first sounds that the babe hears here in the human state of consciousness.

253-54. "On this path we deal with the expansion of consciousness, not utilizing an external sound, but the sound we, as individuals, produce ourselves, through that word HU, the secret and sacred name of God."

254. "The child in its early age needs to hear loving sounds, soothing sounds, not harsh or jagged sounds, which some of the music of today has. That punctures holes in the astral body which is known as the emotional body, and allows other negative currents to flow in and out. . . and by the individual chanting this word HU, he can close up those dark spots, the puncture spots that have been made by a particular sound.

254. "When someone puts forth a sound with, 'Hey George, you shouldn't drink beer anymore, it's not good for your spiritual growth,' you have set forth a vibration and it hits that puncture spot if he has one in his astral body. This is not the physical body, but it is a higher rate of vibration and it might make him shudder inside a bit."

254. "I have seen individuals healed with music, with the sound of a person's voice singing a song. The religious orders use music to control the people and society; certain wealthy men and greedy individuals will use music to control the youth, as well as the adult."

255. (re: Darwin being moved by store music to purchase something he didn't want) "I told the manager that he had to change his music in that store. I was mad. I was really angry, and I didn't turn it over to the Spirit and say, 'Okay, Spirit, you do something about it.' I did. I stood before that store manager and told him my mind, because I didn't like it. I bought something I didn't want. We are controlled many times in a restaurant, as well as the department store or the grocery store. . . . (Store music) excites the emotional body, and if you don't have a moment to moment grasp on it, you are going to be controlled."

255. "At no time will the Master control the individual or his spiritual growth. I will however speak up or talk to you about situations if you have an area of responsibility in presenting the teachings through a class, as a Rep, or a staff member working in the Office."

"The Temple Within"
There's a song within that longs to touch Soul,
It's flowing over the rim with love,
For there's a temple within you,
That's greater than stone, brick or steel,
Most folks don't know of this temple,
Or how to get there.

Down through the ages,
Man has been told, how he can gain
The knowledge of heaven,
To learn where he's going, and how to get there
For there are many paths that man knows of
Yet man knows so little of Soul.
It is a direct path to God.
The ancient science of total awareness,
The secret teaching from afar." (p. 256)

257. "(F)reedom does exist to use the charged words in your poetry and songs. . . . I know that Irving (the Eckankar music director at the time) in all of his travels always presents the Spirit in its proper place. The area in which the individual performer utilizes this force properly know it is the positive force, the Spirit ITself that I'm speaking of, not the negative force."

257-58. "Now, keep in mind that that is not always a pure stream here in this physical universe or anywhere up and including that etheric plane. The positive current, as well as the negative current, are always intermingled and one must always be on their totes mentally, physically, as well as spiritually, in selecting their words as well as their thoughts, be it a speech or for a song."

259. "It would be for any type of music basically, one must be able to reach into the pure positive God Worlds to be a vehicle for IT, to allow IT to flow through you; your choice of words, thoughts, or notes are important and the discordant sounds are what we would like to stay away from. However, it is interesting to note that a musician, a jazz musician, or a concert artist, can be a vehicle and still perform utilizing some of the discordant sounds."

260. "It takes patience along with self-discipline regardless of what field we are in, whether one is a mechanic, a carpenter or an artist of some nature, some form. This self-discipline is perhaps one of the toughest form of lessons we as individuals can go through, having to learn to apply it to our daily lives, whether it is with the people we come in contact with on the street, or at work or even in the home."

261. "Many times a youngster is disciplined or spanked for not the proper reasons. Getting back to my point, I was very lax and sort of a happy-go-lucky chap, wanting always to take that path of least resistance."

261-62. "When one works with his or her hands and has a desire to sew something or sculpture or paint something, usually it will flow a lot easier. Other times we tend to want to force it. . . . Are you forcing it? Are you pushing too much? If it's not easy and flowing graciously, there's some reason for it. Sometimes if you walk away from it and come back to it, it all falls into place."

262. "(T)here's one area in which the self-discipline requires an enormous amount of attention at times, and that is when to be silent and to practice the Kamit, the law of silence."

262. "It is Spirit that they are enjoying; this is why some of the teachers of the past have said for us to be as little children. They are speaking of a state of consciousness, letting things flow, by conducting yourself in a manner in which you are not going to stand out like a sore thumb amongst the masses. This is an area that Paul Twitchell stressed in the majority of his lectures and talks – don't set yourself aside form the rest of the world, or paint yourself up so that you stand out like a neon sign. You want to blend in with the rest of the world."

263-64. "(W)e draw upon each other and we give to each other. It is not a one-way street, it's the middle road, taking and giving, and for those that do give to Spirit, whether it is a song, a piece of poetry, giving of themselves and spreading this great message to the world, they receive beyond words. I can't describe it, no way that I can, but you can experience it only in soul, and it filters through to the physical body. We can attempt to write words or write a song or a melody without words, we can attempt to write, sketch or paint a picture and we only get a fraction, a small fraction of what is experienced."

264. "We have a power that it's one of those paradoxes that once you learn how to work with it, and allow it to work with you, you never want to force it in any direction, or push it."

265. "(W)e are dealing with a substance that is invisible, yet is very uplifting whether you are inspired by your dreams, a song, or just observing the light and hearing the sound; there is nothing greater!"

"We never say goodbye, just so long.
We'll see you next time someplace –
Somewhere, however, not so long,
For we're always with you in the dream state.
Always with you wherever you may be,
Til we meet once more, whether it's on
The street or heaven's door,
I'll be with you forevermore." (p. 265)



**************************************

Day 34, Chapter 34
"Understanding Of Music"


(Eckankar Creative Arts Festival – Las Vegas, NV – June 1978)


This is a beautiful, profound talk in which Darwin shares with us his love for and devotion to music. Perhaps more than the other talks in this series, Darji shows how the LightSong of the Eternal is what truly moves him, motivates him and inspires him. It's hard to put into words, and perhaps that's Darji's point. He says that words are good, and poetry can be inspiring, but it is music of itself that is the true medium of Divine Expression. I don't have much to say on this. It seems that every time I contemplate what Darwin says here, my attention is drawn into the essence of his message – a realm that is beyond form (much less words) – and I am rendered speechless.

There are many great things Darwin says in these pages, but perhaps the line that stands out the most is on page 270, when he says, "We must give ourselves to music if we are to share in its meaning. . ." Right there, Darwin establishes the fundamental paradigm of this talk: music is an object of devotion and supplication. That is the "understanding of music" which is this chapter's title. When we truly understand music, we know that all outer musical frequencies and wavelengths are expressions of the Inner Sound Current. So we give ourselves to the Eternal Music, we dive into the River of Sound and immerse ourselves in it, saturating ourselves in ITs essence – rather like dolphins frolicking in the ocean.

This last analogy ties into another one of Darwin's main points here – and in his life's teachings – that it is important to be happy, to have a joyful approach to life. On page 271, he says, "The Atom and its religion of the individual self – it is not long-faced or gloomy. It is the greatest source of true happiness. It is the only music, the Sound Current." Since the Sound Current is the flows out of the original fountainhead of all love, it is inherently a source of deep, deep love and unimaginable joy.

Having said this, Darwin goes on to briefly mention a different paradigm of spirituality and devotion, one that can be very somber and serious. Darwin says, "Now others, while not so extreme, think it a mark of spirituality to be grave, dignified, and shut out of life whatever would make it bright, cheerful and happy. Now, remember that survival factors in these lower worlds of duality are a bright attitude, a cheerful surrounding, laughter and happiness." (p. 271) Devotion doesn't have to be dour or grave. In fact, it shouldn't be. When we are in the Spirit, we are in the heart of eternal happiness and peace. And we should carry this into our lives, making it a part of our paradigm to be a living human expression of love and happiness. I've often said that life is far too important to be taken seriously. Or as Darwin says, "I am happy every day. I will not be any other way." (p. 271)

Concomitant with this focus on happiness, Darwin tells us we should be gentle with ourselves. He says, "Don't put yourself down, above all. Don't judge yourself." (p. 274) We should see our human selves in the same way we view our children – with gentle love, compassion and forgiveness. Yes, we are fallible. Yes, we make mistakes. It is part of being human. Nobody in mental, emotional or human form is infallible – not even the greatest of spiritual masters. For so long as we are in the realms of duality and dialectic, we are bound to be out of tune from time to time. And that's okay. We need to understand this and be forgiving of ourselves when we are out of tune. We need to see our disharmony in the same way a guitarist looks at a guitar that's out of tune. He doesn't smash it (well, except maybe Pete Townshend). He takes a moment to pay attention to his guitar, and patiently bring it back in tune. In the same way, when we are in disharmony we simply need to refocus our attention and sing HU (or any of the charged Names) to bring us back into tune with the Spiritual Current. Among other things, Shabda is the ultimate, eternal tuning fork. When we commune with the Word in our contemplation, we re-tune ourselves to the Divine Eternal True Harmonic and bring all of our bodies back into harmony and balance.

One other point Darwin makes is how music stands out from the other arts, and even how instrumental music differs from lyric-based songs. I love how he puts it: "It seems like the secret of spirit sees to lie in the fact that music is invisible and therefore does not immediately reveal its full significance. We weary of forms more frequently because they impose upon us the full picture of themselves. . . . They tell us what they mean, whereas music draws persuasively upon our own understanding." (p. 270) By not using words or any tangible form other than the choice of chords, rhythm and melody in any given moment, music can be as pure a form of communication and inspiration as one can imagine in this physical universe, or any of the universes.

Darwin carries this further, discussing why music can be listened to over and over again without boring us or seeming repetitive: "As Manly P. Hall discussed, the influence of music is more powerful and continuous than that of other arts because of the factor of repetition. One may attend a play once or twice in a legitimate theater, and then have the feeling that he has exhausted its meaning. . . One can hear the same piece of music repeatedly and seldom tire of it. One can attend concert after concert and each time you can feel an enlargement of understanding, and the original pleasure is renewed and intensified." (Pp. 269-270) I never thought of it this way before, but it makes total sense. And even in visual arts such as cinema, it seems that the movies which bear repetition are the generally the ones with more artistic content, which offer more than a rote, predictable plot and unimaginative cinematography. They are movies that touch us and move us – movies that spark our imagination, are well filmed and/or touch our heart. Such films are few and far between. But music – music is forever.

Darwin then returns to his homage to the majesty and mystery of music saying, "With music here is something very wonderful. Words are wonderful, but music goes beyond words. It speaks straight to our heart and reaches the very core and root of soul." (p. 272) This is how deeply moved Darji is by music. It forms the very fabric of his being. This is Darwin speaking completely in the moment as soul. He continues, "Music soothes us, stirs us up. It puts noble feelings in us. It melts us to tears at times, yet we know not how it works. It is the language that by itself is divine. . . . So few of us even stop to think of music as a wondrous magic linked with God, which can take the place of a spiritual exercise or prayer." (p. 272). This is remarkable right here. It is pure Darwin. As Rumi would say, his "amazement is amazed" by music, both without and within. Or as another great soul once said, "It is all wonder, wonder, wonder. Wonder hath attained form!" This is Darwin's understanding of music – his communication of timeless truth.

And once again, as I contemplate Darwin's message, I am drawn within, and words fall away. Let's take a few minutes now to sing HU and be in communion with the Song of the Eternal. I will close here with some of Darji's closing words from this wonderful, amazing talk:

"With love and blessings which already surround you, I want you to know I am always with you and that divine light and sound of Spirit. May the blessings be.

Baraka Bashad.


Michael Turner

*******************************

268. "I've been coined as a jazz musician but really I'm not, nor ever have been. I've been very straight with my music. It has been a combination of contemporary, of light jazz, classical, blues and ballads. At times I did play some classical, pop and bop, however it was always for my own enjoyment in a soft tone."

270. "In the passing of time and the various ways of living, each of us become different in our thoughts and in our understanding. The countless changes in our old psychic life causes old music to seem new sometimes. . . . Thus, understand that music is friendly, loveable and intimate."

272-73. "Music is the only one of these fine arts in which not only man but plants and animals have a common property, which includes the fine feathered friends that fly in the sky. For it is music that fathoms the wild blue yonder. As for myself, I'd rather be remembered by a melody or song that by some battle fought for greed. Music reveals us to ourselves. It represents those modulations and temperament changes which escapes all analysis of words. It utters what else remains forever unsaid. Unutterable."

273. "The real genius draws upon the infinite source of wisdom and power as Milton and Beethoven did. This is Spirit that they are talking about; the essence of God, and it is that which we as individuals need to come into an understanding of."



*************************************

Day 35, Chapter 35
"The Song Of Heaven"


(Eckankar Creative Arts Festival – Las Vegas, NV – June 1979)

What a wonderful title – "The Song of Heaven". For that is what the Shabda is – the Song of the Eternal, the Song of Divine Love. Out of this original and originating Song comes all melodies, all rhythms. IT expresses ITself in a myriad of ways as IT manifests creation – including human music and human beings. As souls we are Shabda in expression. You might say we are human songs. As Darwin says,

Darwin discusses our spiritually expressive nature early on when he says, "Atoms . . . are vehicles for Spirit as any other human being but to what degree is up to the individual, whether they are a performer performing someone else's music or their own written works." (p. 276) We are both expressions of Shabda, and we are instruments for ITs expression. But perhaps what is even a greater miracle is that, in being instruments of Shabda, we retain our individuality. We have freedom to choose how we express IT, and to what degree. Each of us has areas of interest, and creativity within that interest. As individual souls in human raiment, our gift from God is the ability to design our own filigree in the greater Divine design, we are able to surf that curl in the Wave of Shabda in our own unique way. And that is a very beautiful thing. As Darwin says, "Music has always been a joy within myself." (p. 278)

From here, Darwin goes on to talk about ways we can be human instruments of Divine Expression besides classical artistic creativity. He addresses a common desire to help humanity, to be a vehicle for the Divine to enter people's lives and lift them up. His advice here is: "The teaching is not here to save the world from its chaotic condition, nor to change it. Yet, should I be of assistance in helping bring to the soul plane those who choose to open themselves up to this divine current, to become clear channels for that which is known as God, then a lot of changes can take place on Earth for the good of man, musically and in many other ways." (p. 277) In other words, we can be vehicles to help our brothers and sisters. But we shouldn't try to transform the planet, or try to manipulate the Current to bring about our concept of a global utopia. This world is specifically designed to be an arena of pressure and abrasion – rather like the stones in a gem tumbler desired to gradually polish rough gems to a fine, brilliant luster. Another way of looking at it is as a "testing ground" (which was also the title of a great historical novel by Jean Weatherford Strong and published by IWP in 1981 – you can still get it through Amazon). We are here to get knocked around and learn to have balance, calm, poise and love in any situation. That is the true test of our spiritual awakening.

Another way of putting this is that we are here to express Spirit, not direct it. If we simply focus on staying in tune with the Current, open ourselves up to IT and ask God to help us be creative, loving and harmonious instruments of ITs expression, we will be where we need to be for IT to express ITself through us. If there is an area in our community that is going through some negative times, we may find ourselves passing through there – ostensibly on the way somewhere else – without knowing that our passing presence is needed for some of the Current to flow through that area and infuse it with Divine Love. Perhaps we have a co-worker who is going through a rough patch in their life and has been praying to God for guidance and help – and we find ourselves pausing at their desk to chat over a cup of coffee. And during that brief conversation the Current passes through us and touches that co-worker and they find the solace and answer they have been seeking.

This applies to healings as well. Maybe we're at the grocery store about to check out; when we remember we forgot the half-and-half. So we leave the checkout line to go back to the dairy section, and in doing so we pass by a person who doing some shopping before going to see their doctor for their biopsy results. As we pass by, we look at them, smile and say "hi", and then proceed on to the dairy aisle. Without our knowing it, this brief encounter has allowed the Shabda Current to pass through our eyes into theirs and provide a spiritual healing. When they get to their doctor's office they learn that the results – to the doctor's surprise – came back negative. Neither we nor the person who was healed are consciously aware that our seemingly spontaneous encounter facilitated a healing. And that's a good thing. No ego or karma-creating desire is involved. We did not try to direct or focus the IT. We just let IT flow. It's just the Spiritual Current guiding us like a little boat wherever we need to be at any given time, so we can be human instruments for the expression of the Song of Heaven.

Now, sit upright. Take a long, slow, deep breath – and let it out equally slowly. Just feel the breath filling you. Within that breath is the Divine Sound Current also filling you, wrapping ITself around you and flowing through you. Feel IT in your every pore, every hair follicle – passing through your eyes like a spring breeze flowing through an open window. Close your eyes, and begin singing HUUUUU. Let go the River of Musical Light. Let IT lift you up and carry you Home so you can be an eternal instrument in the Song of Heaven.

My love is always with you.

May the Blessings Be.


Michael Turner

********************************

279. "Musically speaking, each of you can sing silently or audibly HU, or Sugmad, or any word that's uplifting to you. Those who look to any of the past great teachers of this world could even repeat their names if you wanted to, that's an individual choice. You get to the point on the path where you don't have to use a word, you just are, or as said, you just be.

279. "The individual performing and how he feels, whether it is somebody else's song or his own composition, it is very important. Not only do you set forth patterns of feelings that go out and issue out from you, but they touch others souls, other individuals."

280. "There are areas of man's music that when one comes to the ladder of spiritual unfoldment, not only is the music more uplifting, sometimes the individual will play less and listen to the Five Melodies of Spirit. They can't be duplicated in any electronic means by computer or any of the electronic instruments."

It is that substance that issues off the soul plane in five different sounds and when it reaches this physical level and is heard, as you open yourself up to it, not only do you become more aware and more creative, but you have a greater reverence for life as a whole, all life. It is something else to be able to view the worlds or the levels of heaven that are beyond what man calls death, whether the person is blind, doesn't matter. There is no death, but beyond this plane of existence, we can know for ourselves what to expect in the music we might hear there. The sounds are beyond anything we can produce with our instruments here on Earth."

281. "With the love of life in my heart for you
Through the sound HU,
I love HUUU."



************************************

Day 36, Chapter 36 (fin)
"From The Heart"


(Eckankar Creative Arts Festival – Las Vegas, NV – June 1980)



With this chapter, we arrive at the end of "Your Right To Choose". I must say, this book study has been an amazing journey. One great blessing in doing this class is that, not only have I found my understanding of Darj deepened, I have also become aware of just how deeply and strongly he established my spiritual foundation 35+ years ago. I am who I am today because of Sri Darwin Gross. Sri Darwin is my Spiritual Father, my Teacher and my Friend. Like growing up and suddenly realizing you have become your parents, Sri Darwin molded me in his own image, without me being aware of it. And words cannot begin to express my gratitude.

This has also been a very good exercise in study and writing for me. It's been a long time since I have read a chapter a day in one of Sri Darwin's books – or any book about Surat Shabda Meditation – much less written about it on a daily basis. And Darwin has been with me every step of the way. There have been times he has been looking over my shoulder as I have read his words and written my comments, nudging me to focus on this or retract my focus from that. Even though Darwin has dropped the physical body, it doesn't mean he has left us. He is very much alive and present in my life, as I'm sure he is in many of yours. As I mentioned a moment ago, he has been at my side throughout this book study. It's not just a matter of imagination or feeling. His presence in my life is as real and tangible as my wife and son, or this MacBook sitting on my lap. And that is a wonderful blessing.

Look over this chapter, I am not sure what to say, or where to begin. I keep trying to find a few select quotes that sum things up; but nearly the entire chapter – and talk – is a summary of all Darwin believes and teaches. Even more than that, this chapter conveys who and what he is. If you want to understand Darwin Gross as both a God-realized Spiritual Teacher and as a human being, just read this chapter. It is Sri Darwin Gross speaking from the heart. If you are relaxed, open and receptive, you will know and understand.

There is one line from this talk I keep coming back to. And so I will close with this:

"A melody is what you and I are as human beings . . . "

I would like to thank you all for joining me in this book study. It has been a wonderful gift.

And now, Darji, let the words be yours; I'm done with mine.

Thank you . . . with love


Michael


**********************************

284. "If it comes from the heart and not from he head, then it will be more uplifting as a rule, should the author use the proper feeling.

284. "It is fun to noodle around musically when you don't know what will come out."

285-86. "As I have mentioned in the past, there are happy blues and really blue blues which tend to put one down because the individual inside hasn't learned how to control his inner emotions and allow the Inner Master to assist or take that away. I'm not talking about taking away the individual's rights and freedom of choice. We are talking about letting go of those little things that we hang onto inside, or tend to, then the blue blues can be happy."

286. "This song that I heard coming back through from the pure, positive God Words into the lower worlds, as we all them down here. . . It goes like this:

'Where Spirit leads thee throughout the day
In every way, just let the Mahanta lead thee.
Let Spirit guide thee up that royal highway
To the Anami Lok, make that your goal,
To lead you home again.
You're in heaven just where you are,
There is no need to look afar.
Where Spirit leads thee, from this moment on,
I go forth a channel for thee,
Oh, Blessed Sugmad.'"

288. "Here in this physical realm, within your own world and universe, that cloak or sheath, the body which you reside in or house, those values must become mentally exchangeable between soul and mind, so that the feeling that is put behind each thought, each word and each action is looked at objectively before it is projected from you to others or to the world around you."

288. "I'm not going to point a finger at any other path. They are where they belong because each individual has their own right to choose that which they wish to worship and how they wish to worship."

288-89. "A melody is what you and I are as human beings and it must be played in that manner. I wouldn't want to treat a young child or a fellow human being to something that is going to be damaging to their physical well-being."

289. "The musical work must be reinterpreted, restated in another way. The composer who has written it must recreate it in the mind of the performer or group of performers, and finally the message of Spirit that flows through by word or by tone that reaches the outer ear, that physical ear of the listener who must then realign in his own mind the completed revelation of the works that he has heard of the composer as he put those notes down on paper."

289. "One learns in the teachings that neatness of their personal life, in the outer as well as the inner, as they progress spiritually."

289-90. "Words are a poor substitute for that which is known as God, or as I refer to as IT."

290. "There is a little uplifting thing I would like to pass on here; Paul Twitchell mentioned it. I believe it was here in Las Vegas at one of the seminars I attended when he was the Master. He had a nice sense of humor, sometimes subtle and sometimes very bold and dry. He got this poem, as the story went, from this party. It goes something like this:

'There was a young lady very bright,
Who could travel faster than light.
She went out one day in a relative way,
And came back on the previous night'"

290. "On a happy note of life, I want to thank each of you for your continued love and devotion, not to me physically, but to the Divine Spirit, that substance what we gain more of through our initiations. When it comes understanding, and as we experience comes a wisdom. By reaching into the pure positive God Worlds, through the expansion of your consciousness in states of consciousness, your life cannot help but become greater and better in all departments.

290-91. "The person who doesn't ask questions, the questions will be answered for them."

291. "It is as Paul once told me, not to look to that outer, and:

'Be in the world but not of it.
Life your life in it, enjoy what happiness you can.
Let your other fellow men be,
And Spirit will take care of you in every department'

I had to ponder for some time on that until I realized that he is saying the Inter Master is taking care of my spiritual life."

I have to go ahead and take care of my material life, but without pushing, without forcing, without trampling on other people, and you know, it works. Now, if it works for one, it's got to work for others. All we must do is allow it to happen. You can't be like a palm tree in a little pot put in the corner, you have to be active in many ways.

Those who are in wheel chairs or bedridden, they can't be as active physically as those of us that have two arms and two legs, and can get out here and walk and meet people or write letters. There are many, many ways of being active. Even sitting still and doing something we can be active in bringing Spirit to those awaiting ITs message.

Thank you, and may the blessings be with the Sound and Light – and with a song always in your heart."