SAR BACHAN RADHASOAMI (PROSE) - PART 1
by Shiv Dayal Singh (Soamiji Dayal)

(with Discourses)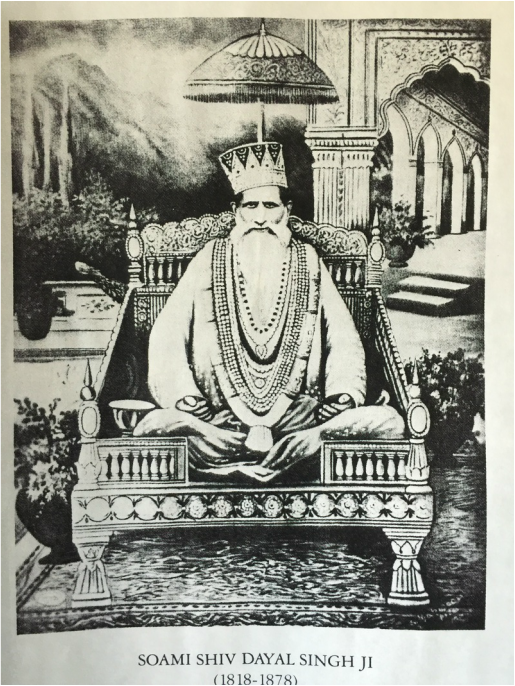 Dear Friends,
This series of discourses started out as simply posting a section a day from the original, Soamibagh, Agra, version of Shiv Dayal Singh's
"Sar Bachan Radhasoami - Prose"
on this SFS website. I was re-reading this spiritual classic at the time, and finding that each section was merited its own consideration, contemplation and meditation.
Within a few days, I felt myself being called to offer my perspective on the section of the day. I don't claim to have some great wisdom or insight into Soamij's mind or thought process. I just wanted to share how this classic book that forms part of the foundation of Sant Mat speaks to me. Some days it was just a few sentences; others it was a page or more. And still others found me at a loss of what to say – because Soamiji already said it so well – so I let the passage stand on its own.
I hope you find these passages inspirational, and that my discourses offer something helpful as well.
Yours in the LightSong of Eternal Love,
Michael Turner
SPIRITUAL FREEDOM SATSANG
************************************************************************************************************************************
SHIV DAYAL SINGH. "SAR BACHAN RADHASOAMI (PROSE)"
SOAMIBAGH, AGRA
PART 1, SECTION 1
"This world is perishable and so also is all that pertains to it. A wise man is he, who, having realized that it is all transitory and illusory, and consecrated his human form by devoting himself to 'Bhajan' and 'Sumiran' (aka "Simran" – listening to inner sounds and repetition of the Holy Name of the Supreme Being) and who, taking the fullest advantage of the various faculties which the Supreme Father has graciously endowed him with, has translated the invaluable jewel within him which is Surat (spirit) or the essence of his being, to its original abode. SECTION 1: The soul or spirit is known as 'Surat' or 'Ruh'. It has descended from the highest region, that is, the regions of Sat Nam and Radhasoami and has taken location in this body. It has got enmeshed here in the mind, the three 'Gunas'
(attributes)
, five 'Tattwas'
(original conditions of matter)
, ten 'Indriyas'
(senses and organs)
etc., and so tight are the bondages of the body and things connected therewith that it has become difficult for it to extricate itself. Freedom from these bondages is called 'Moksha' (liberation). Inner bondages are the mind, 'indriyas', 'tattwas', etc., and the external bondages comprise property, family and kinsfolk. The soul, that is, spirit is so much entangles in these two kinds of bondages that it has even lost consciousness of its original abode. So remote is the destination that it is now difficult for it to return to its original abode without the 'Mehar'
(grace)
of a perfect guide. Now, all that a man has got to do is to take his Surat (spirit) back to its reservoir and place of origin, that is, Sat Nam and Radhasoami. Until this is attained, there can be no escape from joys and sorrows and pleasures and pains of this world."
This wisdom from Soamiji Dayal is the beginning of the foundation of the modern Surat Shabda teachings. Please take some time to reflect on this wisdom, allowing it to resonate and reverberate within, and them take them with you into your mediation today.
Have a beautiful day.
In the LightSong of Eternal Love,
Michael
PART 1, SECTION 2
"The aim and object of all the religions, as also the teachings of the previous Mahatmas (high souls) have been that, somehow or the other, the spirit must be taken back to its reservoir. He alone is said to have attained to perfection, who, by means of spiritual practices, has conveyed his spirit back to its real abode and, by tearing asunder all the bonds – external and internal, gross, subtle, and instrumental – has detached his mind from the world and its affairs. Only those who have reached the final stage are perfect adepts and devotees, true Gyanis
(wise)
and real Sadhs
(saints)
, whereas those who reverence the perfect ones or only read their writings or recite them but have not themselves reached any worthwhile stage, nor perform any spiritual practices towards this end, are called intellectuals, learned and Vachaks
(glibs)
."
Yours in Shabda,
Michael
PART 1, SECTION 3
"All the religious leaders, Mahatmas, incarnations and prophets of the various religions proceeded internally by means of spiritual practices towards the original abode. But all of them did not reach there. The majority of them reached the first stage, and a few reached the second stage. Rare Sadhs and devotees reached the third stage. Only the Sants reached the fifth stage, that is, the region of Sat Nam
(the region of pure soul awareness - mt)
, and very few from among them reached the eighth stage, that is, 'Radhasoami Pad'. This is the stage where the spirit descended originally. As the Spirit descended from one region to another, at each lower stage, i.e., Sat Lok etc., it appeared as if that were its original source. And to those having location in a region below Sat Lok, the Spirit appeared to have emanated from the place which they themselves had reached. As they had not been initiated by a perfect guru, they took that stage to be the fountainhead of all spirituality and its presiding deity as the lord and creator of all below it. Therefore, they taught their followers the worship of that stage and its deity and strengthened their faith in, and reliance on them as the 'Isht' and final goal."
This is an incredibly significant passage, for like the two before it, it establishes fundamental precepts of Surat Shabda Meditation. So far Soamiji has taught us:
1.
The nature of soul as being particle of expression of the Eternal;
2.
Soul needs to return to it's Eternal Source (I like the phrasing: "back to its reservoir and place of origin");
3.
Soul needs to go of all temporal attachments (emotions, memories, habits and mind);
4.
And, each of as Soul needs to directly experience our Eternal Source, and not just rely on the written records of others' ideas or experiences (and in doing so, Soamiji contrasts personal experience and unfoldment vs. intellectual sophistry).
5.
And now in Section Three, Soamiji begins to illustrate how the cosmic universes are designed, essentially stating that there is a central reservoir of the Divine Current on each of the inner regions - a point where the Current manifests ITSelf in its most essential, concentrated form. To those who don't know better, these Current centers appear to be the source of all creation (for they certainly appear to be for theirs). So those who experience them – if they go no further – they believe this to be the ultimate reality. And from those experiences come the written records of what others believe God to be – which thereafter develop into metaphysical and spiritual paths and religions. What sets Surat Shabda apart from other understandings and approaches of the Divine, is that our explorers have directly experienced eternal regions beyond the mind, and they know how to get there via the Eternal Frequency of the Sound Current.
Now, having noted earlier Shiv Dayal Singh's issues with book learning, I want to say I am really grateful to Soamiji for composing this book. It is an incredible foundation textbook with essential information about Surat Shabda. But what makes it much more powerful is that it all comes from Soamiji's direct personal experience. You can feel that in his words, and the way he says them. As much as any book can ever convey the Eternal and personal experience of this path, Sar Bachan Radhasoami - both in prose and poetry - does it.
Please take time to read what Soamiji has to say, really reflect on it, and then allow his words to fill your meditations. May your meditations be most fruitful and uplifting.
Yours in the LightSong of Eternal Love,
Michael
PART 1, SECTION 4
"Now it must be understood that 'Radhasoami Pad' is the highest stage and that 'Radhasoami' is the Name of the Supreme Being, the True Lord and God. Two stages below it, is the region of 'Sat Nam'
(meaning "True Name")
. Sants have variously referred to it as 'Sat Lok', 'Sach Khand', 'Sar Shabd', 'Sat Shabd', 'Sat Nam' and 'Sat Purush'. From this it will be clear that these two regions are the abodes of Sants and Param Sants. For this reason, Sants rank the highest. Mind and matter do not exist in these regions. They encompass all the stages and the entire creation below. In other words, the creation is below them and enveloped in them. Radhasoami Pad is also known as 'Akah' (indescribable) and 'Anam' (nameless) because this is the region which is 'Apar' (fathomless), 'Anant' (unending) and 'Anadi' (without beginning). It is the 'One' from which al the remaining regions came into being. This stage is in fact the real 'Lamakan' (spaceless) because it cannot be called a place."
Have a beautiful, Spirit-filled day.
In the LightSong of Eternal Love,
Michael
PART 1, SECTION 5
"One should now appreciate that Sadhs, Gyanis, devotees, incarnations, prophets and other high souls who did not attain to the Original Abode, rank much lower and are inferior to Sants. Since they stopped at different stages in the course of their upward journey, different religions came to be promulgated in the world. Whichever stage a person reached, he regarded it as final and its deity as infinite. So he prescribed the worship of that very deity. The reason is, that the Supreme Father has, in His bounty, created all the regions as reflections or shadows of the original one, so that in the lower regions also there is a resemblance more or less of the blissful conditions and features prevalent in the highest. But, there is a great difference in the intensity of the bliss and its duration in the various regions. The creation in each region is also distinct, increasing in purity and subtleness as one goes higher and higher. But only he who has been through all the regions can know this. Otherwise, he who reached a particular stage, saw the form and effulgence of its deity and took him to be infinite, limitless, creator and supreme. He was so enraptured that he quite forgot himself. The state of bliss, ecstasy and ardour experienced by him cannot be described."
Here we have a very significant passage by Soamiji Dayal, which may also be somewhat controversial. Please understand that he is not saying any faith, religion or philosophy not deriving from the Pure Positive God Worlds is bad. He is simply laying out a topographical map of the inner regions. What he is saying here is quite profound and forms the foundation for a compass of true spiritual north for our journey all the way back home.
Have a wonderful meditation and a greatly blessed day,
Yours in the LightSong of Eternal Love,
Michael
PART 1, SECTION 6
"The status of a spirit varies with the stage it has attained. It appears to pervade through, and to be the master of, the entire creation below it. For instance, one who stopped at the first or the second stage, said, on reaching there, that the spirit or deity of that stage was pervading all the nether planes and was the creator of those regions; that is, he was the cause of the entire creation below him and that it was being maintained by him. For this reason, one took that deity to be the lord. One enjoined on one's disciples and followers the worship of, and devotion to, that deity and his abode. One had no knowledge of the higher regions, because one had not come in contact with the Sant Sat Guru who alone possesses that knowledge and who would have initiated one into the mysteries of, and shown the way to, the higher regions. Thus a person who proceeded within himself to one, two or three stages was considered as perfect. The reason is that on reaching the very first stage, one acquires all the powers of its deity. Therefore, due to the acquisition of these powers one was regarded as a great soul and a perfect being. No doubt, this stage is much higher than the stage in the physical creation below and one who reaches there is completely washed off the dross and impurities of the body and the world."
Soamiji continues his dissertation about the nature of the dualistic, temporal (i.e.,
non-eternal
) worlds and their deities in this section. This is very significant information for our spiritual growth – as I can personally attest to – as well as encouragement to keep going furthur within. You need to take what he says here to heart, and always keep your attention focused on Soul and the Soul Plane – Sat Lok or Sach Khand. Remember, the goal is Soul Realization, God-Realization and Spiritual Freedom – which can only be achieved in the Pure Positive God Worlds of Soul and beyond –
while still in the human body
. Always keep that first and foremost in your thoughts. Together, we will keep going for the One, and not stop until we get there.
Yours in the LightSong of Eternal Love,
Michael
PART 1, SECTION 7
"It has been stated above that the region of Sat Nam which is also called Sat Lok and Sach Khand is very high and is the 'Darbar'
(Holy Abode)
of Sants. There are three more stages above it, which had not been disclosed by any Sant. Now Param Purush Puran Dhani Radhasoami Dayal, out of extreme mercy, has described them in detail. He has disclosed the secrets of, and conditions prevailing, in those regions. He has also been pleased to disclose the highest region, Radhasoami Pad. This is the beginning and source of all and is the real mansion of Param Sants. In the beginning, the spirit entity descended from this region. All the other regions below it were formed in the course of this descent. In this body, the spirit entity has taken location below Sahas-dal-kanwal
(the heart of the Astral Plane – mt)
. From there it sends forth light and energy to the physical frame which spreads there and vivifies the mind and organs, enabling them to perform all their functions, mental and physical, subtle and coarse."
Have a lovely, blessed day.
In the LightSong of Eternal Love,
Michael
PART 1, SECTION 8
"There are two minds, 'Brahmandi'
(universal)
and 'Pindi'
(individual)
. The Brahmanandi mind is located at Trikuti and Sahas-dal-Kanwal. This is called 'Brahm', 'Parmeshwar', 'Parmatma' and God. The Pindi mind is located behind the eyes and in the heart. This mind, with the help of Surat (spirit) is performing all the functions of the world. The spirit has got so much attached to the mind that it is wholly inclined, with it, towards the lower or the material regions. It is supplying energy to the mind, organs, etc. If the spirit were to turn towards its original abode, it would gradually be detached from worldly objects, rendering possible its liberation from them. When the spirit, traversing through the regions of the Universal Mind, would reach Sat Lok, its real abode, then all ties, instrumental, subtle and gross, with the body, organs and the mind would be broken. Thereafter, such a devotee's connection with the world would be reduced to the minimum, just necessary for functioning here; and this too would be in his control so that he could terminate it altogether when he liked. In short, the knot of the spirit and the matter shall not be unraveled until the spirit breaks or weakens the fetters of the body (gross, subtle and instrumental), of the mind and of the senses, and until it leaves the impure regions of Pind and Brahmand and proceeds towards its real abode and reaches beyond the Universal Mind. Mind, senses, body, worldly activities, pleasures, etc. are gross and impure; whereas the spirit entity is subtle and life-giving. By the association of spirit with mind and matter, a knot has been formed. As long as this knot is not unfastened, that is, association with Maya or matter is not terminated, there cannot be real salvation and the seed of desire and hankering will not be annihilated."
Herein we have an excellent dissertation about the entanglement of Surat (soul) and the mind. Soamiji tells us that the Gordian knot of soul and mind must be unraveled, so soul can proceed within and return to its original abode. And the means for achieving that – Shabda!
Yours in the LightSong of Eternal Love,
Michael
PART 1, SECTION 9
"By the help of spiritual practices, as the devotee progresses internally, the urge of desires will be diminished to a certain extent or, in fact, be suppressed for sometime and may even appear to have been exhausted but their complete eradication is not possible until Surat (spirit) has reached Sat Lok. Because, as long as Surat has not reached Sat Lok, a devotee of the first or second stage – one who has reached only up to Sahas-dal-Kanwal or Trikuti – may not be able to withstand the onslaughts of the Universal Mind and Matter when they assert themselves and he may be hurled down and become liable to fall a victim to sensual pleasures, etc. Although he may soon recover, despise pleasures and regain the lost ground by spiritual practices and the grace of his Guru, there is no doubt of his being blemished. Therefore, it behooves every ardent devotee to raise his spirit to such a high region as is completely free from desires and hankerings of all kinds and the impulses of sensual pleasures – both material and spiritual. There, he will be absorbed in the bliss and ecstasy of communion with, and Darshan of, the Supreme Being, Param Purush Puran Dhani Radhasoami. Then alone such a devotee will, of course be saved. He will have absolutely no inclination left for anything netherwards. He will be out of the regions of Maya and attain the status of a Sant. This is the reason why great incarnations, Rishishwars (great sages), Munishwars (holy men), Auliyas (apostles) and prophets came, in their times, under the influence of Maya, when they forgot their status for the time being and were deluded, examples being Narad, Vyas, Shringi Rishi, Parashar, Brahma, Mahadeo
(Shiva),
incarnations, etc., whose accounts are narrated in various books and are more or less generally known. It is, therefore, not necessary to describe them here in detail."
It's a beautiful weekend here in the Truckee Meadows – cool, crisp and clear – and our Christmas tree is filling our home with the fragrance of fresh pine. We had our Christmas parade yesterday. It was so nice to see neighbors from around town come together and officially begin the Christmas season (much more so than the post-Thanksgiving shopping spree) as one community.
There is great depth in what Shiv Dayal Singh is saying here. While some of the names he uses may not be familiar to those in the west, the central point he makes here goes right to the heart of the matter. Soamiji Dayal's message is the same as mine and every Surat Shabda Meditation teacher and instrument. Our goal is Spiritual Freedom (Jivan Mukti) – meaning working to balance our karmic debts and credits so we are karma-free and no longer need to incarnate here, or in any of the temporal dimensions. We need to get beyond all transitory, temporal, karma-driven existence and establish ourselves in the Pure Positive God Worlds. While various spiritual practices may lead to certain improvements in the human condition (e.g., health, clear thinking, peace of mind, creativity, financial success), and some level of spiritual growth, they still leave us vulnerable to the downward pull of mental imbalances (e.g., greed, vanity, egotism) and outward pull of the senses.
I want to make a point here that our senses – and pleasure derived from them – are not bad in and of themselves. They are simply instruments that can create distractions if we don't pay attention. The problem we face is that our senses inundate our attention with information that draws it out. They keep our attention fixated in this physical universe, and convince us that not only is this world real – but that it is the
only
reality. This fixation, this mesmerization, is one of the main things that binds us to the constant cycle of pleasure and pain, action and reaction, death and rebirth.
The only thing that can free us from being mesmerized by sensory and mental phenomena, which can free us from the wheel of karma, is harmonizing our attention (Surat) with the True Singular Eternal Spiritual Current – Shabda, Naam, Word, Ruach, Kalma, Holy Spirit. Only the Homeward flow of this Pure Current can lift us up above physical, astral (emotional), causal (memories and habits) and mental consciousness, and into the Pure Positive God Worlds in the Eternal Kingdom of Heaven – Sat Lok, Anami Lok and Radhasoami Dham.
Please mull this over today with your coffee or tea, and bring it into your meditation.
I love you with all my heart.
Yours in Naam Eternal,
Michael
PART 1, SECTION 10
"The above reference should not be taken to mean that these great beings became total slaves of Maya or that they suffered seriously in spirituality. The point is that Maya deceived them by the blandishments of her charms. The reason is obvious. Although they had attained to great heights, they had not reached the stage which is beyond the jurisdiction of Maya. That stage is Sat Nam and Radhasoami. Now the regions through which the spirit or Surat has descended are detailed below. This will make it abundantly clear how high and distant is the real abode of Surat, and from what regions have incarnations, prophets, Auliyas, gods, etc., descended and how far their jurisdiction extends."
Here Soamiji briefly elucidates on what we were discussing yesterday: how wise souls who did not make it all the way to Sat Lok are not to be criticized or condemned. They simply didn't know any better, because they didn't know that Sat Lok even existed. This is why we need and have True Spiritual Teachers and Friends – Sat Gurus – in every generation. These Teachers have navigated the seas of duality, of mind and Maya – of emotions, habits, memories and thought – and have made it all the way to the Pure Positive God Worlds of Sat Lok, Anami Lok and Radhasoami Dham. And they can show us how to do the same. Furthermore, not only do they teach us *how* to get to the Pure Spiritual Reality, they speak and teach us from that reality. Their very beingness is God and Soul in expression. Their very presence draws us into Soul and God consciousness. And that is a very beautiful thing.
All my Love and Blessings in the LightSong of Eternal Love,
Michael
PART 1, SECTION 11
THE REGION OF RADHASOAMI
"The prime and the topmost region named 'Radhasoami', 'Anami' and 'Akah', which in fact cannot be termed a region, is the highest and loftiest of all. This is the beginning and end of all; and all is enveloped in and circumscribed by it. Everywhere else it is, in essence, the Mercy and Energy of this Region which are doing their work. Here it was that 'Mauj'
(Divine Way)
came into play in the beginning and came down as Shabda
(Word)
. This is the abode of Param Sants. With the exception of rare Sants, no one has had access to it. And one who has reached there is a Param Sant."
In this section, Soamiji Dayal begins to explain the nature of reality, beginning with the Supreme Eternal Realm, Radhasoami. I have nothing to say except, read this several times and bring it with you into your meditation. If you are truly receptive, your amazement will be amazed.
All my Love in the LightSong of Shabda,
Michael
PART 1, SECTION 12
SAT LOK: HOME OF THE SOUL
"Below Radhasoami Pad, leaving two stages in between, is the region of Sat Nam or Sat Lok. It is highly refulgent, pure and free from any alloy and is absolutely spiritual. It is the beginning and the end of the entire creation below it. Here occurred the manifestation of Sat Shabd, which is also known as 'Maha Nad', 'Sar Shabd', 'Sat Purush' and 'Adi Purush'. Two currents descended from here and pervaded all the nether regions. In Sant Mat, Sat Purush is called the true lord and creator. He is 'Ajar'
(undecaying)
, 'Amar'
(undying)
, 'Avinashi'
(indestructible)
and ever constant. Sants are incarnations or embodiments of Sat Purush. This is the region of Dayal Purush
(Merciful Being)
. There is eternal grace, mercy and bliss here. In this region, countless 'Hansas'
(celestial beings)
or devotees live in various 'Dweeps'
(islands)
and enjoy the bliss of Darshan of Sat Purush and subsist on 'Amrit'
(nectar)
. There is no trace of Kal, Karma, anger, punishment, virtue, vice, suffering and retribution. For this reason, Sat Purush is called merciful. True and perfect Faqirs have referred to this region as 'Hut'. On descent from Radhasoami Pad, Surat (spirit) took location here and then again went downwards. He alone who has pinned his faith in Radhasoami, has unflinching reliance in His Feet and after traversing through all the regions reaches Sat Lok, can also have access into Radhasoami Pad. There is no other way. It is for this reason that Sants prescribe the worship of Sat Purush Radhasoami who is their 'isht'
(goal)
and Master. One who reaches there is called Sant and Sat Guru. Now on else has a right to be designated as Sant or Sat Guru."
Sat Lok is also called the "Soul Plane". It is the first of the purely Spiritual regions. There is no mind, no duality, no cause and effect – just pure eternal love awareness and beingness. And we as Souls are particles of – expressions of – that awareness and beingness. This is where we were created, where we come from, and where we return.
Sat Lok is fundamental goal – the prime directive – of
Surat Shabda Meditation
. Reaching Sat Lok is vastly more important than exploring any of the dual worlds of mind, causality and emotion (Mental, Causal and Astral Planes). Being there should always be first and foremost in our attention. It is our True Eternal Home.
Yours in the LightSong of Sat Nam,
Michael
PART 1, SECTION 13
SUNN: THE MENTAL PLANE
"Two stages below Sat Lok, is 'Sunn' or 'Dawsan Dwar' (tenth orifice). Here Surat took location on descending from Sat Lok and then passing through Brahmand, went down to Pind. This is the 'Atma-pad' of Sants and 'Hahut' of Faqirs. When Surat reaches this stage after being purified and rid of five 'tattwas', three 'gunas' and the body (instrumental, subtle and gross), it becomes fit to worship its Master. From here, inspired by spiritual love, it proceeds onwards and reaches Sat Lok and Radhasoami Pad. One who has attained to this stage (Sunn) is called a perfect 'Sadh' in Radhasoami Faith
(i.e., Sant Mat)
. Groups of Hansas
(celestial beings)
, i.e., fervent devotees, reside in this region also. They live on ambrosia and remain enraptured in various kinds of bliss and joy. This is the stage whence emanated Purush and Prakriti and it is also called 'Par-Brahm Pad'."
Have a Beautiful Day!
In the LightSong of Eternal Love,
Michael
PART 1, SECTION 14
TRIKUTI: THE CAUSAL PLANE
"Below Sunn is Trikuti, also called 'Gagan'. This is the region of Brahm, Pranav or Omkar. Perfect Faqirs have called it 'Arsh Azim' and 'Lahut'. Yogeshwars and true and perfect Gyanis reached up to this stage. From this region have emanated three gunas and five tattwas in their subtlest forms; the 'Words' or sounds of the Vedas, Quran, Adi Puran of Saraogis and other revealed books, the subtle matter of the entire creation; Ishwari Maya, that is, Shakti; the incarnations of high order such as Ram and Krishna; Yogeshwars like Vyas, Vashishthu and Rishabdeo of Saraogis. This region is also called 'Maha Akash', Chaitanya Pran (vital air) also appeared at this stage. The presiding deity of this region is also called 'Pran Purush' and Great God, but Sants call him 'Universal Mind'."
Have a beautiful, blessed day!
In the LightSong of Eternal Love,
Michael
PART 1, SECTIONS 15 & 16
SAHAS-DAL-KANWAL (THE ASTRAL PLANE) & THE FIVE SHABDS
15. "Below Trikuti is the region of Sahas-dal-kanwal, also called Niranjan Jyoti, Shiv Shakti, Lakshmi Narayan, Narayan Jyoti Swarup, Shyam Sundar, Arsh and Khuda. The novitiate, on initiation into spiritual practices, is instructed to take this stage as the starting point. All incarnations of the second order, prophets of the first order, Auliyas (apostles) and high-class yogis come from and return to this region. Faqirs and Sants call it Nij Mana. From this region originated the Tan-matra of Tattwas (
Tattwas are elemental properties – mt
), followed by the Sthil Tattwas, Indriyas (senses and organs), Prana and Prakritis. An impress or reflection of this plane is received first by the third til
(situated behind the eyes – aka the
'Tisra Til'
or
'third eye'
, mt)
, and then extends to both the eyes. In the wakeful condition the soul, that is, spirit is located at this til. Chidakash
(subtle Akash – aka heaven or celestial region, mt)
which is called by some Gyanis as Brahm, originated from Sahas-dal-kanwal and permeated the body, i.e., Pind and the entire creation below this region. The entire lower creation is a phenomenon of Chidakash, that is, this subtle Akash vitalizes the entire lower creation. The description of higher celestial regions ends here. Below it are the regions of Brahma, Vishnu and Mahadeo (
Shiva
) whose real forms are here. In the beginning, Sants and Faqirs raise the spirit from the centre of the eyes towards this region. There is no other way to go up. 16. The regions described above are also the stages of Shabd or Nad (sound). Corresponding to these stages, that is, from Sat Lok to Sahas-dal-kanwal, there are five Shabds as well, which can only be revealed by a Perfect Sant Sat Guru. The Shabd of each stage is different and so is its secret. The fifth Shabd is in Sat Lok. As for the Shabd current beyond, it cannot be described in words or writing. There is no symbol here from which an idea could be given as to what it is like. A devotee will realize it when he reaches there. These five Shabds are the distinctive features of the five stages. With the help of these sounds, Surat can proceed from one stage to another, right up to the highest. It is absolutely impossible, especially in the Kali Yuga, to elevate the spirit by any other method."
There is great wisdom and great truth – based upon personal experience – in what Soamiji says in these two sections. It is essential truth, and should be part of your spiritual foundation as you proceed along the path of Surat Shabda.
All my love and blessings in the LightSong of Shabad Nam,
Michael
PART 1, SECTION 17
FURTHER ON RADHASOAMI PAD
"In Radhasoami Pad, which is the highest region and the ultimate goal, there is no Rup (form), Rang (colour), Rekha (outline), so much so that even Shabd is not manifest there. It cannot be narrated or describe. It is the holy abode of Param Sants."
Radhasoami Pad
– the
Eternal Kingdom of Heaven
– is beyond all duality and all description. IT is the Eternal ISness – pure, radiant love. Though the color that best describes it is golden white – IT is beyond all definition. This is where my Master took me over and over. He also said that there are levels even further within than
Radhasoami Desh
(aka
Anami Lok
, or the
Ocean of Love and Mercy
); but to enter these realms, you would have to permanently separate from your physical body. In other words, there is no way to operate a human form – or any dualistic form for that matter – and explore those regions. But they do exist.
It is important again to understand that the Pure Positive God Worlds are eternal, and that to be eternal means to be not subject to even the most subtle forms of duality. There is not even the faintest conception of polarity (up/down, good/evil) because there is no mind to conceive it. We become what we truly are – points of attention, units of pure awareness. This is how we awaken into Soul and God-realization.
I want to make a quick note about the reading yesterday addressing the astral plane and the Five Shabds. Soamiji makes a very important point about the nature of many souls who are considered major deities in some faiths, but are really just denizens of the Astral Plane (
Sahas-dal-Kanwal
). They can be very impressive to us on earth because the Astral reality is so much brighter, more vivid, more apparently transcendental than ours. I mean, hey, you move by thought – you manifest anything you desire – your life is a state of emotional bliss. So this must be heaven – right? Nope – it's simply the Astral Plane – the first level within. It's a good first step, but there are many steps to go before we reach Sat Lok and are awakened in Soul.
Regarding the Five Shabds – these are one of the keys to going within. When we are initiated in (and attuned to and in harmony with) these frequencies, we are able to experience their states of consciousness. We are able to establish ourselves in the Astral Plane (
Sahas-dal-Kanwal
), Causal Plane (
Trikuti
), Mental Plane (
Daswan Dwar
), Etheric Plane (
Bhanwar Gupha
and
Sohang Lok
) and Soul Plane (
Sat Lok
) – for the Five Shabds (aka the Five Holy Names) are the embodiments of these regions and frequencies. These Five Shabds can be used as mantric stepladder to travel through the dual worlds and into the Soul Plane. In addition, they are an excellent way of bringing our human selves in tune – for these planes in human context relate to our emotional, memory, mental and subconscious states of awareness. By mentally singing the Five Shabds, we bring our emotions, memories, thoughts etc. into harmony with the Spiritual Current and each other – rather like tuning the pistons of a car. As a result, our human lives will come into greater and greater harmony with Spirit – which in turn will help us blossom into Soul Awareness in human expression. And this is a very good thing.
In the LightSong of Shabda,
May the Blessings Be!
Michael
PART 1, SECTION 18
OUR FIRST SIX CHAKRAS
"Just as there are six celestial regions from Sat Lok to Sahas-dal-kanwal, similarly there are six material regions below them in the Pind (material-spiritual region) which are, in fact, the reflex of the higher regions. Their names and locations are being given below separately. Although according to the teachings of Huzur Radhasoami Saheb and in view of the easy mode of devotion graciously prescribed by Him, now the devotee is not at all required to traverse the lower regions, all the same it appears proper and necessary to give the brief account of these stages also just for information and proper appreciation and for removing doubts and misunderstandings created now-a-days by the Vachak Gyanis
(aka Sophists - mt)
and the intellectuals. These six stages are called Khat Chakra
(six ganglia)
. They are related to the Pind
(physical frame)
. The celestial regions pertain to Brahmand and beyond it.
Let's just take some to reflect on this opening paragraph about the chakras in our meditation today. While, as Soamiji notes, chakras do not merit serious focus (and, as we will find, should be left alone, by and large), it is good to understand them. We will discuss each one at length in days to come.
In the LightSong of Naam Eternal,
Have a beautiful evening!
Michael
PART 1, SECTION 19
THE TISRA TIL (THIRD EYE) CHAKRA
"The first ganglion lies midway between and behind the two eyes. Surat or spirit is located here. Form here it descended step by step to the five lower centres and spread out into the body. It is called 'Parmatma' and is the God, Brahm and Lord of many religions. This is the real seat of the spirit in its wakeful state. From this stage also have appeared prophets, incarnations, Wahis (holy men), Yogis and Siddhas."
In a very few sentences here, Soamiji Dayal tells us about the Tisra Til or Third Eye. While it is important to understand the other chakras, the third Til is what really matters. It is located in the pineal gland and is the seat of the soul. It is the place where we gently and calmly focus our attention in Surat Shabda Meditation. It is here that the inner door opens (towards us), and we are greeted by the Light and Sound of Shabda, and the Guru Dev, the radiant form of the Teacher.
As I once wrote in a song:
"Close your eyesAnd see the SoundAnd hear the Light within.The Song of Shabda knows no boundsLet the adventure now begin"
Take some time right now to place your attention at the Tisra Til and sing HU. Allow HU to resonate in your eye center and fill you with ITs love.
More tomorrow. Have a beautiful day!
Yours always in the LightSong of Eternal Love,
Michael
PART 1, SECTION 20
THE THROAT CHAKRA
"The second ganglion is in the throat. Surat casts its reflection here, and causes dreams to appear in sleep. This is the Virat Swarup Bhagwan and Atma-pad of many religions. This is also the centre of Prana
(vital airs)
diffused throughout the body."
Have a beautiful evening.
In the LightSong of Naam,
Michael
PART 1, SECTION 21
THE HEART CHAKRA
"The third ganglion is at the heart. Here is the location of the Pindi Mana
(individual mind)
and the reflection of Shiv Shakti. From this place is regulated the economy of the entire human body – body here means the subtle body. Thoughts etc., originate from here and the effect of grief, joy, fear, hope, pain and pleasure is felt here."
PART 1, SECTION 22
THE NAVEL CHAKRA
"The fourth ganglion, that at the navel, is the seat of Vishnu and Lakshmi. The entire physical body is nourished from here. It is the reservoir of gross Prana (vital air which is essential to digestion)."
PART 1, SECTION 23
THE GENITALIA CHAKRA
"The fifth is the Indri Kanwal (genitals). This is the seat of Brahma and Savitri. It regulates the creation of physical body and the related energy as also the carnal passions, etc."
PART 1, SECTION 24
THE BOTTOM CHAKRA
"The sixth ganglion is at the rectum. This is the seat of Ganesh. As in the olden days, the practice of Pranayam or Ashtanga Yoga was commenced from this centre, the worship of Ganesh, the presiding deity of this centre, was primarily enjoined in all ceremonies."
This completes the first stage of Soamiji's description of our first six chakras. The important thing to note here is that the stages from the throat chakra down are below the eye center where soul resides. The eye center is where our attention should be at all times. There is no need to look from the bottom up. There is no need to rise through intermediary stages of Ganesha, Brahma, Shiva and Shakti. There is no need to go backwards to stage one and stimulate Kundalini in order to rise to the third eye center (in fact, kundalini stimulation is frowned upon in Surat Shabda). There is also no need to attempt to raise awareness through dreams, since the throat chakra – which governs dreaming – is below the eye center.
Now as I mentioned earlier, this is not to denigrate the lower chakras. They serve a vital purpose, and it is good to understand what they are and what they do. But since our attention is easily focused at the eye center – and since the eye center is the real launching pad for our inner trek to Soul and God consciousness – why get dragged down? Why backtrack? Just place your attention between and behind your eyes and, with it gently and receptively focused there, begin singing HU or the Holy Names. From here the adventure truly begins.
Yours in the LightSong of Naam,
Michael
PART 1, SECTIONS 25 & 26
THE HUMAN CHAKRAS & ABOVE
"25. All the above stages
(the chakras discussed in previous paragraphs - mt)
, high and low, are within the human body and do not refer to the external ones. The lower regions extend from the centre at the rectum to the one behind the eyes. For this reason, the boundary of Pind (material-spiritual regions) is up to the eyes. This is also called the expanse of the nine apertures, namely, two apertures of the eyes, two of the ears, two of the nose, one of the mouth, one of the generative organ and one of the rectum. 26. Above the eyes begins the region of Sahas-dal-kanwal. This is the beginning of Brahmand, which ends below Daswan Dwar (the tenth aperture), that is, it extends up to Pranav. Above Pranav is Par-Brahmand. According to Sant Mat, the lower regions are included in Sthul Sargun
(the physical body)
and the two regions of Sahas-dal-Kanwal and Trikuti in Nirmal Sargun
(the pure body or form)
. The region above it, that is, Sun is pure Nirgun
(the region devoid of all properties, qualities and attributes)
. Beyond it, begins the region of Sants. For this reason, it is said that the region of Sants is beyond Sargun
(form)
and Nirgun. This is why Lord Krishna advises Arjun to go beyond the limit of the Vedas which are trigunatmak
(which contain the three gunas or attributes*)
, that is, sargun, so that the real abode could be attained. Immense are the power and glory with which these regions are endowed and indescribable are the conditions and mysteries of the creation there. A true devotee will know them from a perfect Sat Guru and will himself realise them in the course of his internal practices."
(*note: the three gunas or attributes are
Sat
(denoting harmony),
Raj
(denoting action and motion) and
Tam
(denoting inaction, inertia or darkness). mt)
In this day after Christmas, lets just take a few minutes to read – and re-read – the above comments by Soamiji Dayal. There's a lot packed in these stanzas. So relax, allowing what he says to filter through your mind, and then bring Soamiji's words and wisdom into your meditation today.
Yours in the LightSong of Naam,
Michael
PART 1, SECTION 27
HOW THE TEACHINGS WERE FORGOTTEN:
"It appears necessary to state here that when the ancient Sadhs, Yogeshwars and Mahatmas found that the secrets of the higher regions were very subtle, everybody could not understand them and it was also very difficult to practice Pranayam for attaining them, especially during the later days when none but a Brahman was allowed to read religious books, they only revealed the secrets of the lower regions in the first instance and kept to themselves the secrets of the higher ones. The idea was that as the devotee progressed, he would be initiated gradually into the secrets of the higher regions. But this path and its practices got so out of date that even adepts of the lower order became rare. So, gradually, the great men of those days considered it expedient to inculcate the outward worship of incarnations and gods among the common people who were quite ignorant. The object was that they should familiarize themselves with their names and forms, which, in fact, referred to the internal centres, and should first adopt them outwardly and gradually transfer their devotion internally. But the generality failed to do even this much correctly and fully. Therefore, with a view to facilitating internal practices, some devotees set up the images of incarnations and gods of high order for contemplation and concentration. Professionals took advantage of this opportunity. They induced the rich by clever persuasion to build temples and images of incarnations and gods of high order. In the interest of their procession, they pushed on this worship with zeal and enthusiasm. At the same time, they began to conceal the old books which dealt with the secrets of devotion and internal practices. This led gradually to the general adoption of idolatrous worship of incarnations and gods. As nobody found it difficult to perform this kind of worship, all of them took to it exclusively. Day by day, inner secrets were forgotten and everybody became a worshipper of the superficial. Gradually, this sort of worship was established throughout the country, for it appealed to the worldly and pleasure loving persons very much, as they could perform it in the way they liked and could freely indulge in sensual pleasures."
Have a beautiful, blessed evening.
All my Love and Blessings in the LightSong of Naam,
Michael
PART 1, SECTION 28
SATGURUS COME TO RENEW THE SHABDA TEACHINGS
"Now finding that Kali Yuga is at its zenith and that human beings are in great trouble and misery such as poverty, diseases and pestilence, quarrels and strife caused by mutual enmity and jealousy etc., and they are being led astray very far from the right path, Sat Purush Radhasoami was moved to pity and He mercifully came down as Sant Sat Guru in this world. He gave out the secrets of the true faith and path openly and in clear words. He found that, for the sake of their livelihood, Brahmans had acted very cunningly and had concealed the original books from the public. So, out of mercy and grace He was pleased to explain the whole secret lucidly in the vernacular. He also initiated the people. But such were the deceptions created all round by the Brahmans that it was difficult for the teachings of Sants to be readily accepted. In spite of all this, those who enquired into and appreciated the truth, gradually accepted the teachings and adopted the religion of Sants as, for instance, the religion preached by Kabir Saheb, Guru Nanak, Jagjwan Saheb, Paltu Saheb and Garib Das, which was promulgated during the last seven hundred years at different places."
In yesterday's reading and today's, we can see how the essential teachings of Surat Shabda (the path of Communing with the Word – the path of Soul-Shabda-God) gradually faded from common understanding. People who studied a tiered initiation format over time forgot some of the initiation words, remembering some and not others. Some religious leaders aspired to control, and kept the truth of Naam from the community, teaching instead focusing the attention on books, specific temporal deities, great Masters who had come in the past, etc. Others sought power and fame, and so crafted the teachings to appeal to the vanity of financial contributors who would give them wealth and build extravagant temples for them.
And yet – as Soamiji teaches us in Section 28 – in the midst of this increasing obscurity of the Teachings, God – Sat Purush Radhasoami – expresses ITSelf in human form. There is always a human instrument of God and Naam on this planet, grounding the Current and initiating those are receptive the Word and ready to go Home. And this instrument expresses the Word in the language and culture of their time. As Soamiji says, "
He was pleased to explain the whole secret lucidly in the vernacular"
. Moreover, these Living True Shabda Teachers (Satgurus) keep the teachings pure. There is no adulteration or interpretation of what the Master means about the Way of Shabda and living spirituality – because the Teacher is right here, right now, to explain things, answer questions, clear up any misconceptions, and serve as a living human matrix of the Shabda ITSelf. This is one of God's greatest blessings, and an incredible gift to us all.
Please consider Soamiji's words here, and allow the inner form of the Gurudev to be your point of focus as you meditate. Know that the expression of Sat Purush is constant and unwavering – pure light, sound and love. As we make this our point of focus, we can also make IT our tuning fork – our way of bringing our lives – right here and now – in tune with the pure harmonic of the LightSong of Naam.
Have a beautiful day!
In the LightSong of Eternal Love,
Michael
PART 1, SECTION 29
PUNDIT & RELIGIOUS RESISTANCE TO SURAT SHABDA
"Whenever Sants manifested in this world, Pandits and Bhekhs (anchorites) exerted their antagonistic influence. They did their best to prevent the spread of the true faith of Sants, which corresponds also with the Veda Mat up to Pranava. They did so because they were afraid they might lose the means of their livelihood. They beguiled and led astray the ignorant and the worldly in numerous ways. For this reason, the religions of Sants did not thrive as much as one could wish."
What Soamiji says here does not only apply to people in India who follow the Vedas. This applies to all religions and cultures. People who make money from religion have a vested interest in maintaining the organizational structure, wealth, power and influence of their respective religious group. Preservation of the organization supersedes teaching and pursuit of truth. Therefore, they do whatever they can to stop people from rocking the boat. They disparage people teaching the path of Naam and Truth to the point of calling them "apostates" and "heretics".
But this matters not to Sants and true Surat Shabda Teachers (Satgurus). The putdowns of pundits and sophists, religious leaders and blind sycophants have no effect. For Communing with the Word is the Alpha and the Omega of the Way Home. Sants not only know and teach this – they are this. They are the human embodiment of the Path. Once we understand this, and accept it as true and matter of fact and real as waking up in the morning, we will have made a major stride in our spiritual unfoldment.
Yours in the LightSong of Eternal Love,
Michael
PART 1, SECTION 30
NOT ALL ARE READY FOR SURAT SHABDA
"Generally speaking, it is true that every one is not fit for admission in Sant Mat
(the Way of the Saints – Surat Shabda Meditation - mt)
. Those who occupy themselves with the pleasures of the senses and have no real desire for communion with the Creator or for the redemption of their souls, are incapable of understanding its principles. As they find it difficult to discard their old beliefs and adopt the Isht
(revered teachings or way)
of Sants and as Pandits
(scholars or priests)
and Bhekhs
(monks or ascetics)
mislead and intimidate them, they do not develop firm faith in this religion. Sants, too, do not approve of the general propagation of this religion as long as the requisite faith is absent and the fundamentals are not grasped; superficial belief would bring about the same conditions as are nowadays found with regard to the worship of incarnations and gods. Ostensibly, people follow Ram, Krishna, Mahadeo
(Shiva)
, Vishnu, Shakti and Brahm
(and, I would add, Christ, Moses, Mohamed, Buddha, etc.)
but, in reality, they are the slaves of their desire for wealth, wife, children and fame. They give no thought to the mandates of their Isht nor do they fear him, nor do they entertain any love for him in their hearts. Such an Isht, be it of incarnations or of gods or even of Sant Sat Purush or Param Purush Puran Dhani Radhasoami, is altogether infructuous."
This is an interesting passage, and one that may difficult for some to swallow. Upon first reading, it sounds as though Shiv Dayal Singh is admonishing all who enjoy sensual stimulation or are devoted to their spouses and families. But if you take the time to really read this section and contemplate it, its underlying truth comes through.
Now, it is true that Soamiji is admonishing people. But he's doing so in the manner of Kabir firing his poetic arrows at Hindu or Islamic religious leaders, or Jesus overturning the moneychangers' tables in the temple. What he is – and they are – indicting is hypocrisy – the hypocrisy of paying lip service to God and faith, but really having your primary focus upon and desire for the things of this world. This is what draws their ire – and is why Soamiji says that not all are ready for this path.
The way I would put it is, if your primary focus is objects of desire, things of this world, material success, etc., then you're most likely not ready for Surat Shabda. Because your desire for materiality will draw your focus away from Naam and God – like a shiny penny, or the squirrel and dog in the movie "UP". There is nothing wrong with being focused upon living a human, sensory-based life, but it will not allow your sufficient focus to study the teachings and meditate.
Further, excessive desire and pursuit of the senses and material success is a magnetic attraction and in inherently a karma-creating process. As Hari Dass Baba once told Ram Dass:
"Desire is the creator. Desire is the Destroyer. Desire is the Universe."
And as you may guess, the problem here is that Surat Shabda – the path of Sant Mat – is a path of karma elimination. It is a path of paying off all of your karmic debt, reaping your karmic rewards and, through communing with the Word, learning to lead a balanced, karma-free (neh karma) life. So if you're not only creating but actively pursuing more karma, while at the same time trying to work it off, you will be basically spinning your wheels – kind of like paying off a credit card while charging twice what your payment is. The two don't mix.
So neither Soamiji or I are berating you – or anybody – for enjoying life here on planet earth. If that is your current path, enjoy it! But please understand that – in addition to soul awareness and God-realization – this is a path of spiritual freedom. This is how it has always been, and always will be.
This doesn't mean that you have to renounce your family or your job. It simply means that you need to make Shabda – the Eternal Word – the foundation of your life, your family and your job. Your devotion to your family is an expression of your devotion to Shabda. Your focus at work is an expression of you focus on Shabda. And your joy in creative and recreational pastimes are an expression of the joy you find in Shabda.
And when you are ready to sincerely focus your attention on Surat Shabda Meditation, make the Eternal Word your foundation, and begin the journey home – I will welcome you with open arms.
Yours in the LightSong of Eternal Love,
Michael
PART 1, SECTION 31
FAITH AS AN EXPRESSION OF UNDERSTANDING
"Faith which is generated by extraordinary exhibition of supernatural powers or miracles is not in the least dependable, for unless the doctrines and tenets are understood theologically and by intelligent reasoning, faith in them can not be firm and abiding. And this state of affairs generally prevails nowadays. So many persons who outwardly profess Hinduism or Islam
(or Christianity, Judaism or Buddhism, etc. – mt)
have, at heart, no faith at all. The reason is that they have not carefully studied nor understood their own scriptures, nor have they received instructions from an adept. Due to this, they have no belief worth the name in these writings, be they attractive or frightening. Moreover, nobody throughout his life applies himself as seriously and diligently to religious investigations as he does to worldly pursuits. A person forms his faith according to his own light and inclinations or according to what he has heard from his elders or seen others doing. He does not himself make any enquiry at all. This kind of faith is only nominal. This is why evil is day by day flourishing progressively in this world. As people have no fear of anybody nor does anyone question what they do, they are steadily sliding downwards."
Tonight I'm going to lay back and let Soamiji speak for himself. Please give yourself some time to allow his wisdom to simmer, and then bring it into your meditation. Have a beautiful evening!
Yours in the LightSong of Eternal Love,
Michael
PART 1, SECTION 32
PUNDITS & PREACHERS CANNOT SHOW US THE WAY HOME
"Pandits, Sanyasis, Sadhus and Maulvis
(indeed, religious leaders in most faiths – mt)
who used to be the leaders of Veda Mat and Quran
(and the other great holy books - mt)
, are now bereft of spiritual wealth and are themselves in the forefront in the pursuit of worldly pleasures, wealth and fame. Then who is there to show them their error and guide and direct them and all others on to the right path? It is Sants alone who can do this. Whoever in these times will thoroughly understand Their teachings and devote himself to the internal practices taught by Them, shall undoubtedly escape the wiles and snares of Mana and Maya (mind and illusion). Otherwise, everybody is free to do as he pleases; no undue pressure can be applied in this matter."
Soamiji makes two important points here. Initially he points out how most religious leaders in his culture (I would say this applies in all major faiths) had become more focused upon success (personal and/or their respective churches) its status symbols than the eternal teachings. On first glance it may read like an indictment (perhaps well-deserved) of materiality and hypocrisy by the religious leaders of his area.
But it's really more than that. The important thing Soamiji is saying is that – if we want to return to the pure spiritual regions, we cannot be taught by someone who has only book knowledge or incomplete inner exploration that has only led them to the astral or mental planes. Someone who has not made it all the way back – by their very lack of direct, first-hand experience – cannot show us the way Home. We need to be taught – and shown – by someone who has made the journey themselves all the way back to the True Eternal Kingdom of Heaven – the realms of Soul and God – the Pure Positive Worlds of Sat Lok, Anami Lok and Radhasoami Dham.
These great souls are instruments of – expressions of – and teach from – the dimensions of Soul and God. Soamiji calls them "Satgurus" or "Sants". Through their direct personal experience, they link us to the return flow of the Sound Current and help us learn to do what they have done.
Have a beautiful evening.
In the LightSong of Eternal Love,
Michael
PART 1, SECTION 33
SAHAJ YOGA: THE NATURAL WAY -
"There can be no doubt about the merciful mission of Sants, inasmuch as they have given out for the benefit of humanity the essentials of the true faith and the correct and easy way of realizing the Supreme Being. In olden days, initiates commenced practice from the Mula Chakra, that is, the ganglion at the rectum. After long and arduous practices, a few of them reached the sixth centre and exceptionally few from amongst them reached up to Sahas-dal-Kanwal or Trikuti, attaining the rank of Yogis and Yogeshwars. Now, Sants enjoin upon the devotees to start spiritual practice from Sahas-dal-kanwal. Instead of Ashtang Yoga or Pranayam, in which breath has to be controlled, they have introduced the Sahaj Yoga of Surat Shabd. This can be practiced by all. Its advantages are much greater than those of Pranayam, Mudra, Hatha Yoga, etc. Not only that, but the Surat Shabd Margi (practitioner) achieves also the results of these other practices in the course of his upward journey. A detailed account of this will be given hereafter."
The key to this section is twofold. First, Soamiji tells us that we do not need to start our spiritual journey from the root center and – through breathing and physical exercises – gradually work our way up the chakras over a great period of time until we finally reach the eye center and Sahas-dal-kanwal. Instead, he says we can forgo all that and make Sahas-dal-Kanwal our starting point and continue our spiritual journey from there. In other words, we can start where other yogic disciplines leave off.
The other point Soamiji makes is that pranayama (breath control) and hatha yoga (physical positions and exercises) take effort and are not something that everybody can do. People who are sick, injured or possibly in advanced age – or extremely busy with work and family – may well lack the physical stamina or find the time to perform these exercises as prescribed. Surat Shabd on the other hand is a "Sahaj" yoga (i.e., a relaxed, natural, easy process – and something Kirpal Singh discussed extensively as well). No difficult breathing or postures are required. All you need to do is take some time every day – preferably at the same time – and place your attention within at the eye center. Close your eyes, sing HU or the Holy Names, and your attention will come into harmony with Shabda – the Spiritual Current. From here, the inner door will open and the River of Love will lift you up and in and carry you back to ITs – and your – Source. You will be gently carried back Home to Soul and God.
What could be easier, or more natural?
Yours in the LightSong of Eternal Love,
Michael
PART 1, SECTION 34
YOU NEED TO KNOW SOMETHING EXISTS IN ORDER TO ATTAIN IT
"Now just consider how far off from the real abode are those who concentrate at the ganglion situate at the navel or the heart. Even if these centres are conquered, what will be attained will only be a reflection or shadow of the higher stages, although the attainment even of these centres has become very difficult nowadays, because people have not the capacity to perform correctly Pranayam or Mudra. Those who have no knowledge of the higher stages and consider the lower ones as final and the goal, cannot reach the highest stage and have access into the region of the Supreme Being. For this reason Sants, who have access to the highest and the purest regions of Sat Nam and Radhasoami, say that people in general are laboring under mistaken notions. They do not know which is the real abode of the Lord and seek Him where He is not. This statement applies to those who are engaged in some sort of internal worship and meditation or are performing practices to penetrate into the six centres. And those who are given to externalities only, such as pilgrimages, fasts and idol worships, do not count at all. They are in utter darkness and delusion and if they would persist in their present ways and not seek the real Creator, they will never realize Him."
Here we have another hugely important point in understanding Sant Mat. Soamiji is telling us that being stuck in the lower chakra centers – or lower planes – is not necessarily a matter of preference. It's because most people and religious teachers don't know any better. More than not attaining the higher regions, they do not even know they exist! So how can you seek that which is not even in the realm of awareness, much less possibility.
I'm reminded of a discussion I had with a friend some years ago. He was studying a discipline that encouraged creating good karma, which said that if you create good karma, you will have a much happier and more successful life in this one and the next. After listening to him talk about this for awhile, I asked him,
"Why create karma at all? Why not lead a karma-less (neh karma) existence?"
He was completely taken aback by my suggestion, and returned to his argument that you need to create good karma. The very idea of not creating any karma at all – and working off the karma you have so you can get off the wheel of transmigration once and for all – had never entered the realm of possibility for him, much less be something he had pondered.
I've encountered the same thing playing music and talking to musicians. I'm a big believer in letting go of ego and will, and allowing the Wave of Eternal Sound to play through me. It's something I picked up from the Grateful Dead – letting the music play the band. I know what it feels like to step back and feel the Current flow through me and my fingers to play the strings of my bass. There is no longer trying or thinking or effort. My fingers just move of their own accord propelled by the Current, and the outer music appears. This is something I have loved for years, and I have spent more time than I care to thinking about telling other musicians about it – encouraging them to let go and let it flow. But the vast majority of musicians I have met are into controlling the music they create – there's a lot of ego involved. And for them, the very concept of backing off and letting the Music play through them is something they have not even remotely considered, much less discussed or attempted to practice.
So the point here is, how can you seek something you don't even know exists? How can you seek something that even your spiritual or religious leaders and mentors do not know exists? Most teachers of any faith do not even know about the true nature of the Holy Spirit – the Eternal Light and Sound Current.
This is why Sants are such an incredible gift to us. These great human beings know the Sound Current and have learned to let IT lift them above physical, emotional and mental body consciousness and carry them Home to the Eternal Regions of Soul and God. They have established themselves there while still operating a human form here, and are here to help anyone who sincerely wants to come Home.
This is why it is so important to keep the company of a Sant. This is why it is also important to study the outer teachings of Surat Shabda Meditation – so our human mind can grasp that there are realms above the chakras, that there are realms above astral, causal and mental planes. We need to make the study of the outer teachings a part of our daily lives – so the essence of Surat Shabda becomes as matter fact as putting on our shoes or brushing our teeth. With this building the foundation of our spiritual education, we then bring that understanding into our daily meditation so that awareness – along with Shabda and Gurudev (the Radiant Form of the Teacher) – is a continuity of our entire being.
A couple of other thoughts on this theme. An image that keeps resonating is: you need to know something exists before you can want it, and you also need to know some place exists before you can want to go there - or try to go there.
For instance, let's say you've never heard of the Truckee Meadows in northern Nevada. You've probably heard of Las Vegas, but not the Truckee Meadows. You've been perfectly fine throughout your life not knowing about it. You've enjoyed life in your town or city and your state. Maybe you've even traveled to some other states. You have friends who have traveled around and told you about states and areas, but never the Truckee Meadows. You may have even watched travel shows and never seen anything about this area. Does that mean it doesn't exist? Of course not.
Now, the Truckee Meadows is my home. It's a beautiful mountain valley through which the Truckee River flows and which encompasses Reno, Sun Valley and Sparks, Nevada. Yet without me having told you, you may not have been aware that it exists. The same thing is true of Sach Khand and the Pure Positive God Worlds. Were it not for the Sants who have traversed the dual worlds and reached this region, we would not know IT exists.
Further, Sants are invaluable in reaching this region. This is not because we need to support some sort of guru fraternity. It's because without their help, we could not make it through the dualistic, temporal regions of the Astral, Causal and Mental Planes. Without the aid of someone who knows better, it is easy to mistake the Astral Plane (Sahas-dal-Kanwal) for heaven. After all, it is far more vivid and beautiful than earth. You are transported by thought and are able to manifest anything you can imagine. What could possibly be better? And yet that is only the first stage within. Beyond this lies the Causal Plane, which is more refined and rarified than the Astral Plane, and the Mental Plane that is more rarified still. Getting from the Astral Plane to the Causal takes great dedication, and from the Causal to the Mental even greater. And then, when you get to the top of the Mental Plane, the light is so intensely brilliant that – if you do not know otherwise – you cannot tell the difference between that light and the light of the Soul Plane.
This is because the upper part of the Mental Plane acts as a mirror reflecting light of the Soul Plane (Sat Lok). It is that mirror of mind that the Pure Light of God hits and refracts, bifurcating and becoming a binary current for the first time. And when you're right next to that mirror, the light is blinding. How can you possibly differentiate that from the light of Sat Lok? Through the aid of one who has made the journey and has their attention established and anchored there: a Sant.
A Sant can guide you Home, and then show you around – in the same way that I can guide you to where I live in the Truckee Meadows, and show you not only how to get to the valley, but also how to get to my home, and avoid detours and bad neighborhoods. As I am a sure guide to my home in the Truckee Meadows, so are Sants sure guides to the Eternal Kingdom of Heaven.
When you are with a Sant, because they are anchored in Sat Lok, you are in the presence of Sat Lok. When you are with a Sant, you are Home.
Yours in the LightSong of Eternal Love,
Michael
PART 1, SECTION 35
REGARDING THE WORSHIP OF OBJECTS & ANIMALS
"The Khat Chakras or the six centres in the body are reckoned from the Guda Chakra right up to the centre below Sahas-dal-Kanwal. It is indeed a great pity that people should worship and seek in idols made of mental and stone and in the waters of Ganga, Yanuma and Narbada and in trees like Pipal and Tulsi and in animals like cows, monkeys and snakes that the Supreme Being, who in His great mercy and grace, created the whole universe with its numerous varieties of things and forms and endowed man with such noble faculties. Obviously, the sun, the moon, and man himself are superior to all these. Is it not sheer ignorance and negligence that instead of seeking earnestly the real Supreme Being, people should worship as God and Creator the things created by Him and even go to the length of worshipping various images carved out by man himself? All this is nothing but a waste of the noble human existence and can only result in ultimate descent into the lower forms and stygian regions. What sin can be greater than this? If a man knows the real Creator, he is bound to develop in his heart His love and fear. How can love and awe be felt for what has been made by man himself?"
This section may rub some people the wrong way. After all, shouldn't we revere all creation and respect all faiths (including pagan and Gaia-based beliefs which encourage worshipping the earth itself). Of course. So why is Soamiji apparently denouncing other belief systems?
When reading Shiv Dayal Singh's writings, it's important to understand that he is speaking to his culture in his time – a culture which had a longstanding tradition of venerating man-made idols and certain animals. So it's these people he is speaking to. It's also important to understand that he says what's on his mind without pulling any punches. He's kind of like Kabir in this way (Kabir once dragged a dead cow into his guru's home and asked him if a stone idol could give any more blessings than a dead cow could give milk). He had no problem with pushing people's buttons. In fact, I would hazard a guess that he liked it. So Soamiji took out his rhetorical sword and told his people that worshipping idols and animals was a waste of time. It would not lead them to the Eternal God.
As I see it, it boils down to a question of what your spiritual goals and expectations are. If you want to focus your attention on a physical object, or an animal, that's fine. But what is your goal in doing so? There are some things this kind of outer focus and devotion can accomplish. But Soul Realization, God Realization and Spiritual Freedom are not among them. Even more basically, if you want to raise your attention above human and body consciousness, you will not accomplish it by directing it towards lower life forms or inanimate objects. This is corollary to Soamiji and Sant Mat's message about the human chakras. Why lower your consciousness to the root chakra and spend years raising it up to the eye center when you can start at the eye center and move up and in from there.
One other quick point. Near the end Soamiji talks about love for and fear of God. In the next sentence he changes this to
"love and awe"
. The latter, I feel, is the right understanding to have. We need to have total love and devotion for our Creator. And we need to be in awe of IT. We need to realize we are the tiniest particles in that vast Ocean of Love and Mercy. And our Creator, in ITs boundless love, has given us – these particles – the gift of self-awareness. We need to be in awe of that incomprehensible vastness, and we need to love IT and be undyingly grateful to IT for the gift of life.
In going into meditation, take this lesson with you. Allow the cultural language fall away, and reflect upon the truth Soamiji is saying. Various points of focus can provide various results. If you want to know and directly experience Soul and God, you need to do what it takes to accomplish this. And that is tapping inside and communing with the Eternal Word – Shabda – Divine Spirit. This is Surat Shabda Meditation.
Yours in the LightSong of Eternal Love,
Michael
PART 1, SECTION 36
GURUS TEACHING SPIRITUAL MATERIALISM
"If a person meets a perfect Sat Guru, that is, one who is in communion with the Supreme Being, or even a true Sadh
(one with access to the spiritual-material region: Brahmand)
or Faqir
(one who leads a true spiritual life – a Sant)
, and obtains His grace and gaze of mercy, spiritual progress will get an easy start. But even in regard to this, there is a snag. He may take Him to be like other selfish, deceitful and greedy persons and may refuse to accept His guidance. This is due to the fact that many persons, who are in reality pleasure-seekers and the slaves of this world, taking advantage of the ignorance of the masses, have set themselves up as gurus and are carrying on this money-making business briskly. They did all they could to lead innocent and ignorant people astray by giving them baits of health, wealth, wife, children and fame, craving for which was in fact also inherent in their own hearts. For their selfish ends they make people worship stones, water, trees and animals and mislead them into undertaking pilgrimages, fasts, hom and yagya
(performing rituals and non-animal sacrifices)
. They proclaim at the top of their voice that emancipation is possible through fasts and pilgrimages alone. Insofar as it is concerned the question of their livelihood, one may not mind it, but when they should at least show to these ignorant persons the right path that would do them some good. But how can they do so when they are themselves ignorant of this path and mode of worship? They are all experts in superficial reading, preaching and reciting. From the teachings of Shri Krisha Maharaj, it is abundantly clear that although Udhoji was for years in his company and service, he
(Krishna Maharaj)
could not take him along with himself to His abode. So he told him that he must practice Yoga before he could be fit for entering into the kingdom of his heaven. When a devotee like Udhoji, who had been in the service and company of the real Krishna Maharaj, could not be eligible for attaining the supreme abode without performing spiritual practices, how can then this be attained by those who waste their time in worshipping the mere images of Krishna Maharaj in metals and stone and have no inkling of the practices of Sahaj Yogaand devotion to the Sat Guru. Moreover, there are hardly any among the priests, devotees and the pilgrims who have real faith even in the idols. In reality, everyone worships the world and its belongings and preaches the same to others."
Soamiji starts off here telling us how important it is to keep the company of a Sant (one who dwells in Sat Lok and above), or even a Faqir or a Sadh (so long as they are devoted to Shabda). But then he immediately cautions us to not be jaded by this world, look at a Sant with skeptical – even hostile – eyes, and think them to be just another spiritual grifter. He says this with love and understanding – knowing how easy it can be to become cynical – so cynical that some come to believe that all spiritual teachers are con men in it for themselves. From here he jumps right into the issue of so many religious leaders using their influence to make themselves rich – sometimes under the guise of teaching some sort of "spiritual prosperity" program.
Soamiji here is clear, matter of fact and to the point. He is telling us that many religious leaders – and, I would add, from any faith – are focused more on the attractions of this world than the True Heavenly Realm. They teach us secrets for being happy here, rather than offering the key of spiritual awakening. And Soamiji is not so much criticizing them as just saying,
"This is how it is. Be careful. If someone is saying their path will provide you prosperity, etc. – and your goal is spiritual awakening, walk away."
He is also saying that even those who associate with spiritual giants still need to do spiritual practices. They need to be initiated, practice Surat Shabda Meditation and commune with the Word on a regular basis.
So instead of following these advocates of spiritual materialism, you need to find and keep the company with Sants – those awakened souls who those who are focused on and dwell in Sat Lok, Radhasoami Dham and Shabda (that is, Soul, God and the Audible Life Stream). Heed their counsel and do your meditation on a daily basis. Through this association and practice of Surat Shabda Meditation, you will keep our attention focused upon what important and proceed along the path of Soul Realization, God Realization and Spiritual Freedom. What you will find in the process is that you become more in harmony with the Eternal Music, more at peace with yourself and living a happier life.
Have a Beautiful Evening!
Yours in the LightSong of Eternal Love,
Michael
PART 1, SECTION 37
REGARDING PILGRIMAGES & FASTING
"The same remarks apply to pilgrimages also. The sages of the past had intended these places for religious congregations, charitable acts and temporary retreats away from home. Now they have been turned into rendezvous for fairs and festivities. Everybody goes there for pleasure and recreation, for meeting friends and marketing. There is no question of prayer and worship. Such people should pause and reflect, how could in these circumstances pilgrimages conduce to emancipation? More or less the same applies to fasts. They have degenerated into festivals. The Mahatmas of ancient times had enjoined fasts as a means of subduing the mind and controlling the senses and for vigil, worship and Satsang, whereas now, the days of fasts are spent in playing chess and draughts, sleeping most of the time and eating sumptuous means of various kinds of fruits, sweets, etc."
In this section, Soamiji basically continues the theme of Section 36. He is illustrating how – over time – the original intent of pilgrimages, fasts, etc. has been lost, and many of these religious activities have essentially become social gatherings. Now, while social gatherings in a religious or spiritual context can be quite wonderful events, they should not be construed as having spiritual import in and of themselves, or something that will, as Soamiji says, produce emancipation – or spiritual freedom. They're just a nice way to spend time with like-minded friends.
Have a beautiful evening, my friends.
In the LightSong of Eternal Love,
Michael
PART 1, SECTIONS 38 & 39
SANTS REFOCUS OUR ATTENTION ON SHABDA & GOD
38. "An image was originally meant as an aid to concentration and meditation. Afterwards, it became only a matter of going to the temple and offering water and flowers to the idol. Priests wanted to make a living out of it, so they organized shows, plays, dances and decorations in the temples. Satsang, which was the real aim, was completely ignored. In order to please their followers, the priests provided fresh items of entertainment and decorations in the temples. Thus there has been a complete reversal of what had been aimed at, so much so that if a man does not go on pilgrimages and does not even utter the name of the Lord at home, he escapes many sins and evil deeds. He is far better than those who go on pilgrimages and indulge in vices there, eat rich and delicious food, occupy themselves in seeing various shows and waste their time in useless engagements and yet take pride in having been on pilgrimage. Observing this sorry state of affairs of the present times, Sants were moved to pity. Although there were very few real seekers and spiritually minded people, yet out of sheer grace and mercy, they gave out the secrets of the highest regions, though discourses and writings. Whoever in their times listened to and understood them, believed in them and took to performing the spiritual practices, attained to the Supreme Abode. For others they have left their writings, so that those who would read them intelligently will know the greatness of Sants and start in quest of a perfect Sat Guru with a view to finding the Supreme Being and would discard Karam
(aka
Karma
- mt)
and Bharam (that is the worship of idols, waters, animals, plants, gods and incarnations), and devote themselves with staunch faith and love to the worship of the Holy Feet of the True Lord who is the highest and the creator of all and will get His Darshan. 39. The names of some of the perfect and true Sants, Sadhs and Faqirs who manifested themselves during the past seven hundred years are Kabir Saheb, Tulsi Saheb, Jagjiwan Saheb, Garib Das, Paltu Saheb, Guru Nanak, Dadu Saheb, Tulsi Das, Dabhaji, Swami Hari Das, Sur Das and Rai Das. And some of the Muslim names are Shams Tabrez
(Shamus i Tabriz)
, Maulvi Rum
(Rumi)
, Hafiz, Sarmad and Mujaddid Alif Sani. A perusal of their writings would give an idea of their spiritual attainments."
In Section 38, Shiv Dayal Singh raises an interesting dichotomy. He essentially says that activities that used to have significant spiritual import have so been reduced to rote rituals and social gatherings, that one stands a better chance of finding spiritual illumination by doing nothing at home than going on pilgrimages, fasting or focusing their attention on idols or worshiping various lower species or inanimate objects. Talk about cosmic irony!
Then Soamiji goes on to say that it is because of this mire that people have found themselves in that Sants have brought the teachings of Surat Shabda out into the open. By openly teaching this path, and leaving their writings as guideposts, Sants clearly teach us the key to finding true awakening – i.e., by finding a living Sant or Awakened Soul. By coming to a Sant, receiving initiation and following their guidance as we practice Surat Shabda, we come into harmony with Shabda. And by immersing ourselves in Shabda, the Current will wash away our daily karmic debris, bring to the surface more deep-rooted karma, and guide us to living a karma-free (neh karma) life.
One other thing to quickly comment on is the term "Holy Feet". In the West this might sound a bit odd. A good way to view it is to think of the head of God being in the uppermost reaches of the Pure Positive God Worlds (Anami Lok), and the Lord's feet being His manifestation here in this physical world. In other words, God's Holy Feet are God expressing Himself in this world, in our daily lives. And worshipping His Holy Feet can be seen as devoting yourself to bringing spirituality into every aspect of your human lives – until your entire existence is one of being an instrument of the Divine in expression. One thing that can be helpful is, as you begin your meditation, visualizing yourself bowing at the feet of the Lord and touching your forehead to His feet. In this act of inner supplication, humility and reverence, you will generate a feeling of receptivity that will improve your contact with Naam and the Guru Dev (the
"Radiant Form of the Master"
or
"Inner Master"
).
Finally, in Section 39, Soamiji briefly lists a number of great souls since the 13th Century who have been instruments of God and Naam in expression. Some of them – like Guru Nanak, Kabir and Rumi – we may be fairly well familiar with. Others, perhaps not so much. But highly recommend that you take this list and do a search on some of the names and read what they had to say. You will be amazed. And your amazement will be amazed.
All my Blessings in the LightSong of Eternal Love,
Michael
PART 1, SECTION 40
INTERNAL VS. EXTERNAL WORSHIP
"Sants and Faqirs are known by the distinctive fact that they always inculcate faith in the internal worship of the Supreme Being. They never lead people astray towards such externalities as idol worship, pilgrimages and mere book-learning, nor enjoin the worship of gods, incarnations and prophets. They teach the easy practice of Surat Shabd Yoga, which is the only way to reach the Holy Feet of the Supreme Being and enjoin the importance of love, faith and service of the perfect Sat Guru of the time. They generate love for the true Supreme Bing in the hearts of seekers and devotees by gradually decreasing their attachments to wife, children, wealth, fame and self-aggrandizement. They are always engaged in Bhajan and Dhyan themselves and make their disciples also do the same. They wean the Jiva (soul) away from old time beliefs, doubts, superstitions and all kinds of faith and worship except that of the true Supreme Being. The lift his spirit to the Feet of the Supreme being in this very life by slowly cutting off the roots of internal and external bondages, provided he goes on developing love for and faith in His Feet day by day and performs the practices enjoined by them, and does not run away from their Satsang and eservice."
(Shiv Dayal Singh. "Sar Bachan Prose: Part 1, Section 40")
This is an interesting section – and one that may lend itself to misinterpretation. Some might read it and think Shiv Dayal Singh is denigrating family or education or respecting religious traditions. But that's not it. What Soamiji is saying here is that outer attachments and desires, by their very nature, draw your attention outside and keep it fixated there. This can impede your inner progress. This doesn't make outer things good or bad – it is a simple statement of fact about the nature of your attention. Note that he does not say abandon your family; just decrease your attachments to them. Does this mean you don't care about your wife, husband, children and parents? No – just that you shouldn't be addicted to them. Love your family and care for them, but also give them freedom to be who they are and live their lives without basing your happiness on their choices.
As far as pilgrimages go, there is nothing wrong with visiting holy sites and appreciating and honoring their traditions. These things can be very good. But you mustn't mistake visiting a holy site or respecting an image of a holy person with actual spiritual awakening, progress or status. The real holy site, the real pilgrimage is to the temple within, when you sit in calm, quiet supplication at the third eye and make yourself receptive to the LightSong of the Spiritual Current. In the same token, while you can gain great insight and guidance from masters and teachers who have come in the past, they are not the same as meeting and studying with a living, breathing human being who is soul and God-realized.
Regarding education and book learning: these are wonderful things – and I think learning to love reading is incredibly important. And reading can be hugely helpful in our spiritual growth and generating interest in our brains for the spiritual path. But you will not find spiritual awakening or wisdom in a book. Again, that comes from merging your attention with the Shabda Current.
Finally, a comment about the "Holy Feet". This may be an odd term in western culture, suggesting to some that Radhasoami Faith is about some weird foot worship ritual. I know it certainly threw me off at first. But what I came to understand is that the Holy Feet are a metaphor for the anchoring of God in the physical plane through ITs human expression. The head of God is in the Eternal Pure Positive God and Soul Worlds; ITs feet are on the physical plane. It's like my song,
"Slave to the Rhythm": Got my head up in Heaven, my feet are rocking the ground".
So "love for God's Holy Feet" means learning to love God in humanity. And by loving God in humanity, our love and attention is anchored in the here in now in a tangible expression of the Eternal. By learning to love the Divine we can see, our spiritual hearts are opened up and we are transported within to the Purely Spiritual Regions where we can love and embrace God in ITs eternal self. And that is a very very beautiful thing.
I hope this helps clarify things a bit.
Thank you . . . with Love,
Michael Turner
http://spiritualfreedomsatsang.org
8 TYPES OF BONDAGES ON THE SPIRITUAL PATH
"According to Vashisthaji the following are eight kinds of bondages:
1. pride of family superiority,
2. pride of high caste,
3. pride of official position,
4. fear of public opinion,
5. attachment to wife, children, wealth and possessions,
6. partiality for wrong beliefs and inferior religions,
7. hope and greed and desire for worldly pleasures, and
8. egotism.
(Shiv Dayal Singh. "Sar Bachan Prose: Part 1, Section 41")
Now this is an interesting section – and a bit challenging. Some of the bondages listed (e.g., egotism, pride, greed, etc.) are pretty obvious and are common character traits people of all backgrounds can agree are negative. But others – such as attachment to wife and children, or "wrong beliefs and inferior religions" – may be a bit more problematic. After all, are we not supposed to love and cherish our family? And who is he –or anyone – to say that this or that religion is "inferior". There can be some major buttons pushed here.
But here is what I hear Soamiji saying: When he talks about attachment to wife and children, he's not saying it's wrong to love them and be devoted to them. The message here is that, while we are devoted to our families we cannot let that devotion – that focus of our attention – crowd out or supersede our devotion to God. Rather, we need to make our devotion to our wives, husbands, children and the rest of our family an expression of our devotion to God and Spirit. In that way, our homes will be established upon a foundation of that which is Eternal. With God and Shabda as the bedrock of our existence, then not only will our lives flourish and be lifted up, but (as Nanak said) so will be the lives of those close to us and around us.
Now the other challenging point here is the statement about "inferior religions". I'm sure more than a few people have bristled at that when they have read
"Sar Bachan Radhasoami"
(especially if a friend has recommended the book for them to read). But let's look at the term from another angle. Inferior does not necessarily mean bad. It can simply mean that something is lower in height than something else. In Sant Mat terms it really boils down to the concept of the higher planes and lower planes of existence. What we call the "lower planes" are collectively the dimensions within the realm of mind, duality, emotion, cause and effect, karma, etc. This is simply their nature. The higher planes are above space, time, matter and energy. They have no duality or binary pulse. There is no up/down, black/white, love/hate. There is only Pure – Eternal – Divine – Love. This love is an is-ness that is pure awareness. IT always has been. IT always will be.
We are souls and particles of this Eternal Love Awareness who have been blessed by our Creator with self-awareness. And our spiritual goal is to take our attention within – above physical, astral, causal and mental body consciousness – and re-establish it in Soul and God. This is the foundation of the Surat Shabda teachings – and where Shiv Dayal's attention always was. So when he talks about being attached to "inferior religions" what he's really saying is that we should not be distracted or swayed by anything that is a product of mind and illusion and duality. Anything with a binary pulse is – by its very nature – an extension of mind.
And we need to go beyond that. When you learn to see with eyes of Soul, you will be able to view a topographical map of the lower worlds and see exactly where each philosophy and religion begins – what its foundation is. And the truth Shiv Dayal Singh is expressing will become radiantly clear.
So don't get hung up physical, emotional, causal or mental stuff – and don't focus your attention on philosophies that are based around these areas – or any other distraction such as pride, egotism, lust, attachment, etc. Keep your attention focused on Soul – Shabda – God. And the Wave of Divine Musical Lovelight will embrace you, lift you, and carry you Home.
In the LightSong of Eternal Love,
Have an Incredible Day!
Michael
http://spiritualfreedomsatsang.org
​
PART 1, SECTION 42
​RECOGNIZING A SANT
"The Mahatma whose service and association loosen and weaken the above bondages day by day and gradually develop love for, and faith in the Feet of the Supreme Being, will one day surely liberate a person from all the bondages and take him to the supreme abode. There is no other proper way to recognize a Sant or Sadh. It would be quite wrong and foolish on the part of anyone to seek confirmation of His greatness by comparing His conduct and traits with what is written in the books and to expect miracles or to test Him in any other way, for it is beyond the capacity of a mere human being with his myopic vision and limited intellect and understanding to fully appreciate His ways, wisdom and spiritual attainments. In the beginning what a devotee has got to do is just pick up what is conducive to his spiritual advancement, that is, he should try to understand a Sant or Sadh in accordance with the degree of enthusiasm and love with is created in him by His Darshan and Bachan. He should approach Him in an attitude of true humility and utter helplessness. He should not behave with vanity or cleverness, nor should he, with his limited knowledge, meddle in or criticize His ways and conduct. For, although some time Sants may appear to behave and act child-like, whatever They do is never devoid of the beneficial purpose, that is, the good of all. Man with his limited intelligence cannot possibly understand what is really good or bad for him. This is why many persons, due to their ignorance, seeing only the surface of things, feel distraught at the actions of a Sant and leave His Satsang."
This section is huge. While in the book it's one continuous paragraph, I have partitioned it to illustrate the points Soamiji is making.
Soamiji starts off by telling us the essential nature of Sants. Beyond the words of their Satsangs, it is their spiritual composition – the fact that they are open conduits for the Spiritual Current on this earth – that has an enormous impact on the life of the Satsangi. For by being in the physical proximity of a Sant, you are also in the proximity of a matrix of the Current ITSelf and that Current flows into you – and you absorb IT. The Current gets inside of you and begins cleansing you from the inside out – breaking up blockages, loosening long-ossified karmic debris. This is why the simple fact of associating with a Sant can, in and of itself, help facilitate your spiritual unfoldment and inner freedom.
I'm are not just talking about simple association with the Sant. You need to be spiritually open in their presence. Approach them and their Satsang with a love of God in your heart, and a deep, sincere desire to be a spiritually awakened person and to directly and personally know Soul and God.
From talking about what Sants do, Shiv Dayal Singh immediately cautions us not to judge Sants by our own criteria. We should not try to compare a contemporary Sant with Great Souls who have come in the past. Hagiography enhances the public persona of the past Sant or Master until they are elevated to a pedestal that is impossibly infallible and perfect (not to mention enhanced with a bevy of dramatic public miracles – a romantic standard with which no living human being (no matter how awakened) can possibly compete. In addition, they operate on an entirely different plane that many have no concept of – much less are able to relate to. Soamiji also makes it emphatically clear that you shouldn't ask or expect a Sant to perform miracles. This expectation of supersized parlor magic tricks is not what it's about.
From here, Soamiji moves on to explaining what he expects in a seekers and Satsangis. He starts by saying that you should take in as much spiritual food and information as you can process and digest. There is no point in gorging yourself on information and then going into overload. Take small steps while you become acquainted with the teachings and acclimated to the spiritual energy.
Then he says you should approach Sants in utter humility. Don't be arrogant or clever, or try to outsmart them or debate them. These attitudes and behaviors only make your more rigid and serve to constrict and eventually block the flow of the Spiritual Current through you. When you are humble, relaxed and receptive, the Current can flow through you more.
Following this lesson of humility, Soamiji once again cautions against being spiritual fashion critics of a true Sant. He says they may act in ways that are perhaps befuddling to many. I know that was true with Soamiji. He was more than a bit of an iconoclast – and many people found fault with him. The fact is, Soul and God-Conscious Sants by their very nature do not fit into predetermined molds. It just goes with the territory. We should not judge them, or aspire to be sophists and outwit them. We need to accept them, and humbly give them our love and devotion.
Love and devotion – humility and receptivity – while being with a Sant and communing with the Word – brings you into a relaxed state allowing you to be filled with the Spiritual Current. In doing so, the Shabda Current will lift you up and carry you within to the Eternal Kingdom of Heaven – Anami Lok - the Ocean of Love and Mercy.
Yours in the LightSong of Eternal Love,
Michael
http://spiritualfreedomsatsang.org
PART 1, SECTION 43
WHAT SANTS LOOK FOR IN SATSANGIS
"Sants do not approve of a great concourse of worldly people in their Satsang. They like to admit only those who are sincerely desirous of attaining the Supreme Abode. They abhor the company of those who are full of worldly desires. For this reason, they do not, as a rule, exhibit any supernatural power or show miracles, because these would attract a crowd of worldly people who would only constitute disturbing factors in their Satsang and in the performance of spiritual practices by their followers. Of course, those who appreciate Their discourses and accept Their teachings, do experience internal miracles, that is, see the light and effulgence of the Supreme Being. Sants always take internal interest in the wellbeing of their followers, and thus enable them to realize and appreciate Their miracles fully. All this strengthens the faith of devotees and develops their love day by day."
This section is a continuation of the last one. Here, Soamiji tells us who he likes to have at his Satsangs. Like every true Sant, Master and Friend, he only wants people who are sincere and genuinely want to go Home – to get back to the Garden of Eternity. People who are looking for financial success or to fulfill other worldly desires need not apply.
He extends this furthur to include miracle seekers. For these people are little different from folks visiting a carnival who want to see a magic sideshow. The immediate image that comes to mind is the fellow playing King Herod in "Jesus Christ Superstar". In his musical number, Herod goads Jesus to perform some sort of miracle show for his (Herod's) amusement. He tells Jesus that if he jumps through hoops and performs miracles on command (
"Feed my household with this bread. You can do it on your head!"
) – like a trained circus dog – then that will prove to Herod that Jesus really is the son of God, and Herod will then set him free.
But that's not how it works. And Soamiji has no interest in such trivialities. Not only do overt, public miracles cheapen the message; they also attract sightseers and people who are looking for momentary amusement, and who have no interest in real spirituality or spiritual growth – and certainly no interest in knowing Soul and God, or having the genuine humility and receptivity required to truly follow this path of Surat Shabda.
Soamiji finishes this section by noting that while public miracles – and miracle seeking – are frowned upon and considered almost antithetical to the path, inner miracles are another matter altogether. For a true Surat Shabda Sant provides their Satsangis with a true inner miracle. They meet the initiate within – as Gurudev in the Soul body – and help them make the journey via the Shabda Current home to God. As Gurudev, they are with the initiate every step of the way – through the dual worlds and into the Pure Positive God Worlds – as both a spiritual mentor and a true Friend. And they never rest until the initiate's consciousness is firmly established in Soul and God. This gift of spiritual friendship – and the resulting blossoming into Soul Awareness, God-Realization and Spiritual Freedom in this lifetime – is the greatest miracle anyone could ask for.
Have a beautiful, beautiful evening.
Yours always in the LightSong of Eternal Love,
Michael
PART 1, SECTION 44
SATSANG AND THE POOR
"When Sants establish Satsang in a general way, beggars and needy persons, also, often find access there. They are allowed to come there, so that the offerings of material things, money, etc., made by ardent devotees may be distributed amongst them, as Sants do not utilize these things themselves."
This is an interesting section – only two sentences. On one level, it's simply about making Satsang open to people in need. This, in and of itself, is very important. For it is good to help the poor. As Jesus once said, "what you do unto the least of my children, you do unto me". We need to do what we can to assist our brothers and sisters in need. And if they come to Satsang hungry, feed them – give them comfort and spiritual love.
But there is a deeper meaning as well; and the key is in the last portion of sentence two:
"Sants do not utilize these things themselves"
. Satsang is not for the Sant – it's not for the Teacher. It's not about having a flock of students of disciples showering the Teacher with gifts and adoration. It's for the seekers and initiates. It's here for them to hear the outer words of the Sant as he or she gives discourse on spiritual matters. And, more importantly, it is here for them to be in the proximity of the Shabda Current – the Holy Spirit – flowing through the Teacher. For those who come to Satsang in the spirit of humility and receptivity, the Spiritual Current will flow through the Teacher and into them and, by ITs very nature, lift them up above body consciousness into the Ringing Radiance within. And – going back to our first point about the poor – when the Shabda flows through us and lifts us up, we in turn lift others in the Satsang up as well. And that is a very beautiful thing.
All my love and blessings in the LightSong Eternal,
Michael
PART 1, SECTION 45
SATSANG AS A SELF-FILTERING MECHANISM
"Whenever Sants, by Supreme Mauj, establish their Satsang, They deliberately introduce a few such unconventional ways as annoy the worldly minded and provoke them to make adverse criticism and taunts and thus prevent them and other conceited persons from crowding and meddling in Satsang. Sants do not employ any watchmen or guards to discriminate as to who is a true seeker and who is not and to enforce restrictions accordingly. The very calumnies and evil reports spread by the worldly and conceited people, serve the purpose of watchmen and guards and keep them away so that they do not go in Their Satsang out of fear of public ridicule and taunts. As a result, only such persons as are really desirous of attaining true and perfect salvation go there, defying the threat and taunts of the world. Besides, ridicule and jeers by the worldly people are a sort of test for enthusiasts and real seekers, for it at once makes it clear whether a person is a true Parmarthi or not; one who is true and sincere will, without being afraid of good or evil opinion of the world or jeers of the ignorant, attend the Satsang to achieve his real object, that is, that is, Parmarth. Those who are not sincere seekers will themselves stay away."
I like this section. In it, Soamiji basically says he deliberately pushes people's buttons as a self-screening mechanism. Even more than testing Satsangi's devotion by seeing if they can handle being ridiculed for their devotion, he sets out to see if people even qualify to be Satsangis, or if they are simply into the path for superficial reasons like taking it to be the latest spiritual fad. Of course, anybody who has sincerely studied Surat Shabda for any length of time knows that is not even remotely the case. Fads, like fashions and diets, come and go with the seasons. But the path of Naam endures. Why? Because Naam endures. Naam is eternal. Naam is the bedrock of our existence. Naam is the very fabric of reality, making up not only everything we see and hear, but even space itself. Naam is as real as it gets.
But not everyone is looking for reality. Lots of folks are just spiritual window shopping – checking out this path or that, this technique or that – wanting to know what's in it for them, or how it can entertain them. It's really just a variation on the miracle seekers I talked about a little while back.
So Soamiji deals with the superficial spiritual window shoppers by finding ways to push their buttons to make they want to stay away from Satsang. He doesn't go so far as to harangue them as Kabir once did and make them angry and hostile towards Satsang. He just wants them to think "This is definitely not for me" – and stay away on their own volition.
In a sense, it's like the years I spent going to Grateful Dead shows. For a long time, they weren't on the popular music radar. And that was just fine my most of us Deadheads. We had small bands of like-minded friends in cities around the country, and when the band came to town we would go and dance and melt into the music and let the music play the band – and us. It went on that way for years. It was like an inside joke – either you got it, or you didn't. For those who had ears to hear the inner music and hearts to feel the depth of the poetry, it was a transcendent experience. For most other people it was just too weird. The vocals weren't perfect – the band could be sloppy at times – and the music could often be much too strange for the uninitiated to handle (someone once called it "the call of the weird"). So, like Soamiji is saying here, the band had a self-filtering mechanism. Either you liked it, or you didn't. And, as far as the Deadhead scene went, that was a good thing – because the people who went to shows were there for the music. It wasn't so much as a social gathering as it was a group devotion to the Music playing the band.
Then, in the 1980's, the Grateful Dead got a hit single – "Touch of Grey" – and suddenly the crowds mushroomed. Lots of people showed up to hear the hit song, and others showed up because it was supposed to be a great party. Either way, we started having lots of people at shows who were there to party and socialize, and not focus on the music – who even spent most of the shows talking (loudly) to their friends. And to top it off, these peripheral partying hangers on started causing problems, which required increased band venue security and police presence. This degraded the scene significantly. Those of us who were devoted to the music still went to shows, but it wasn't the same. I remember I kept hoping the band would get extra strange again, just to weed out the fashion heads. But it was not to be.
So this is how I see Soamiji's comment about deliberately annoying the "worldly minded". It's about finding ways for Satsang to be just strange enough – just different enough – that it makes people who are not true seekers and devotees disinclined to attend. Soamiji wants them to say, in effect
, "Go if you want to and have fun. But it's definitely not my thing".
Now, as I see it, Surat Shabda is a graduate course in Soul awareness, God-realization, working off our karma and attaining spiritual freedom in this lifetime. If that's not what you are seeking – no problem. There are a lot of things you can learn elsewhere. But if Soul Awakening, God Realization and Spiritual Freedom are what you want in your heart of hearts, I will welcome you to Satsang with open arms.
All my Blessings in the LightSong of Eternal Love,
Michael
PART 1, SECTION 46
ON SPIRITUAL PIETY, VANITY AND HYPOCRISY
"Just look at what people do in the world. Since they hold the world dear, they do not hesitate to go anywhere to achieve their worldly purpose, nor do they feel any sense of shame in humbling themselves at such places. For instance, Brahmans would give their services to persons of other castes, and have no scruples in even knocking at the door of a sweeper to seek cure for sickness in the family; and many of high caste, in utter disregard of their own faith and deity, go to, and worship, the tombs of Sheikh Saddo and Saiyads and invoke ghosts and evil spirits. When worldly people for the love of worldly objects, have such scant regard for their own Dharam
(religion)
and Karam
(duty)
and are not afraid of thus causing harm to life hereafter, how can the seekers of the Supreme Father expect to be considered as earnest and sincere, if they are scared away from attending the Darbar of Sants, being afraid of a little calumny and taunts of the ignorant? All this clearly shows that their desire for true Parmarth is not sincere. They have not yet had enough experience of ups and downs of life to realize that the world is their enemy and to adopt means to get away from it. The thirst for the Darshan of the Supreme Being is not so intense as to enable them to scoff at public opinion and the upbraidings of the world. Such persons are not fit for the Satsang of Sants, because they do not earnestly desire to go in the presence of Sants with humility to get remedy for their ailments."
Parmarth
– The highest or most sublime Truth, true spiritual knowledge, knowledge about the Supreme Being
Darbar
– Home
Saiyads
– Moslem princes said to be of the line of Mohammed through his daughter Fatima
This is a section that could be a challenge to some. On the surface, it almost looks like Soamiji is criticizing upper caste Hindus for associating from people of a lower caste – or even implying that other faiths – such as Islam – are inferior to traditional Indian faith. But that would misreading the real message.
Getting beyond the surface criticisms and some cultural and terminology references, the real message here is about hypocrisy and false piety. He lays out the Brahmins for looking down their noses on other castes – except when they need their assistance. Then their caste pride and religious vanity go out the window. They may skulk around in the "lower caste" neighborhoods – like the king in Shrek 2 wearing a cloak to hide his features when he sneaks into the seedy bar looking for Puss in Boots – hoping no one will see them. But their pride and hypocrisy betrays them to themselves and to God. They make a great show of their religious superiority – but are brought low by their own actions.
Soamiji was perhaps more critical of this behavior than any other and – like such luminaries as Kabir and Christ – had no use for such people. And I concur. Our spiritual standing is not something for public display. It's not a feather in our cap. Indeed, to preen and pose and assert ourselves as being more "spiritual" than another is one of the surest ways to fall flat on our faces and find the gates of heaven barred to us through our own attitude.
Sadly, I have found spiritual vanity present even in some members of Surat Shabda groups. They think themselves superior to other faiths or belief systems by virtue of being Shabda initiates. Or they think their diet makes them more holy. Indeed, it is dietary vanity that led me personally to forgo a strict vegetarian diet. The utter hubris I have seen in some people thinking that their diet was essential to finding God – and that people who eat meat are less spiritual and cannot know God – was absolutely appalling. My mother enjoys a good mesquite grilled steak and prime rib. And yet she is as devout a Christian as you will ever find and loves God with all of her heart, soul and strength. Her faith in God, Christ and the Holy Spirit is absolute, and will transport her past the veil of death and into the loving arms of the Father. Of this I have no doubt whatsoever.
For this reason, I let my students make their own dietary and lifestyle decisions. I'm not into micromanaging your lives. I have better things to do – like raise my son. That is also why I don't put myself on some spiritual or moral pedestal. I am human, and I have human faults. That's just part of living here. And every day I meditate and do my very best to be a kind and loving father, a good friend, and a kind and ethical person with everyone I meet. So long as you are devoted to Shabda and God, put in solid meditation practice every day, and to your best to be a good person, you are doing fine. As you gradually unfold you will find that Shabda will nudge you in this direction or that to fine tune your life and bring you into greater harmony with its resonant harmonic of Pure, Eternal Love.
Yours in the LightSong of Eternal Love,
Michael
PART 1, SECTION 47
TAUNTS, SLANDER & WORLDLY GURUS
"Taunts, reproaches and vilification also strengthen and reform the followers of Sants, as without them they, too, would remain as they are. Derision and public opprobrium are the necessary concomitants of true love and nobody can ignore them fearlessly excepting sincere devotees, that is, true lovers. In Persian it has been said: 'Slander is the Kotwal (watchman) of the market of love; it cleans love of all its rust and brightens it up.' A worldly guru is very friendly to the world and worldly people. He holds them in great esteem and tries to please them in every way, and is ever solicitous about their worldly welfare and advancement and is careful not to offend them. All this he does to promote his own ends and to keep going the means of his livelihood. On the contrary, Sants who are true and perfect lovers of the Supreme Being desire that the worldly people may not meddle in their Satsang, nor cast their evil influences on their followers. That is why Sants welcome slander, as it serves the purpose of a guardsman and keeps the worldly minded away from Satsang."
(Shiv Dayal Singh: "Sar Bachan Prose: Part 1, Section 47")
This is an interesting passage. On one level, one might interpret to mean you need to be a social outcast to be truly spiritual. This, in light of events in the past few decades, may seem a bit exclusivist, and even cultic (e.g.,
"We are the select few and will associate only with each other – the rest of you are going to hell.
")
But what Shiv Dayal Singh is really saying (to me at least) is that it's okay to have people make fun of you. In fact, ridicule and condemnation can be a spiritual test in that it lets you see how centered you are in the Spiritual Current of Naam, and how easy it is to knock you off your center. You need to be so centered and grounded in the Spiritual Current that nothing affects you. All that exists is Shabda, Soul and God. Everything else is just phenomena, just stuff.
A well-known story about dealing with derision and temptation by staying centered in God is Jesus' encounter with the negative power (Satan or Kal) in the wilderness. He is tempted and mocked by Satan – yet his devotion to and immersion in God and the Holy Spirit does not waver one iota. Nothing can shake you when your core is centered in the Eternal. And this is a beautiful thing.
Now the second part of this section concerns worldly gurus versus Sants. A cursory glance might lead you to think Soamiji is attacking the world as a whole and saying it must be avoided at all cost. But that would be a superficial take on his message. The key here is that these worldly gurus are teachers whose primary focus is upon this world, and attaining wealth and status in this world. These gurus simply preen and pose and offer trifles like keys to material prosperity and success, or good health. Such advice is often welcomed by people who are unhappy with their lives, struggling with finances or relationships, in bad health, etc. And some people will pay a lot of money to learn the "secrets" offered by a guru in this regard – thereby, if nothing else, becoming a key to the
guru's
prosperity.
But, to me, that's not what real spirituality is all about. I believe that true spirituality is personally knowing yourself as Soul, directly experiencing God and achieving spiritual freedom in this lifetime. When Soamiji says "Sants welcome slander", he is stating in his own way what true teachers have thought, but not always said, for ages: it is better to have a handful of students who are sincere in their meditation and devotion to God than a thousand who are there just because it's popular or fashionable. Having a plethora of people pulling at you for temporal success, financial assistance and happiness (or asking for past life readings, aura readings, etc.) is incredibly draining, and serves little purpose.
So at times Spiritual Teachers will look for ways of weeding out the faux followers in order to give space for true students to grow and flourish. And if having fashionistas mad at you and slandering you helps keep the non-serious seekers away, so much the better.
And with that, let's close today's Satsang with HU, a love song to God, and begin our meditation.
Yours Always in the LightSong of Eternal Love,
Michael
http://spiritualfreedomsatsang.org
​
PART 1, SECTION 48
OPINIONS & PRECONCEPTIONS GET IN THE WAY
"It may be mentioned that whenever anybody goes in the holy presence of Sants, They, as a rule, discourse about the absolute and eternal truth, that is, Sat Purush Radhasoami Dayal, and declare all others as unstable and of lower status. Ignorant and stupid people construe this as vilification of gods, incarnations and prophets. They do not pause to reflect that if Sants speak lightly of Brahma, Vishnu, Mahadeo (Shiva), gods, incarnations and prophets, then whom do They extol and proclaim as the highest. If Sants glorify Sat Purush and Param Purush Puran Dhani Radhasoami, it should be accepted, for to applaud Him who is the Highest and the Master of all and to engender faith and love in his Feet and teach His worship, is of vital importance and must appropriate because no redemption is possible otherwise. It should, therefore, be realized, how shameful it is to feel annoyed at hearing the glorification of the Supreme Being and, not understanding the real meaning through ignorance and without appreciating the teachings of Sants, to belittle Them and to call Them slanderers."
This is a great passage. Again, it has a surface impression of Soamiji insulting those who disagree or find fault with him in how he describes some of Hinduism's revered deities (e.g., Brahma, Vishnu and Shiva), or even insulting the deities themselves. But again, underneath the outer shell, there is golden truth about the essence of this Path. For Surat Shabda is not about attaining astral or causal, or even mental, realization. The focus of Surat Shabda is on Shabda, Soul and the Lord of the Pure Positive God Worlds, which expresses ITSelf in soul form as Sat Purush and in ITs ultimate form as Radhasoami.
As such, these teachings barely concern themselves with the deities of the Astral (Sahas-dal-Kanwal), Causal (Brahmanda) and Mental (Par Brahm) regions. And when Soamiji describes them as, essentially, "lower deities" it's not so much a value judgment as it is simply describing the plane they exist on – with no more emotional volatility than relating what can be found on various floors of a department store. Are linens, housewares, clothing, appliances and electronics inferior to home furnishings? Not at all. They're on different levels of the store.
This is the attitude we learn to have as we unfold into Soul consciousness. When we see from the perspective of Soul, all of the dual worlds stand out in relief like a cosmic topographical map. With a glance we know the nature of a philosophy, its primary tenets and what aspects of the self (i.e., emotional, causal, mental) of the self it speaks to or activates. We also know both its point of origin and its trajectory from that point (e.g., where it will lead you).
In making these observations, we regard them with neither emotional judgment and antipathy nor pious mental distain. We simply take note of the information. This can be of use when navigating the dual regions, as well as in learning to help others do so. Indeed, by knowing the temporal obstacle course of emotions, memories, thoughts and subconscious desires, we can learn to anticipate where issues and challenges might arise and (rather like playing a video game) avoid or neutralize them so their potential challenges dissipate like the morning fog.
Again, the primary focus is always on going for the one of the non-dualistic, Pure Positive God Worlds – staying focused at all times upon Soul, Shabda, Gurudev and God. It is essential to understand this and make it part of the foundation of your spiritual growth. The day will come when you see through the eyes of Soul, and you will know. And it will be like you have always known it, and cannot remember a time you have not known it. You will be gently, calmly amazed – and your amazement will be amazed.
Let's take some time now for meditation. May Soamiji's wisdom illumine your meditation, brighten your day and awaken your dreams.
Thank you….with love.
In the LightSong of Eternal Love,
Michael
PART 1, SECTION 49
BRAHMA, VISHNU & SHIVA ARE TEMPORAL
"The various religious books, e.g., Veda, Shastra, Bhagwat, Puran, etc. have mentioned the span of lives of Brahma, Vishnu, Shiva and other gods. Incarnations too, came and left the world, which clearly establishes the mortal nature of their bodily forms and those of Brahma, Vishnu and Mahadeo
(Shiva)
. Since their own bodily forms were perishable, how can their images be imperishable and fit objects of faith and worship? Of course, people would have derived some slight benefit if they had learnt the secrets of Nij Rup (real form) of these very incarnations and gods and worshipped and contemplated them. But absolutely nothing can be achieved by the worship of idols. It is plain, therefore, how mistaken the masses are and if Sants try to enlighten them, They are called slanderers by them, more particularly, by the professionals such as Pandits and Bhekhs (anchorites and ascetics)."
In this section Shiv Dayal Singh elaborates on an aspect of the traditional Hindu trinity and its incarnations (e.g., Krishna, Ram, etc.) that seems to be often overlooked: the temporality of not only the incarnations but the gods as well. This temporal, transitory nature of even the Hindu trinity is something that Kabir addressed at length in the
"Anurag Sagar"
. It didn't exactly endear Kabir to the local priests and pundits, and Soamiji took a lot of heat in his time for saying such things as well. For this is a rather subversive thing they are saying. By recognizing that these deities are temporal, Soamiji is implying that they are not really God – for God is eternal. From here, one could reasonably ask oneself what the point is in revering these deities in the first place, if they are just intermediary figures, and temporal ones at that. Is it not better to focus your attention upon that which is eternal?
After undermining the very foundation of a major portion of cosmology, Soamiji takes his logic one step further. If both deities and incarnations – however evolved – are still temporal (and, ergo, fallible), what does that make idols? If it is pointless to devote your attention to a temporal and fallible being, then is it not less than pointless to devote your attention to an inanimate object?
Now in this passage, Soamiji is essentially referring to clay and stone idols made of the various deities and incarnations. But really anything can be your idol (cars, property, houses, anything really). I'm not going to go on an anti-consumerist rant here. But it's good to remind yourself that inanimate objects – while they might bring joy – remain inanimate and you must put them in their proper perspective. Enjoy them, but don't make them the primary focus of your attention and devotion. Above and beyond all else, keep your attention focused upon that which is Eternally True, and Truly Eternal: Soul, Naam and God – the Eternal One.
When you meditate today, please keep the Eternal as your theme. Allow IT to fill you and gently bring your attention into greater focus, clarity and perspective, and fill your heart with ITs Love.
All my Blessings in the LightSong of Eternal Love,
Michael
PART 1, SECTION 50
MAKE THE HIGHEST STAGE OF HEAVEN & SOUL YOUR GOAL
"Those who claim that they contemplate the real forms of incarnations and aim at the regions from which they emanate are right. Even then, they should ponder why they should not, instead of the above, aim at the highest region, which is the source of all the lower regions from which the real forms of the incarnations emanated. The necessary efforts and the method of worship, in both the cases are the same, but there is a great difference in the benefits and results. It is, therefore, desirable to adopt the 'Isht' and worship of the highest stage. Sants adore the master of this highest stage and direct others also to do the same. It does not, however, mean enmity and opposition to the presiding deities of the lower stages. On the other hand, followers of Sat Purush Radhasoami will also have to accept and revere all the deities through whose regions they must pass in their journey to the highest stage. Prior, however, to undertaking this journey it is necessary to fix the 'Isht' and goal at the highest stage and to understand clearly the distinctive features of the various intervening stages. The reason is that there are many in this world who confound and lead astray by talking glibly of God, Parmeshwar, Parmatma, Brahm, Par-Brahm, Shuddh Brahm and Satnam and who are not sufficiently equipped even with the theoretical knowledge of these nor the details of the intervening regions. They are in confusion, not knowing as to which presiding deity they refer to as Brahm, God and Satnam. Therefore, Sants were pleased to give our to seekers the secrets of the various stages in the first instance. Thereafter, They enjoined on them the 'Isht' of Sat Purush Radhasoami, the highest and the ultimate goal, and then initiated them in the mode of spiritual practices. The devotee can thus reach the goal and also know the distinctive features and realities of all the intervening stages. He is to commence practice after he has got a correct notion of his true and supreme Master and acquired as much knowledge about Him as is possible to do here. If he is not initiated into the mysteries and equipped with adequate knowledge and understanding, he will not have genuine and abiding faith in the Feet of the Supreme Being, nor will he acquire impetus to go up to the highest stage. He will be beguiled and held up at any intermediate stage."
(Shiv Dayal Singh. "Sar Bachan Prose: Part 1, Section 50")
In Section 50, Shiv Dayal Singh picks up right where he left off in 49. He starts by noting that it can in fact be beneficial to tap into the source regions from which incarnations and deities emanate But then he follows this by asking, "If you're going to go inside to see the inner regions, why not aim for the highest one?".
Now, as I mentioned in Part 49, when Soamiji is describing various deities as being temporal – in a sense mortal – and not inhabiting the highest spiritual regions, he's not being critical or disrespectful. He's simply laying out the topography of the dual worlds in order to give you an idea of what you may encounter.
And here, he carries it further and explains how, even though dual world deities are temporal, they are still the gods of their regions and it is important to them respect. This is why you mentally repeat the Holy Names while doing Simran. It is your way of paying respect to the presiding deity of each inner region. In turn, they appreciate that respect, and provide you safe passage through their region and up into the next one.
Soamiji also notes a side benefit in that paying respect and homage to the intermediary deities helps you become acquainted with their respective regions, which can be of great help in your spiritual education. You will learn the attributes of each region, how one relates to and interacts with the next, how they all relate to each other, and their place in the greater cosmology. The beauty of this is you will gain a comprehensive knowledge of these intermediary regions. This knowledge becomes understanding as you look down from the mountaintop of the Sat Lok – the Soul Plane – and see the entire topography of the dual regions.
Once you do this, once you are established in Sat Lok and see through the eyes of soul, the nature of the intermediary planes becomes crystal clear and you will instantly understand how and why they are not the ultimate reality or goal. And, conversely, your experience, knowledge and understanding of the intermediary planes will help you appreciate Sat Lok and Soul awareness more. In addition, it will bestow upon you the experience and wisdom needed to navigate the dual regions over and over again – as well as be able to help others to do the same.
But for all I can write about this, it is but a pale shadow compared with the wisdom and spiritual depth of Shiv Dayal Singh – Soamiji Dayal. He is a Saint among saints, a Master among masters. And I am beyond grateful for His love and guidance.
May Soamiji's words and wisdom fill your meditations and your dreams. May he appear in your inner vision radiant and beautiful – showering you with His wisdom and love, and lifting you up into His heart of hearts – the Ocean of Love and Mercy.
All my Love in the LightSong Eternal,
Michael
http://spiritualfreedomsatsang.org
​
PART 1, SECTION 51
PILGRIMAGES & WORSHIPPING INCARNATIONS
"Regarding incarnations and various deities not being the Supreme Being, it is enough to observe that they appeared after the creation, some in Treta Yuga and others in Dwapar Yuga
(the silver age and the bronze age, respectively - mt)
. The question arises as to who it was whom people worshipped before all these appeared and though whom they attained their salvation in Sat Yuga (the golden age). It was 'Hirnayagarbha', that is, 'Pranav' and 'Omkar' whose worship was prevalent then and the same is referred to in Upanishads. What is then the reason that people gave up this worship and took to pilgrimages and idol worship? Ganges, too, appeared in the time of Bhagirath and did not exist before. Then which pilgrimage was recognized at that time? The fact is that all the present forms of worship were introduced in Treta, Dwarpar and Kali Yugas. Really speaking, the Supreme Being alone is to be worshipped and this form of worship, according to the religion of Sants, everybody can accept and practice. Worship of incarnations and prophets will be current in the countries where they were born. Elsewhere they are neither known nor worshipped."
(Shiv Dayal Singh. "Sar Bachan Prose: Part 1, Section 51")
This is an interesting passage. In some ways, it's more a commentary on the history of religion. Soamiji raises an interesting point. Many people lived before certain incarnations and spiritual teachers (e.g., Krishna, Ram, Buddha, Christ) lived. Who did they go to to find God? In the same token, there was a time (and souls existed) before Vishnu, Brahma and Shiva existed. Who did souls turn to then?
Soamiji doesn't exactly answer this question. Rather he uses it to make – and reinforce – the point that all of the intermediary Gods and incarnations are temporal. There was a time when they were not – yet souls existed and took on various bodies. There was a time when there was no Ganges River, and none of the places of pilgrimage (you can include here Mecca, Jerusalem, Medina, Agra, etc.) existed. And in many cases, incarnations revered in one culture may be largely unknown in another.
Yet regardless of the time, people have worshipped God, and many communed with the Word to do so. As long as there have been human beings – indeed, as long as there have been souls – we have communed with the Word. This path of Shabda predates all temporal gods, incarnations and religions. For it is premised upon simply harmonizing ourselves with the return Current of the Audible Life Stream. Since the dawn of creation of all the lower universes – and even the maha yugas before then – souls have been following the Wave of Eternal Life and Love back Home.
As Soamiji notes – as have all Surat Shabda Masters, past and present – this is a form of worship that anyone and everyone can accept and practice, regardless of your culture, religious ties and saints you revere. It is the easy yoga –
"Sahaj Yoga",
as Kirpal Singh used to say. It doesn't require any arcane rituals or physical postures or breathing techniques. It is something every living person – young and old, healthy and sick – can practice at any time.
The Shabda Current doesn't judge us. IT doesn't have any rules or regulations. IT simply flows Home. And any and all who wish to, can relax, let go, and float Home with IT. You can do it right now. That is God's gift to us, and an expression of how God loves us, unconditionally and unequivocally. And that is a very, very beautiful gift indeed!
All my Blessings in the LightSong of Eternal Love,
Michael
http://spiritualfreedomsatsang.orgPART 1, SECTION 52LIVING TEACHERS, & THOSE WHO HAVE COME IN THE PAST
"There was nothing wrong if incarnations and prophets called the respective regions of their origin as supreme or proclaimed themselves as ambassadors and beloved of the masters of those regions and hence inculcated faith in people for themselves and enjoined their own Isht (reverence or worship). But they could redeem only those who lived during their regime and they made them attain salvation up to the other region from which themselves had come (e.g., you can only take people as far as you yourself have gone – mt). Others who joined their religion after they were gone, were merely blind followers of their names, but there was no purification of their physical and mental conditions. This sort of faith can never bring about redemption. This applies to the followers of a Sant as well. Those who came in His presence, performed His Sewa (service) and Bhakti (devotion) and received initiation from Him became certainly entitled to salvation. But those who came after His departure and only formally adopted His faith, and did not seek and find the perfect Sant (one who has attained the purely spiritual regions of Sat Purush Radhasoami) or Sadh (one who has attained the top of the Second Grand Division – Brahmand) of their time, nor performed the spiritual practices prescribed by Sants, could not be eligible for redemption like the followers of other faiths. If, like the followers of other religions, the followers of a Sant were simply to devote themselves to the worship of Samadhs (shrines), Jhandas (banners), Granths (holy books), etc. and not to acquiring knowledge of His Nij Rup (true spiritual form), region, path and mode of worship, they would remain entangled in the superficial forms of worship and rituals and will not be liberated. A real follower of a Sant is he who performs spiritual practices under His guidance and after traversing the intervening regions, reaches the region of Sat Purush Radhasoami, or has commenced his journey on the path. He shall certainly achieve true redemption one day. In short, one who considers that a mere formal worship of bygone Mahatmas, incarnations or prophets is the real religion, shall never attain salvation."
In this section Soamiji Dayal presents another one of the cornerstones of Surat Shabda: the need for a living Teacher. In doing so, he starts right off by honoring
"incarnations and prophets"
from around the world who have come in the past. And he further states that those who were fortunate to meet these great souls in this world could be blessed with initiation by the Teacher and taken to as high a level as that particular Teacher had reached. Right here there is a key concept: a teacher can only take you to where he or she has been. If a teacher has made it to the Astral Plane (Sahas-dal-Kanwal), that is as far as they will take you. If they have made it to Brahmanda, same thing.
Now while Soamiji does not disparage these intermediary regions, and gurus who have advanced that far, He does recommend that seekers after true spirituality should seek the counsel and guidance of at least a Sadh. A Sadh is one who has made it to the top of
Brahmand
– the second grand division – and has moved from the material/ spiritual regions (where there is more matter and illusion than Spirit) to the spiritual/ material regions (where Spirit is predominant over illusion and matter). Anyone who has broken through the Second Grand Division and dwells in the spiritual/material regions is to be commended. For getting past
Sahas-dal-Kanwal
and
Brahmand
(Astral and Causal) is no easy task, and the majority of yogis, sadhus, prophets, gurus and mystics of any generation only make it as far as these two realms, and there they stop and believe they have attained the highest level of heaven and consciousness. But one who penetrates these two and emerges into Par Brahm immediately understands that there are much higher regions than the first two, and higher deities than Jyoti Niranjan, Jehovah, Brahma, Vishnu and Shiva, and Brahmand.
Of course, while it is good to have at least a living Sadh to guide you, it is even more preferable to have a living
Sant
. A Sant is one who has traversed all of the intermediary, dual regions, and emerged into the Soul Plane (aka Sat Lok, Sat Desh and Sach Khand). And as we learned in the first part of this lesson, since Soul longs to go Home, to return to Its source (Sat Desh), it really wants to have – if at all possible – a Teacher who can take It all the way there – a Sant (aka Sat Guru). And, in addition to the inner guidance of such a great soul, there is the added benefit of by simply being in the proximity of such a being, the consciousness is automatically brought into proximity with Soul and Sat Desh.
Now this brings us to Soamiji's second point – the need for a
living
Sat Guru. As he notes, it is no denigration to those Sants and incarnations who have come in the past to say you need a living Teacher to be initiated and get back to where you once belonged. It's simply the nature of the game. Human beings need to be initiated by another human being – and one who is fully actualized in all their bodies (physical, astral, causal, mental, etheric and Soul) in order for the linkup with the Shabda to be complete. The Living Sat Guru is a human capacitor (and you might say grounding wire) for the Current. By virtue of being a living human being, they have all of their bodies – including physical – in harmony and alignment with the Shabda Current and God. They are living human instruments of God-in-Expression.
In addition to being awakened instruments of Shabda who can initiate you into Shabda, Living Sat Gurus serve another purpose. They are living – here and now – to help guide you and teach you. As Kirpal Singh and Charan Singh used to say,
"man needs man to understand"
. What this means is that we need a living human teacher while we are in the human form to teach us and guide us. We can ask them questions which they can answer. They can monitor our progress and offer us direct feedback. It's rather like having a living guitar teacher rather than rely on a book, CD or DVD. True, you can learn a lot from other media – and from past teachers. But they still can't replace having a living human being right there to teach you chords and help you position your fingers
just so
. One could also make a comparison with, say, a living Tai Chi teacher. Again, books and videos can be helpful. But nothing can replace your teacher looking at you, walking around you, and helping you adjust your stance and posture to make it that much more effective.
In addition, Living Sat Gurus can – and do – express the teachings in the context and culture of their times. They keep the timeless teachings fresh, alive and current. And, as I said, they can answer your questions. You don't have to rely on yourself – or someone else – interpreting a holy book or passage in a holy book. The Teacher is right here, right now, to respond to your queries, and clarify any principles that you may not fully understand. Why have a priest, minister, rabbi or pir tell you what they interpret scripture to mean, when you have one living – here and now – who can not only interpret what a passage means, but can also – being Self and God-realized themselves – serve as a living, human embodiment of spiritual truth, living scripture in action you might say. And at the same time, having a living Teacher can make your readings of past Masters (which I highly recommend for study and to honor those great souls) come alive.
Finally, the Living , God-realized Teacher is also able to meet you within, in the Soul Body (aka Atma Swarup or Nij Rup), help you traverse the obstacles and challenges of the intermediary, dual worlds, and accompany you Home to the Soul Worlds and God Worlds. And after such a journey, their human form can clear up any questions your human form may have. In addition, in doing this, they may at times introduce you to great souls who have come in the past, so that you might learn from them – souls like Christ, Moses and Mohammed, Kabir, Nanak and Rumi, Shiv Dayal Singh, Sawan Singh, Charan Singh and Kirpal Singh, not to mention in the west Paul Twitchell and Darwin Gross. The Living Sat Guru can introduce you to some of these souls, and confirm their bona fides. Because, without the assistance of a living human Sat Guru, if you believe you have had an experience with, say, Christ, how can you know it was real? How do you know that the being presenting Itself as Christ really is Christ? Do they offer a business card with a number you can call for their credentials? Of course not. But the Living Sat Guru can and will introduce you, and their very presence confirms the credibility of the nonphysical Master who has come in the past. This is a very nice side benefit.
But, most important of all, the Living Sat Guru is your living Friend. He is here for you right now. His love is constant and his friendship unwavering. This is God's gift to you.
I think this is a good place to stop. Take a few minutes now to read, and reread, both this discourse and Soamiji's wisdom in Part 52. And then, with a loving, grateful and humble heart, take this love and wisdom inside you. Bring it into your meditation and make it a part of you, part of the foundation of your very being.
Have a beautiful evening!
Yours in the LightSong of Eternal Love,
Michael
PART 1, SECTION 53
FIND A LIVING SHABDA TEACHER
A true seeker should find out the perfect Saint (aka Sant) or Sadh of his own time, and he should then go to this perfect Guru wherever He might be. He should understand that the worship of the living Guru implies the worship of all past incarnations, sages, Saints or gods. He must then offer love and whole-hearted devotion to the living Master, and achieve his objective through Him. Past kings, however just and munificent they may have been, cannot now bestow wealth, power or rank up on us if we sing their praises or extol their deeds. If we want these things, we must seek them from a reigning sovereign, otherwise we shall get nothing but confusion and perturbration. Maulvi Rum
(Rumi)
says, 'When you accept the 'Murshid' (Sat Guru), that includes both, God and prophet.' That is, there is no difference between God and the Perfect Sat Guru, and that the Murshid of the Sat Guru includes God and the incarnations. If one is keen on God Realization, he should look for a Sat Guru among the Saints and Faqirs
(Islamic Saints)
. It is not necessary that the Saints should wear colored robes. Those who have reached Sat Lok and realized their True Maker are called Saints, whether they live in a family or a life or renunciation. They may be Brahmans, or belong to any other caste. You cannot see the Lord anywhere in the world except within yourself, or within a perfect Sadh or Saint Who is the natural Guru of the whole world, and the seeker will see God only in these two places. He will find no sign of God in any image, sacred place or temple, in fasts or in all the four places of pilgrimage. Maulvi Rum says, 'Within the Auliya
(an Islamic spiritual adept)
is the mosque where lives God to Whom all bow.' That is, the mosque and the temple are within the Mahatmas
(Great Souls)
, and whoever is eager to fall in obeisance to God or his Maker should do so there. It is also said that God said to the prophet, 'I do not live in any place, high or low, except in the hearts of the true believers. Want'st thou Me? Go and seek from them.' In other words, God said to the prophet: 'I do not reside in any particular place, either on earth or in heaven, but I do live in the hearts of my loving devotees. Whoever wants Me, should go and beg of them.' Therefore, every true seeker should search for the living Sat Guru, get instructions from Him, and offer love and service and whole-hearted devotion to His Holy Feet. He will thus realize his goal in a short time. It is also said in Sanskrit: 'Guru is Brahma, Guru is Vishnu, Guru is Maheshwar
(Shiva) and Par Brahm; therefore, obeisance to the Guru.'
Lord Krishna too has said in Bhagavad Gita that any person who wishes to meet him and serve and love him should offer that love and service to his Bhagats
(holy men)
, Sadhs and loving devotees: 'Service rendered to them will be service rendered to me, and I shall be immensely pleased. I love those who love my Bhagats. I do not live in the Akash Lok (the heavenly realm closest to this world) or the Patal Lok (the nether regions) or the Swarg Lok (an intermediate heaven for those who have done good here on earth) or the Baikunth Lok (the heaven of Vishnu), but I dwell in the hearts of my loving devotees.'"
Today, for a change of pace, I thought I would draw from the Radhasoami Satsang Beas edition of Soamiji's
"Sar Bachan Radhasoami"
. As with Section 52, let us read, and reread Soamiji's message here, and then bring it into our meditations.
This is an incredibly beautiful passage. Soamiji pays homage to past masters, adepts and incarnations, while maintaining his focus upon the need for a living Teacher. This nod to the past is important, as so many people are focused upon great souls who have come before us and might take offense if they think we are disparaging the object of their adoration. I can't speak for India, but I know this might easily be the case in the U.S. The vast majority of Americans are either Christian or Jewish (I was raised Presbyterian), which means that – aside from recent holy figures such as the Pope or Mother Theresa – the vast majority of our spiritual leaders are historical figures, and most of them hearken back to 2,000 years or more. So unlike India where they have had a tradition of living spiritual teachers throughout their history, we in America do not have a tradition of living adepts. So it's really nice that Soamiji starts out by saying (as did Kirpal Singh a century later) that we honor all masters who have come in the past. And it is because we honor them that we also honor those human instruments of God-in-Expression who are here with us now.
Now having touched upon respecting masters throughout history, Soamiji moves on to make some very good points. The first is that masters do not wear – nor do they need to wear – any particular type of clothing denoting their spirituality, nor do they have to follow any particular lifestyle. They can be renunciates or householders, and they can wear whatever they choose. It's not the outer symbols of spirituality that make you wise; it's about where your place your attention. When your attention is merged with Naam and God, then you are in God and God is in you. Likewise, Sants do not need to visit any particular temple, mosque or church in order to worship and pay homage to the Lord. The true temple is within. It is the seat of the soul – the third eye - the pineal gland – above and behind the eyes. As Kirpal Singh liked to say, outer temples built by humans are made to resemble the human temple and the temple within which are built by God. Domes reflect the dome of the forehead. Candles are lit and bells are rung to echo the Inner Light and Sound of Shabda (Ruach, the Holy Spirit). Kneeling in supplication at the temple within will take you far close to God than any temple made by human hands.
Soamiji goes on to say that, when God is fully in you – when you are wholly and solely immersed in God and vice versa – then you are a living instrument of God in Expression. And if sincere seekers want to see God and know God, all they need to do is find a living human being who is wholly and solely immersed in God. When you find someone so immersed and saturated in the Divine, approach them respectfully, humbly and sincerely, knowing that they are a living, awakened, loving instrument of God in Expression. By being near them, you are near God. By knowing them, you will know God.
Empty yourself of all opinions and ideas and memories and emotional baggage. Make yourself an empty cup that only love can fill. And when you are that empty cup, the Spiritual Current of Eternal Love flowing through the Living Teacher will flow through you and fill you and lift you up into the Divine. You will learn to tap inside and contact the Current within, and you will know yourself as Soul, and you will know God. When you kneel at the temple within, and make yourself an empty vessel for Divine Love to fill, you will see and understand the truth in Soamiji's statement:
"
I do not live in the Akash Lok or the Patal Lok or the Swarg Lok or the Baikunth Lok; but I dwell in the hearts of my loving devotees".
By meeting a living Shabda teacher, you will see a living example of God in Expression. And by seeing the Divine in another human being, and loving that human being, you will understand what it means to truly love God. You will no longer be loving an abstract idea or feeling. You will be loving a living, breathing human being, and through that love you will be lifted up into God ITSelf. This is a great blessing of God in ITs gift of a living teacher. And for this gift, I am most grateful.
Let's take some time now to meditate, again bringing in Soamiji's wisdom and truth into our meditations. I hope you have a most wonderful evening.
All my love in the LightSong of Eternal Love,
Michael
http://spiritualfreedomsatsang.org PART 1, SECTION 54FURTHUR ON THE BENEFIT OF A LIVING TEACHER
"The physical form assumed by a Sant is what can be seen by physical eyes here. His real form is that of the Lord Himself because He always remains enraptured in the bliss of the Supreme Being and Sat Purush. Until such time as a true devotee perceives within himself the real form, he should consider the physical form of the Sat Guru as that of the Supreme Being and go on increasing love and faith therein. When he has the Darshan of His Nij Rup within himself be becomes one with the Supreme Being, that is, the Sant Sat Guru. He acquires the same Rup as of Sat Guru. His real object will thus be achieved. This should make it clear that redemption is possible only through the service, Satsang and love of the Sat Guru of the time. The past Sants, gurus, incarnations, prophets and gods cannot offer guidance now nor can they show their Nij Rup (Real Form). Therefore, a seeker cannot have genuine faith in, and love for them. Even if there be real love, there will be no progress and he will remain as he was. At the most there will be some purification of the mind, but the real seat of the spirit would remain unchanged, i.e., the spirit would not be elevated. So, whatever might be gained by so much labour and hardship, would not benefit the spirit which would continue in the impure region as before. Such a purification would not be abiding, because Maya is so dominant at this place that a person is sure to be shaken off his faith and love by the force of its evil influence and hurled into the whirlpool of sensual pleasures. It is impossible to realize Nij Rup or to get rid of all the evils without the grace and mercy of a perfect Sat Guru to be obtained through His service and devotion . There are so many doubts lurking in one's mind that one is not even conscious of them till one comes in Satguru's presence. One thinks one has no doubts left whatsoever, but when one joins the Satsang of Sants, one will realize how full one is of doubts and how difficult it is to acquire real love and faith and how far away is the highest region. In short, it is impossible to attain true love and Parmath (true spiritual knowledge derived from direct personal experience of Soul and the Supreme Being) without the grace and guidance of Sant Sat Guru of the time. Incarnations who appeared in this world, had also to adopt gurus. When Gyanis like Shuk Deo who had been endowed with Gyan (mental enlightenment) while still in his mother's womb, could not proceed without the help of a guru and even Narad who had acquired the capacity of free access to Vaikuntha, could not be eligible for permanent location there without guru, how can an ordinary being tread the path of true Parmath (leading to spiritual enlightenment and coming to directly know the Supreme Being) without the grace of the perfect Sat Guru of the time."
With this section 54, Shiv Dayal Singh focuses even more on the need for a living True Teacher (Sat Guru). And in the first paragraph lays out another part of the foundation of Sant Mat: that the Teacher is an awakened human expression of God, a conscious instrument of God in Expression. Indeed, he goes so far to say that students should view the "physical form of the Sat Guru as that of the Supreme Being". Now this may raise more than a few eyebrows – particularly in the west. But, as with so much of what Soamiji says, the meaning goes deeper than saying that this particular person is God personified.
To me, the real principle is that we as human beings cannot love that which we have not seen. I know it's easy to say, "I love God". But the question arises, if you have not seen and experienced God, what is it exactly that you are loving? Is it an idea of what you think God is? Is it an image you've seen somewhere? Is it a feeling you get? Ideas, images and feelings are all well and good; but they are not the thing itself – they are an abstraction.
So one of the gifts of God in expressing ITSelf in human form in each generation is that IT offers us in the child humanity something we can tangibly see and love – another human being. We can pour our love into them. And when we are with one who is immersed in Naam and the Lord, they become a human expression of God – their face is God's face; their eyes are God's eyes; their smile is God's smile. And so – until we each directly experience God ourselves – when we give a human instrument our love, we are loving God. And in doing so, our spiritual heart grows and opens, and more and more of the Divine Eternal Love Current we call Shabda or Word or Holy Spirit flows through us into the object of our love. And in flowing through us, IT lifts us up more and more, like a tide raising a ship, above body consciousness, and emotions, and memories, and mind – until we are lifted up into God, and we see God and experience God directly and personally. Then we can truly say we love God. And this is a very beautiful thing.
It is because of our human need for tangible, personal experience that Soamiji says we must seek out and work with a current Living Teacher. For loving past Teachers and Masters we have never personally seen and known places us in the same predicament of loving God before we have actually seen IT. When we say we love Jesus – or Moses, or Krishna, or Mohammed, or Rumi, or St. Paul, or any historical awakened Soul – again, what we are loving is our
idea
of that Teacher. It is a feeling we have about them, a religiously romantic vision of them that we are loving – but not them themselves. This is why Soamiji says that, while we may get some benefit and purification by focusing our attention on one who no longer lives in physical form, because the focus of our attention is a mental abstraction colored by our own ideas, opinions and emotions, the benefit will be limited – precisely because our imagination and thoughts and opinions re limited. So again, while we always honor Sants and Teachers and Masters who have come in the past, we place our primary attention upon a Teacher living here and now.
Moving along, I do like how Shiv Dayal talks about how doubt comes into play in our journey. It's not that he is extolling doubt and skepticism, or for that matter condemning it. What he's simply saying is that we are so full of ourselves and our perspectives and preconceptions that don't even know how many doubts we have until we are in the company of the Teacher. When this happens, the halogen headlight of God shines on us, and in us, illuminating every nook and cranny. And any doubts or opinions or reservations or judgments will become radiantly apparent. For this Light of God is also the Light of Truth. And when we are illuminated by the Light of Truth, we can no longer kid ourselves about who we are and what we believe. There is nowhere where illusion and delusion can hide and we have to see it in its true light.
This isn't always easy – in fact, it's hard at times, and there will come a time (at least once) where you will question whether you want to be on the Path. It's so much easier, after all, to stay in our comfort zones of well entrenched belief systems and habits of thought, word and deed. But if you have the courage to see every aspect of yourself clearly and without filters, you will be able to make huge spiritual strides toward Self-Realization. As Darwin Gross used to sing, "The timid never find true love and happiness, but the bold do."
Finally, Soamiji tells us that this need for a Living Teacher is not confined to us "ordinary" initiates and Satsangis. Even the greatest souls – the most awakened beings – to walk this earth had Living Teachers. In fact, in some ways, having a Living Teacher is even more important for souls who are already advanced when they incarnate into human form. I know this may seem counterintuitive on the face of it. But without a Living Teacher to initiate them and guide them, they risk succumbing to spiritual pride – of thinking they don't need a human teacher, that their preexisting wisdom and spiritual smarts are more than sufficient to guide their way.
And so we come to the other key point of having a teacher here and now: humility. Being humble in heart, thought, speech and action is essential for real, deep and lasting spiritual growth. And before we can be humble before God, we need to be humble before another human being. Only then can we be empty of will and ideas and opinions, and be ready to be filled with Divine Love. As my Master used to teach me, "Kneel before the Spirit in true humbleness, and say 'I surrender my will to you, O Lord. Do what You will with me.'"
Love, devotion and humility. It starts, right here, right now, with another human being. And from there it takes us into the Heart of Eternal Love.
Let's take a moment now to contemplate Shiv Dayal Singh's words, and then begin our meditation.
All my Appreciation in the LightSong of Eternal Love,
Michael
PART 1, SECTION 55
LIVING SAT GURUS & HOLY BOOKS
"Some persons hold Veda, Shastra and Granth as guru. There is no doubt that much can be learned by studying them. But whoever is content with reading them and listening to their recitation and does not seek the Sat Guru, is ignorant and stupid because the mysteries and methods of spiritual practices which can only be taught by the Sat Guru of the time cannot be reduced to writing, nor are they described in books. Only references to them are found therein, which at best serve as testimony only. Everything else depends on the Sat Guru. Theoretical knowledge can be acquired through the study of books, but not the actual method of attaining the Lord. The scriptures and Shastras are, to some extent, aids for proper behavior in this world; by studying them intelligently one may know what is good and what is bad. If a man is sincere he will practice what is good and discard what is bad. But the mind cannot be subjugated nor the evils eradicated without the grace and mercy of the perfect Sat Guru. So long as the mind exists, the seed of all evils is there. What if the leaves and branches of the tree have fallen off, so long as the sap is there, whenever an opportunity for enjoying sensual pleasures offers itself, the leaves and branches become green again and the new branches and leaves shoot forth. Therefore, the study of Veda, Shastra and scriptures can only give some idea about the Lord and help the seeker in recognizing a perfect Sat Guru and in the discernment of right and wrong, and virtue and vice. Apart from this, not much can be gained by it. Real and true Parmath can only be achieved through the perfect Sat Guru. Hence the necessity for an aspirant to search for such a guru. Those who are content with owing allegiance to the departed are not truly desirous of meeting the Lord, and as such they shall not have His Darshan either."
In this section, Shiv Dayal Singh continues his theme from Section 54. After explaining why past saints, masters, prophets and saviors cannot provide the personal assistance we need to directly know Soul, Spirit and God, he then extends this to holy scriptures. In this case he refers to the Vedas, Shastras and Granth (the latter being the holy scriptures of the Sikh faith); but it can just as easily be applied to the Talmud, Bible and Koran, and other holy scriptures and inspired writings of all cultures, religions and times.
The point Soamiji Dayal is making here is that we need immediate spiritual assistance and guidance from a God-Realized Teacher living on this earth here and now. To be sure, the stories and lessons in Holy Scriptures are beautiful and uplifting, and we always honor them, just as we honor great souls of the past. If we read them and meditate upon them with an open heart and mind, they can inspire us to know more about God, and teach us ethical behavior and the difference between right and wrong. I know that, being raised a Presbyterian, I often look to my King James Bible for guidance and wisdom, just as I do the Granth and writings of recent saints such as Shiv Dayal Singh, Kirpal Singh and Darwin Gross. In addition, I find it most helpful to read these books (and others by great saints) right before going to sleep and immediately upon waking up, as this is a wonderful way of imprinting the mind towards a more spiritual focus.
But again, reading a book – even the most inspired – while being a wonderful supplement to our spiritual education, cannot replace the benefit of having initiation and guidance (outer and inner) from a living Teacher. A book cannot initiate you. A book – even if it contained the Five Holy Names – cannot charge the Names and give them the spiritual power needed to provide access to the inner regions and balance as you explore them. This only a living Teacher can do. Think of it as a college class. You have textbooks for studying, and a Professor to guide you through the overall course, discuss what you have read, further elaborate on it, clarify any areas that are a bit opaque, and answer any questions you may have. This is part of what a living Teacher can do for you, and is something my Teacher offered me, and what I offer my friends.
And with that, let's close this discussion for the day. Please go back and re-read Section 55 and again bring it into your meditation today. And if you have any questions or feedback, always feel free to email me and ask.
Have a Beautiful Day!
In the LightSong of Eternal Love,
Michael
PART 1, SECTION 56
LIVING SAT GURUS & SATSANG
"It is necessary to seek a perfect Sat Guru and accept Him. Perfect Sat Guru is one who has reached Sat Lok and is in communion with Sat Purush. He is called a 'Sant'. He initiates in no other method than that of Surat Shabd Yoga, points out the path within and discloses the mysteries relating to the various stages and the mode of elevating the spirit internally with the aid of His spiritual form and sound. In His Satsang and discourses also, these mysteries are expounded, the supremacy of the Sat Guru, Sat Purush and His Shabd-Rup (
True Shabda Form
) is emphasized and details of the path and modes of devotion, love and detachment are described. Wherever in a so called Satsang, simply the legends and stories and actions of past ones are narrated or stress is laid merely on renunciation of the world without reference to inner secrets of spiritual practices for the concentration and uplift of the mind, it is not a Satsang according to Sants. Satsang means the company of Sat, that is, Sat Purush – a Sant being the embodiment of Sat Purush. His company is Satsang. In His discourses and writings He deals with either the sublimity of Sat Purush Radhasoami and of His Sant Sat Guru Form or the mode of attaining His Nij Rup (
True Form
) and His high abode of love and faith in His feet and the Sound Current of the bliss experienced by a sincere devotee in his passage upwards through each stage. Therefore, to hear, ruminate and act upon such discourses and to apply the mind and spirit to His Feet or Shabd within, is Satsang. All the old scriptures of various religions are replete with the praises of Satsang. It has been stated that attending Satsang even for a short while washes away the accumulated sins of millions of years and confers salvation. This can be realized by any aspirant who attends Satsang of the Sat Guru, hears His discourses, concentrates on His Darshan (
the Sat Guru's gaze
) or applies his mind and spirit to the performance of spiritual practices. Whoever tries this will be convinced of the truth of the above statement and see for himself what benefit can be derived from a few days' Satsang and from performing spiritual practices taught by Sants."
Tonight's discourse will be on the nature of the Sat Guru and an explanation of what real Satsang is. But before I get started, I want to briefly talk about our reading from Section 55 on the value of personal experience vs. written records of the Spiritual Worlds. One of the things I like about this path is how synchronicity can pop up and surprise you. As a poet once said,
"Once in awhile you get shown the light in the strangest of places, if you look at it right"
. In this case, I was reading The Hobbit Blog this morning (it's a daily discussion of both The Hobbit movie and JRR Tolkein). And one passage leaped out from the page:
"The Key theme of The Hobbit is that to find one's destiny, one must first step beyond their known boundaries. After all, there is more knowledge and adventure to be had in seeing things for yourself rather than simply reading them from a book."
http://the-hobbit-movie.com/2013/04/16/legacy-of-the-ring/
I was struck by this, as it dovetailed right into what we've been discussing about how, while written records of spiritual experiences (aka Scriptures) are wonderful documents of earlier travel, revelations and wisdom, they still cannot match making the inner journey and personally experiencing Soul and God yourself. So anyhow, I thought I would just share that tidbit of wisdom just "randomly" rising to the surface.
Now, moving on to Section 56, what Shiv Dayal Singh teaches us in this section is very straightforward and clear.
In the first portion Soamiji lays out the need for finding a real Sat Guru (true spiritual teacher) – one who has reached Sat Lok (the Soul Plane) and is in harmony with the presiding deity, Sat Purush (aka Sat Nam or Sat Naam). By virtue of this harmony with the Lord of the Soul Plane, the Teacher is an open conduit for Sat Purush and the Spiritual Current flowing from Him. I want to note here that Shiv Dayal is not making a value judgment or trying to disrespect other teachers. He is simply stating the spiritual physics of the matter.
The Sat Guru is not only one who has reached Sat Lok, but their physical body is the right instrument for the singular intensity and radiance of the Spiritual Current flowing through them – it's kind of like they have heavy gauge wiring in their nervous system which can handle the spiritual voltage coursing through them.
So if you want to be in the presence of Sat Purush and pure Soul essence, be in the company of a Shabda Sat Guru. Your very proximity will bring you into contact with the Current, Soul and God. And where do you find this? In Satsang. And this is a very good place to be.
One point I would like to make about Satsang before moving on is this. It is important, when you attend the Satsang of a True Shabda Teacher, that you focus your attention upon the Teacher and the Spiritual Energy present in the room. Satsang isn't a book study, or a social event, or a debating society. It is a place to be together in mutual communion with the Word. And we must always remember this. Leave the world and all of its distractions at the door when you enter Satsang. Empty yourself of all preconceptions, calm the thoughts bouncing around your mind vying for your attention, and simply sit in calm receptivity. You will be amazed at what can happen.
Soamiji makes another very good – and important – point early on. Shabda Sat Gurus teach one thing, and one thing only: Surat Shabd Yoga (aka Surat Shabda Meditation). The entirety of their focus is Soul, Shabda and God. They are here to link us to the Spiritual Current through initiation, teach us the foundational principles of this path, and guide us within through the intermediary dual realms into the Pure Positive God Worlds of Sat Purush and Radhasoami Anami Purush. They help us firmly establish ourselves in Soul, Nam and God, balance our karmic debt so that we achieve spiritual freedom in this lifetime ("Jivan Mukti"), and then assist us in becoming conscious, loving, creative co-workers with the Lord.
This is the alpha and omega of the teachings and the Teacher's work – you might call it their job description and prime directive. Anything other than this is just extracurricular stuff which might be interesting and amusing, but is – at best – peripheral this path of Surat Shabda, and generally a distraction from (and even impediment to) what we are here to learn. Of course, if you want to study other stuff (e.g., chakras, kundalini, psychic practices – including most forms of psychic healing – and the like), you are welcome to do so. But you will find that it slows you down and adds more baggage you have to later discard.
One final thing I would like to mention is a phrase that some people reading this in the West might wonder about: "apply the mind and spirit to His Feet". Now, what on earth does that mean? It would easy to take this literally and think Soamiji is telling us to stare at the Teacher's feet. Indeed, I wondered about this for some time when I first read it. Then one day in meditation this understanding came to me. I saw the Satguru's body encompassing all of creation from earth at His feet on up Anami Desh within His eyes. And I realized that the Guru's feet represent God walking among us in this earth world. They are a symbol representing the Master, and the ultimate physical point of Spirit touching earth – the core interface between Spirit and matter. So when we focus on the physical presence of the Master, and even His feet, we are locking our attention in with this interface and in the process have a tangible expression of the Divine that we can see with our physical eyes and love with our human heart. And through this, we learn to love God, and develop an affinity with the Master and become able to trust His inner form (Gurudev) to guide us within. And this is another great blessing.
I think we can stop here for today. Please take some time to digest this discourse and then re-read Section 56 a couple of times. Once you have done this, close your eyes, and begin Simran and meditation. May your meditation be full of musical light, life, wisdom and love.
Yours always in the LightSong of Eternal Love,
Michael
PART 1, SECTION 57
REGARDING AUSTERITIES
"It is a great pity that now-a-days many people think highly of those who practice austerities – as for instance, those who sit amidst five fires, or go about with an atrophied hand raised above, or keep standing in water, or sit on pegs and nails, or remain naked in the open day and night, or keep standing, or make any other display of torturing the body, or subsist on milk diet alone, or read scriptures day and night, or meditate in dark caves, or go and live in hills and forests, or observe absolute silence and behave hypocritically in various other ways. All this appears to be very extraordinary and attracts popular notice and admiration. But a close investigation will disclose the real motive behind all this show of religiosity and would clearly show whether they are hypocrites or true Parmathis. A truly religious man is one whose actions are all directed towards the attainment of the Darshan of the Supreme Being, so that He may be graciously pleased to accord him permanent location in His region and he may achieve eternal bliss and be liberated from the pleasures and pains of transmigration. He has no other desire than this. On the contrary, in the case of the hypocrites and selfish, all their actions are actuated by the desire for fame and wealth, power and pelf and pleasures and preferences whether of this world or of heavens. There is not much difference between the power and pleasures of this world and those of Swarga, Vaikuntha and Brahm Lok; the latter will only last a little longer than the former. Therefore, whether one is in this world or in Vaikuntha and Brahm Lok, one is in the domain of Kal and Maya; and one will be subject to births and deaths and pleasures and pains, and cannot achieve true salvation. Krishna Maharaj drew Arjun's attention towards an ant and said that it had several times become Brahma and Indra and had passed through many other similar superior forms and then to was born as an ant. Now it should be realized that, when Brahma and Indra cannot escape the cycle of transmigration, how can those people who perform religious practices like Hom, Yagha, pilgrimages, fasts and worship of the sun, the moon, Ganesh, Shiva, Vishnu, Brahma, Shakti and incarnations and idols cannot go beyond Vaikuntha, the abode of God, become immortal and escape the cycle of births and deaths. By such deeds of devotion, they would only reach the region of the deity whom they worship, such as Surya Lok, Chandra Lok, Swarga Lok, Shiva Lok, Vishnu Lok, etc. After some time, they will again be born in this world and come in the cycle of transmigration. As regards those who worship lower deities, they are not worth mentioning. They will get the reward of their actions in the form of wealth and supernatural powers in this very world and then run the course of transmigration"
(Shiv Dayal Singh. "Sar Bachan Prose: Part 1, Section 57")
In this section, Shiv Dayal Singh starts out talking about various austerities and the people who perform them and present these rituals as signs of miracles, wonders and spirituality. But Soamiji doesn't buy it, and says right off that many folks who engage in these rituals are doing so more for wealth, name and fame than to serve God. And from here Shiv Dayal launches straight into what true spirituality is:
"attainment of the Darshan (gaze and blessings) of the Supreme Being . . . permanent location in His region . . . and (to) be liberated from the pleasures and pains of transmigration"
. This is really the alpha and the omega of the entire path. By harmonizing with Nam, you are lifted up above body consciousness, directly experience yourself as soul, personally see and know God, and attain spiritual freedom in this lifetime. Anything other than this is just stuff. And that is where Soamiji consigns most practitioners of austerities and other psychic distractions.
And then, he goes on to talk about ways in which life here is similar to that in the dual, intermediary worlds (astral, causal and mental realms). There is power, pleasure and (yes) pain in these intermediary realms, just as there is here on earth. But what is even more important in understanding the nature of the dual realms is that they – the beings who reside there, and even the deities who preside over them – are temporal and transitory. Even though they are vastly more rarified and beautiful than earth, and each world within more beautiful than the one below it, they still change and decay. Our lives in the Astral Plane may span the equivalent of hundreds, or even thousands, of earth years. But they do come to an end, and there comes a time when we have to again take on a physical body.
And what is even more significant, even the deities presiding over these dimensions are subject to pleasure, pain and karma, and have finite lives. Sooner or later their lives – and reigns – come to an end. Their status and power are transitory, and they have the same risk as anyone dwelling in the dual worlds of falling into the cycle of terrestrial transmigration.
So Shiv Dayal asks us, if your goal is Soul and God-realization, and spiritual freedom (
"Jivan Mukti"
), why focus your attention on deities who are not only intermediary, but also
"fallible and still caught within the wheel of karma themselves"
. For if you do this, you will only attain the region of your focus. This is an extension of the spiritual principle: wherever you place your attention, that's where you are.
This affects all aspects of life, and has particular resonance in the realm of spirituality. Focus on the Eternal, not the transitory. Books are transitory. Idols and images are transitory. Temples, churches, and mosques are transitory. The earth and all of its expressions of life are transitory. Deities presiding over the earth (e.g.,
Ganesh
and
Hanuman
) are transitory. The deities presiding over the Astral Plane (
"Sahas-dal Kanwal"
), Causal Plane (
"Brahmanda"
or
"Trikuti"
) and Mental Plane ("
Par Brahm" or "Daswan Dwar"
) are transitory. The incarnations of these deities (
Krishna
and
Rama
, etc.) are transitory and fallible. And all of the dual realms themselves – physical (
"Pinda Lok"
), Astral, Causal, Mental and Etheric (
"Bhanwargupha"
) – are transitory. All of the lower worlds will come to an end and be reabsorbed into the heart of Sat Purush at the end of this Maha Yuga.
The only things that are eternal are Soul, Shabda and God in ITs External Expressions (e.g.,
Sat Purush
,
Alakh Purush
,
Agam Purush
and
Radhasoami Anami Purush
) and regions (
Sat Lok
,
Alakh Lok
,
Agam Lok
and
Anami Lok/ Radhasoami Dham
). If you want true spiritual awakening and freedom, this is where you must place your attention. If this is your goal, then (as Soamiji says) focusing anywhere else is a waste of time and not worthy of your attention.
Let's stop here. Please take some time to re-read Shiv Dayal Singh's words and give them your attention in your meditation.
I hope you all have a fruitful meditation and a beautiful evening.
Yours always in the LightSong of Eternal Love,
Michael
PART 1, SECTION 58
REGARDING BRAHM GYANIS
"Now-a-days there is a large number of persons who call themselves Brahm-gyanis
(knowers of
Brahm
)
and consider themselves superior to all others. Of course, Brahm-Gyan is higher than all other practices enumerated above, provided it is real (i.e., the true Brahm). Knowledge (Gyan) acquired from the scriptures is academic. It is mere book-knowledge. It can never lead to salvation. For, in the scriptures it has been repeatedly stated, 'So long as the mind and passions are not subdued, knowledge of the real essence, that is, the Creator cannot be acquired. And subjugation of the mind and passions is not possible without Yogic practice. Therefore, the knowledge acquired otherwise than by the practices of Yoga is only theoretical. Any educated man can say and understand this. It does not connote any superiority nor that the mind and desires have been vanquished. The Brahm-Gyanis of modern times feel annoyed if questioned as to the spiritual practices by which they acquired Brahm-Gyan. Some of them say they did them in their previous lives. If it were so, they should have remembered the mode of practices, because there is no difference between Brahm and Brahm-Gyani. It is said in both Sanskrit and Arabic that the Knower of Brahm becomes Brahm himself, or, he who practiced faqir (yogi) became Allah. So that the Sufi or Gyani should know everything about every state and condition. But the fact is that these Brahm-Gyanis are not even aware of the fact that they are actually slaves to their passions. It is, therefore, quite wrong of them to claim to be Brahm-Gyanis or Brahm. They, too, shall meet with the same fate as the worldly people, that is, pass through the cycle of births and deaths."
This is a rather interesting passage. For in it, in a manner reminiscent of Kabir, Soamiji Dayal both states a significant spiritual truth and uses that truth to poke at spiritual pride and arrogance so often seen in people who think themselves superior to others by virtue of their relative attainment.
The truth that Soamiji relates is that even if you have realized Brahm – to the point where you and He are indistinguishable – you are still not fully realized and released from the cycle of karma, births and deaths (sometimes known as the "Wheel of 84"). This is part and parcel with Soamiji's earlier statement about how even gods such as Brahma, Vishnu and Shiva – and even their father Brahm – are still part of the creation. A wonderful description of this – and much more – can be found in Kabir's "Anurag Sagar (The Ocean Of Love)". I highly recommend finding a copy and reading it.
So anyhow it stands to reason that if the end result of your quest and realization is a part of the creation, then even in your relatively advanced state of conscious you are as well. So for people who preen and pose and strut around thinking they are superior because they believe they have realized Brahm, the joke is on them. For even in Brahmanda – the Causal Plane – there is desire and passion.
What is the Causal Plane? It's the plane of memories and habits. It's where archetypes originate. It's the home of OM. It's an interesting plane in that it can be seen as somewhat of an intersection of the Mental Plane (Par-Brahm) and the Astral Plane (Sahas-dal Kanwal). Think about it. The Astral Plane is the plane of emotions, in all their vivid intensity. The Mental Plane is the plane of pure thought. And the Causal Plane between them has elements of both. On the one hand, memories and habits have a mental aspect in that they are thoughts. But at the same time, they elicit emotions, which is the province of the Astral Plane. In any case, in even in Brahmanda your thoughts and memories are still prey to forms of lust, anger, greed, attachment and vanity. So unless and until you rise above these passions in even their most subtle forms, they are still with you, weigh you down and keep you mired in the dual worlds of karma, birth and death.
Now I do want to make a point that I am not disparaging realization and knowledge of the Causal Plane and it's presiding deity, Brahm. Compared with regular human consciousness, Brahm-Gyan is certainly a highly advanced state of awareness. And it is a state that you, as a practitioner of Surat Shabda Meditation, can achieve as part of your inner trek. But when you do so, you must keep in mind that this is but an intermediary stage on the Way Home. Sat Lok – the Soul Plane – is your number one goal. Always remember this.
And when you meet someone who is genuinely a Brahm-Gyani, respect them, just as you would respect someone with a Master's Degree when your goal is getting a PhD. You never want to fall into the trap of spiritual pride, because that will send you plummeting back to earth faster than you can imagine. Respect them, honor their attainment, and proceed on your way Home. If they ask for a helping hand with proceeding further within, gladly and humbly extend it. Answer what questions you can, and then refer them to your Sat Guru. He will know how to help them take the next step.
And on this note, I will stop here so we can take some time to meditate on this and the Section 58 text I posted yesterday. May your meditations be fruitful and full of love and sonic illumination.
Yours always in the LightSong of Eternal Love,
Michael
PART 1, SECTION 59
FURTHUR ON GYANIS
"59. The Gyanis of ancient times, such as Vyas, Vashishtha, Ram and Krishna were Yogeshwars
(masters of yoga)
and enlightened. They had accomplished all the four Sadhans
(practices – aka "Sadhana")
. Hence they have laid down that he who has not performed them, cannot be termed a Gyani, nay, he is not entitled even to read books on Gyan. These Sadhans are: 1. Vairagya (detachment) 2. Vivek (discrimination between good and bad) 3. Khat Sampati (six qualifications)
4.
(i) Sama (equanimity)
5.
(ii) Dama (control)
6.
(iii) Uparti (renunciation)
7.
(iv) Titiksha (patience)
8.
(v) Shraddha (faith
9.
(vi) Samadhanta (application to God) and
10.
Mumukshta (desire for emancipation) The Gyanis of these days do not perform even one of these practices. To them, Vairagya means leaving the home; Vivek means reading and pondering over religious books. Similarly, in regard to Khat Sampati also, they think that they have acquired it, if they can withstand hunger and thirst at times, bear heat and cold to a certain extent and if, while studying scriptures, their minds and sense become a little calm. They consider association with Gyanis and the reading and teachings of philosophical writings as Mumukshta. What can one tell them with they carry such notions in their heads? Once only feels pity at the extent of their ignorance. They are so fond of sight-seeing, fairs, shows, holding Bhandaras
(religious feasts)
for fame and forming groups and displaying distinctive banners of their sects, that to meet expenses of Bhandaras, railway journeys, etc. they humble themselves before ordinary people for funds and collect money by seeking donations from princes and rich people and yet they consider that they have renounced the world. This shows that they do not even understand what renunciation means. They are ever fond of reading scripture and reciting it to others. One may wonder what sort of Brahm-anand they have achieved, when there is no change in their outlook. They say they do all this for upkar
(good for others)
. This again shows that they do not even know what constitutes upkar. A Gyani should be qualified to help redeem the soul by liberating it from its bondages. This is upkar or benevolence. To stuff people with book-learning which only engenders conceit, to occupy themselves with feasting people, to build temples and Dharamshalas and lay out gardens, is not upkar. Such upkar is meant to be performed by princes and monied people and not by Brahm-Gyanis. What a Brahm-Gyani should do is to liberate a person from the bonds of the mind and passions, and help him in realizing his real self, so that he may escape pangs of transmigration. But in this they are helpless. They have not saved their own souls, how can they save others? Generally it is found that they leave their homes and put on monk's garb either owning to poverty or some calamity or family discord or being hopeless victims of indolence. They find this an easy way of getting free food and clothing without labour or are impelled by desires for self-worship, and name and fame. When they achieve some measure of success in this direction, they consider themselves as persona grata and superior beings, nay, the mighty Brahm himself. To enhance their reputation, they go on accumulating riches from here and there, start banking and other business and gather a crowd of monks round them, feed them and take service from them and use them as retinue in fairs, when they go about in right royal processions with borrowed elephants, horses, palanquins, gorgeous banners, drums and trumpets. How can they with all these mundane desires and ambitions be Brahm-Gyanis? They are awfully pleased when these desires are fulfilled and look down upon others and style themselves as Mahatma, Pandit, learned and Mahant. They seek the help of others to establish their superiority over other groups in grandeur of processions and decorations. Such persons are lost in pride and vanity and are so enslaved by Mana
(mind)
and Maya
(illusion)
that they cannot be redeemed. If anyone points out their failings to them, they get enraged and are ready to fight and call them faithless and atheist and other harsh names."
This is a fairly long section, describing in considerable detail the inherent fallacies of people with book learning presenting themselves as knowers of Brahm (Brahm-Gyanis) and offering cautions we should take to heart as we proceed onward in our spiritual journey. Please read this at least a couple of times. Once you feel you have digested what Soamiji is saying, please begin your meditation.
Going back over this section I am struck by how – in a manner, again, reminiscent of Kabir – Shiv Dayal Singh really takes it to the Gyanis and Brahmins, pundits and sophists. He doesn't pull many punches as he takes them to task for their false piety, spiritual vanity and greed. As with previous sections, he states – straight out – that these false Gyanis are every bit as much slaves to their passions as are overtly worldly people. In fact, in some ways they are worse, because they put on the pretense of spiritual achievement in order to have status and material success. Sadder still is that some of these people actually believe their myth. They are completely deluded and will be rather surprised when their costume of spirituality falls apart and they are left with the reality of their state of consciousness – the reality that they have not saved their own soul from the wheel of karma, birth and death.
But even more important than taking the spirituality arrogant, false Gyanis to task, Soamiji in doing so affirms one of the basic precepts of this path: that we need a living, Soul and God-realized Teacher to teach us true spirituality, initiate us into the Spiritual Shabda Current, and assist us getting back Home. All pundits and sophists can do for us read from books and tell us what they think the Teacher meant. But when they are already deluded to the point of thinking that Vivek simply means reading scriptures to learn about right and wrong, and that a holy scripture – no matter how inspired – is still simply a book, and
not
the Word of God – how can they possibly guide us through the intermediary dual worlds and into the realms of Pure Spirit? How can they possibly free us from the snares of the mind (Mana) when they are entangled themselves? How can they possibly free us from illusion (Maya) when they are lost in that illusion themselves? How can they possibly teach us about serving God, when they consider service raising money for temple construction or holding religious festivals?
So it's not only a matter of needing a living Adept to link us to the Sound Current, we also need them to keep the teachings fresh and current, without need for translation or interpretation. This doesn't mean that a Satguru of the time ignores those Masters who have come before. It is important to honor our predecessors – and that not only includes acknowledging them, it also includes reading, interpreting and drawing lessons from their writings. The difference between a Living Shabda Teacher and a pundit or sophist is that the Living Teacher has merged with the Shabda Current, made the journey Home, realized Soul and God, and achieved Jivan Mukti (spiritual freedom in this lifetime). They are not just offering an intellectual, theological or speculative interpretation of what the author meant. When they read from and give discourse on a sacred text by, say, Guru Nanak or Rumi or Kabir or Shiv Dayal Singh, they are speaking from the same state of consciousness as they original author. So the original intent and spiritual focus and lessons are there.
This is one of the great blessings of having at least one Living Shabda Teacher in every generation. They keep the teachings fresh and alive and in the eternal present – because they are Living Shabda-in-Expression. They are the Living Teachings, and the Living Teachings are them.
One last note before I close. As always, even though this passage does critically dissect the nature of pseudo-Gyanis, we should not look down upon them or consider ourselves superior. They are where they're at, and in the great cosmic scheme of things that's just fine. Consider them – and others who don't understand the Way of Shabda – as unopened roses. Eventually, they will open and blossom, because that's what roses do. And likewise, souls who are stuck in emotional, causal or mental traps will eventually grow past those stages and blossom into spiritual awakening – because that is what souls do.
Let's stop here for now, and again bring Soamiji's lesson into our meditation. Tomorrow we will continue with our study. I hope you all have a beautiful day and evening.
Yours in the LightSong of Eternal Love,
Michael
PART 1, SECTION 60
ON MENTAL PRIDE AND MAYA
"These Gyanis cannot be differentiated from those who worship idols and go on pilgrimages. In fact, the latter are better, because they are ignorant and therefore open to correction. On the other hand, Gyanis knowingly incline towards Maya. If anyone tries to correct them, they call him ignorant and jealous and pay no heed to what he says. The reason is that neither of these two classes of men has met a perfect Guru, otherwise He would have directed them to the practice of Surat Shabd Yoga, and they would have known the truth. To begin with, their minds would have been purified and love generated, then they would have been blessed with internal Darshan of the Spiritual Form. This would have eradicated all desires of worldly pleasures and ambition. In this way, they would have been saved from the fruitless activities in which they seem to be engaged at present."
In this section, Soamiji continues on the subject of Gyanis, looking this time at another aspect of their plight. He compares them with uneducated people who worship idols and make pilgrimages, and then audaciously places the idol worshippers above the Gyani Pundits (no doubt upsetting quite a few people in the process). In this case, he says that people who go on pilgrimages and/or worship idols because they don't know any better may superior to pundits and sophists because they are teachable. They are open to new information which might improve their spiritual progress.
Gyanis, on the other hand, are so impressed with their intellectual knowledge (which they mistake for spiritual awareness and/or attainment), they do not believe they have anything left to learn. Indeed, to suggest to them they still further their spiritual education and increase their awareness is seen as an insult – particularly if the one making the suggestion is of a lower station, or less educated, than they. After all, who are you – O lowly Shabda yogi – to question their knowledge and wisdom?! Right?
And it is this very arrogance and spiritual pride which blinds them to greater awareness, and serves as an even heavier loadstone around their neck than if they were a new Shabda seeker barely a week on the path. This is why I have long said that spiritual pride, vanity and arrogance is a vastly greater obstacle to your real spiritual unfoldment than your diet – or even, many times, your lifestyle.
In writing this, I'm reminded of something Paul Twitchell wrote nearly 50 years ago (he was a big fan of the Sar Bachan, so he may have been influenced by the above text). He said that an alcoholic passed out in an alley may well be more spiritually evolved that a pious, sober priest. Why? Because the drunk may be seeking oblivion of self – he wants forget about this life and dwell someplace happier – whereas the priest may be pridefully attached to his job and, more importantly, his apparent religious attainment.
In my years working with Alcoholics Anonymous and other 12-Step programs, I have seen over and over again how status and pride can undermine sobriety. I have seen the poor drunk in the back row who nobody pays much attention to finally has enough of his disease and wants to just get well, as well as an upwardly mobile member who quickly memorizes the study material and loudly proclaims to anyone who will listen how he or she has found the true path to sobriety from which he or she will never falter. And so many times, it is the publically pious – practically evangelical – member who falters and has to start – and restart – from square one, while the poor drunk amasses months and years of healing and sobriety.
In some ways, AA and Surat Shabda are similar, because they both place an emphasis of surrender to God, self-introspection, healing old wounds and erasing karmic patterns and, above all else, humility. In both paths, humility is the key to real awakening. We need to get rid of our opinions and status and pride and, humbly and empty of self, approach the altar of God within and (as my Master used to sing),
"say 'I surrender my will to you, O Lord. Do what you will with me'."
When we do this, with true humility and receptivity, we are now ready to be filled with the Wine of God – the Shabda.
So in closing, please take this to heart. When you meditate today, visualize yourself kneeling before an inner door, with your head bowed. And in this spirit of humility and supplication, begin Simran. Sing the Holy Names of your Initiation, or simply the word HU, in love, gratitude and humility. When you are ready, the door will open toward you, the Divine Light and Sound will shine through, and within that Star of Shabda the Master will greet you in His radiant form.
Within you and without you, I am always with you,
In the LightSong of Eternal Love,
Michael
PART 1, SECTION 61
REGARDING SPIRITUAL PRIDE
"The above remarks also apply to those householders who associate with these Gyanis. They call themselves Brahm, but behave no better than the worldly people. They feel proud of their knowledge and understanding. This pride is the root of all evils and only leads to downfall. All such persons as also their guides, namely Pandits and Bhekhs are in the grip of Kal, Karma and Maya and in due time shall reap the bitter fruits of their actions If they persist in their present ways, they will not be saved."
Here again, Shiv Dayal addresses the perils of pride – especially in a spiritual context. His warning in this regard is extremely important, and should be taken most seriously by any sincere spiritual aspirant. I just want to add here that, even if you say,
"Soamiji's right. I will never let that happen to me"
, be careful. In saying even that, there is the risk of a subtle form of spiritual pride entering your mind. By believing that you are immune to spiritual pride, you are all the more at risk for falling prey to it (like Keanu Reeves in
"The Devil's Advocate"
) – indeed, this very thought contains within it the seed of this spiritual disease. For in thinking this, you are intrinsically implying that you are above such base desires (i.e. "I'm better than that.").
A far better attitude is to recognize the existence of this malady, know it can happen to you, and be on the lookout for it. I can assure you, everyone falls prey to it at some point in their journey. It might be early on, and it might happen years down the road. It frequently creeps in when you have risen above the first three worlds – physical, astral and causal (aka Pinda, Sahas-dal Kanwal & Brahmanda) – into Daswan Dwar and find yourself looking down and saying to yourself, "I am above these three realms".
At this point it is tempting to pause in your journey, congratulate yourself on your attainment and rest – just for a little while (you tell yourself) on your laurels. And for many people, this "brief pause" becomes a comfortable place to be and is where they reside for the rest of their lives – especially if people start lauding their perceived enlightenment – and, once again, spiritual pride creeps in.
This is why, once again, it is such a blessing that great souls such as Kabir, Nanak and Shiv Dayal Singh have described in detail both the intermediary stages and the ultimate goal. You need to have it firmly ingrained in you that, while it's nice to take a moment to look back and see how far you have traveled, you need to reassert your focus forward and upward toward Sat Lok and the Pure Positive God Worlds. If you have fully grasped the Teachings, you will know that pure mind is not your goal, and that you still have to traverse this region and that of Bhanwar Gupha (aka Sohang Lok) before you can emerge as Pure Soul Awareness in Sat Lok – the Soul Plane.
In fact, one of the things that happens at this point is that you must cast off your mental veil and all of the subtle pride that goes with it if you want to rise higher. Thoughts, opinions, preconceptions and mental attachments actually have mass and add weight to you – rather like the sandbags they used to use in hot air balloons – and to rise any higher you must jettison them.
You need to pivot your focus 180 degrees from looking down and out to looking up and in. And in reasserting your inward focus – in seeing how far you have yet to go – you will find yourself in humble prayer and supplication. You will ask the Inner Master and God to remove your mental baggage (because you cannot do it yourself) so you can be free to rise into Soul Consciousness. And when your supplication and prayer are truly humble and sincere, the weight of thought and pride will be lifted, and you will rise higher and furthur within until you emerge into the beginnings of the True Eternal Heavens of Sat Lok and Sach Khand.
I would like you to take this lesson from Soamiji Dayal and truly contemplate on it for a few minutes, and then bring it into your meditation. As you begin Simran, ask the Radiant Form of your Teacher (for my students, my spiritual soul name is
"Zanar"
) to help you better understand the lesson and see where and how spiritual pride might already be in some portions of your life. Then ask Him to help you remove this unwanted baggage and experience what it is to be truly humble and receptive to the Spirit of Shabda, Divine Love, and God.
I pray that you have a fruitful meditation, and a most beautiful day.
Yours always in the LightSong of Eternal Love,
Michael
PART 1, SECTIONS 62 & 63
GAINING KNOWLEDGE FROM EXPERIENCE INSTEAD OF BOOKS
"62. Due to the spread of education these days and a matter-of-fact outlook, everyone now disapproves of the superficial forms of worship. There is no doubt that that these are all unreal and as such totally infructuous. But very few want to learn the devotional practices which are calculated to control the mind and the sense; not are they willing to undertake the trouble to perform them as that imposes disciplinary restrictions both on the body and the mind. Therefore, the educated persons of all the religions take to philosophy and become Vachak-Gyanis, Sufis and Brahm-Gyanis. They do not care to introspect within themselves nor to be questioned by others and are ever ready to argue and justify their stand. They should, however, consider how it can be possible to attain perfect Brahm Pad so long as desire, anger, greed, attachment and egotism are present. It would be quite an easy matter to become a Brahm-Gyani if Brahm-Gyan could be acquired by merely studying a few books. Anyone possessed of a certain amount of education and intelligence can study books dealing with Gyan. But to acquire inner purification by subduing the mind and the passions is a different matter altogether. That achievement is not possible without the practice of Surat Shabd Yoga." "63. If these Gyanis be asked to perform spiritual practice and concentrate within, they are unable to do so, as their restless minds would not let them. Had they practiced Surat Shabd Yoga as taught by Sants, they would have known what they really are and realized how restless their minds are. They know nothing about Surat Shabda Yoga. Nor do they care to perform any Yoga practice, nay, they do not even consider it necessary. What some of them do in the name of spiritual practice or yoga is to ponder over what they read in the books and to consider themselves as detached from everything, that is, think that 'I am not mind nor body nor senses nor any other object. I am free from Maya, unborn, detached and I am such and such.' These reveries they take for spiritual practice and the consequent slight calmness and serenity of mind that they temporarily feel, the construe as spiritual bliss. Shekh Chilli also enjoyed this kind of bliss when in his soliloquy he imagined himself a king with mansions and splendor, but when he opened his eyes, there was nothing."
I like Sections 62 and 63 a lot. They're pretty self-explanatory, so I not sure if I have too much to say. Basically, Shiv Dayal Singh keeps approaching the topic of Gyan and Gyanis from different angles. On the surface, one may think that he really just doesn't like Gyanis very much – and I'm sure this was true. True spiritual teachers often rub the priestcraft and socio-religious power structure the wrong way. Just look at the impression Jesus made on the Pharisees and Sadducees – the leaders of the power structure of his time. They were critical of him, and went to lengths to discredit him. And Jesus in turn had no use for their wealth, prestige and piety. At times it seemed like he almost went out of his way to irritate them and show them for the hypocrites they were. And I'm sure Soamiji Dayal was the same way.
There are many stories of Soamiji's students being harassed by family, friends and village elders for attending His Satsangs, and even harassing His Satsangs themselves. So it's not surprising that he took some time in his talks to describe in detail, from a variety of angles, the inherent fallaciousness of the very philosophical foundation of what was presented in his society as "Gyan". If telling truth to power upset the establishment, that was perfectly fine. But he had to warn his students, and prospective students, about the myriad of subtle traps Kal (the negative mind power) lays out for us under the pretext of "spiritual knowledge". And I think he wanted to make sure he covered every angle, so Satsangis would not only recognize the illusion (Maya) intrinsic in the Gyan myth, but also be able to see Maya coming, to be able to anticipate and see the con before it was even presented.
Soamiji did this out of incredible devotion to and love for his Satsangis. Soamiji wanted them to achieve Soul-Realization, God-Realization and Spiritual Freedom. This was more important than anything. And he knew that intellectual understanding not only does not help one attain any substantial degree of spiritual awakening, but can actually be a hindrance.
This does not mean books about and intellectual understanding of spirituality and God – and even Surat Shabda – is a bad thing. It is good to feed the mind and help it fully grasp the spiritual path we are on and the goals we wish to achieve. I always tell my students to read about this path – to be acquainted with its foundational principles and spiritual goals, to be sure this is the right path for you – before setting off on it. In addition, I believe that it is good to read at least a little bit of spiritual writing on this path every day, in order to help the mind and intellect and even subconscious become familiar and comfortable with it.
I will also say this about Surat Shabda and the mind. To me – after all my years of studying and meditation – this is the most logical path there is. It is absolutely intellectually and philosophically sound. Shabda comes out of God and Shabda returns to God. And if you want to directly experience and know God, what could be simpler and more direct than let go to this return Current and let it carry you Home with IT? That absolutely makes sense. It made sense to me in 1975 ago when I first heard and read about it. And it makes eminent sense to me now.
In fact, it makes so much sense – indeed, it is eminently logical – that books and intellectual understanding will not do it for you. They will not take you Home. Furthermore, it is equally obvious that you cannot use the mind to transcend the mind. Postulates and incessant questioning (even such questions as, "Who is it that is thinking this though?"), will not untie the Gordian knot of the intellect and mind. You must harness your attention to the Controlling Power that created mind in the first place. And that Controlling Power is Shabda (Naam, Word, Holy Spirit).
Only by being in harmony with that which created mind can you achieve true, eternal knowledge – for you will be one with that which mind emerged from. Only by being immersed in the Ocean of Peace, Love and Mercy can you attain true, lasting inner peace. This is a simple fact, and it is beautiful in its simplicity.
I hope you had a beautiful weekend, and that this makes sense to you, as well as inspires you in your meditation. Have a lovely evening.
Yours in the LightSong of Eternal Love,
Michael
PART 1, SECTION 64
GYANIS & THE NATURE OF MIND
"If closely examined, it will transpire that these Gyanis, too, are like the dreamer referred to above. They call themselves 'Brahm-Swarup' and 'Sachchidanand-Swarup'. But if anyone uses harsh words against them, they fly into a rage. If they see or hear of any attractive thing, they are eager to see and grasp it. They are pleased if praised; displeased and ready to quarrel if criticized. Due to the restlessness of their minds, they are unable even to stick to one place. Would they be in such a plight had they attained Atmanand? Would they have then wandered from place to place, begged for money to meet their sight-seeing expenses and roamed about in temples and places of pilgrimage rubbing shoulders with the worldly people? When a person who has nothing happens to get a few thousands, he starts some business and settles down quietly at one place. Similarly, a man who gets a job is happy and gives up further knocking about. What kind of Brahm-Gyanis are these that although they call themselves 'Brahm' and 'Atma', they have not experienced even so much bliss of that Brahm and Atma as to settle down at one place and enjoy it for at least a few years and not loaf about in fairs, shows, pars, buildings and lands? Their conduct clearly shows that theirs is book-learning only and not real knowledge and that they never achieved a particle of Atmanand and Brahmanand which they applaud so loudly."
Going over this section of the
Sar Bachan
, one thing that especially stands out is Soamiji's comment, "
Due to the restlessness of their minds, they are unable even to stick to one place."
This is a significant statement about the nature of the mind. It is inherently restless, never quite content with wherever it happens to be – always seeking more input and stimulation. This is not bad per se – it's just its nature. And so if we want to calm the mind, to help it center and focus, we need to find an efficacious method of doing so.
Now it stands to reason that if something is out of focus or alignment, it cannot realign itself of its own effort. It needs something greater – a controlling power superseding it – to achieve this goal. If you are on a bicycle and let go of the handles, it may momentarily stay in line, but will soon wobble and fall down of you do not retake control. Even if you were to install a self-guiding mechanism to maintain balance, it is still this mechanism – created by a human being – which takes control of the situation, not the bike itself.
So here we have the problem with self-proclaimed Gyanis relying on their mental acuity – or their book learning – to achieve a calm mind. It's just mind talking to itself and impressing itself. There is no calm – only more ongoing chatter. And it is this chatter which can lead to restlessness in life. The example Soamiji uses is of these Gyanis (but can pertain to anybody, really) making pilgrimages to temples, festivals, and a myriad of proclaimed holy sites – at times panhandling for baksheesh (begging for money), or trying to get a miracle ticket, to get in a temple or festival. Or it may be reading book after book, desperately trying to find the ultimate answer. Is there calm there? Is there spiritual poise, balance and Soul-based focus and wisdom? No. Just more of the mind scrambling around trying to satisfy its insatiable appetite for more input (to borrow from the movie
"Short Circuit"
– actually rather appropriate, seeing as how the comment is made by a self-aware robot hungry for more information).
And so we come back to the point of finding a controlling power greater than the mind – preexisting the mind, the Source from which mind itself was created. And what is that Source, that Controlling Power? Shabda – Naam – the Eternal Spiritual Current from which was manifested all that is. By making Shabda your point of focus and using Simran as a focusing tool, you will gradually bring your mind into focus. You will center it and calm its restlessness and discontent. And furthermore, by focusing your attention upon and immersing it in Shabad Nam, you will feed it spiritual food that will nourish it, and eventually provide the answers to all of its questions. It's incredibly simple – so simple that self-styled Gyanis and sophists walk right by not noticing (rather like the men passing the trees laden with fruit that Rumi wrote of in
"The Visions of Daquqi"
) – and if they do notice, it is far to simple to be worthy of their attention (the mind does like data and complexity, after all).
But it really is this simple. Just take time – right now, when you have finished reading this – to close your eyes, take a few calming breaths, and sing "HUUUUUUU". Even if you have been initiated in the Five Holy Names or Radhasoami Nam, HU is an excellent way to provide calm and focus. Sing HU out loud a few times, and then repeat IT internally, with the tongue of thought. As you do this, you mind will relax and calm down, and you will feel a sense of inner peace that surpasses all. And this is a very good thing.
I hope you have fruitful meditations and a most wonderful day.
All my blessings in the LightSong of Eternal Love,
Michael
PART 1, SECTION 65
THE LIMITATIONS OF BRAHM (THE UNIVERSAL MIND)
"Test of the real knowledge is that one should be able to get the Darshan of Brahm in all his refulgence and glory. This bliss when attained surpasses all the imaginable pleasures of the world, not only those of a householder but also of an emperor. In the religion of Sants, Brahm is held to be the Laksh
(invisible)
form of Ishwar
(God)
and the Laksh form is Maya-sabal
(alloyed with matter)
. But Vedantis consider the Laksh form of Brahm as pure and the Ishwar form as Vachand Maya-sabal. Sants, who have gone beyond both these forms, say that both the forms of Brahm, Vach and Laksh, are Maya-sabal, that is, Maya is manifest in Vach and subtle and hidden in Laksh form."
(Shiv Dayal Singh. "Sar Bachan Prose: Part 1, Section 65")
This is an interesting section. Shiv Dayal Singh starts off by continuing his earlier theme that personal experience naturally trumps other people's experience and records of those experiences. He says if you want to have real knowledge (gyan) of Brahm – whether you are a peasant or an emperor – you need to directly and personally experience Brahm. Everything else is second-hand and inferior.
Then Soamiji moves on to discussing the nature of Brahm (the Universal Mind Power) itself. Now, to some westerners, the India-centric terms he uses might seem confusing, causing you to go back and read, and reread, and still say
"Huh?"
What it really breaks down to is this:
Following in the footsteps of Kabir's
"Anurag Sagar
-
The Ocean of Love"
, Shiv Dayal Singh shoots an arrow into part of the foundation of Vedantism. He challenges and undermines the Vendantist belief that the invisible form of Brahm (which they hold to be the supreme Deity) is unalloyed and pure, whereas it is the visible form of Brahm which is a combination of spirit and matter (e.g., slightly temporal and limited). Soamiji says that both forms of Brahm (visible and invisible) are alloyed with matter. It is temporal and limited, and is actually part of the creation rather than the supreme Creator. This is consistent with Shiv Dayal's earlier statements that, not only are Brahma, Vishnu and Shiva part of the creation, but so to is their father – Brahm. Even Brahm (Universal Mind) is but an intermediary step between physical consciousness and the truly Eternal Realms of Soul and God.
This is very important, and it should be part of your spiritual foundation as you learn and grow in Surat Shabda. Your goal as an awakening soul is the Soul Plane (Sat Lok) and the God Worlds of Anami Lok. Anything short of that should not even enter your mind for a moment. Remember:
Soul-Realization – God-Realization – Spiritual Freedom in this lifetime.
The goal of Soul and God needs to be part of the bedrock of your spiritual foundation. Though harmony with Shabda, this will become your true north at all times, always beaconing you further and further within. It's a beautiful journey!
Please take this lesson into your meditation today.
All my appreciation in the LightSong of Eternal Love,
Michael
http://spiritualfreedomsatsang.org
​PART 1, SECTION 66REGARDING INCARNATIONS OF BRAHM
"The incarnations of high orders, Yogeshwar-gyanis, gods, prophets and incarnations of low order have all sprung either from the Laksh
(invisible)
or Vach
(visible)
form of Brahm. Therefore, all those who worship the Vach
(visible)
form of Brahm or are the Gyanis of the Laksh
(invisible)
form of Brahm are within the jurisdiction of Maya and Kal. Hence, they cannot escape the cycle of births and deaths."
(Shiv Dayal Singh. "Sar Bachan Prose: Part 1, Section 66")
Here in Section 66 we have Shiv Dayal Singh continuing his deconstruction of Vedic tradition. Proceeding from his earlier statement that, visible or invisible, Brahm is a temporal part of the creation, Shiv Dayal discusses incarnations and manifestations of Brahm. The key here is that Brahm is an "intermediary" form of God. So while staunch Vedantists may refer to Brahm as the Supreme Lord, Soamiji is telling us this isn't so.
Extrapolating from this proposition, Soamiji carries this perspective to include all of the incarnations, prophets and Yogeshwar-gyanis. He says – as wise as many of these people may have been – because they were expressions of or devotees to the temporal lord Brahm, they were not expressions or emissaries of the True Eternal God. Therefore, while it is important to honor all people who serve God, it is also important to know that these Brahm expressions cannot take you all the way back Home to Sat Lok - the Soul Plane. They could not when they were alive, and they cannot do so now. Again, this is not a criticism of anybody's state of consciousness or respective realization. It's just how things are.
Therefore, if you wish to achieve true Soul-Realization, God-Realization and Spiritual Freedom, you must find someone who has made the journey through and past Brahm, and all the way home to the Eternal Worlds of Soul and God.
Please give this some thought. Reflect on Soamiji's words and wisdom, and bring this reading into your meditation today. Ask God and the Inner Master to help you know first hand what Soamiji is talking about. I hope your mediations are full of Light, Sound and Love Divine.
Yours in the LightSong of Eternal Love,
Michael
http://spiritualfreedomsatsang.orgPART 1, SECTION 67RELIGION OF THE SAT GURU
"The religion of the Sant Sat Guru is the highest of all. He inculcates the worship of the Supreme Being Sat Purush Radhasoami, who is beyond Brahm and Par Brahm, so that the spirit may cross the region of Maya. True Sadhs have access up to Daswan Dwar or Sunpad. And they along are Yogeshwar Gyanis. Those who stop below it are lower than true Sadhs. For this reason, all those who are keen on achieving complete emancipation should adopt the Isht of Sants, that is, Sat Purush Radhasoami. The Supreme Being Himself has given out His Name asRadhasoami. One who obtains the secret of this Name, accepts the protection of Radhasoami, recites or repeats this Name internally in the way indicated by Sants or listens to the sound within, shall certainly be redeemed. Performance of such spiritual practices for a short while will convince him of this."
As I was noting yesterday, after discussing the intermediary regions and rulers, Shiv Dayal Singh now directs our attention to the Sant Satguru – True Spiritual Teacher – who can lead us through these intermediary regions into the realm of Pure Eternal Spirit. This transition is not unlike attaining the level of Daswan Dwar (aka the Mental plane) where you go from looking back at where you've come from (and saying to yourself,
"I am above the three attributes"
), to looking forward to the higher regions of the dual worlds and on to the Pure Positive God Worlds and saying "I Am That".
Right off the bat here Soamiji says something that could easily be (surprise, surprise) controversial, "The religion of the Sant Sat Guru is the highest of all". Given people's somewhat natural competitive nature, this may be construed as "My God's bigger than your God, and my religion's better than your religion". And while there may be a bit of that (Soamiji was human, after all), it's really an emotionally neutral statement. He's really just stating a fact. Real Sant Sat Gurus, being human expressions of Sat Purush, are the human and spiritual link to the True Eternal Spiritual Regions. In a sense, it's no different than saying someone is from New York City. Being from NYC is really neither good nor bad – it just is. In the same token, Sant Sat Gurus (or Satgurus) are united with and therefore from Sat Lok and above. So it stands to reason, if you want a living human link to Sat Lok, you need to find someone who has established him or herself there.
Having established this as a foundation for true spiritual awakening, Soamiji redirects his attention for a moment to a topic he spent quite a few pages addressing – and that is the nature of true Gyanis. And he says that true gyan is only to be found in Daswan Dwar, the realm above Brahm. Anything below that is not true gyan.
And having reasserted this understanding of true knowledge (gyan), Soamiji reestablishes his conviction that it is only in the realms of Pure Spirit that you can find complete spiritual freedom. In this realm, there is no matter, no illusion, no duality. What this means is that anything having mass, illusion or duality cannot exist here. For how can mass enter that which is mass-less. Likewise, with no duality there is no cause and effect, and hence no karma. If we want to rid ourselves of karma, we must place our attention upon and anchor ourselves in the region that is karma-less. Anything less than this will keep us mired in the wheel of 84, the seemingly endless cycle of birth, death and rebirth. Likewise, if we want to know real truth, we have to experience that which is above all duality, all binary frequencies. For only that which is eternal can be really true. Everything else is subject to change – with or without notice. And it is only in the Pure Positive God Worlds that begin with the Soul Plane (Sat Lok) and culminate in Anami Lok (the nameless region, aka Radhasoami Dham) that we can find the eternal – the realm of pure golden eternal love beingness.
So really, it stands to reason – and is eminently logical – that the path of Sant Sat Guru (which, again, is an expression of Sat Purush) is the highest path of all; for it is the only path that emerges from and returns us to Sat Lok and higher.
One final point Soamiji makes here is the name Radhasoami, which he tells us is the name of the Supreme Being and which God Himself has given out. I am not going to get into whether Radhasoami is a better or higher name than Anami Purush. But will I do know and will say is that the name "Radhasoami" (aka Radha Swami) is an extremely high vibration. It will link you to Shabda, bring your attention to the Pure Spiritual Regions and take you Home. And this is a very, very good thing.
And on that note, let us stop here and meditate, using the name Radhasoami as our mantra today. May your meditations be filled with musical light, wisdom and love.
All my blessings in the LightSong of Eternal Love,
Michael
THE WISDOM OF LIVING SANTS SUPERSEDES REVEALED SCRIPTURES
"It has been stated above that all the incarnations, Yogeshwar-gyanis, prophets, Yogi-gyanis, etc. descended from
Daswan Dwar
, Trikuti or Sahas-dal-kanwal. The four Vedas emanated from Pranava
(aka OM or Omkar)
at Trikuti. Gods such as Brahma, Vishnu and Mahadeo
(Shiva)
appeared from the stage below Sahas-dal-kanwal. Therefore, they are all lower in order than Sants and Sat Purush and are subordinate to Him. Sants are subordinate to Sat Purush Radhasoami only. The writings and discourses of Sants are for this very reason superior to Veda, Shastra, Quran and Puran, which dwell upon, and are meant to be rules for, regulation of conduct in this world. They mainly deal with directions for the management and preservation of this world; very little has been said therein about Nivritti, that is, salvation. In Their discourses, Sants speak mainly of Nivritti, that is, Moksha
(spiritual freedom)
. Therefore, things written or spoken by Them are superior to all the revealed books. The superiority of Sants consists in this that whereas the Vedas and other revealed books appeared from the same stage from which the three gunas
(the three qualities of harmony, action and inertia/darkness)
, five tattwas
(five elements: earth, wind, fire, water and ether)
, and Maya (Nature), have emanated, the scriptures of Sants have emanated from a stage where there is no trace of Maya. They, therefore, deal with Nivritti
(spiritual freedom)
alone, while the former speak about both Pravritti
(life in this world)
and Nivritti
(spiritual freedom)
. Nay, they deal with Pravrittimore fully. For instance, in the Vedas, there are eighty thousand shlokas
(stanzas)
on Pravritti
(life in this world)
, sixteen thousand on Upasna
(spiritual devotion, worship and meditation)
and only four thousand on Nivritti or Gyan
(true spiritual freedom and wisdom)
. Similarly, Quran and other revealed books deal largely with historical matters and say very little about the modes of spiritual practices and how to realize God. In Gita, Shri Krishna Maharaj told Arjun to dissociate himself from the jurisdiction of the Vedas which are associated with the three gunas and to attain the stage beyond. It has also been said that so long as a man is engrossed in the rituals of Varnashram
(rules of human conduct)
, he is the slave of the Vedas, that is, he must obey the Vedic injunctions. When he reaches beyond Maya and the three gunas, his feet are at the top of the Vedas. In other words, he becomes the master of their creator and his orders supervene those of the Vedas. In the same way, the Quran states: ' Perfect Muslim Faqirs (Saints) are not bound by the Sharia or the law of the Quran. Rather, their commands supervene the commands of Sharia and Quran'."
(Shiv Dayal Singh. "Sar Bachan Prose: Part 1, Section 68")
In this Section 68, Shiv Dayal continues his discussion of the virtues of the living Shabda Teacher or Sat Guru. Not only do Sat Gurus' authority (being an expression of Sat Purush) supersede that of Brahm and other intermediary deities, their discourse and Satsang supersede the authority of the
Vedas
,
Puranas
,
Quran
and other revealed inspirational and holy books. In our western culture, that would include the
Torah
,
Talmud
and
Holy Bible
. The reason for this is that the living Teacher is expressing the Eternal Lord's divine love and wisdom in the here and now of the living present, whereas holy scriptures and revealed books – at best – were written by great souls in the past, and more often by disciples of those Masters conveying what they were taught.
This is not to even remotely denigrate such books and writings. For they are full of wisdom and can serve to inspire us and guide us in walking an ethical path and living a spiritual life here on earth. And so, just as we honor all masters who have come in the past, so too do we honor all scriptures that have come in the past. But for living expressions and gospels of God here and now, we must find a Soul-Realized and God-Realized Teacher living among us.
On top of the benefit of living wisdom and initiation we can receive from a living Teacher, they also have the advantage of being able to correctly interpret ancient scripture and explain not only what it means, but also the intent of the Teacher who wrote or spoke it. Rather than trust someone who studied scriptural history in college or some sort of seminary, the Living Teacher – seeing reality from a God-Realized perspective – can also see reality from the perspective of past masters. In doing so, They can decipher lessons that may seem somewhat cryptical or immersed in the cultural and historical context of their time. The Living Teacher can read between the lines, separate out the cultural tradition and offer us the Divine Truth sometimes hidden within. This is an immense benefit and cannot be overstated.
One other benefit, as Soamiji notes, is that past scriptures tend over time to place more emphasis upon proper human behavior here on earth, often consigning the esoteric teachings of Soul and God-Realization to little more than footnotes. Now, teaching proper human behavior is a good thing – an important moral and ethical yardstick to help guide us to be better people. But the esoteric teachings of true spiritual awakening are crucial if we are to rise above body consciousness and into Soul and God-consciousness.
The problem with relying upon scriptures themselves to guide us to God is evident in the most basic of religious traditions. In Christianity, ministers and priests regularly hold The Bible over their heads and say an equivalent of,
"Behold – the Word of God!"
– meaning, of course, that they consider "
The Bible
" to be The Word (after all, it's full of words, now, isn't it?). This has been done for so many centuries that few Christians even have the remotest clue of what The Word (aka Shabda, Nam, Bani) truly is.
In the same way, traditional Sikhs believe the line of living God-Realized human gurus stopped with Gobind Singh, and that after him the
Adi Granth
(aka
Sri Guru Granth Sahib
) became the living Guru. In fact, this belief came on so fast that, in less than a century, few people understood the esoteric meaning of terms like
Shabda
,
Bani
and
Panch Naam
(the "Five Holy Names"). In their case,
Shabda
became the words spoken by a Sikh teacher and
Bani
the hymns sung in religious services. And the Five Holy Names? Well, that was a mystery – but one that got under the skin of sincere devotees like Baba Jaimal Singh – who was so consumed by his desire to understand this mystery that he roamed around India seeking an answer until he finally met Shiv Dayal Singh, who then explained this to him, and so much more.
So to sum things up, moral lessons and historical stories in scriptures are very good for helping us learn to be better people and have a sense of our culture and history. And to understand the Way of Shabda - the Spiritual Current - in our lifetime, we are also blessed with a living Soul and God-Realized Teacher to link us to the Divine Spirit of Shabda and help us return home to Radhasoami Anami Lok – the Sugmad – the Ocean of Love and Mercy.
Yours in the LightSong of Eternal Love,
Michael
http://spiritualfreedomsatsang.org
​
SOUL & GOD CONSCIOUSNESS GIVES SANTS TRUE PERSPECTIVE
"These holy discourses are of those Sants and true and perfect lovers of the Supreme Father who reached Sat Lok and became one with the Supreme Being, and see from there the panorama of innumerable Trilokis and Brahmanands, each with a separate Brahm, Ishwar, Maya and Shakti, i.e., god of worldly people, numerous incarnations, Brahmas, Vishnus, Mahadeos, gods, prophets, Auliyas, Ambias, Kutubs, Farishtas, Yogeshwars ,Gyanis, Rishishwars, Munishwars, Siddhas, Yogis, Indras and Gandharvas. How can such a Sant care for and obey any of these mentioned above? Each Triloki has its own presiding deity called Brahm and Ishwar, that is, Maya-sabal, located respectively at Trikuti and Sahas-dal-kanwal. Innumerable sub-Brahms and Ishwars have been created by Sat Purush Radhasoami. Only Sants have reached there and none else can. But in their mercy They also liberate all those from the thralldom of Maya and take them to the Feet of Sat Purush Radhasoami who believe in Their words, have love for and faith in Them and attend Their Satsang."
(Shiv Dayal Singh. "Sar Bachan Prose: Part 1, Section 69" (finale) )
With this Section 69, Shiv Dayal Singh completes Part 1 of
"Sar Bachan Radhasoami (Prose)"
. In doing so he speaks from the mountaintop of the Pure Positive God Worlds, gazing down at the dual regions of matter, energy, space and time, describing to us the vast array of intermediary regions. These regions are so great in number that without the guidance of a Soul and God-Realized Teacher, you could be lost for innumerable lifetimes. For even if you transcend the physical universe, you still have a myriad of dimensions and distractions. For a moment, Soamiji gives us a clue as to just how daunting the task is. For as he says, it's not just that we have to contend with Sahas-dal-Kanwal and Brahmanda – and all of their respective deities and sub-deities – before reaching Par Brahm and approaching Sach Khand. No, Soamiji says, there are innumerable Trilokis and Brahmanands with their own respective Brahms, Mayas, Brahmas, Vishnus and Shivas.
In cautioning us about the almost infinitely complex web of Trilokis and Brahmands, Shiv Dayal also quietly takes apart the Vedic perspective by telling us that, not only is Brahm not the Ultimate God, he is not even a unique and powerful lord of the lower worlds. He is just one of many Brahms – and each one strives to convince those souls in their respective sub-universe that they are the one and only. I wonder if the many Brahms are even aware of their own plight.
Perhaps the greatest lesson in this final section is that Soamiji is giving us the topography of the lower worlds from the viewpoint of Soul and God, and in doing so offering us not only a caution about what it takes to navigate these realms, but also puts them into perspective in our spiritual quest and gives us a glimpse of how the universes look through his eyes. And in doing so, we are able to see how his cautions about the dual worlds – and everything else he teaches – make absolutely and total sense. It's no longer just one man's opinion on consciousness, spirituality and reality – but a perspective that is eminently logical. Once you see things through the Master's eyes from the top of the mountain, everything becomes crystal clear. This is a very beautiful thing.
Soamiji's ability to convey reality from a God-realized viewpoint is truly remarkable – and especially valuable as he almost single-handedly brought Surat Shabda out in the open. What he accomplished was practically revolutionary. I cannot emphasize enough his impact on spirituality in our era.
In his final few sentences, Soamiji reasserts what is perhaps his central premise: that Sants alone have traversed the maze and psychic minefield of the dual, temporal worlds and emerged into the Eternal Realms of Soul, God and Pure Spirit. In doing so, they have established themselves in Eternal Consciousness and anchored their attention there, and are thus able to draw us to where they always are. This is a blessing beyond all measure, and I am eternally grateful for Soamiji's gift of this truth and his understanding, wisdom, awareness and love.
Please read – and reread – this final section, and then bring it into your meditation. May Soamiji's wisdom fill your meditation with light and truth and music, love and life. And, together, let us thank Shiv Dayal Singh – Soamiji – Radhasoami Dayal – for the gift of his life, wisdom and love.
In the LightSong of Eternal Love,
I am always with you.
Michael Turner
http://spiritualfreedomsatsang.org http://spiritualfreedomsatsang.org - Sar Bachan Radhasoami